Attention-grabbing branding and a loyal customer following have established Suavecito as a favorite among pomade lovers around the globe.
Its ease of use, affordability, and versatility are appealing to many, but it's important to get to grips with some of the details when it comes to this product.
It isn't for everyone.
There are plenty of questions out there on Suavecito pomades that simply haven't been answered properly yet.
As a user and fan of the product, I wanted to clear some of these up.
Who it's best for, what you can do with it, and more.
Let's get to it.
1. What Are The Main Types Of Suavecito Pomade?
Although Suavecito now offers many different pomade products, this article will focus on the most well-known water-based offerings.
Here are the main two you need to know:
Suavecito Original Hold Pomade – This is the one that started it all off. A now-classic water-based pomade that dries with a medium hold and a medium shine.
Suavecito Firme Hold Pomade – This one is almost exactly the same as the Original Hold with the key difference of providing a stronger hold.
Both of these pomades have a translucent orange color and a gel-like consistency. They both emulsify very easily and comb through with minimal resistance. Unlike many basic gels, neither of these pomades will flake.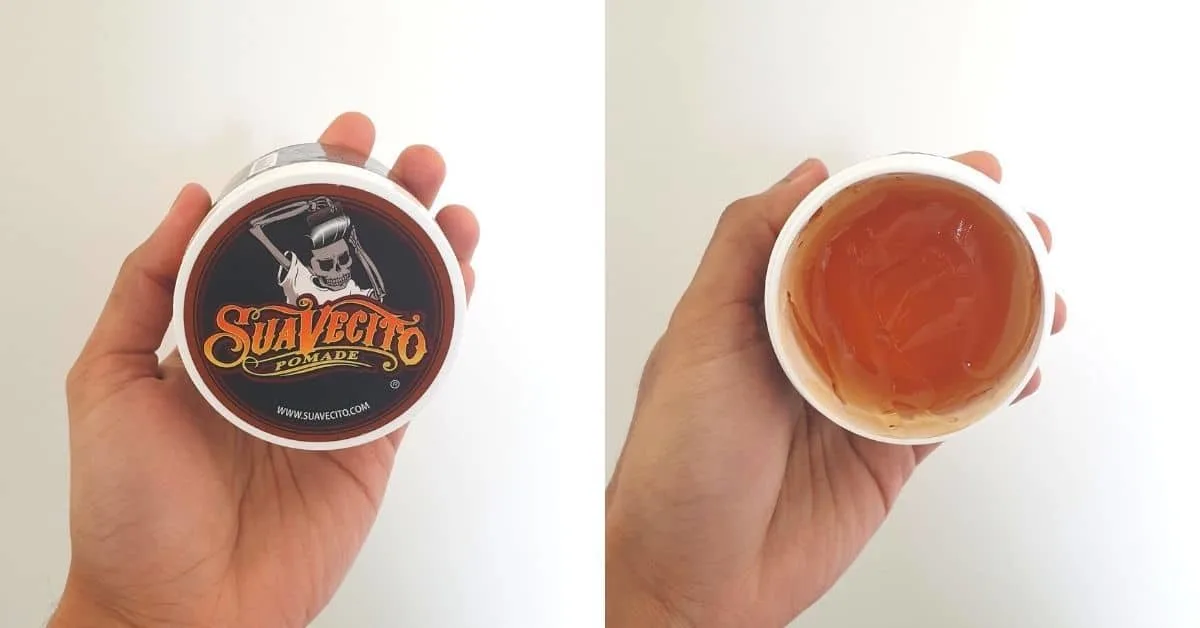 They both dry stiff but the finish isn't crunchy.
As with most water-based pomades, they wash out extremely easily without the need for shampoo.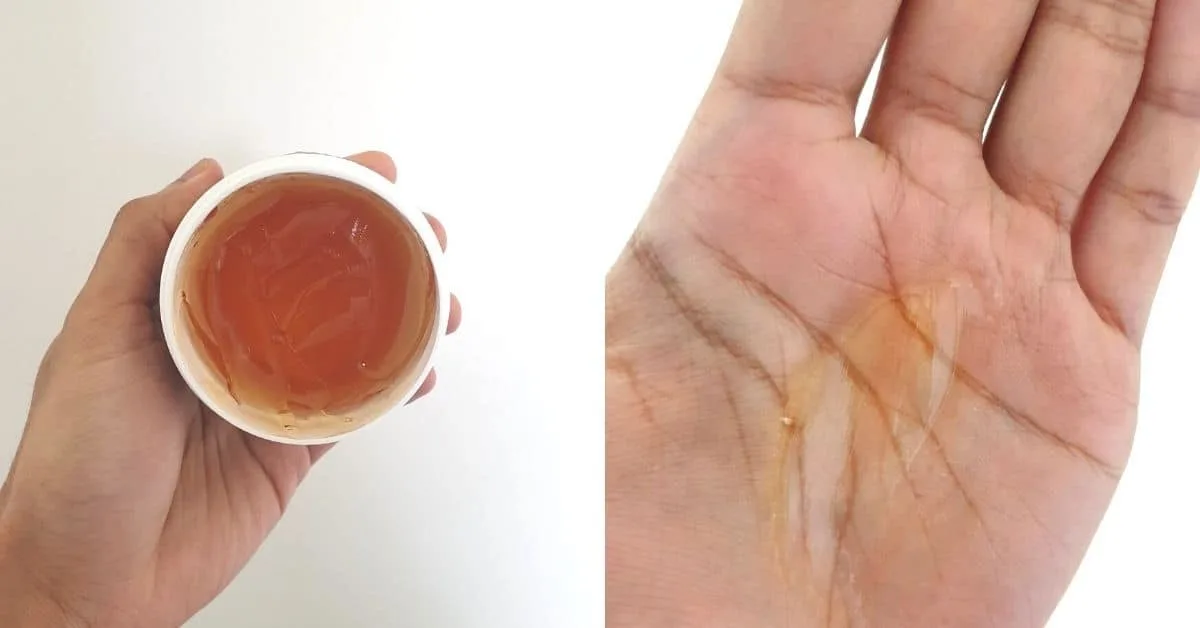 The only real difference between the two is the hold. If you've got thick, very curly, or just difficult-to-tame hair, go for the Firme Hold instead of the original.
2. What Hair Types And Styles Is Suavecito Pomade Best For?
Suavecito pomade works well for men with normal or thick hair, as well as men with medium-length (2-4 inches) or long hair (4 inches or more).
Here's a good rule-of-thumb you can follow:
If your hair is long enough to be slicked back or to the side, there's a good chance Suavecito will work well for you.
Pomades work best for slick hairstyles like pompadours, slick backs, and side-parts. Suavecito is no different.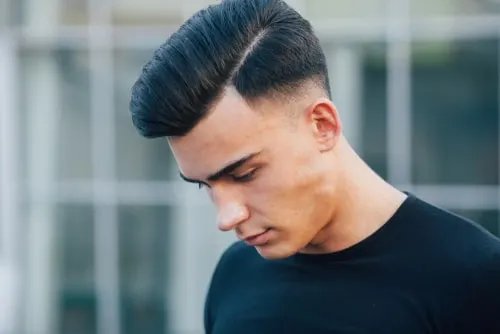 The reason it works better for men with hair that leans toward the thicker side of the spectrum is this:
Pomades tend to be too shiny for thin hair. They also generally add too much weight. Overall, pomades often make thin hair look thinner and may even reveal too much of the scalp.
They'd usually be better off going for low-shine or matte products that'll allow them to build layering and texture such as a clay instead, or even a paste.
That's why Suavecito pomade may not be the best option for these men. I've got pretty thin hair but I get away with using it by using very small amounts and applying some texturizing sea salt spray beforehand to make it look a little thicker before applying it.
3. What Does Suavecito Pomade Smell Like?
Both the original Suavecito Pomade and the Firme Hold smell like a unique blend of citrus and cola.
Suavecito prides itself on having a pretty instantly recognizable scent. Interestingly, it's a common reason for fans to keep going back to it.
Having said this, it's only barely noticeable when actually applied to the hair and dried. If someone's up close and personal they may get a hint of it.
But otherwise, it's not something you'll need to think about.
This is especially helpful when wearing colognes, as you don't want to have to worry about fragrances mixing or conflicting.
Ultimately, the scent they've concocted is pretty impressive and is a nice change from the usual coconut aromas that so many pomades are going for these days.
4. Can You Use Suavecito Pomade On Your Beard?
Suavecito pomade should not be used beards. Its ingredients were intended for the scalp and would be too drying for facial hair and the underlying skin.
This is a pretty good rule to follow in general. If it was meant for the hair and the scalp, there's a good chance you shouldn't apply it to the beard.
It isn't all the same, unfortunately.
Good beard grooming products aim to maintain the balance of natural oils and to be considerate of facial skin that will inevitably be more sensitive than the tough scalp.
Another issue will be the hold it gives you.
The stiff hold a water-based pomade such as Suavecito produces will usually not be what you want on your beard.
You'd rather have something more pliable, subtle, and moisturizing.
If you're a fan of Suavecito and you're looking for a product to tame your beard, they do have several popular beard grooming products (Amazon Link) you should check out if you're interested.
Beard balms and butters would be way more appropriate than applying Suavecito Original, Firme Hold, or any other hair pomade to your beard.
The same goes for oil-based hair pomades as well, unfortunately.
5. How Do You Spot Fake Suavecito Pomade?
Fake Suavecito Pomade may have typos or unusual word spacing in the directions, a noticeably lightweight feel, and often won't have the classic debossed logo on the base of the tub.
Unfortunately, as Suavecito has grown in popularity, so have the number of people out there looking to rip them off.
It can be quite difficult to tell the difference at first unless you're already pretty familiar with the Suavecito offerings.
However, subtle tell-tale signs will always be present. You just need to know what to look for.
First off, if the price you paid was unusually cheap, be suspicious.
Once you receive the product, look at the directions and the ingredients on the tub. It's quite common for fake products to have spelling errors or random word spacing issues.
Then, look at the base. Suavecito tubs have a beautiful debossed logo with "made in the USA" embedded on there as well.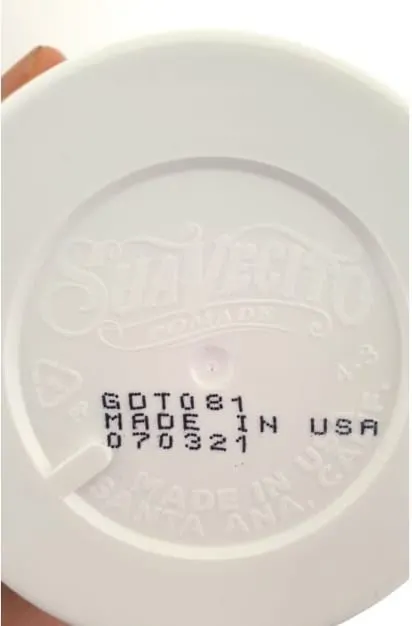 The fake ones often don't have this.
If you've got a weighing scale, weighing your tub would be a fun little test. A typical tub of Suavecito Original Pomade would be 4oz (113g) for the product alone. Including the tub, it'll be approximately 160g.
Fake ones will usually be considerably lighter than this. Sometimes, it'll be obvious even without a weighing scale.
Finally, just remove the lid and look at the pomade as it sits in the tub.
If it looks messy, with the pomade sloshed around and sliding up the sides of the tub, this is unusual.
The real Suavecito pomade will usually sit level and there's little risk of it sloshing around in the tub even when being transported.
So, if it doesn't look that tidy – be suspicious.
6. Is Suavecito Pomade Organic?
Suavecito Pomade isn't organic as it contains several artificially-derived ingredients such as PVP and Propylene Glycol.
If this is a problem for you, check out this organic pomade on Amazon.
Ultimately, Suavecito does its best to keep things as clean as possible. Most of their products are gluten-free, paraben-free, and vegan which is impressive.
But ultimately, if you're keen on a fully organic hair product, this Suavecito won't be the one for you.
You'll struggle to find a water-based pomade with a similar feel and emulsification that is fully organic. A lot of them will have similar ingredients to Suavecito.
7. Does Suavecito Pomade Expire?
Suavecito pomade will eventually expire, although it doesn't list a specific expiration date. You can expect it to last for over a year at the least.
The preservatives used in water-based pomades should not be expected to stay OK forever.
If you notice an unusual change in the texture, smell, or color of the Suavecito pomade, don't use it. Buy yourself some more.
It's a common misconception that hair products last forever. They don't. It just isn't usually a problem for most as a tub will usually get used up before it expires.
8. Does Suavecito Pomade Have Alcohol?
Suavecito Pomade does not contain alcohol. It manages to produce a firm hold without the drying effects of alcohol.
Like many water-based pomades, Suavecito shuns the alcohol found in many budget gels.
The stiff hold it produces is still due to the evaporation of moisture from the product, leaving behind the product. But unlike gels, it manages to do this without the use of alcohol.
In doing so, it doesn't dry out the hair too much and doesn't produce a finish that's too brittle, flaky, or crunchy.
Looking at the list of ingredients can be confusing as water-based pomades do usually contain a list of preservatives that can be tricky to get to grips with.
They may not be organic, but Suavecito Original and Firme Hold don't contain alcohol. It's one of the things that separates water-based pomades from hair gels and it does make a difference.
9. Is Suavecito Pomade Good For Long Hair?
Suavecito Pomade works well for long hair when it's used for slick and defined hairstyles such as pompadours, slick backs, and side parts. Long hair often benefits from the shine of Suavecito and is unlikely to be weighed down.
If you've got long hair, base your decision around the effects of Suavecito and not on your hair length.
If you're looking for medium shine and a medium hold – it may be for you. However, if you're looking for a pliable hold – one you can restyle during the day – this won't be for you.
Suavecito will give your long hair a firm and stiff hold and you won't be able to restyle it without adding some water to it.
One of the beauties of Suavecito Pomade is just how easy it is to wash out. When you've got long hair, this shouldn't be underestimated.
Trying to wash oil-based pomade out of long hair can be a tough task indeed. If you'd rather not have to bother with this and enjoy sleeping with a pomade-free head of hair every night, a water-based offering like Suavecito would be a better choice.
One thing to note is that if you're looking to use accessories such as hair ties to keep the hair in check, Suavecito may not be a good idea. The stiff hold doesn't lend itself well to being manipulated into hair ties and buns.
If you're looking for some shine but still want to be able to work the hair the way you want it once you've applied the product, consider a hair wax instead.
10. Can You Bring Suavecito On A Plane?
You won't be able to bring a typical 4oz tub of Suavecito Pomade on a plane because it exceeds the usual TSA limit of 3.4oz for liquids and gels.
It's unfortunate, but rules are rules.
There's a good chance your airline will be abiding by these same rules. You'll need to either take an alternative compliant product, go through the messy job of transferring the product into a smaller container, or get yourself a travel version instead.
If you're intent on taking Suavecito Pomade with you, they do offer travel-sized versions you can consider.
Check them out on Amazon if you're interested by clicking here.
11. Is Suavecito Pomade Good Or Bad For Hair?
Suavecito Pomade is free of alcohol, nickel, parabens, and dye – it does its best to be considerate of hair.
However, as with any hair product it should be used in moderation. Use the minimum amount to get the job done – using it excessively can ultimately be drying for the hair.
One thing to note is that it isn't fragrance-free. As fragrance can trigger allergies in some it's a good idea to do a patch test before applying it all over your hair.
This information is for the original Suavecito Pomade which is most likely the one you're looking into in any case.
Check out Skin Safe's review of the product for more information.
12. Suavecito Pomade Alternatives
Although Suavecito Pomade has made a serious name for itself, it's not the only big player in the game.
Here are a few others you should be aware of with some information on how they compare as well.
Suavecito Pomade Vs American Crew Pomade
Suavecito Pomade produces a firmer hold and more shine than American Crew Pomade despite both being water-based pomades. Suavecito also has a more noticeable scent.
This one really is a battle between old and new. American Crew is a classic brand that really revolutionized men's grooming and its branding over the decades. Suavecito is the new kid on the block that's really taken the pomade market by storm.
It offers a wide range of hair products, one of which is its water-based American Crew Pomade.
It does what you'd expect it to do but doesn't produce as strong of a hold as most men would like. That's one of the main drawbacks.
It's got a pretty subtle citrus scent that's quite easy to miss. Either way, it definitely isn't noticeable at all once applied.
The shine is medium at best. It isn't obvious or ideal for men looking for ultra-slick and defined styles.
Final Thoughts: Suavecito does have a better hold and produces a shinier finish. It gives you more of what you'd expect from a water-based pomade.
Suavecito Pomade Vs Tres Flores Molding Pomade
Tres Flores is an affordable alternative to Suavecito Pomade but doesn't have as strong of a hold and produces less shine. Overall, it's a lighter product than Suavecito – this may appeal to some.
The packaging of Tres Flores is very basic indeed with minimal branding on the packaging. This is in contrast to the now-famous and incredibly eye-catching design of Suavecito's colorful cola-themed packaging.
Overall, Tres Flores is a lighter water-based pomade than Suavecito.
You won't get the same sort of slickness you can expect from Suavecito. If you're going for a more classic look with a slick back or a side part, you may not get what you want from the product.
But milder hold and lighter shine of Tres Flores may appeal to men who are looking for a finish that's more subtle and a cheaper price as well.
Suavecito Pomade Vs Fix Your Lid Pomade
Fix Your Lid Pomade has a greasier feel to it than Suavecito but produces a similar level of shine. Suavecito does produce a stronger hold and has a more noticeable cola scent.
Fix Your Lid's pomade offering is often compared to American Crew Pomade but has a greasier feel to it and does produce more shine.
Overall, Fix Your Lid Pomade is a decent product that does do the job if you're looking for slickness. But if you usually lean towards water-based pomades because you aren't a fan of greasiness, Suavecito may be a better option for you, especially if you want a firmer hold.
Suavecito Pomade Vs Johnny B Dope Texture Gel
Out of all of Johnny B's products, Suavecito is most similar to Dope Texture Gel in consistency and shine. Suavecito does produce a stiffer hold than the more pliable finish of Johnny B's Dope Texture Gel.
Dope Texture Gel markets itself as "half-pomade and half-gel" because it feels and looks like a gel while not producing the same crunch as you'd expect from a gel (or a regular water-based pomade for that matter).
Its finish is a little more pliable than what you'd expect from a water-based pomade or gel which is good for men looking for something they can restyle throughout the day.
But unlike an oil-based pomade, the water-based offering by Johnny B still maintains the massive benefit of being washed out with ease.
Ultimately, if you're looking for a little more shine and stiff hold – go for Suavecito. But if you'd rather a more pliable finish but still want a similar gel-like consistency to the product, Dope Texture Gel may be the one for you.
It's important to note that Johnny B's "Original Pomade" is an oil-based pomade and so is very different to the water-based Suavecito. For this reason, it's not even worth comparing the two.
If you're looking for a rundown of exactly how oil-based and water-based pomades are different, read this.
Conclusion
There you have it.
Hopefully, you've now got a pretty good idea of whether Suavecito Pomade is the product for you or not.
With the huge number of pomades out there on the market today, it can be tough to know which ones are here for the long haul and worth knowing about or even trying out.
It's pretty safe to say that Suavecito Pomade is one of them.
Enjoy.
Ready Sleek founder. Obsessed with casual style and the minimalist approach to building a highly functional wardrobe. Also a fan of classic, vintage hairstyles.