It sounds simple enough, but as with most aspects of men's style, there's always a better way of doing it.
You're about to learn some essential tips for wearing an unbuttoned shirt layered over a T-shirt in the most effective way possible.
Let's get to it.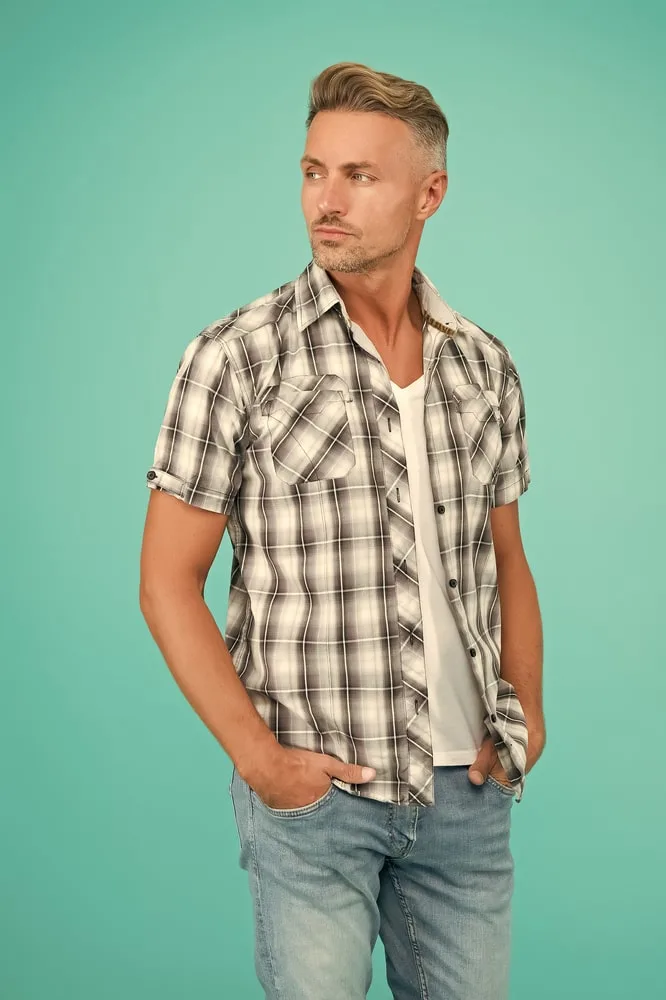 1. Make Sure It's Appropriate
There are certain situations and settings where wearing a shirt over a T-shirt just wouldn't be appropriate.
At the end of the day, even layering a "dressy" shirt unbuttoned over a T-shirt will look pretty casual.
In fact, it looks so casual that "casual" is really the only dress code for which you should wear this combination.
While some may disagree, it really could never be considered "smart-casual".
It would be fine to combine with a pair of jeans/chinos and sneakers when going to the movies or a friend's place, for example.
It wouldn't be fine to wear an unbuttoned shirt over a T-shirt with chinos or dress pants to a first date, garden party, mid-level restaurant, or other truly smart-casual settings.
It'll look awkward and out of place with a real risk of underdressing.
Wearing a shirt over a T-shirt would also never be appropriate for a business-casual dress code. A buttoned OCBD or dress shirt with a pair of chinos or dress pants would be a much better choice.
Finally, while it probably goes without saying, this layered combination would never be acceptable for formal settings where a suit would be necessary.
2. Unbutton It All The Way
When you're wearing a shirt over a T-shirt, unbutton it all the way down.
Simply undoing a couple of buttons or even just going halfway down with it often just doesn't look right.
It almost looks as though you're trying to go for both casual and smart-casual/business-casual without really committing to any one of them.
What you're left with is something that looks awkward.
We've established that wearing a shirt over a T-shirt will always be a casual look no matter how many buttons you undo.
The best way to produce an intentional and effectively layered combination is to unbutton the shirt on top all the way down, fully exposing the T-shirt underneath it.
Doing so will fully embrace the casual aesthetic instead of sitting on the fence.
It's also a great way to color block.
When you unbutton the shirt all the way down, the T-shirt color is clearly visible in the center.
If you've gone for some color contrast between your shirt and your T-shirt (as we'll go through later on), you'll be left with a full strip or block of a contrasting color down the entire center of your body when the shirt is left fully unbuttoned.
Color blocking works well when it's done correctly.
3. Choose The Right Shirt
"Casual" shirts look best when they're worn over T-shirts.
No matter what shirt you wear, it'll look casual. The best way to approach this is to fully embrace it and go for a casual shirt.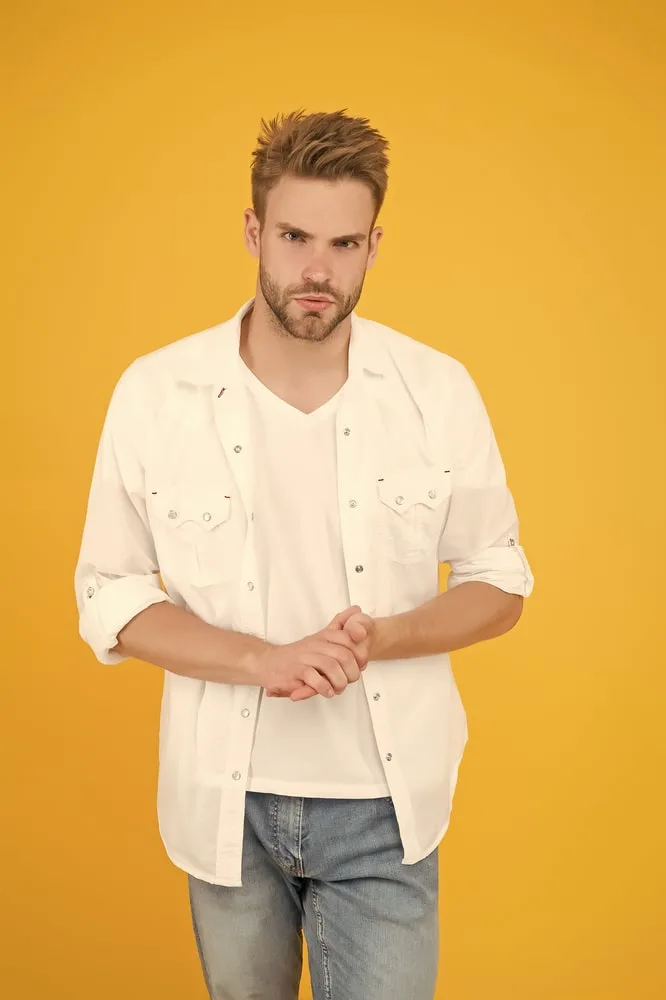 Features that make a shirt look more casual and laid-back are the color, pattern, and fabric.
Shirts in brighter, lighter, and bolder colors are considered more casual
Shirts with patterns are more casual than those in solid colors
Shirts in more rugged, wrinkly, and textured fabrics are more casual
Shirts with short hems (i.e not designed to be tucked in) are more casual
Making a point to choose a shirt which looks more casual isn't essential, but clearly shows that you know what you're doing.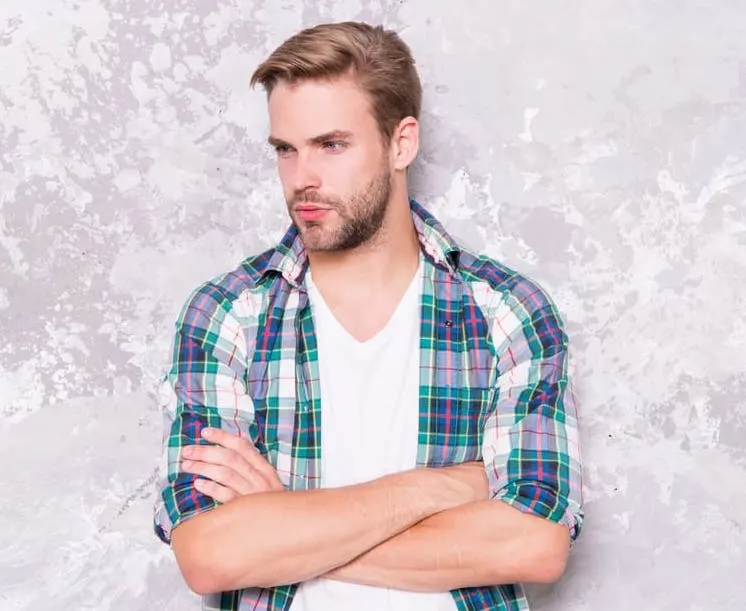 Here are some great examples of shirts that are commonly worn over T-shirts very effectively.
| | |
| --- | --- |
| Flannel | Flannel shirts often come in a tartan pattern and work well when worn over T-shirts in solid colors. |
| Denim | Denim shirts are commonly left unbuttoned and worn over T-shirts, especially when wearing jeans. |
| Linen | Linen shirts are breathable and are ideal for wearing over T-shirts in warm summer weather. |
| Check | Check shirts come in a variety of bold colors are look great when worn over off-white T-shirts |
| Hawaiian | Hawaiian shirts come in bright colors and work well when worn over subtle white T-shirts |
| Oxford | Oxford shirts have a rugged texture and are often worn over lightweight T-shirts |
| Plaid | Plaid shirts have a striking pattern and often come in bold colors. They work well worn over T-shirts in solid, neutral, and light colors. |
Types Of Shirts You Can Wear Over T-Shirts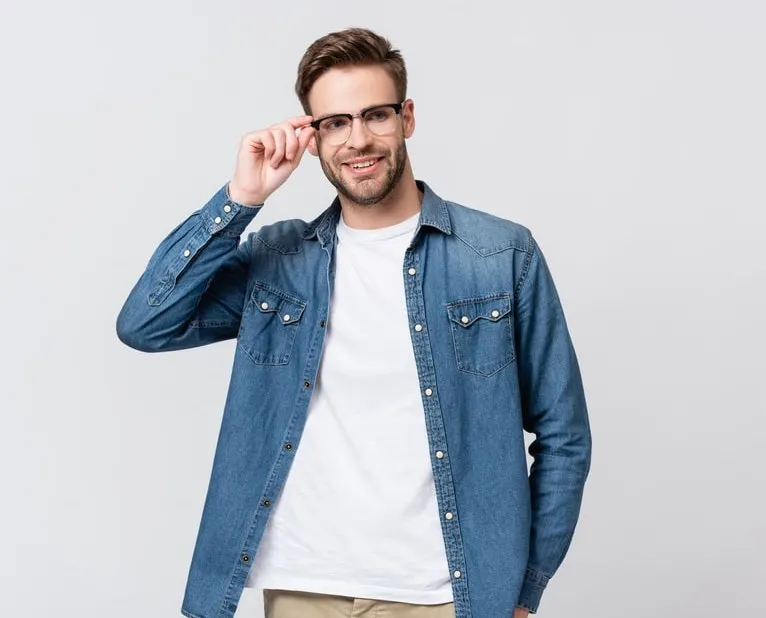 4. Avoid Dress Shirts
Dress shirts should not be worn unbuttoned over T-shirts because the combination of traditional formal and casual attire will look awkward. In addition, the long hems that dress shirts have are designed to be tucked in.
Although it can sometimes be tempting to try and wear any shirt unbuttoned over a T-shirt to produce a nice casual look, it doesn't always work.
Trying to wear a formal dress shirt unbuttoned over a standard tee won't ever look right.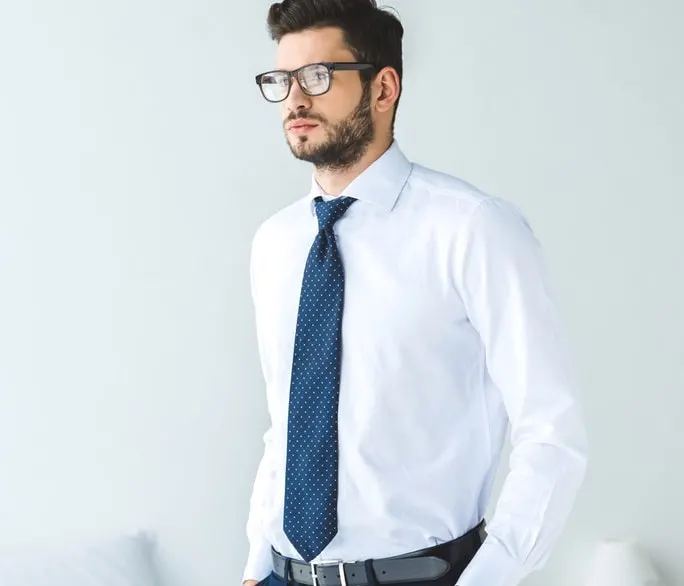 Dress shirts have a certain look and feel to them. The features are quite specific and easily recognizable.
They usually have more of a sheen to them and don't wrinkle very easily. They also usually come in light and neutral colors like white or baby blue.
In addition, the hem (i.e bottom edge of the shirt) is long and trimmed so that it can be easily tucked into a pair of dress pants or suit pants.
When wearing a dress shirt unbuttoned and untucked over a T-shirt, the long hem will reach down far enough for it to be obvious it was meant to be tucked in.
In addition, the general look and formal feel of the dress shirt will contrast the casual texture of the T-shirt underneath it.
In other words, it'll cause a formality mismatch.
Contrast can be great, but not always.
This is a common mistake that people make and an important one to be aware of.
5. Choose T-Shirts In Light Fabrics
We've talked about the shirt you're wearing on top. Now it's time to talk about the T-shirt you're going for underneath it.
In general, you've got quite a lot of freedom to go for whatever type of T-shirt you want.
Some shirts, especially those with loud patterns and colors, work better with white T-shirts underneath (as you saw in the table above).
But overall, you've got quite a lot of freedom to go for whatever color of T-shirt you want.
In addition, you can choose from a variety of different T-shirt necklines, including crew necks, round necks, V-necks, and scoop necks.
It doesn't really matter, as any of them could potentially work when worn under an unbuttoned shirt.
The only specific T-shirt feature you may want to consider is the weight of the fabric.
The look is pretty strongly associated with warm weather and laid-back settings. In general, it's best to choose a T-shirt in a lightweight and breathable fabric when wearing one under a shirt.
A light cotton or cotton-polyester blend usually works best.
This will prevent the layered combination from looking too bulky or feeling too warm.
In addition, it'll also look more natural and appropriate for the weather you're likely to be wearing this combination in.
6. Go For Color Contrast
When wearing a shirt over a T-shirt, consider choosing colors that contrast yet complement each other.
The easiest way to do this is to choose one item in a louder and more striking color or pattern, and the other item in a light, solid, and neutral color.
Which item you choose for each purpose is up to you, but the more common combination would be a shirt in a louder and more striking color, with a lighter and more neutral-colored T-shirt underneath it.
It's pretty hard to go wrong with a white T-shirt underneath, but any light and neutral color will do (eg. light blue, off-white, beige, light grey).
This type of contrast makes the combination and the overall outfit look balanced and well thought out.
The problem with wearing both a loud shirt and a loud T-shirt is that they could potentially clash with each other.
Instead, go for contrast to make it work each time.
7. Roll Up The Sleeves
Rolling up the sleeves of the shirt you're wearing over the T-shirt is another great way to fully embrace the casual aesthetic.
While it isn't essential, it's a nice touch.
Whenever you roll up the sleeves of a shirt, make sure it looks intentional and relatively neat.
Pushing the sleeves up so the fabric bunches up isn't a great look, no matter how casual the setting may be.
Instead, unbutton the shirt sleeves and fold them once, twice, or however many times you want to.
Make sure the sleeves aren't rolled up above the level of the elbows. Going up to an inch below the elbow is a better option.
Sticking to this tip, as well as the others in this list, should ensure that you pull off this fantastic casual look each and every time you feel like wearing it.
Enjoy.
Ready Sleek founder. Obsessed with casual style and the minimalist approach to building a highly functional wardrobe. Also a fan of classic, vintage hairstyles.