Interviews are stressful enough without the risk of a fashion faux pas hanging over your head. The question is, can you wear plaid to an interview?
Plaid can be worn to interviews where the dress code of the workplace is business-casual and not formal. Wear a dark, 2-piece, woolen plaid suit with stripes that are subtle and minimally contrasting.
Although that's the short answer, there's more to it. You need to know exactly how to do it in the safest and most effective way possible.
Read on to find that out.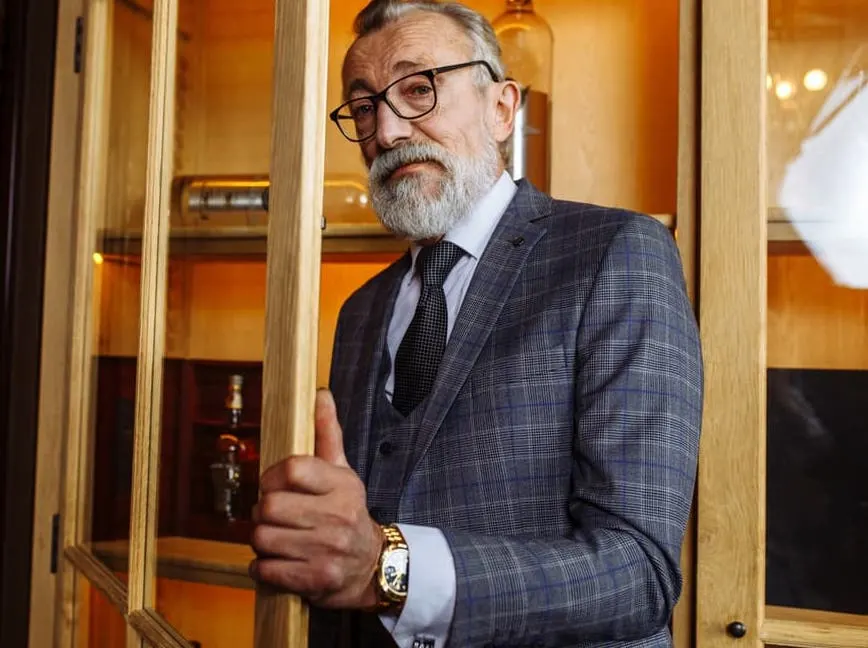 1. Make Sure It's Appropriate
Plaid is a criss-crossing pattern of stripes producing large and small squares, often containing several different colors. Compared with a simple solid color, any item with a plaid pattern will look more casual.
For more formal corporate office environments, wearing plaid of any sort probably isn't a risk worth taking.
Before you go for plaid, consider what you'd be expected to wear to work if you were to get the job.
If the answer is a dark woolen 2-piece suit in a solid color, wearing a plaid suit wouldn't be a good idea.
You'll want to wear the same thing to the interview. In fact, you'll probably want to choose one even sharper than what would be expected once you got the job.
But for more casual and relaxed office environments where "business casual" is the accepted dress code, a plaid suit would usually be fine to wear to the interview.
It's a little more formal than what would be expected in the workplace itself, but not too uptight.
As an example, if you can wear an Oxford shirt, cardigan, and chinos to the workplace, a plaid suit would probably be fine for the interview.
2. Wear Plaid Suits, Not Shirts
The plaid pattern can be put on anything. You'll most commonly find it on suits, shirts, and pants.
As discussed in the previous tip, plaid suits can be fine to wear to some types of interviews.
However, plaid shirts are really tough to wear to any style of interview. They should be avoided.
This is especially true if you're wearing a plaid suit as well. Wearing a plaid shirt underneath would just be – well, too much plaid.
But even if you were wearing a simple, dark, solid-colored suit, a plaid shirt underneath often doesn't look quite right.
Solid-colored, business-professional, 2-piece suits work better with light-colored dress shirts in a neutral color. It's hard to go wrong with white or baby blue.
3. Choose Wool Or Wool-Blend
It's always worth remembering that wearing a plaid suit to an interview will look more casual than an unpatterned suit.
This won't necessarily be a problem, but it's worth choosing a plaid suit with more "formal" features to offset the casual pattern.
One way of doing this is by considering the fabric.
Certain fabrics look more casual than others. The more rugged, coarse, and wrinkly the fabric, the more casual it'll look.
Tweed and linen, for example, are likely to be too casual to offset how casual the plaid will look.
Instead, choose a plaid suit in a wool or wool-blend fabric. In general, they have more of a sheen to them and are also quite wrinkle-resistant.
Ignoring the turtleneck, here's an example I found on Amazon of a plaid suit that would work well for an interview:
Choosing a formal-looking woolen suit should make the plaid look less casual and therefore less likely to offend any of the interviewers.
4. Go For Dark Colors With Minimal Contrast
The darker your plaid suit, the better. Dark colors always look more formal, no matter what item we're talking about.
Plaid suits are no exception.
Dark, neutral colors such as black, charcoal, grey, or navy blue would work well for the predominant color of the plaid suit.
Here's an example on Amazon:
But remember, plaid patterns come in several different colors, with around two of those colors being the main ones.
It's always better when the different colors don't contrast each other too much.
The more contrast you've got between the colors, the more attention-grabbing it'll be and the more casual it'll generally look.
For example, a navy blue plaid suit with predominantly light yellow stripes will produce a bold and eye-catching pattern.
Probably too much for an interview.
On the other hand, consider a navy blue suit with dark tan stripes instead. The plaid pattern will be visible, but not so visible that it might appear distracting to the interviews.
5. Avoid 3-Piece Suits
Avoid 3-piece plaid suits when attending an interview. Go for a simple 3-piece suit instead.
A real issue with plaid suits is that they're usually worn to social events. Weddings, parties, etc.
The risk with wearing one to an interview is that you might come across as someone who's dressed for play and not work.
Wearing a 3-piece suit makes this risk even more real.
In general, 3-piece suits shouldn't ever be worn to an interview in any case. They simply come across too formal and are also more appropriate for social events.
Wearing one to an interview will usually come across as eccentric, unless you happen to be applying for a pretty senior position in a corporate office environment.
But wearing a 3-piece plaid suit would never be appropriate – a rule that would apply to the vast majority of people attending any type of interview.
You don't want to come across as someone who confused wedding attire for work attire.
This is also another reason why you'll want to be careful with your pocket square fold as well. A simple, straight, presidential fold of a white pocket square may be OK.
But a fancy puff or crown fold just wouldn't be appropriate for an interview.
6. Choose An Unpatterned Necktie
Because you're wearing a pretty obvious plaid pattern, you'll want to go extra subtle with the other items you're wearing.
We've talked about how a light-colored, neutral dress shirt would be essential.
But you should also choose your necktie very carefully.
Choose a necktie in a solid color that compliments the suit color but doesn't match it. The most important point here is that it should not have a pattern.
Wearing a patterned necktie and a patterned, plaid suit will usually make the entire outfit look too casual.
It'll come across as social instead of professional.
In addition, the patterns may conflict with each other. This can be distracting.
At an interview, the last thing you want is for your interviewer to be distracted by anything you're wearing.
That could be due to underdressing, overdressing, or simply dressing inappropriately.
Going for a subtle necktie is a simple action that reduces the risk of this significantly.
7. Dark Brown Or Black Leather Dress Shoes
Another simple way of dressing up your plaid suit and preventing it from looking too casual is to wear a formal pair of leather dress shoes.
In general, the darker the better.
While you don't need to go for black, dark brown should be the lightest color you would go for.
Lighter shades of brown won't necessarily be a problem, but they'll never look quite as formal as dark brown.
In addition, avoid suede.
The napped, rugged texture of suede will always look more casual than the shiny texture of grains such as calfskin or cowhide.
In addition, suede shoes always look more social than professional.
Because of this, avoiding suede shoes when dressing for an interview is a pretty good rule of thumb to have even if you weren't wearing a plaid suit.
Sticking to this tip, as well as the others in this list, should ensure that you wear plaid to your interview in a way that looks professional each and every time.
Ready Sleek founder. Obsessed with casual style and the minimalist approach to building a highly functional wardrobe. Also a fan of classic, vintage hairstyles.