Wedding dress codes can be tough at the best of times. Confusing invitations don't make things any easier. So, can you wear plaid to a wedding?
Plaid should only be worn to casual weddings, as formal weddings will usually require solid colors. If plaid is considered appropriate, choosing neutral pattern colors, an unpatterned necktie, and brown leather dress shoes should ensure that the plaid doesn't come across as too casual for a wedding.
Although that's the short answer, there's more to it.
You're about to get 7 tips for wearing plaid to a wedding in the most effective way possible. At the end, I'll even throw in a couple of frequently asked questions to boot.
Let's get to it.
7 Tips For Wearing Plaid To A Wedding
Sticking to these tips should make sure you don't set a foot wrong. There's nothing worse than a fashion faux pas, especially at special occasions like weddings.
1. Make Sure It's Appropriate
There will be plenty of weddings where plaid simply won't be appropriate to wear. It all depends on how traditional and formal the dress code is.
"Plaid" is a pattern, not a fabric. It consists of criss-crossing lines of varying widths. Like many other patterns, it can make an item of clothing look more casual than a solid, unpatterned alternative.
Here's an example of a great plaid suit on Amazon as an example. It's subtle, but notice how it still looks more casual than a solid, unpatterned suit would look.
A wedding should specifically present itself as "casual" before you attempt to wear plaid to a wedding.
Ultimately, a "casual" wedding is still on the formal end of the spectrum. You won't ever be wearing a sweatshirt and sneakers to a wedding, at the end of the day.
But a "casual" wedding does give you more options. You can get away with a more casual suit in a heavier fabric, or even a chinos, blazer, and OCBD shirt combination.
In addition, it gives you more options when it comes to colors and patterns.
Plaid becomes an option.
But it's important to be sure that's the vibe the marrying couple is going for before you do it. If the invitation isn't clear, it may be worth asking them directly.
A formal wedding would usually require a formal suit – ideally a dark, solid color in worsted wool. Plaid wouldn't be appropriate.
But if the wedding is going for a more casual vibe, plaid will most likely be possible.
However, it needs to be done the right way. Read on to find out what that right way really is.
2. Don't Go All Plaid
When wearing plaid to a wedding, it's a good idea to wear a full suit. The reason for this is that you want the "plaid" aspect of your outfit to be the most casual thing about it.
Wearing a plaid shirt and chinos, for example, will usually come across as too casual for any wedding.
Going for a full suit will at least make it clear you've dressed up for the occasion.
But the trick is making sure your outfit isn't all plaid.
In other words, either go for a plaid shirt or a plaid suit – but not both.
Going for plaid from head to toe is never a good look. It'll look awkward and will draw too much attention.
A plaid shirt with an unpatterned suit in a solid color is the more subtle and understated option.
However, a plaid suit with an unpatterned shirt in a solid color can still work well, as long as it's done well.
I'll talk through exactly how to do that a little later on.
3. Choose A Dress Shirt
If you do choose to wear a plaid shirt to a wedding, make sure it's a formal-looking plaid dress shirt. Don't go for a heavier, more casual fabric like flannel, linen, or Oxford, despite it being easier to find plaid shirts made from these fabrics.
For one, they're easily wrinkled and just have an immediately casual appearance to them.
Plus, they're difficult to tuck in and can look untidy when worn with any type of suit.
Instead, go for a proper dress shirt.
While dress shirts can come in a variety of fabrics, cotton, wool, and broadcloth are popular because they're smooth and don't wrinkle as easily.
Going for a more casual, heavier fabric for your shirt might have been OK in a solid color. But because you're wearing plaid, you need to be more careful.
The pattern will make the shirt a notch more casual, so you want to make sure the fabric you go for looks formal enough to make up for it. Yes, even for a "casual" wedding.
Another thing to note is that dress shirts will also have a relatively long hem because they're designed to be tucked in.
You'll find that more casual shirts in heavier fabrics have shorter hems because they weren't designed to be tucked in.
Avoid these when wearing a plaid shirt to a wedding, because if they do tuck in, they'll most likely become untucked after a short time.
4. Go For Muted Plaid Suits
A plaid suit can be worn to a wedding, as long as it isn't too colorful or attention-grabbing. It's better to choose a plaid suit in muted, neutral colors, as these would be less likely to come across too casual for a wedding.
Once again, if you're going to wear a plaid suit, make sure the dress shirt you're wearing is a solid color with no pattern.
But in addition to this, you'll want to make sure the suit still looks formal enough to make it clear you've made an effort.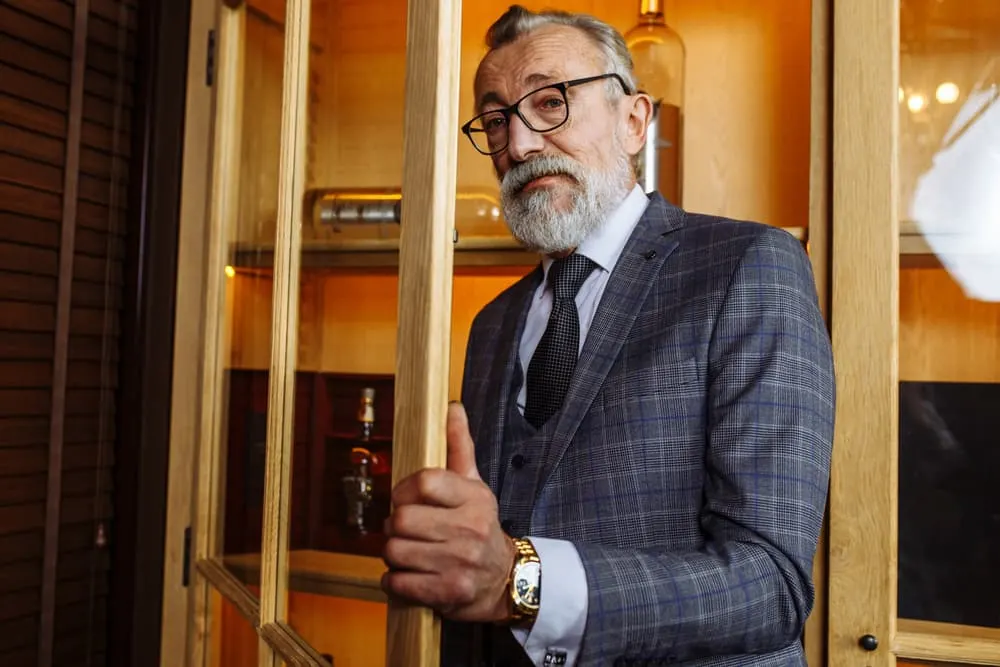 One way of doing this would be choosing the right fabric – this makes a huge amount of difference.
A worsted wool plaid suit will look a lot more formal than a linen plaid suit, for instance.
It's harder to pull off a plaid suit to a wedding than it is to pull off a lone plaid shirt. A plaid suit is just more likely to draw unwanted attention – not something you want as a wedding guest.
But going for neutral colors like navy blue, grey, olive green, or beige, would make things a lot easier.
That goes for both the color of the suit and the plaid itself – both of them should be neutral and should blend well with each other.
Here's an example of a subtle plaid suit in a neutral color on Amazon to demonstrate the point:
5. Avoid Flannel
I mentioned this earlier, but it's worth digging a little deeper into it.
When wearing plaid to a wedding, avoid flannel. This is important because it's so common to find plaid on flannel items of clothing – mainly shirts.
Remember, plaid is a pattern and flannel is a fabric.
Plaid flannel shirts will always come across too casual, even for a "casual" wedding.
They're very difficult to wear with suits without looking untidy.
This is because they wrinkle easily and are also difficult to tuck in, usually coming with short hems that weren't designed for tucking in.
6. Plain Pocket Square And Tie
When wearing plaid to a wedding, choose a pocket square in a solid color with no pattern.
It comes down to the fact that you want the plaid aspect of your outfit to be the most casual thing about it.
Choosing a pocket square in an understated, muted color such as off-white, beige, or grey would help make sure of that.
The same goes for the tie – little to no pattern and a nice, neutral color.
As always, contrasting the pocket square and tie is an excellent option. In fact, matching the two is generally discouraged.
7. Choose Brown Leather Shoes
Finally, when wearing plaid to a wedding, it's usually best to go for leather shoes as opposed to suede.
While technically suede is a grain of leather, its napped, rugged texture makes it easy to differentiate from shinier grains such as calfskin and cowhide.
This isn't a hard rule, by any means.
It's just that suede shoes will always look more casual.
If you do choose to wear plaid – whether that's a plaid shirt or a plaid suit – going for a more formal-looking pair of brown leather shoes is just a safer option.
You've got options when it comes to the style of leather shoes. Monk straps and even loafers could be very reasonable options for a casual wedding.
You don't have to go for Oxfords and Derbys by default.
But try to stick to shinier grains of leather and not suede, at a minimum. This should produce a nice contrast.
Formal leather shoes paired with casual plaid.
Frequently Asked Questions
Here are a few frequently asked questions to really round off this topic.
Can A Groom Wear Plaid To His Wedding?
Grooms can comfortably wear plaid to their wedding if they want to, whether it's their shirt or their suit. Given that they're generally expected to draw more attention than their guests when it comes to their choice of attire, they've got more options when it comes to patterns.
It's something that most grooms should take advantage of.
There aren't many formal events where you've got so much freedom to wear what you want (to an extent).
As long as the bride approves of it, there's really no reason why a groom can't wear plaid to his wedding.
Sticking to the tips listed above should ensure that it's done tastefully, however.
Can You Wear Glen Plaid To A Wedding?
Glen plaid can be worn to a wedding quite comfortably, due to the muted colors the woolen fabric usually comes in. While the irregular checks may be more casual than a solid color, the neutral tones should ensure that the pattern comes across as tasteful.
While the term "plaid" usually refers to a specific pattern, "glen plaid" often refers to a specific pattern made from a specific type of fabric.
It's a woolen fabric with small and large checks made from a woven twill.
Glen plaid suits are commonly worn at weddings and don't draw too much attention. The irregular checks of glen plaid are more subtle than the larger criss-crossing or regular plaid.
In addition, the colors are usually understated (eg. black, grey, white) and aren't too in-your-face for a wedding.
Conclusion
There you have it. Hopefully, everything you could ever want to know about wearing plaid to a wedding.
It may not be easy, but you shouldn't need anything more than the basics to pull it off in the best way possible.
Enjoy.
Ready Sleek founder. Obsessed with casual style and the minimalist approach to building a highly functional wardrobe. Also a fan of classic, vintage hairstyles.