No-show socks are underrated. Comfort, style, and so much more. But knowing when and where you can actually wear them can be tricky. The question is, can you wear no-show socks with dress shoes?
Loafers are the only dress shoes that should be worn with no-show socks. The combination is most suitable for smart-casual settings in warm weather. More formal dress shoe styles such as Oxfords and Derbys can look awkward when worn without visible socks.
That's the short answer, but there's more to it.
Here are some essential tips for wearing this combination in the most effective way possible.
Let's get to it.
1. Make Sure It's Appropriate
No-show socks should only be worn with dress shoes in smart-casual settings. It wouldn't be appropriate to wear in formal or business-professional settings.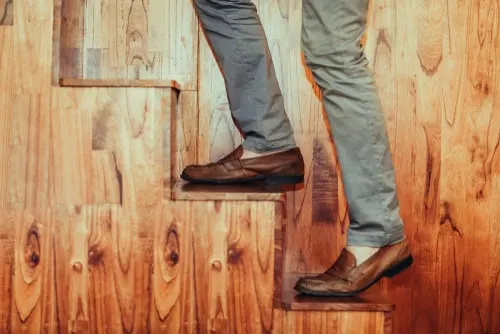 One of the key benefits of no-show socks is giving you the "sockless" look even when wearing low-cut shoes such as boat shoes, moccasins, and loafers.
It's a very low-profile sock that provides a layer between the sole of your foot and the inside of the shoe, but won't be visible above the shoe.
The end result is stylish, as well as comfortable. However, it's important to note that the sockless look is casual.
It wouldn't be appropriate to wear no-show socks with dress shoes for formal occasions or business-professional settings.
In these scenarios, you'll need to make sure you're wearing visible socks with your dress shoes – ideally over-the-calf (OTC socks) or crew socks at the very least.
To not do so would risk underdressing.
"Smart-casual" settings are ideal for the no-show socks and dress shoe combo, with loafers being by far the most appropriate option.
These are occasions where a pair of dress shoes wouldn't be considered overdressing, but the sockless look wouldn't be considered underdressing either.
2. Stick To Loafers
Loafers are the best dress shoe style to wear with no-show socks.
The other main dress shoe styles – Oxfords, Derbys, and monk straps – don't look as good with no-show socks as they're more formal.
Going sockless with these dress shoes tends to lead to a formality mismatch. They often look awkward and incomplete when worn without visible socks.
Loafers are low-cut, ankle-exposing, slip-on, and generally worn without socks in any case. Wearing no-show socks instead of actually going sockless will be more comfortable and more hygienic as well.
In addition, loafers make for the perfect smart-casual shoe style.
Not too formal, but not too casual either.
You've got a few different loafer styles to choose from. The main ones are:
Bit loafers (a.k.a Gucci loafers)
Penny loafers
Tassel loafers
Bit (Gucci) Loafers
Generally considered the most "formal" style of loafers, bit loafers are known for the metal buckle attached over the vamp (front).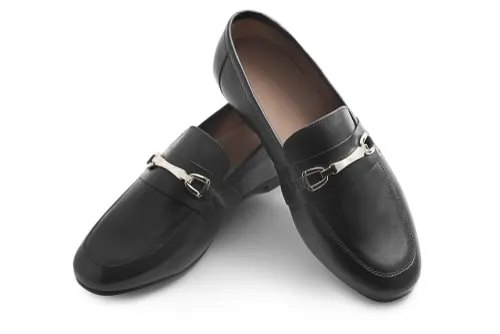 The buckle is shaped like a horse's bit – hence the name. It adds a bit of flair and elegance to an otherwise typically simple loafer construction.
A black pair of bit loafers would probably be the most formal style of dress shoe you could get away with when wearing no-show socks.
Penny Loafers
Penny loafers have a leather strap across the vamp with a diamond-shaped cutout right in the middle of it.
They're an incredibly versatile shoe style and can be worn in a variety of settings.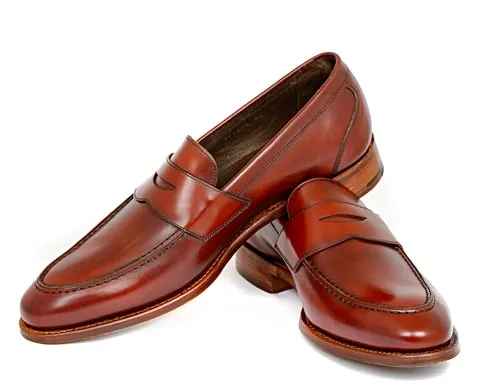 They don't look quite as formal as bit loafers but do still hold their own in smart-casual settings.
Tassel Loafers
Tassel loafers are one of the more casual loafer styles. They have a prominent tassel on the vamp, giving them a more fun and sociable vibe than the other styles.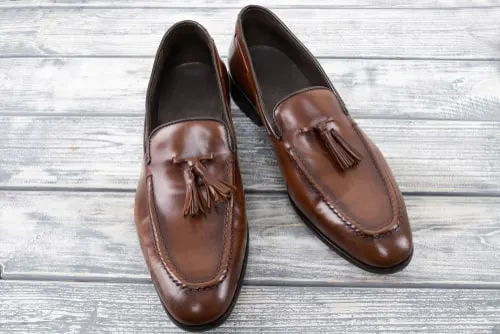 Much like the other two, tassel loafers look great when worn with no-show socks. Laid-back, yet elegant.
3. Only Wear It In Warm Weather
No-show socks should only be worn with dress shoes in warm weather. This will most likely mean restricting the combo to summer and spring.
Going for the sockless look in colder weather will often draw unwanted attention. It will look odd to most people even if you've gone for an appropriate dress shoe style like loafers.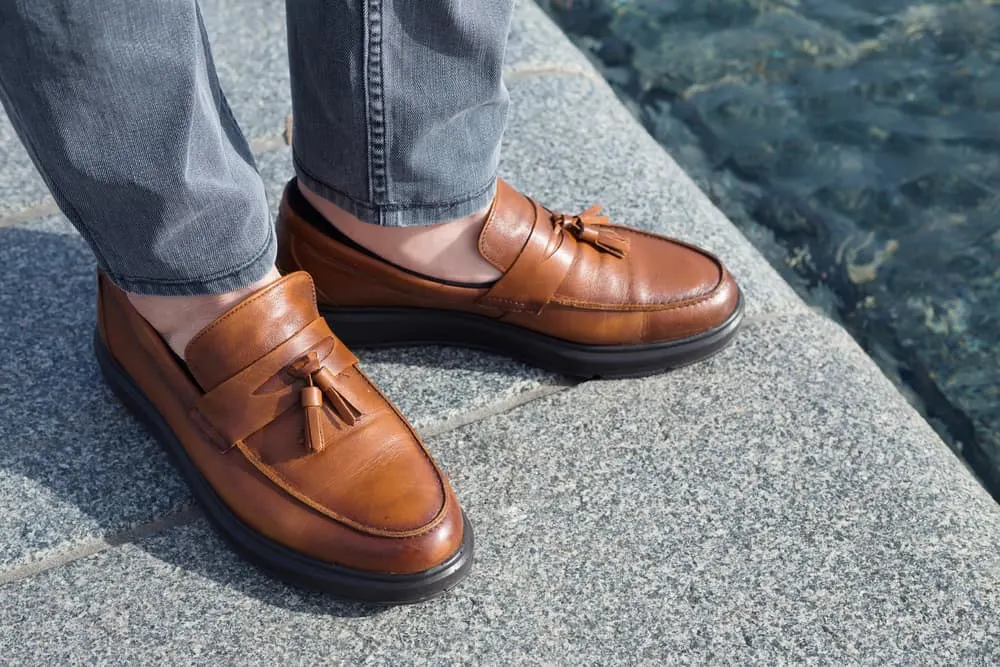 In addition, you'll probably want some coverage of your ankle/lower calf when it gets colder in any case.
4. Suede Loafers Work Great
Suede loafers look great when worn with no-show socks.
Dress shoes don't necessarily need to be made from the shiniest calfskin leather. For a more laid-back and smart-casual look, consider buying suede dress shoes.
The napped texture of suede will always look more casual than shinier grains of leather.
When wearing no-show socks and fully embracing how casual the sockless aesthetic really looks, going for suede would just make sense.
In other words, the casual texture of suede would look great with the equally casual sockless look.
It's worth mentioning that the term "dress shoe" can mean different things to different people. Some argue that only shoes that don't expose the foot should be considered dress shoes, excluding sneakers and boots.
In addition, some may argue that dress shoes need to be made from shiny grains of leather.
But this definition is generally considered outdated. Suede loafers, despite not meeting these criteria, should be considered dress shoes as they'd still be suitable to wear in semi-formal settings.
5. Don't Do It With Formal Suits
Don't wear no-show socks with dress shoes when wearing a formal suit.
Not all suits are going to be formal. In fact, you can get very casual-looking suits.
These are generally made from more rugged and wrinkly fabrics like linen, corduroy, or even chino cloth.
They're also generally less structured and have less of a sheen to them.
These types of suits are ideal to wear with no-show socks and dress socks (ideally loafers) because they're casual enough to make it work.
A common mistake is attempting to wear no-show socks and loafers with truly formal suits.
These are generally made from wrinkle-resistant and shiny fabrics such as worsted wool. The suit jackets are more structured and the suit pants will most likely have more "formal" features such as center creases.
Trying to go for a sockless look with these types of suits will almost always look awkward. It just doesn't work.
The sockless aesthetic is simply too casual to sync well with a formal suit.
To sum that up, if you're planning on wearing loafers and no-show socks with a suit, try to make sure the suit is casual enough for it to work.
6. It's Ideal For Other Smart-Casual Attire
Always bear in mind that wearing dress shoes with no-show socks should never be considered anything more formal than "smart-casual".
Once you fully embrace the smart-casual dress code, putting the rest of your outfit together becomes easy.
The smart-casual combination of dress shoes and no-show socks works well with other smart-casual items.
Examples would include polos, Henleys, OCBD shirts, chinos, dark wash/tapered jeans, and so on.
As mentioned in the previous tip, suits can also look "smart casual" if they're made from the right fabric and generally have a loose-fitting and relaxed construction.
7. Consider Cuffed Pants
No-show socks and dress shoes look great when worn with cuffed pants.
"Cuffing" refers to the process of rolling the hem of the pants up once or twice, revealing the ankle.
The reason this works so well when wearing no-show socks is that it all just looks more intentional.
When wearing long pants that cover your ankles, it only becomes obvious that you've gone for a sockless look when you sit down and your pants ride up your leg.
Sometimes, it can appear as though it may have been a mistake – i.e you've simply forgotten to put on a pair of socks.
Cuffing the pants and making it clear you're sockless at all times will just make it clear that you've made an intentional style decision.
For the same reason, wearing shorts works well too.
Enjoy.
Ready Sleek founder. Obsessed with casual style and the minimalist approach to building a highly functional wardrobe. Also a fan of classic, vintage hairstyles.