It's a pretty divisive color pairing. Some argue it should never be done, while others have it as their go-to combination. The question is, can you really wear a navy blazer with black pants?
A navy blazer can be worn with black pants in business-casual and smart-casual settings. For dressier events, consider more structured navy blazers and formal-looking black dress pants. In more casual settings, consider navy blazers made of more rugged fabrics and weaves such as tweed, herringbone, and linen.
While that's the gist, you'll most likely need more.
First, we'll go through some great outfit ideas for you to try out yourself. Then, we'll run through some tips for perfecting this combination every time.
Let's get to it.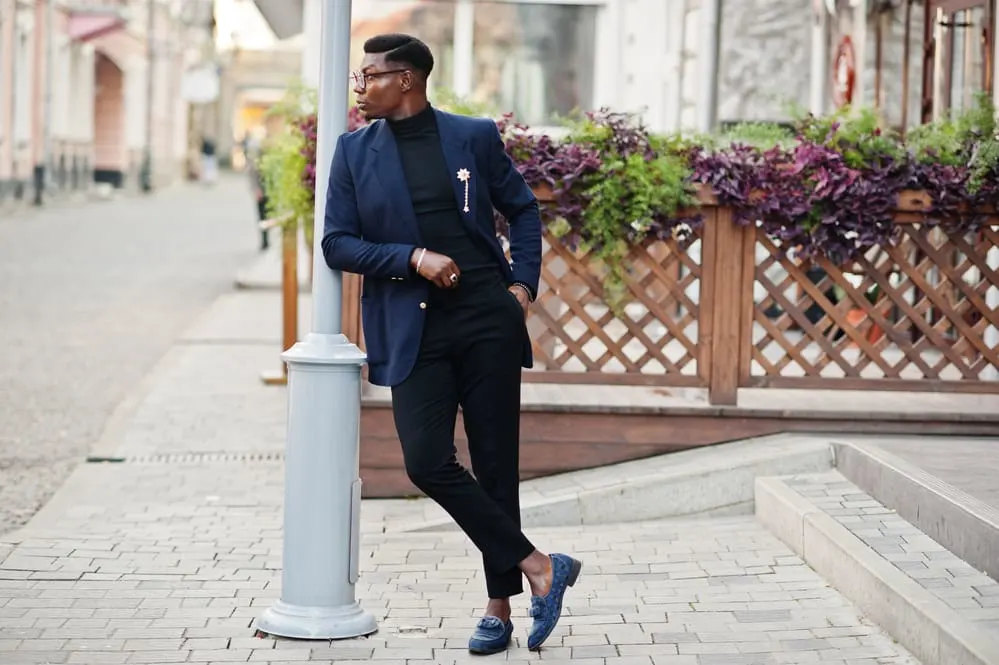 3 Navy Blazer And Black Pants Outfit Ideas
Here are three combos to inspire your imagination. We're going from one of the dressiest ways to wear it to one of the most casual ways.
Enjoy.
Dressy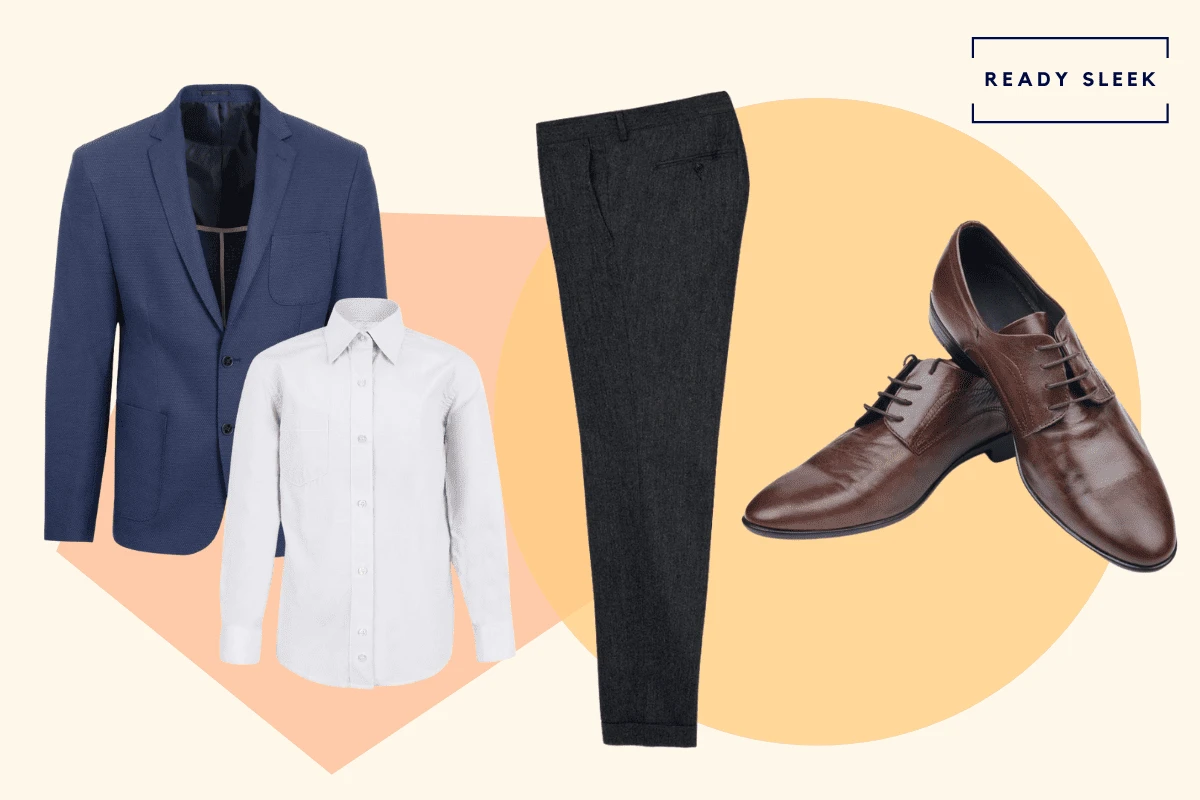 Items: Navy Blazer, Black Pants, White Chambray Button-Up, Dark Brown Derby Shoes, Light Grey Pocket Square
The navy blazer and black pants combination can be dressed up or down depending on the style of each of those two items. It can also be done using the other items you choose to wear them with.
It should only be worn in business-casual and smart-casual settings.
In dressier settings (eg. business-casual), consider the combination above.
Consider a more structured navy blazer (i.e heavy lining and shoulder padding) with a pair of tapered black dress pants.
In addition, consider a white button-up shirt before anything else. It doesn't have to be 100% cotton, but try to choose a fabric that looks relatively dressy and not too rugged.
Examples might include chambray, broadcloth, or poplin.
But a white shirt will always be the dressiest option.
Finally, round things up with a pair of dark brown shoes. It isn't quite as formal as black, but it'll add a nice sense of contrast to the outfit while still looking dressy.
More Casual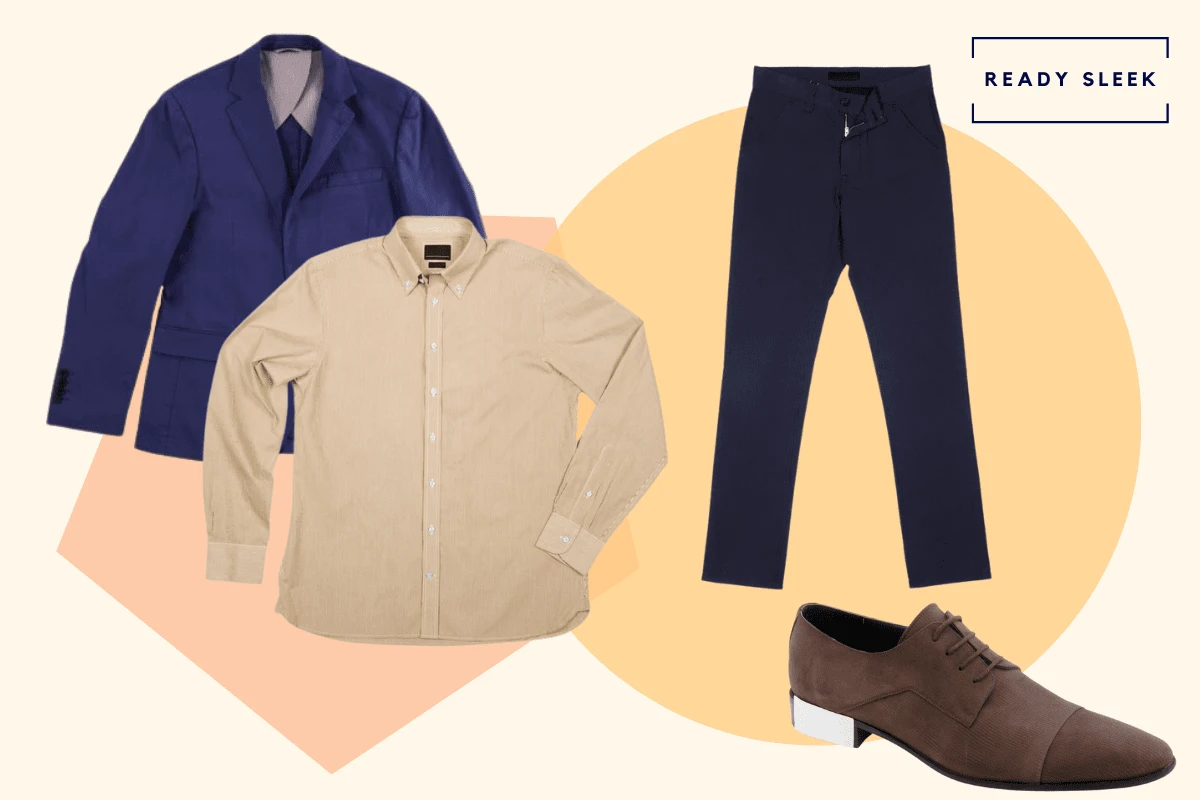 Items: Navy Blazer, Black Chinos, Khaki Button-Up Shirt, Brown Suede Shoes
Here, we've swapped the black dress pants for black chinos and we've gone for a less structured and formal-looking navy blazer.
Notice how different the combination looks when supplemented by a khaki button-up shirt. It's more attention-grabbing and definitely more casual.
But the khaki shirt is still neutral enough for this combination to hold its own in relatively dressy settings.
It looks sophisticated, just not quite as dressy as the white shirt combination in the previous example.
When dressing down a notch in this manner, you've also got more choices when it comes to footwear.
Instead of going for dark shoes in a shiny grain of leather, consider those in a lighter shade of brown.
Alternatively, you could consider a pair of suede dress shoes instead. The napped texture of suede oozes a great smart-casual aesthetic.
Most Casual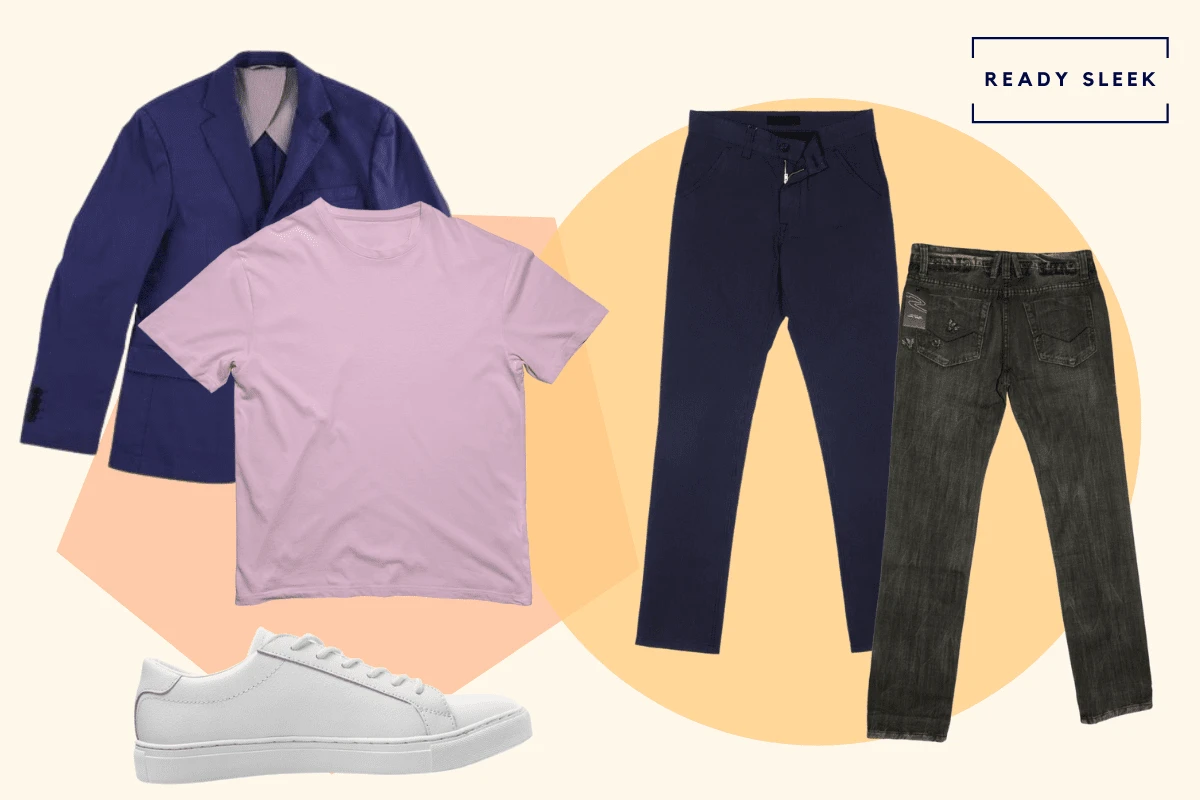 Items: Navy Blazer, Black Smart Jeans, Pink T-Shirt, White Leather Low-Tops
This outfit is the most casual of the three options due to the colors, as well as the style of the items being worn.
Here, we've gone for a pair of smart black jeans with minimal distressing. It looks sharp, but black jeans will always look casual no matter what.
We've really dressed down by ditching the button-up altogether and going for a colorful pink T-shirt.
The pink will pop through the navy and black foundation, making the entire outfit look more striking and casual as a result.
It just goes to show how versatile a blazer can really be.
As we're dressing down here, a pair of sneakers would usually work a treat. To keep things looking sophisticated, however, go for a pair of all-white leather low-tops if you can.
A pair of loud, bulky canvas sneakers would usually look a little too casual to wear with a navy blazer.
5 Tips For Wearing A Navy Blazer With Black Pants
Now that you've seen just how much can be done with the combination, here are some crucial tips for wearing it no matter what you may be dressing for.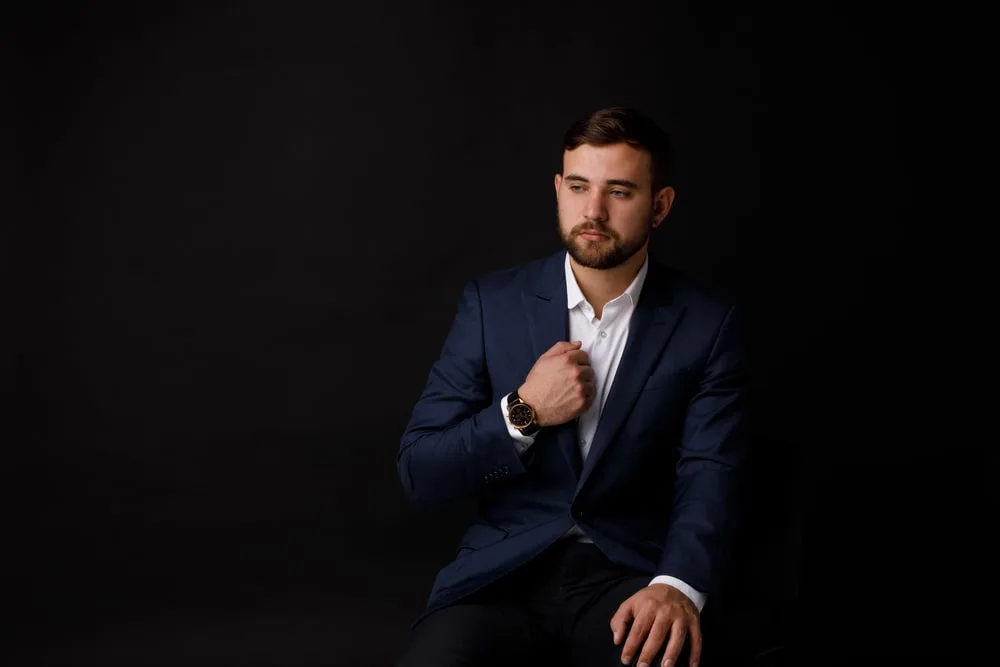 Avoid It In Truly Formal Or Professional Settings
No matter the fit or fabric, a navy blazer and black pants combination should never be worn in truly formal or business-professional settings.
These are environments where a 2-piece suit would be required at the very least.
A blazer and pants combination should really only be worn in business-casual or smart-casual settings.
But that's a pretty huge range in itself.
Within that range, you've got pretty sharp and dressy events, as well as pretty casual and laid-back ones.
The navy blazer + black pants pairing can be dressed up or dressed down as required, as you can see from the outfit examples above.
But it should never be considered an alternative to a 2-piece suit where a 2-piece suit would be required.
Consider The Blazer Fit And The Fabric
Both the navy blazer and black pants can look very different depending on the style and the fit of each of the items.
Some will look more formal, while others will inevitably look more casual.
For the best effect, it's best to try and pair formal-looking navy blazers with formal-looking black pants, and casual-looking navy blazers with casual-looking black pants.
Not doing so could lead to a formality mismatch.
Let's go through casual vs dressy navy blazers first.
Here are the features of a "dressy" looking navy blazer:
Structured appearance, with prominent shoulder padding and a heaving lining
Shiny, smooth, or wrinkle-resistant fabrics/weaves
Solid-colored (i.e no pattern)
Contrasting buttons in gold, silver, or mother of pearl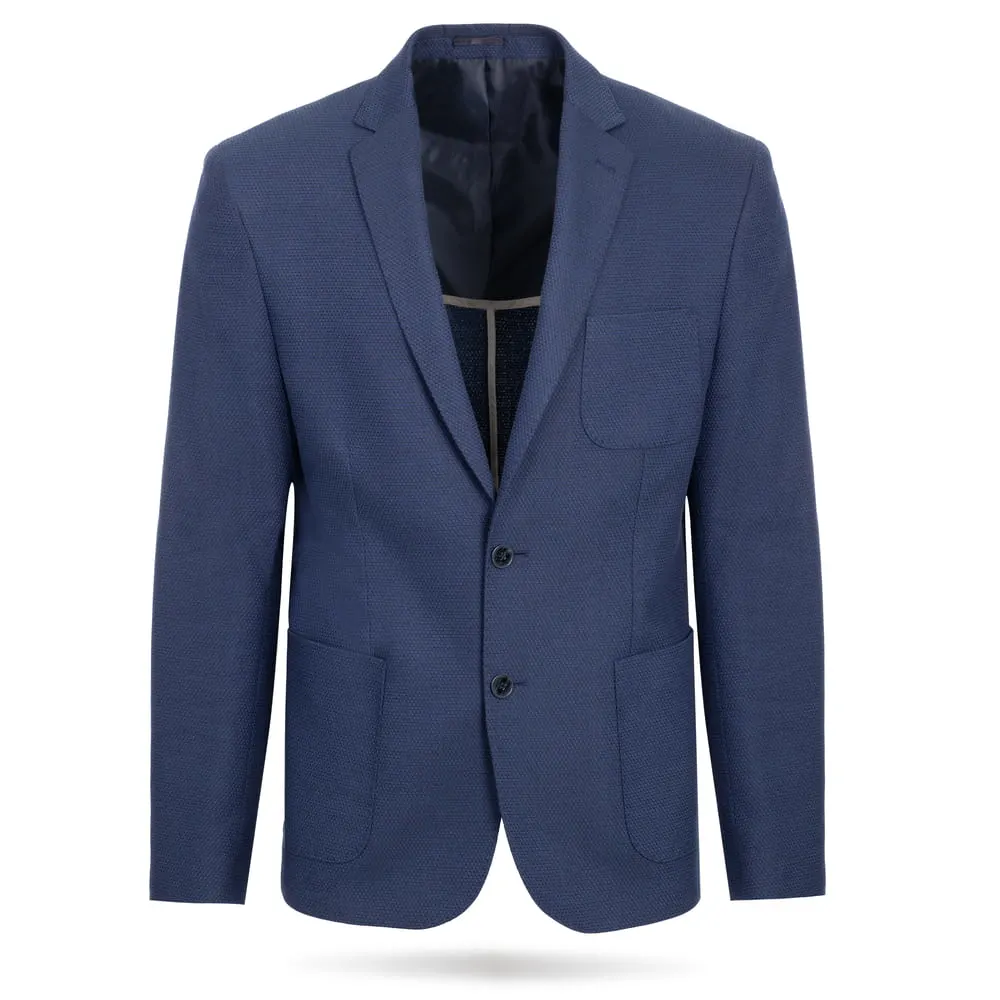 Here are some features of "casual" looking navy blazers:
Textured fabrics and weaves such as tweed, herringbone, linen, serge, and flannel.
Less structure, with minimal shoulder padding and less canvassing.
More relaxed fit.
Patterned
In fact, a lot of casual-looking navy blazers out there should often be labeled sport coats, but we'll avoid that distinction for now.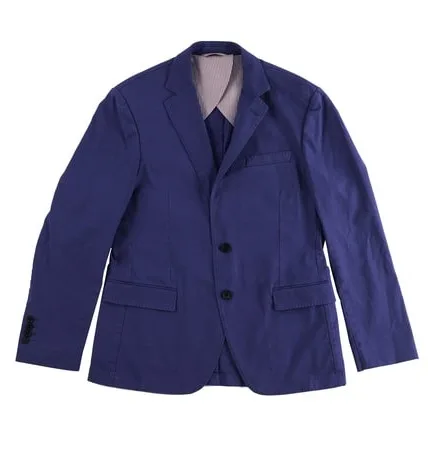 Here are some features of "dressy" black pants:
Smooth, unbroken silhouette
"Dress pants" are often made from wool or a wool-synthetic blend
Tapered, slim-fit
Center creases or even pleats
Here are some features of casual-looking black pants:
More rugged fabrics. Chinos and denim jeans are classic examples.
More relaxed fits (eg. wide-leg, straight-leg, bootcut) or skinny fits.
Distressed denim (eg. rips, frays, fading)
Brown Shoes Work Exceptionally Well
Brown shoes look great when wearing a navy blazer with black pants, simply because they'll look dressy while adding a touch of contrast to the outfit as a whole.
The darker the shade of the brown shoes, the dressier they'll look.
There are a couple of reasons for this.
One is that dark shoes will generally look dressier than lighter ones, with black being the dressiest option you could go for.
Another is that dark brown shoes will lead to less contrast when wearing a navy blazer and black pants than light brown shoes will.
The lighter the shade of your brown shoes, the more contrast you'll achieve between shoes and the pants, and the more striking and casual they'll look as a part of the dark outfit as a whole.
Having said this, you've got other options.
It's perfectly reasonable to wear black shoes with this outfit, but the more "smart-casual" dress shoe options would usually work best.
Monk straps, Derby shoes, and loafers can all work, with black Oxfords usually looking a little too formal to be worn outside of a suit.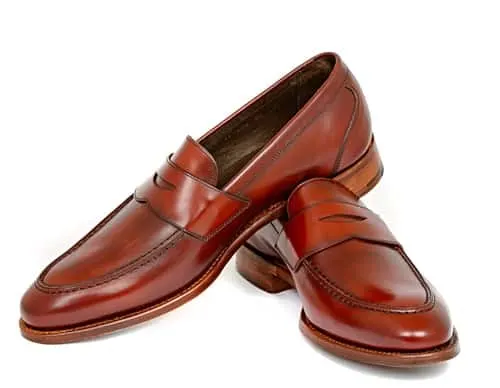 If you really wanted to dress down, however, consider a pair of all-white leather low-top sneakers.
They'll add a large amount of contrast to the outfit while still looking sophisticated enough to wear in smart-casual settings.
Shirt Color Makes A Huge Difference
Given how dark and neutral the navy blazer and black pants pairing is going to come across, your shirt color and style play a huge role.
Wearing a button-up shirt under the navy blazer will always look dressier than a polo, T-shirt, or Henley.
In addition, light and neutral shirt colors such as white and light grey will always look more casual than dark and non-neutral alternatives.
When dressing down, consider wearing a more casual shirt style (eg. a T-shirt) in a non-neutral color such as pink, maroon, or anything else.
Adding a pop of color is a great way to make the outfit more visually interesting and also to make it clear that you're dressing down.
If you were looking for a sophisticated smart-casual option, consider going for a black shirt or even a form of knitwear such as a turtleneck.
The black top will blend seamlessly into the black pants, producing a great monochromatic pairing that works well for dressy evening social events.
Consider Whether You Really Need A Tie
If you want to wear a tie with a navy blazer and black pants combination, it's definitely possible to do so.
This is especially true when you wear the combination with other "formal" items as per the first outfit example at the top of this post.
However, ask yourself whether you really need a tie in the first place.
Navy blazer and black pants pairings often look great without a tie in both business-casual and smart-casual settings.
In fact, ties are often discouraged in business-casual settings in any case.
If you're wearing a button-up shirt under the blazer, strongly consider simply ditching the necktie and leaving one or two buttons undone.
Conclusion
It's a versatile combination that can be worn to a wide range of business-casual and smart-casual events.
Consider the fit and fabric of both the navy blazer and the black pants after taking the dress code into consideration.
Enjoy.
Ready Sleek founder. Obsessed with casual style and the minimalist approach to building a highly functional wardrobe. Also a fan of classic, vintage hairstyles.