Stylish, modern, and easy to maintain. The low fade quiff style has so much going for it.
Versatility is a key feature of this look too.
You can find a quiff and a low fade to suit just about any face shape.
There's also a look for every type of man. Whether you're a fashionista or a more laid-back kind of guy.
This article will tell you all you need to know about it and will show you ten fashionable variations of this look.
Read it carefully. Consider the images.
You never know – you might find your future look in this guide.
Let's begin with the most important question.
What Exactly Is A Low Fade Quiff?
A low fade quiff combines two hairstyle features that go together like bread and butter.
Your barber will taper the hair from about an inch above the top of your ear. The length of the tapered hair can vary, as you'll see in this guide.
That's the low fade part of it. Now let's talk about the quiff.
Quiffs have been an important male haircut for a long time now. They keep coming into fashion. And there's a good reason for that:
They look awesome.
It's a relatively simple haircut to style. You just sweep your forelock up from your forehead. It can either go upwards, backward, or up and to the side.
Let's have a look at some examples of low fade quiff styles.
10 Awesome Low Fade Quiff Styles
Use them as a source of inspiration. Show them to a trusted barber if you feel it'll help.
Enjoy.
1. Side Swept Quiff And Low Fade
The side-swept quiff combined with a low fade is the ideal haircut for men with round faces.
Why?
The quiff, when swept to the side, creates a more squared look at the top of your head, which breaks up the roundness of the face. The low fade also complements the quiff as it helps to heighten that squareness on the sides of your head.
This haircut is easy to manage. Use a blow dryer on medium heat to set that swept forelock in place.
Blow-dryers are great for building volume and texture when it comes to quiffs. They aren't essential, but will allow you to achieve shapes with your quiffs you wouldn't have previously thought were possible.
A little stubble can go a long way. Keep the cheek line nice and sharp. It will give the appearance of more prominent cheekbones.
2. Neat Quiff With Hard Part And Beard
If you're a guy who loves to spend time in front of the mirror in the morning, making sure that you look sharp and ready to impress, then this style is for you.
The low-fade with a hard part is a call-back to classic male haircuts, the likes of which you may have seen in old, black-and-white movies.
But the quiff gives it a truly cutting-edge feel too.
And the beard is another feature that screams 'modern man'.
For men with rounder faces, a full beard can beef up the jawline and chin.
3. Side-Swept Quiff With Beard And Low Fade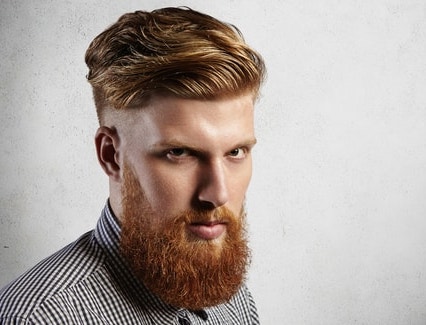 This style is a great choice for men with rounder faces.
The low fade is more severe than many others on our list.
The shortness of the hair on either side will make the jawline look narrower and the face more chiseled.
It works perfectly with a side-swept quiff that runs into more textured hair on the top of the head.
Men with particular "round" or "short" face shapes could afford to add even more vertical height on top. But a side-swept quiff adds just enough if you don't want to add too much.
The full beard gives the sense of a more powerful chin and can add even more length to a rounder face shape.
4. Textured Finger-Combed Quiff
For low-maintenance, stylish men, this quiff is your perfect haircut.
The texture is key to this style's success. Ideally, you'll let the hair dry naturally or towel-dry after a shower and then apply either a light pomade or a matte clay. Tousle your hair to create this wavy, chilled-out look.
The low fade isn't as severe with this hairstyle either and the hair above the fade is left longer.
This allows you to naturally grow out your hair if you feel like experimenting with a longer look.
A clean-shaven face is a simple way to gain back a sense of youthfulness. As you can see, it goes well with a low fade quiff just as a beard does.
5. ?Name
The quiff is short to mid-length and it blends into the hair on the top of your head.
The key to this haircut is ensuring that you don't overdo the product. Get this quiff wrong and you can end up looking like a teenage boy who has just discovered hair gel.
The low fade on this style blends into the sideburns. This tapering effect always looks very natural and can be hard to achieve without a barber.
A beard this long needs to be treated with care. But the additional maintenance requirements are often worth the outcome when it's done properly.
6. Wavy Quiff And Low Fade
This easy-to-create look will be appealing to many.
The quiff is short, tousled, and textured. It doesn't add a huge amount of vertical height to the forehead, which is why it's a great option for men with "longer" face shapes such as rectangular, oblong, or diamond.
It doesn't elongate the face much. It's subtle.
The low fade blends into the stubble with this look. It's pretty simple to achieve yourself without the help of a barber.
Overall, it's a pretty low maintenance style.
Apply a small amount of matte clay or a light pomade to your hair after it has been towel dried. Then use your fingers to create this textured, effortless hairstyle.
7. Messy Quiff And Low Fade
"Longer" face shapes and a messy quiff with a low fade often go well together.
This look perfectly complements a long, narrow face with broad cheekbones and an angular chin.
To keep the quiff artfully messy it's best to use a blow dryer to build volume.
Tousle the hair with your fingers as you do it to create a care-free quiff.
8. ?Name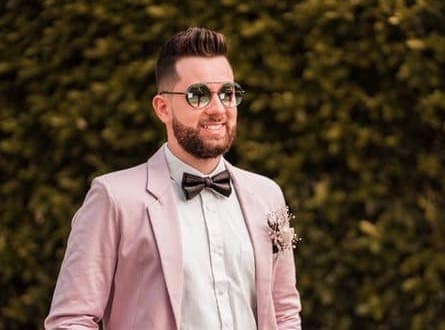 The fade starts a little higher with this look. It borders on the mid-fade but falls just inside the standard area for a low fade.
To create this quiff, then you need a hair product with a strong hold, whether that's a pomade, wax, or clay.
The height of the quiff and the fact it goes straight up makes it ideal for round faces as it helps to elongate your face.
Once again, the heavy stubble adds a layer of masculinity that's hard to ignore. It blends into the faded sides very nicely indeed.
9. Spiky Quiff And Low Fade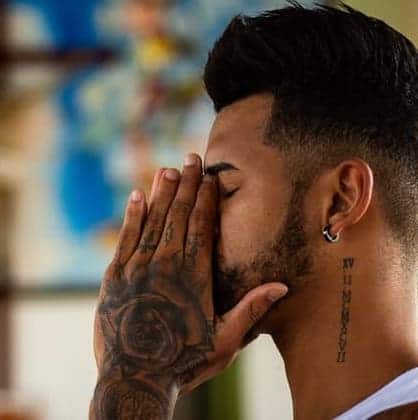 This spiky quiff hairstyle is an excellent choice for men with rounder and shorter face shapes.
The hair on top of the head needs to fall into the mid-length range. But it shouldn't be left too long as that will make it harder to create the tall spiky look.
This hairstyle is great for elongating faces and adding vertical height.
The low fade is pretty standard. It begins approximately an inch above the ear – the commonest starting point for a low fade you'll find.
The heavy stubble has been lined up very well, with a well-defined cheek line and neckline.
These sharp angles add a lot of definition and contour the lower half of the face. Carefully lined-up facial hair goes great with low fades as it creates a very intentional, modern look.
10. Quiff Undercut With Subtle Low Fade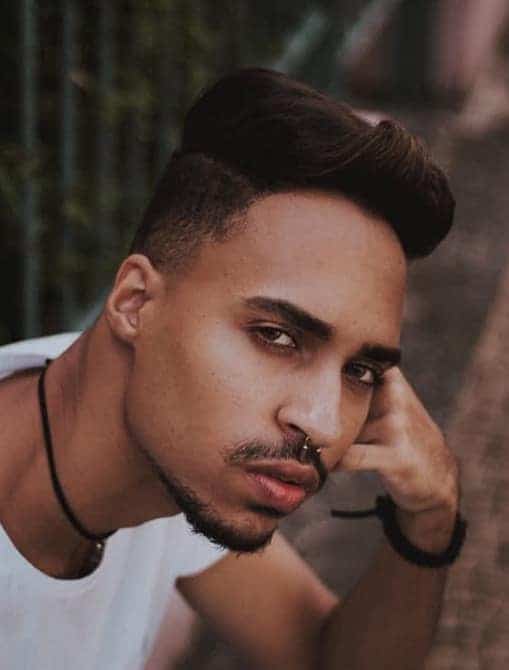 This look is subtle and daring at the same time.
An undercut is a hairstyle where the sides and back are clipped short while the hair on top is left long. The top can be styled in many different ways, one of which is a quiff.
The sides and back can still be faded, as you can see from this glorious picture of a quiff undercut style.
This look would work best with thick hair. The forelock is grown slightly longer than the rest of the hair on top of the head. But not much.
A blowdryer and a round brush will help you tease the quiff upwards and backward over the rest of the hair.
Conclusion
That's it.
Ten amazing low fade quiff looks that will suit men with a wide range of personal preferences.
This is a fantastic, versatile look that can enhance your best features.
Ready Sleek founder. Obsessed with casual style and the minimalist approach to building a highly functional wardrobe. Also a fan of classic, vintage hairstyles.