Both items are known for their versatility; true workhorses of the wardrobe. You find yourself coming to them time and time again for such a wide range of occasions. It would make sense that they'd work well together. So, can you wear loafers with chinos?
Loafers and chinos often look fantastic when together because they're both staples of semi-casual and smart-casual attire. There are no hard-and-fast rules, but more "formal" pairs of chinos tend to look better with leather loafers, while more "casual" pairs generally look better with suede loafers.
It's always important to ensure that the combination is appropriate for the dress code. It shouldn't be worn for business attire, cocktail attire, or black-tie.
Knowing how to match and style loafers and chinos effectively will definitely take things to the next level.
That's exactly what you're about to learn how to do.
Let's get to it.
How To Wear Loafers With Chinos – 4 Simple Tips
Bear these four tips in mind whenever this style combination crosses your mind. They'll serve you well in almost all contexts.
1. Make Sure It's Appropriate
The beauty of these two items is that they both ooze a semi-casual aesthetic. They're ideal for when you need to dress up just a little.
Not too casual, and not too formal.
Loafers are a notch more formal than boat shoes and moccasins, but less formal than Monkstraps, Derbys, and Oxfords.
Similarly, chinos are a notch more formal than jeans, but less formal than dress pants.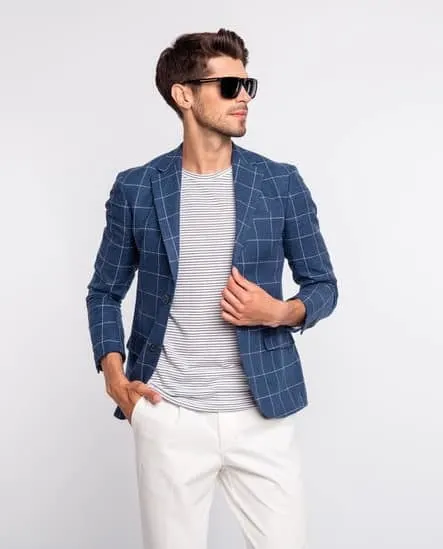 There are certain dress codes where this is just perfect. Some examples:
Semi-Casual – Where jeans and sneakers won't cut it but dress pants and brogues would be too much. Think summer garden parties or a first date.
Smart-Casual – Essentially the same as "business-casual". It's characterized by the combination of traditionally formal clothing (eg. blazers, dress shirts) with traditionally casual clothing (eg. chinos and loafers). Think office parties and modern workplaces.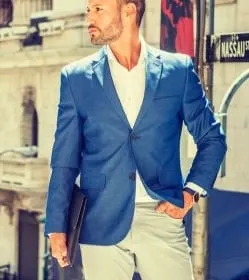 There are other dress codes where this wouldn't usually be appropriate and a more formal pair of dress shoes would be wise. Some examples:
Business Attire – A two or three-piece suit in a solid, dark color would be necessary. Think corporate offices and conferences.
Cocktail Attire – Similar to business attire, but lighter colors and a more relaxed suit with splashes of color and flair would be appropriate. A popular dress code for weddings.
Black-Tie – It's a tuxedo and black Oxfords or nothing, my friend.
2. Formal Vs Casual Loafers And Chinos
It's important to note that there are a wide variety of loafers and chinos.
Although pairing any pair of loafers with any pair of chinos would probably work, pairing more "casual" pairs of loafers with more "casual" chinos would work better.
In much the same way, pairing more "formal" pairs of loafers with more "formal" pairs of chinos would also be more effective.
The term "formal" should be used loosely here, as both of these items could never be considered truly formal. But some do look more formal than others.
Here are some key differences between "formal" and "casual" loafers.
Full-grain leather loafers will always look more formal than suede or nubuck loafers.
Black is the most formal color, with dark brown coming a close second. Lighter, brighter, and pastel colors and more casual.
Horsebit (Gucci) loafers are more formal than penny, tassel, and Belgian loafers.
Lined loafers look more formal than unlined ones.
Here are some key differences between "formal" and "casual" chinos. More formal-looking chinos have features that resemble dress pants, whereas more casual pairs have features that resemble jeans.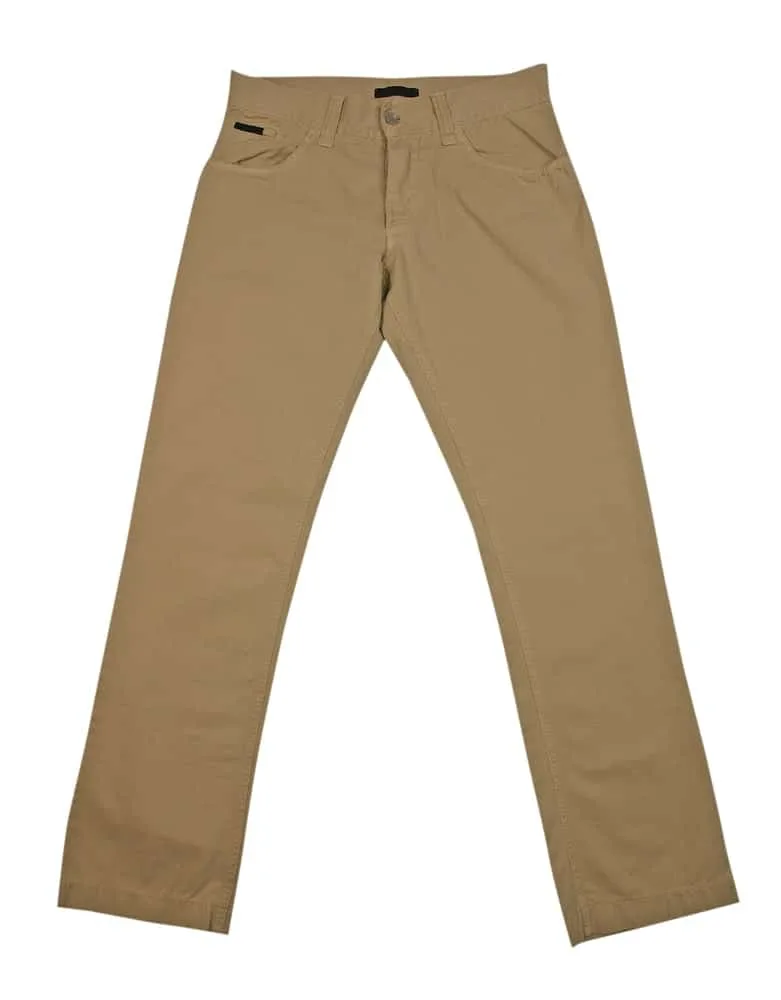 Formal chinos are more likely to have center creases down the front of the pant legs.
Formal chinos are less likely to have patch pockets and more likely to have welted or jetted pockets.
Cuffs look more casual, while pleats look more formal.
Muted, dark, neutral colors such as navy blue and charcoal gray are more formal than bright, light, and pastel colors.
Casual pairs of chinos are more likely to have visible inner leg seam details and bar tack over stitching, much like a pair of jeans would.
3. Cuff Or Pinroll If Appropriate
To cuff your chinos is to bottom roll the hems to a point above the ankles.
It's a very casual look that works great with a pair of loafers in the summer. There are different styles of cuff, from a simple, 2-inch roll, to a double cuff.
Check out this article on cuffing chinos to learn more.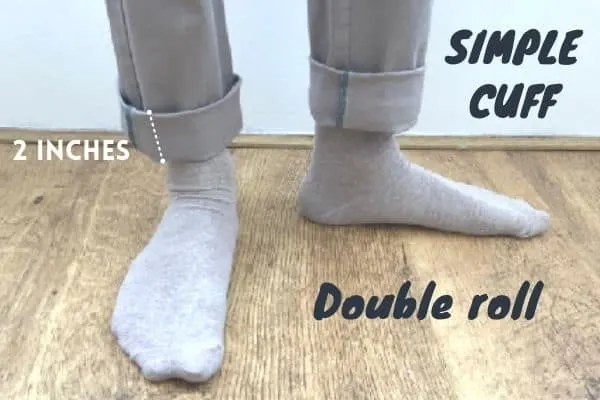 Pinrolling refers to pinching the bottom of the chino leg before cuffing upward. It's great because it gives a tapered, slimming effect at the ankles.
The look is really only appropriate in the summer with sneakers or low top shoes such as loafers.
Wearing it in the winter will just look awkward and lead to cold ankles – this is no fun.
It's also important to ensure that this truly casual look is appropriate for the dress code. You could rock it in casual and semi-casual settings, but it wouldn't be appropriate for smart-casual (i.e business-casual) or anything more formal than that.
When wearing loafers with cuffed chinos, no-show or "invisible" socks are a great option. As always, avoid going completely sockless with loafers because this can be uncomfortable and also lead to hygiene issues.
4. Consider A Blazer Or A Sports Coat
Both loafers and chinos are versatile enough for most casual settings.
If you were looking for a quick and easy way to up the formality a little, don a blazer or a sports coat.
They can pretty much be worn over anything from a T-shirt to a Henley, to an OCBD shirt.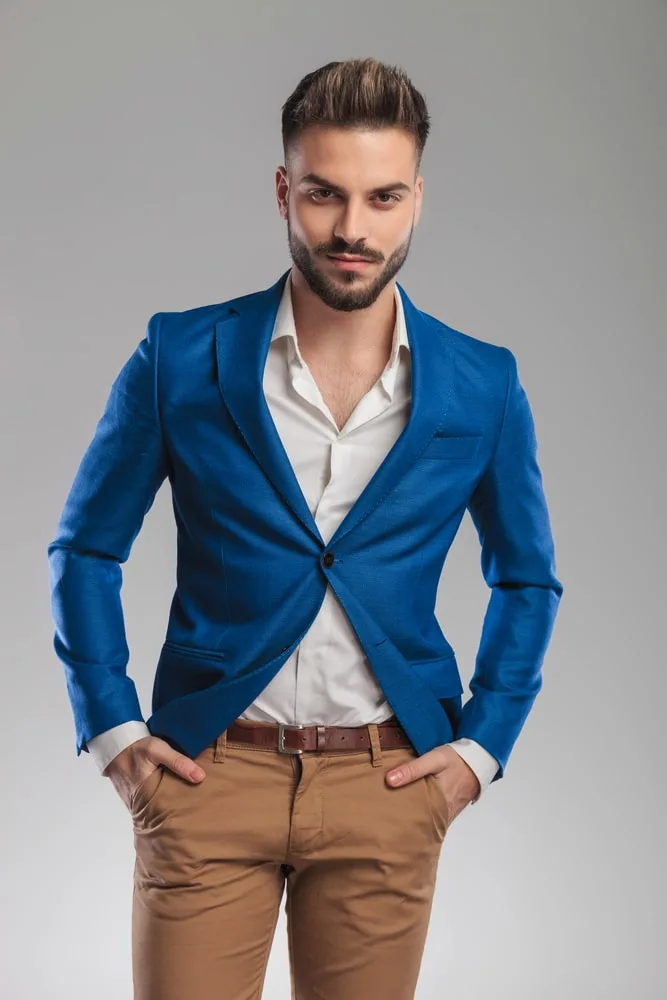 Avoid layering over polo collars, however, as it's generally considered a faux pas.
The blazer/sports coat, chinos, and loafers combination is very effective in semi-casual and smart-casual settings.
For example, a casual summer wedding, a rooftop bar, or a luncheon
Take the fit, the fabric, and the color into consideration when deciding how formal you want to go with it.
More structured and heavily-lined jackets made of worsted wool are more formal than unlined jackets made of rugged fabrics such as flannel, tweed, linen, or cotton.
As is always the case, the darker and more muted the color, the more formal it'll look.
Navy blue and charcoal gray are both versatile colors for jackets that would coordinate well with a wide range of chinos and loafers.
Loafers Styles You Can Wear With Chinos
Although there are quite a few out there, having a good understanding of the main three types is a good starting point.
1. Horsebit (Gucci) Loafers
Gucci or "horsebit" loafers work well with chinos, especially in smart-casual settings where you're looking to dress up just a little.
Named after its founding company Gucci, this style of loafer is characterized by a metal buckle over the vamp (front).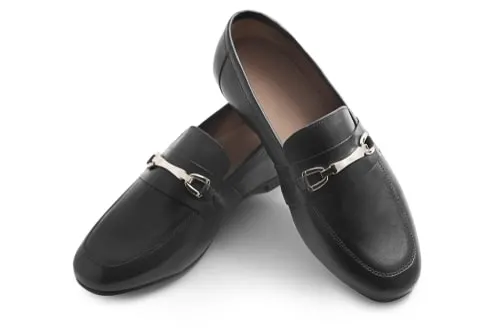 The buckle is usually crafted in the shape of a horse's bit, hence it's alternative names the "horsebit loafer" or the " bit loafer".
It has all the usual characteristics of a loafer; the moccasin-style seam, the exposed ankle, the slip-on design, and the low heel.
But the buckle just adds a sophisticated touch, making this style of loafer the most formal you could wear.
In fact, a black pair of leather Gucci loafers may be just about formal enough to wear with a business suit. However, a pair of Oxford shoes would always be more appropriate.
2. Penny Loafers
Penny loafers are very versatile and can be worn with chinos to casual, semi-casual, and smart-casual settings.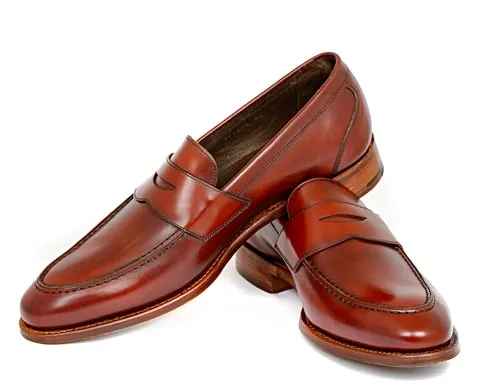 They aren't as formal as Gucci loafers, but they're usually more affordable.
They're subtle, stylish, comfortable, and are arguably the most popular style of loafer out there. They're incredibly common and for good reason.
A key feature is the leather strap across the vamp with a diamond-shaped cutout in the middle.
3. Tassel Loafers
The tassel loafer and chinos look is an effective casual combination. Tassel loafers are about as formal as penny loafers.
Their main feature is a prominent tassel on the vamp, giving it a fun and playful vibe. They aren't as subtle as penny loafers but aren't as dressy as Gucci loafers.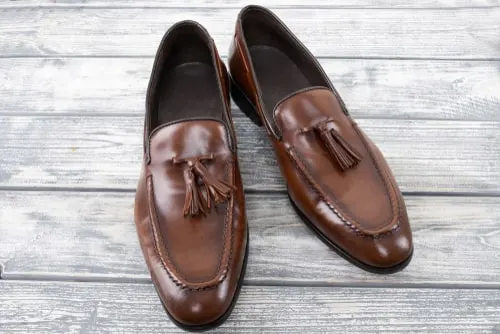 Much like with penny loafers, the tassel loafer and chinos combination would work well for smart-casual (i.e business-casual) but nothing more formal than that.
Color Matching Loafers With Chinos
Color is incredibly important when it comes to matching your shoes and your pants. As always, keeping it simple will take a lot of the guesswork and risk out of it.
Muted, neutral colors work best for chinos. This is true regardless of the weather or the setting.
Although bright pastel colors are fun, they're notoriously difficult to coordinate, and you'll find yourself having to expand your wardrobe in order to accommodate for this.
Neutral colored chinos such as navy blue, charcoal gray, soft gray, beige, olive green, and even khaki, are very easy to color coordinate with loafers and the rest of your wardrobe.
In much the same way, brown is the most versatile color you could choose for your loafers. Black may be more formal but will be harder to coordinate with a range of chino colors.
The darker the shade of brown, the more formal it will look. For example, tan brown loafers will look more casual than dark brown loafers when worn with chinos.
Should You Wear Leather Or Suede Loafers With Chinos?
Suede loafers are best worn with chinos to truly casual or semi-casual settings, while full-grain or top-grain leather is better for the more "formal" of casual dress codes such as smart-casual.
This isn't a hard-and-fast rule, however.
Suede loafers are often perfectly fine for many smart-casual settings. You'll have to use a bit of intuition to figure out whether they would be or not.
Smart-casual (i.e business-casual) is a spectrum in itself. It could be requested at a simple garden party where cuffed chinos and suede loafers would be very appropriate.
Or, it could be the dress code of a modern workplace or a summer wedding where formal-looking chinos and a pair of leather loafers would be more appropriate than suede.
Regardless of whether the material is full-grain leather, top-grain leather, suede, nubuck, or anything in between, always take color into consideration.
As I mentioned earlier, the darker the color, the more formal it'll look.
In other words, if you're committed to wearing a suede pair of loafers but aren't too sure if it'll be dressy enough, choosing a darker shade of brown would be a safer option.
Conclusion
Both of these items have the benefit of being both versatile and comfortable.
It's no secret that they work well together and it's pretty hard to be wrong with the combination.
But there are definitely ways of enhancing your results. Some pairs of chinos just look better with certain pairs of loafers.
The rest of your outfit should complement the shoes and pants after taking the dress code and the weather into consideration.
Hopefully, the tips in this article should steer you in the right direction and guide you when making these style choices.
Stick to the basic principles and you'll be absolutely fine. Have fun with it.
Ready Sleek founder. Obsessed with casual style and the minimalist approach to building a highly functional wardrobe. Also a fan of classic, vintage hairstyles.