There was a time, not at all long ago, when many men grew out their beards simply to avoid the chore of shaving.
Today, beards are grown purposefully and they have become more like permanent accessories for men – a focal point that can easily make or break the whole look.
Unfortunately, even beards have bad hair days and if you have a bunch of unruly beard hairs, that can throw a wrench into your day.
Thankfully, for every problem, there's a solution. Erratic beard hairs shouldn't derail your plans, or detract in any way from your majestic beard.
I'm here to guide you through tips and tricks to keep beard hair from sticking out.
By the way, check this article out to find out my most recommended beard grooming products of the year. A tool kit to take things to the next level.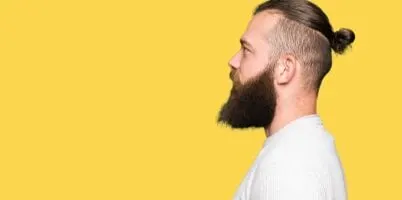 5 Ways To Keep Beard Hairs From Sticking Out
1. Let The Hair Grow Longer
Growing out a beard is an exercise in patience and willpower, especially in the early stages.
No matter how tempted you may be, instead of repeatedly trimming beard hairs that won't lie flat, try letting them grow a little longer.
Ideally, you should leave your beard untouched for 4-6 weeks. This will allow you to see your beard's natural pattern and help you to choose a style that suits it.
Even a few millimeters in added length might make it easier to manage.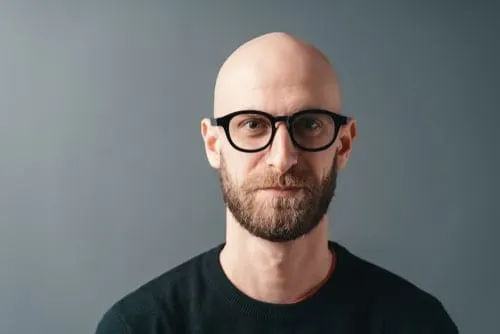 2. Try Trimming With Beard Scissors
Scissors give you more control and precision than a trimmer does.
Have a pair of high-quality trimming scissors in your grooming arsenal.
Don't use regular scissors.
Pairs designed specifically for facial hair are more effective for the hard-to-reach places on your face.
3. Brush & Comb Your Beard
Brushing and combing your beard is the best way to train it to lay nicely and keep beard hairs from sticking out.
A boar bristle beard brush and a high-quality, hand-cut beard comb are both worth having in your grooming kit.
Combs are more effective for detangling, while brushes help to flatten beard hair and keep it lying in the direction you want it to.
4. Level Up Your Trimmer
A proper trimmer is half the battle to keep beard hairs from sticking out.
A clean, well-charged, and high-quality trimmer is definitely worth having.
If you're looking for more of an "all-in-one" trimmer that'll allow you to get a good trim on your beard and body too, the Philips Norelco Multigroom is a cost-effective, high-quality, and popular option. Check it out on Amazon by clicking here.
5. Use the Proper Products
Balms, waxes, pomades, oils – men have a lot of choices when it comes to products. It's true that some can help you prevent the hair from sticking out.
It can be a bit daunting.
Some products, like beard oil, produce a more subtle effect. A gentle shine.
Others, like beard balm and beard butter, have some hold. They're better suited to styling.
Yes, they may also help flatten some stubborn hairs.
Products like beard wax have a higher level of hold – worth trying if you have a long, thick, and stubborn beard.
Always be cautious when trying out new products – if you have any concerns do seek professional advice before doing so.
Conclusion
Not all beards are created equal. It comes easier to some than others.
Simple grooming habits can often make the difference between a well-kempt beard and an unkempt one.
Hopefully, you'll find the tips here valuable going forward in your bearded journey.
Ready Sleek founder. Obsessed with casual style and the minimalist approach to building a highly functional wardrobe. Also a fan of classic, vintage hairstyles.