High neck T-shirts (also known as mock necks) and blazers are garments that look great individually. But can you wear a high neck T-shirt with a blazer?
Wearing a high neck T-shirt with a blazer is entirely possible. Make sure you assess the situation's formality, stick to neutral high neck colors, and pick the right shoes. Dress pants work best, but jeans and chinos are options for more casual situations.
While that's the gist, there's much more to learn.
So, let's explore further.
1. Stick To Neutral High Neck Colors
When you stick to neutral high neck colors, pairing your high neck with a blazer will become much easier.
Neutral colors aren't found on the color wheel but still complement primary and secondary colors.
Examples of neutral colors include beige, cream, white, brown, black, and gray.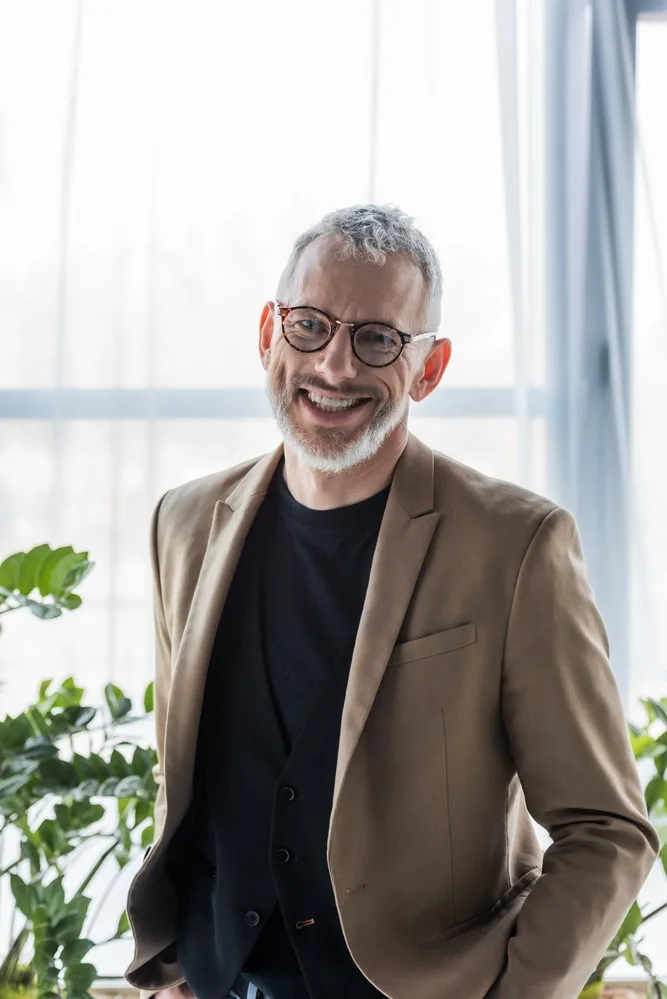 Picking a lighter high neck color, such as light blue, can also work well; however, neutral colors are optimal.
By choosing a neutral-colored high neck, you're pretty much guaranteed a good outfit – regardless of blazer color.
Having said that, blazer color is still an important aspect to consider.
As a general rule, your blazer should be darker than your high neck T-shirt; this is why neutral colors (excluding black) and light colors work so well.
Blazers usually come in darker colors, like navy, black, and charcoal, so sticking to this guideline is straightforward.
These dark, subtle colors can be more difficult to pair with a dominating, non-neutral color – particularly if it's bright.
2. Go For Less Casual-Looking Pants
When wearing a high neck T-shirt and blazer, you should wear pants that are at the less casual end of the spectrum. Dress pants work best, but dark wash jeans or smart chinos can work too.
Dress pants heavily lean toward formalwear, and while they aren't quite as formal as suit pants, they still look fantastic with a high neck T-shirt and blazer.
The main differences between suit pants and dress pants are that dress pants are usually made from heavier fabric.
Furthermore, suit pants – as the name suggests – should typically only be worn as part of a two-piece suit. This means that, overall, dress pants are the best option.
Like blazers, dress pants are usually found in darker colors but not always.
Be careful when color-matching your blazer and pants, as doing this incorrectly can make your outfit appear like a poorly-matched suit.
Either pick the exact same color as your blazer or go for something slightly different – for example, navy and charcoal rather than black and charcoal.
Chinos are another viable pants option. While they aren't as formal as dress pants, they can be used to slightly dress down your outfit if attending a semi-formal event.
Although chinos are available in most colors, stick to the mentioned dress pants guidelines.
If you wish to really dress down your outfit, consider dark wash jeans.
3. Tuck In Your Shirt
Tucking in your high neck T-shirt should always be considered with this outfit.
While it's not a necessity, it often greatly elevates the sophistication of the look.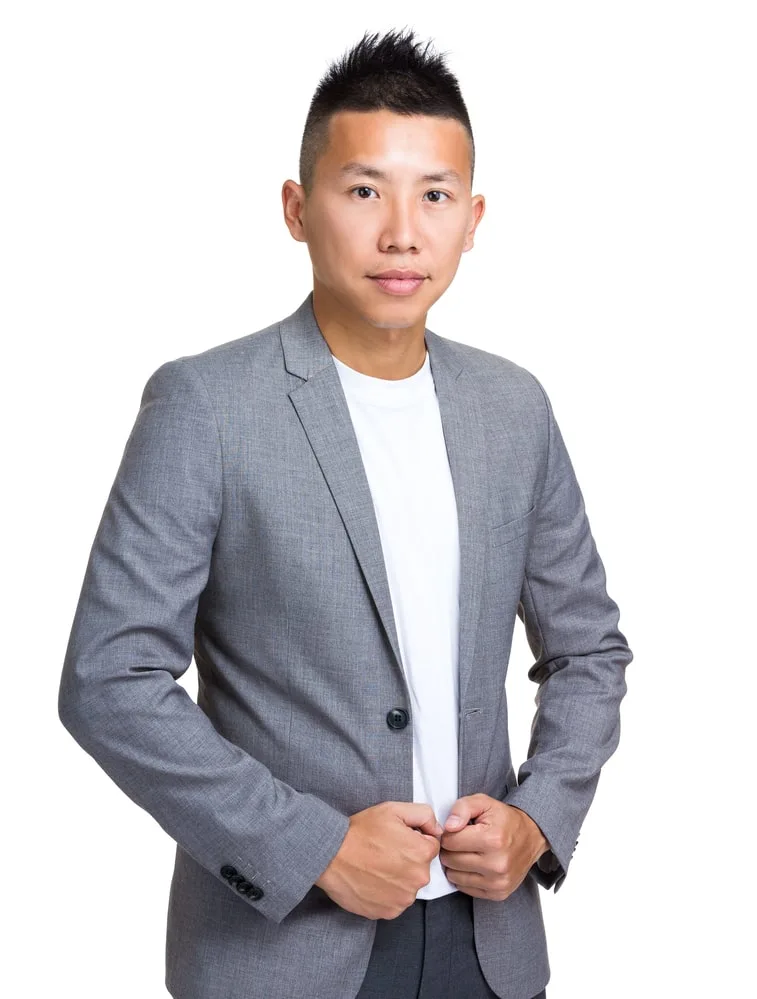 Because high necks and blazers are both considered formal garments, tucking in your high neck T-shirt will uphold this formality.
Furthermore, you'll likely be wearing formal pants, such as dress pants, so by tucking in your high neck T-shirt, you're further contributing to this formality.
If you wear jeans or chinos with this outfit, tucking in isn't such an important factor – but it should still be considered.
There are a few different tucks, such as the French tuck, but the only one you should use for this outfit is the full tuck.
The full tuck is easy. Simply tuck in your high neck T-shirt all the way around the waistline of your pants.
Ensure you've tucked in enough for the T-shirt not to be baggy around your abdomen.
A common mistake among gentlemen is not wearing a belt when tucking in your shirt.
You should pretty much always wear a belt when you tuck in your shirt.
Black or brown leather ones work best – just try to ensure they match the shoes.
4. Avoid Patterns
Patterns – particularly on your blazer – should generally be avoided when wearing this outfit.
While some patterns can work, the best-looking and safest option is avoiding patterns altogether.
Instead, stick to block colors for all of your garments if possible.
Block-colored garments are the most formal and, therefore, most suited to this ensemble.
Sometimes a subtle pattern can look good, but you should keep this strictly to more informal scenarios and those to which you'd be wearing jeans or chinos.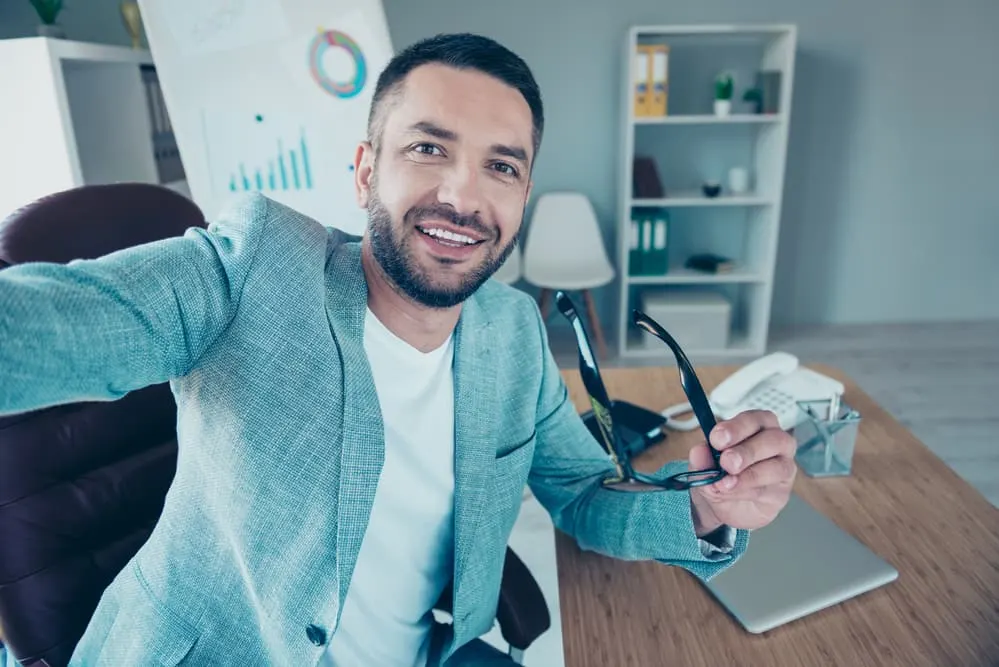 5. Assess The Formality Of The Event
It's always important to assess the formality of the situation when wearing any outfit.
However, this is particularly true for one that is pretty unconventional, such as a high neck T-shirt with a blazer.
This outfit is suitable for any occasion of a formality level up to business-casual.
It wouldn't be appropriate for business-professional or formal situations where a full 2-piece suit would be required at a minimum.
It's also worth mentioning that this outfit should always be avoided at black or white-tie events.
These are the pinnacle of formality, and anything other than a tuxedo (also known as a dinner suit) is inappropriate for the occasion.
6. Double-Breasted Blazers Work Well
While it may seem an unusual combination, wearing a double-breasted blazer with a high neck T-shirt can look brilliant.
Double-breasted jackets have a particularly formal edge to them, so when wearing one with a high neck T-shirt, it's essential to ensure your other items of clothing match its formality.
To make it simple, the most casual garment of your outfit should be your high neck T-shirt when wearing a double-breasted blazer with it.
This means opting for dress pants rather than chinos or jeans and picking Oxford shoes or Derby shoes instead of loafers, for example.
By following these guidelines, the semi-formal nature of your high neck T-shirt will dress down the formal outfit, creating an elegant and sophisticated look.
7. Pick The Right Shoes
Due to the formality of this outfit, making sure you pick the right shoes for the job is essential.
While it can be dressed down using jeans or chinos, the best shoes are still those of a more formal nature.
Oxfords and Derbys are typically the most formal shoes and are, therefore, pretty much always the best options for a high neck T-shirt with a blazer.
They work especially well with dress pants to really formalize the outfit.
While these shoes can work with chinos and even jeans, you're better off going for something a little more casual.
Loafers and monk straps are great examples of this. They are slightly more casual than Oxfords or Derbys while still maintaining a semi-formal appearance making them an ideal choice for this outfit.
Avoid wearing sneakers with a high neck T-shirt and blazer, as they would dress down the outfit too much, creating a clash in formality.

Ready Sleek founder. Obsessed with casual style and the minimalist approach to building a highly functional wardrobe. Also a fan of classic, vintage hairstyles.