Youthful looks are often the source of envy. But there are plenty of fresh-faced men out there who want nothing more than to look older. You're about to see some great hairstyles for baby faced guys that'll do just that.
Let's get to it.
7 Great Hairstyles For Baby Faced Guys
Use these fantastic styles as a source of inspiration.
1. Textured Comb Over
Keeping some length on top is always a good way to go when you're trying to look older. It gives you more to work with.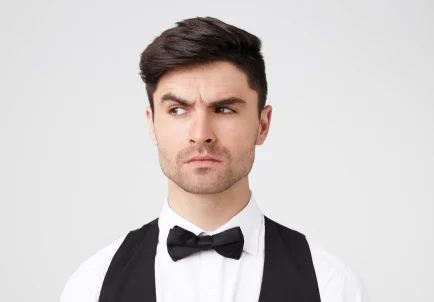 You can use it to add volume and height, preventing the face from looking too small as this can make it look younger.
But you don't need a lot of length for this effect to be noticeable.
A textured comb over is a great, medium-length option.
It's easy to maintain and has a mature and distinguished edge to it. It's important to keep it neat, however, as there's nothing more "youthful" than untidy hair.
However, it can sometimes be a good idea to add just a little bit of mess to a hairstyle, as too tidy can also come across as quite boyish. It's all about getting the right balance.
A matte paste or clay would be a great option for men looking to build some layering and texture into the comb over. It'll add just the right amount of mess.
2. Messy Quiff
Here's another example of how a style can be "messy" but tidy. It's textured, layered, and tousled – but it still looks under control and intentional.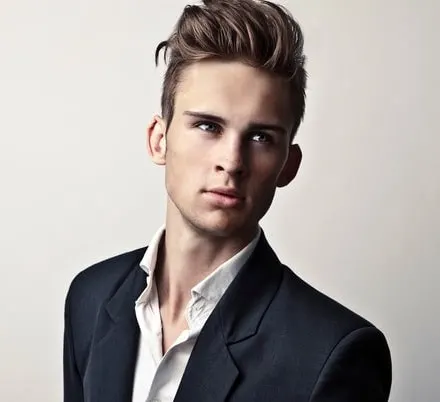 This is a great option for baby faced guys as it has a surprisingly mature look to it. It shows that you aren't afraid to experiment with your hair and that you don't exactly "play by the rules" with it either.
It would be easy enough to simply comb it slick to one side instead, but this can often look a little immature and youthful.
Another great thing about quiffs is that they're an easy way to make the face look larger, adding height up top. Once again, this can make a man look older.
3. Faux Hawk
The faux hawk is essentially a textured, upright strip of hair across the top of the head that gradually blends into the sides.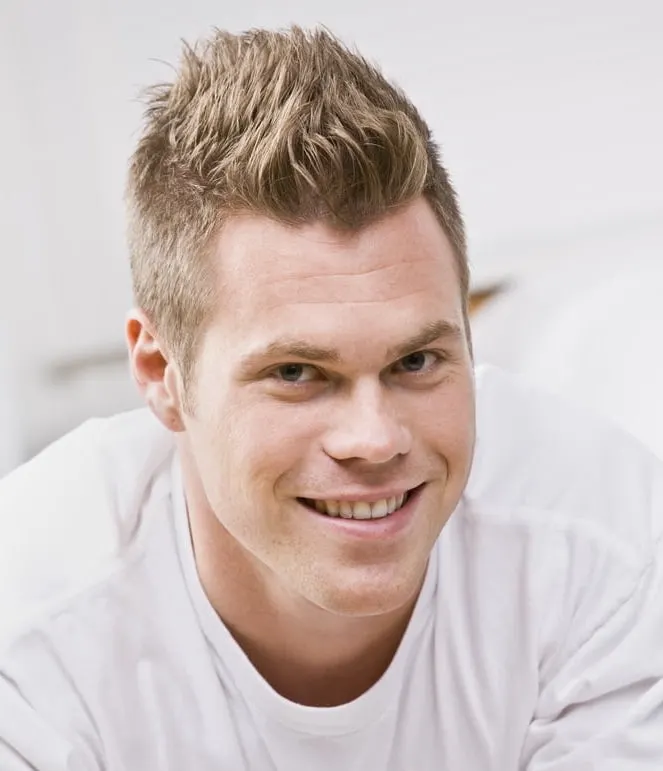 It's similar to the mohawk, with the main difference being that it gradually blends into the sides. The mohawk does not – there's a sharp transition between the narrow, spiked strip up top and the shaved sides.
The faux hawk is great because it's versatile. It doesn't have to be that attention-grabbing. Shorter faux hawk styles can actually be pretty subtle.
But they have the benefit of adding some serious height up top, making the face look longer and larger.
Yes, this often makes the face look older.
4. Pompadour With A Fade
A pompadour is a style where the hair is swept upward and backward in a neat and well-defined way. It's high volume and generally glossy.
It's great for baby faced guys because it's high volume and elongates the face.
But it's also a throwback to a vintage, classic era of men's hair – the 50s. It's a mature hairstyle that takes time to style and keep in shape.
Fading the sides of the pompadour is a good way to mix the old with the new. It gives the pompadour a modern edge to it.
5. Undercut
The undercut is a style where the hair on top is completely disconnected from the hair at the sides. The top is usually left long, while the sides are left either shaved or clipped down very short.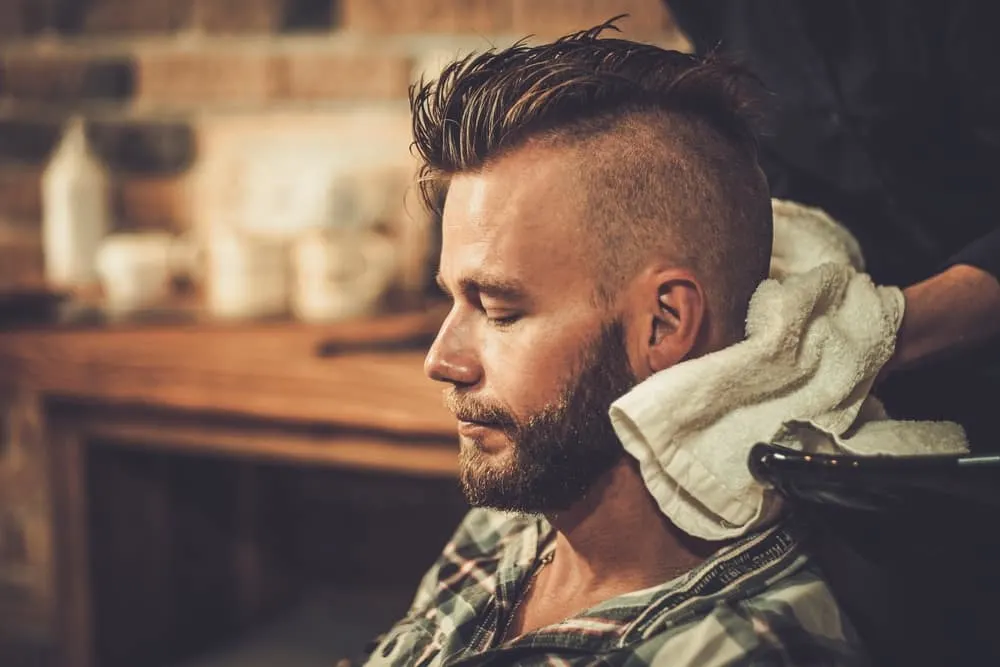 But the key to the style is that the transition from the short sides to the long top is harsh and sudden – not gradual.
The hair on top is often slicked back but not always. It can be textured, side-swept, quiffed, and so on.
It's great for making guys look older because it distracts from a baby-face more than anything else.
The style is bold, in-your-face, and eye-catching.
If you're looking for a style that makes a statement, an undercut could be the one.
6. Modern Pompadour
The modern pompadour is hard to define. Ultimately, it's a style where the hair is swept backward and upward (like a classic pompadour) but isn't quite as shapely.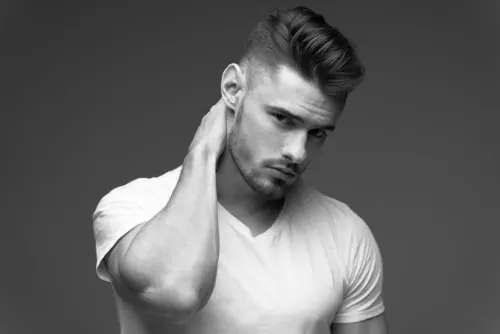 It's a little messier and more textured.
Because of this, it tends to look more modern.
It has the benefits of a classic pompadour, such as adding height and volume. But it also has the benefits of more modern, textured styles.
The fade at the sides is a good way to make it look more attention-grabbing.
Keeping the sides short like that is also a good way of giving even more prominence to the tall hair on top.
7. French Crop
Ah, the French crop. It isn't quite as common as some of the other styles in this list, but it definitely has its place.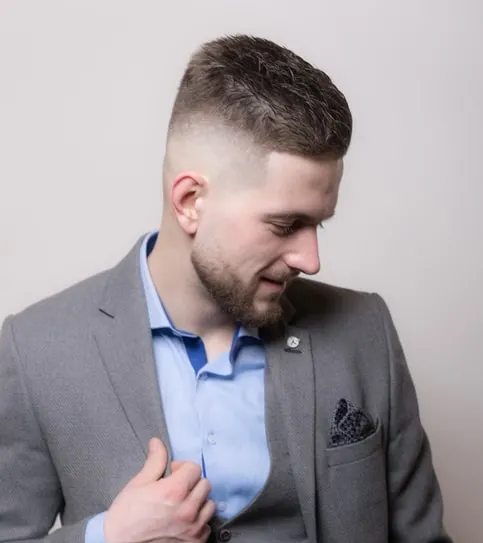 You may have noticed how most of the other styles in this list focus on adding height. They aim to make the face and head look larger, as this is a great way to make a babyface look older.
The French crop is different.
It isn't tall. It's a style where the hair on top falls forward into a fringe, with the sides cut short in comparison.
There's usually a significant contrast between the long hair on top and the short sides, but the two generally blend into each other gradually.
It's a great option for men looking for a mature hairstyle that'll make them look older, without needing to add much height on top at all.
This may be a preferable option for men with "longer" face shapes such as oblong, rectangular, or diamond, where you might not want to add too much height up top.
3 Hair Tips For Baby Faced Guys
Now that you've seen the styles. Here are some tips/principles to stick by to get the results you want.
By the way, these assume you're looking to use your hair to look a little older.
1. Length Matters
It's probably the simplest step you can take with your hair to make you look older.
Simply grow it out a little.
Long hair generally makes a man look older.
The trouble with keeping your hair super short is that it makes your face look pretty small and – well, young.
In addition, short hairstyles just have a naturally boyish look to them. For some, this may be exactly what's wanted.
But for those looking to make their babyface look more mature, it isn't ideal.
The great thing is you don't need a lot more length to see a noticeable difference. You usually just need enough to work with. In other words, you need enough to add some height.
As you saw in the styles listed earlier, this height can be added in the form of a quiff, pompadour, faux hawk, undercut, and so on.
There's a catch to this, however. Having very large or tall hair can actually work against you. The hair can end up making your face look small in comparison to the hair itself.
So, you want to grow it out and add some height – but not make it too big or voluminous. It's all about striking the right balance.
Medium-to-long styles usually work best.
2. Keep It Clean
It's all about portraying as mature of a look as possible.
Part of this means keeping the hair well-groomed. You could choose the perfect style but ruin it by not keeping it well-groomed.
Take care of the hair. Oily and greasy hair isn't just unattractive – it also looks immature.
Wash, condition, brush, comb, and style it. It's beneficial in many ways, with looking older and more mature being just one of them.
3. Use The Right Product
We probably all did it back when we were younger.
Picking the cheapest hair gel on the shelf, slathering on way too much, and being surprised when it doesn't turn out the way we hoped.
When it comes to using your hair to make you look older, an important part of it is using the right styling product.
The key to picking a mature-looking product is knowing what your specific hair type actually needs.
You need to take your texture, thickness and desired style into consideration.
Men looking for shine and a pliable hold should consider oil-based pomades and hair waxes.
Those looking for a matte or low shine finish and a pliable hold should consider hair clays and pastes.
Men with thinner hair types should generally avoid using products with a lot of shine as it can reveal too much of the scalp under strong lighting.
In general, it's best to avoid hair gels. It's very difficult to get a mature-looking finish with it as the hold is often excessively shiny and stiff.
Conclusion
There you have it. Hairstyles and tips for baby faced men. Hopefully, that's everything you could have wanted to know about the topic.
Use this as a guide going forward.
Enjoy.
Ready Sleek founder. Obsessed with casual style and the minimalist approach to building a highly functional wardrobe. Also a fan of classic, vintage hairstyles.