Wearing socks with shorts is the epitome of style experimentation. Traditionally, socks shouldn't be visible with shorts; however, it's becoming increasingly common to see this style. So, can you wear crew socks with shorts?
Crew socks can be worn with shorts but only casually – you should avoid doing so at formal events. Sneakers and casual shoes work best, and plain or patterned socks are acceptable, as long as they match well with the rest of the outfit. Avoid rolling or folding down your socks.
While that's the gist, there's much more to it.
That being said, let's dig deeper.
1. Keep It Casual
Generally, shorts aren't appropriate for a formal event – they are much more casual. On top of that, traditionally, socks shouldn't be visible on formal occasions.
Therefore, wearing crew socks and shorts simply isn't suitable for anything other than a casual occasion.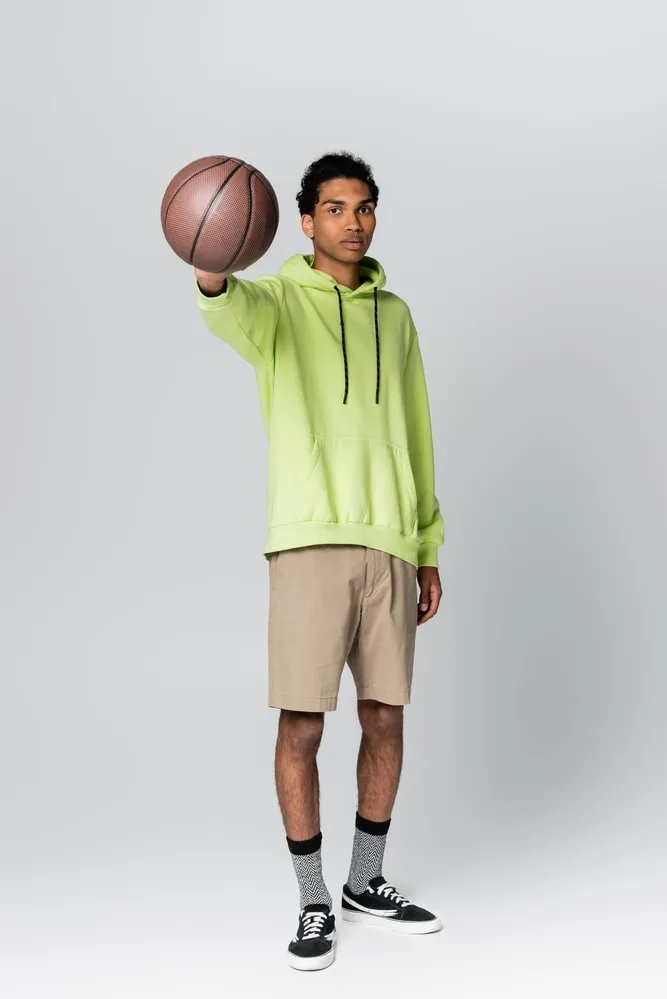 This look should be avoided even at semi-casual events – it's too unconventional and will make you stand out or look awkward if out of place.
It's therefore highly recommended that you keep this style solely for strictly casual occasions and that you don't venture out of this guideline.
However, this outfit's casual nature allows for much more experimentation than the traditional, conservative style.
Such experimentation could include patterned or feature socks, different sock lengths, and various styles of shoes.
Exceptions can be made if it is part of a uniform or in a tropical climate – where it's too hot not to wear shorts.
2. Consider Sock Color
The color or pattern of your socks is another important factor to consider. Picking the wrong color or pattern to go with your outfit can be detrimental to the look.
There are a few guidelines to follow when wearing shorts with crew socks; it has to be done correctly because it's such a controversial outfit.
Your sock color should typically be plain if wearing patterned or colored shorts or shoes.
This is because wearing a combination of too many colors and patterns at a time could appear extravagant.
However, it's possible to wear patterned or colored socks if your shoes and shorts aren't overly colorful or patterned.
To make this look truly shine, it's important to ensure that your socks' pattern is somewhat subtle and doesn't go too overboard.
Similarly, if going for colored socks, light shades work best. However, if you're feeling bold, bright colors can still be a good choice.
The key is finding the right balance between the three garments: your shorts, crew socks, and shoes to make this outfit look great.
3. Sock Length Matters
Generally, the length of crew socks ranges from ankle length to mid-calf length. Because of this variation, it's easy to go wrong when deciding what length crew socks to wear with your outfit.
Therefore, it's important to understand what sock size is appropriate when wearing shorts.
If you wish to add a bit of flair to your outfit, you might go for longer socks. Socks of a mid-calf length will draw attention to them and make them stand out.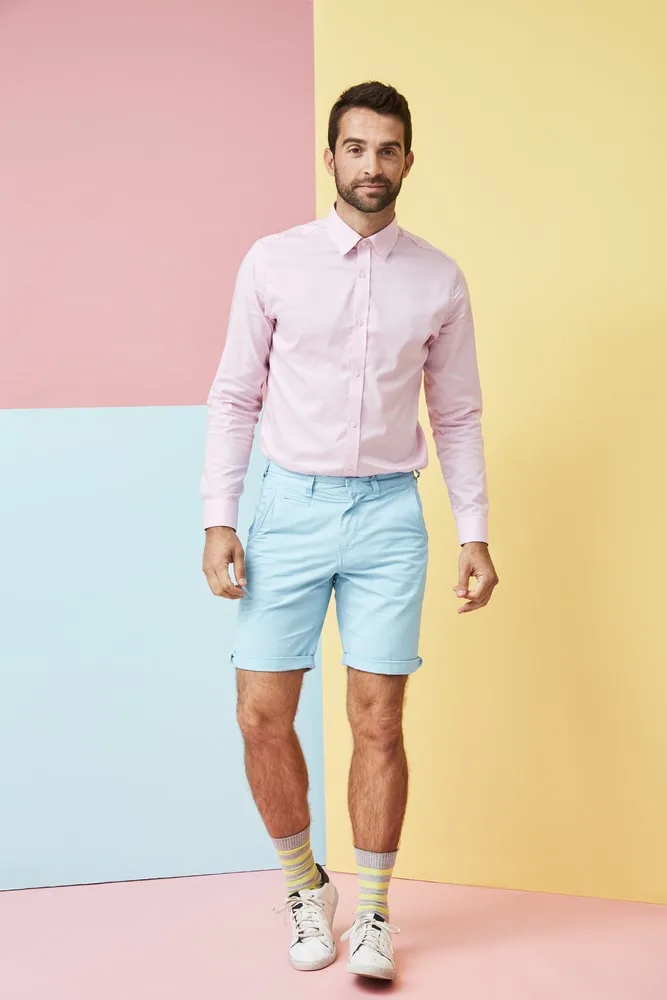 This works especially well if your shoes and shorts are one color and your socks are patterned or colored.
However, if opting for a more minimalist approach to wearing crew socks and shorts, socks of shorter length are recommended.
Ankle-length socks are typically the shortest crew socks available, and they look great with shorts.
Additionally, ankle-length socks will keep you cooler than longer socks which is important when wearing shorts, as you will likely be wearing shorts to keep cool.
You should never roll or fold down your socks as this can look clumsy – regardless of sock length.
4. Think About Shorts Style
There are many types of shorts, and it's important to understand which shorts are suitable for different scenarios.
When wearing crew socks with shorts, the type of shorts you decide to wear is significant.
It's a common misconception that there are no levels of formality with shorts; this is not true. While shorts are typically informal garments, the level of informality varies depending on the type of shorts.
Despite there being a wide variety of shorts types, they can typically be broken down into six styles.
These are denim, plaid, cargo, chino, board, and sports shorts. Each has its own characteristics and suitability for different occasions.
When it comes to wearing crew socks with shorts, the best shorts to wear are chino shorts.
Arguably the most formal shorts style, chino shorts are appropriate in most situations. The informality of shorts combined with the smart-casual nature of chinos creates a solid middle-ground.
On top of this, chino shorts are almost always a single color, meaning that there is more flexibility regarding the style of your socks and shoes.
Plaid and denim shorts can also be appropriate, as long as your socks and shoes are plain – with no patterns or bright colors.
Due to the texture and pattern of denim and plaid shorts, you should avoid pairing them with other patterned garments – particularly crew socks.
You shouldn't wear board, cargo, and sports shorts with visible socks. Often, board and sports shorts aren't worn with socks; rather, sandals or flip-flops.
This means that wearing crew socks alongside them could look awkward and show a lack of style.
5. Careful With Your Shoes
When deciding what shoe style to wear with any outfit, it's important to consider why you are wearing them. Is it to add some flair to your outfit? Is it because you are attending a formal event and need to dress up?
If dressing up for a formal event, and shoes like Oxfords, Derbys, and Dress shoes are common, shorts and crew socks should be avoided, as there would be too much contrast between formal and casual attire.
When wearing shorts and crew socks, it's essential that you wear casual shoes – whether they are minimalist or have some flair.
Sneakers work best alongside crew socks; they are cool, casual, and can have a lot of personality.
High-top sneakers – a variation on the classic sneakers, where the shoe slightly extends over the wearer's ankle – also work well with crew socks and shorts.
The additional height that high-top sneakers provide means that the length of unfolded and unrolled crew socks is more in proportion with the footwear – reducing the risk of looking unflattering.
Alternatively, standard or low-top sneakers can also look great with crew socks. The extra visibility of your socks compared to high-top sneakers means that they can be worn as a statement piece.
Wearing brightly colored shoes and patterned socks together isn't recommended – try to keep one minimal (such as low-top sneakers or white crew socks) and the other as your fashion statement (like colored, high-top sneakers or patterned crew socks).
6. You Can Experiment
Because of the controversial nature of shorts with crew socks, there is a lot of room for experimentation – both with the socks and the shorts.
For example, feature socks can be worn with shorts if you feel bold and want your socks to act as a statement piece.
However, if going for feature socks, it's crucial that you don't go over the top with color, patterns, and designs on your outfit. Therefore, you should avoid these on the rest of your garments.
This will allow your feature socks to stand out and act as a statement while maintaining a great outfit.
Additionally, the contrast between the minimalist look of the rest of your outfit contrasts fantastically with your feature socks, making them stand out even more.
This is appropriate in a very casual; however, you should avoid wearing this outfit on any other occasion.
Another way you can experiment with your outfit is by trying different shorts styles. While chinos are the recommended shorts, denim shorts can also look great – even though they are slightly controversial.
When wearing denim shorts with crew socks, it's recommended to wear white socks alongside predominantly white sneakers.
Ready Sleek founder. Obsessed with casual style and the minimalist approach to building a highly functional wardrobe. Also a fan of classic, vintage hairstyles.