Collarless dress shirts are a pretty controversial topic in men's fashion. Some say they're appropriate, while others are completely opposed. So, can you wear a collarless dress shirt with a suit?
Wearing a collarless dress shirt with a suit is possible, but bold. While most suit colors will work, sticking to a traditional white collarless dress shirt is advised. Formal shoes like Oxfords and Derbys are preferred.
However, that's just the gist: there's much more to get into.
So, let's dig deeper.
1. Stick To White Collarless Dress Shirts
One of the fundamental factors of dress shirts is that they usually come in subtle and neutral colors. Dress shirts are designed for and associated with formal attire.
When wearing a somewhat non-traditional collarless dress shirt, try to ensure that it's white at the very least.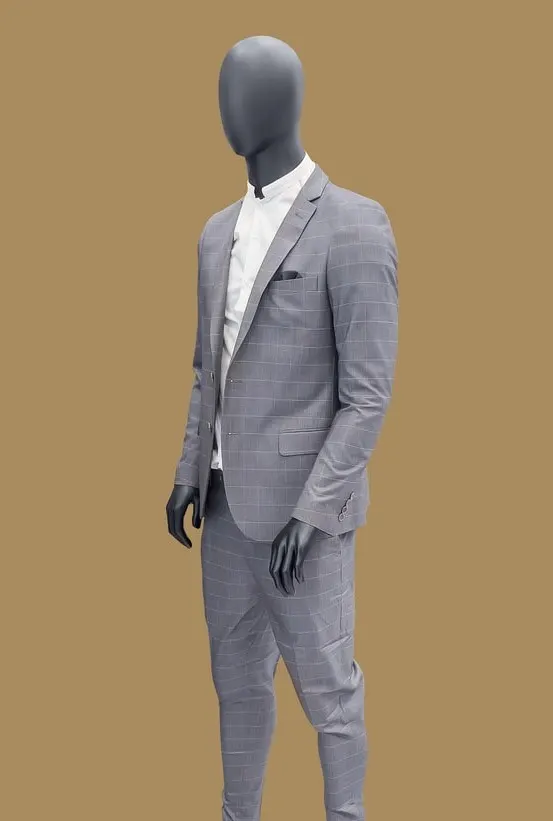 While wearing a different-colored dress shirt may be possible with a traditional, collared one, sticking to a white collarless dress shirt should ensure that it doesn't look too awkward when worn with a suit.
Collarless dress shirts can be attention-grabbing. A colored collarless dress shirt would often look too informal to be worn
Generally, when wearing a suit with a dress shirt, it's best to keep it as formal as possible. This rule is particularly vital when it comes to collarless dress shirts.
The best way to maintain the formality of this outfit is by making sure your collarless dress shirt is white.
White dress shirts are, by far, the most formal shirts. And while collarless dress shirts aren't typically referred to as the epitome of formality, white ones can still look pretty formal.
2. Experiment With Your Suit
While you should pretty much always make sure that your collarless dress shirt is white (when wearing it with a suit), you can experiment a little with the suit itself.
This type of suit experimentation is usually different colors. However, patterns can look great too under some circumstances.
Usually, your shirt should be lighter than your suit. Because your collarless dress shirt is white, it allows for a suit of pretty much any color.
Some colors worth considering include light blue and maroon. While these colors work well, classic black, charcoal, navy, or gray look fantastic too.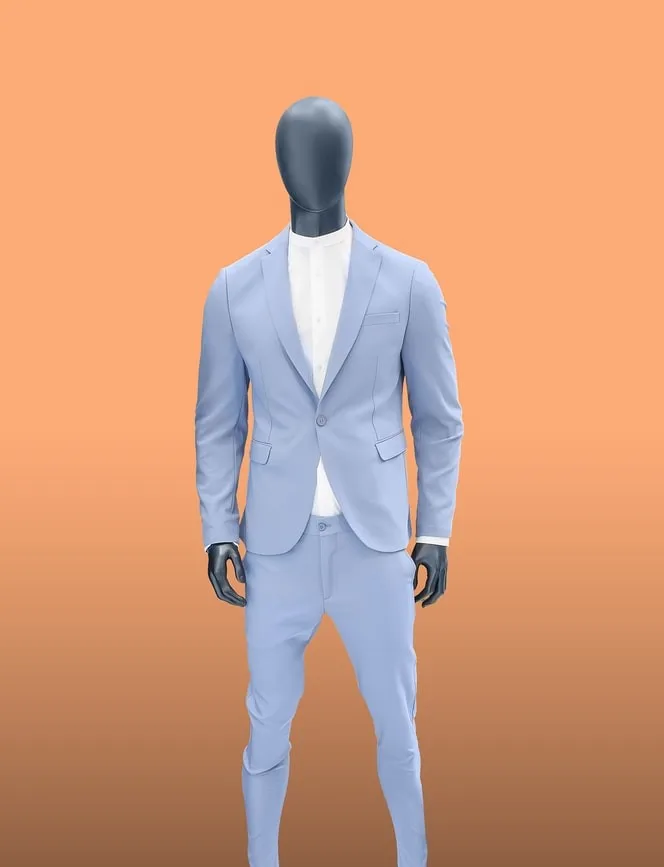 Going for a lighter shade of gray can be a great way to spruce up your outfit if you wish to avoid too much color but still want to divert slightly from the norm.
Patterned suits are also an option. Try to keep the pattern subtle and of similar colors: avoid pattern contrast as much as possible. Doing so will prevent the outfit from being too flamboyant.
Checkered and floral suits are some of the most common patterned suits. These look excellent alongside a collarless dress shirt.
Remember that colored and patterned suits may not be appropriate for every situation, so it's important to assess the formality beforehand.
3. Avoid Wearing A Tie
Usually, wearing a tie with a suit is customary; however, this is not the case when sporting a collarless dress shirt.
While it may be tempting to wear a tie with a collarless dress shirt, this is something you should always avoid.
Ties typically sit under the collar of your shirt. Due to the lack of a collar, wearing a tie with a collarless dress shirt simply isn't appropriate.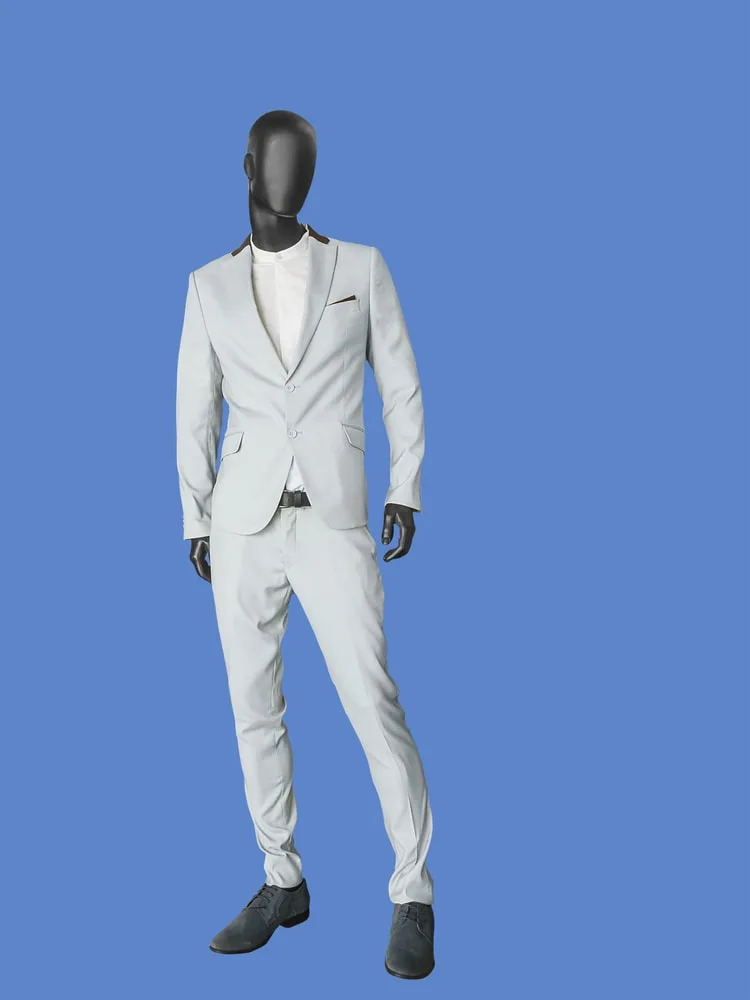 Because of this, you should consider the formality of the occasion and whether or not attending without a tie would be acceptable.
If you want to wear a tie, or the dress code is very formal, it's best to steer clear of the collarless dress shirt.
4. Consider Your Shoes
Picking the right shoes is a fundamental part of menswear, especially for apparel leaning toward formal.
There are several types of formal and semi-formal shoes that can be worn with a collarless dress shirt and suit.
Oxfords, Derbys, monk straps, and loafers are all viable shoe options to wear with this outfit.
They will maintain the formality factor provided by the suit and help lessen the perceived informality of your collarless dress shirt.
You should avoid sneakers as these would create too much of a formality mismatch between the sneakers and the suit and collarless dress shirt.
When choosing your shoe color, remember that black is pretty much always a safe choice. It's a neutral color and incredibly versatile – it goes with everything.
Brown can also be considered but keep in mind that – as a shoe color – it isn't nearly as versatile as black.
Additionally, you should avoid wearing brown shoes with a dark (black, navy, charcoal, etc.) suit as these colors famously clash.
5. Tuck Your Shirt In
Despite not wearing a tie, it's still crucial to tuck your shirt in when wearing a collarless dress shirt with a suit.
Tucking in your collarless dress shirt upholds the suit's formality.
Furthermore, an untucked shirt (of any kind) can look awkward and scruffy when wearing a suit.
While there are a couple of tuck variations out there, such as the French tuck, the only acceptable method when wearing this outfit is a full tuck.
A full tuck is simply when your shirt is tucked into your pants the entire way around them.
Dress shirts are designed to be tucked in, meaning that doing so shouldn't be an issue.
6. Assess Whether It's Appropriate
Because of the controversy regarding collarless dress shirts, and their ability to accompany a suit, finding out whether or not it's appropriate is essential.
Generally, this outfit is acceptable for all semi-formal situations.
You should avoid wearing this outfit on any occasion of a higher formality level than business-casual as the lack of a collar dresses down the outfit to a certain extent.
Avoid wearing it to truly formal events where a 2-piece suit (with a collared dress shirt and necktie) would be necessary at the very least.
Additionally, this outfit isn't appropriate for black or white-tie events, as these are the peak of formal attire.
The formality of the occasion will also determine the extent to which you can experiment with your suit in terms of colors and patterns.
Typically, colors and patterns are only acceptable for semi-formal events.
7. Accessorizing Is Possible
Something to keep in mind when wearing a collarless dress shirt with a suit is that it's possible to wear accessories.
In fact, due to the experimental nature of a collarless dress shirt, wearing an accessory or two is encouraged.
Such accessories could include a watch, belt, pocket square, or cufflinks. All are fantastic options to wear with this outfit.
Having said that, however, you should stick to a maximum of two accessories; one accessory is optimal.
A watch is pretty much always a safe bet because there are so many different kinds of watches, appropriate for different occasions, dress codes, and formalities.
For this outfit, a dress watch is the best option; it will contribute to the formality.
On the other hand, if you want to dress down your outfit a bit, a metal-bracelet diver watch is a solid choice.
Cufflinks are a great way to spruce up your outfit; however, if wearing them with a watch, ensure both the metal of the cufflinks and the watch are matching.
A pocket square can add a touch of personality to your outfit. If your suit is block-colored, you can go for a patterned or colored pocket square.
If you're feeling particularly confident, you could even consider some different pocket square folds.
Conversely, if your suit is colored or patterned, stick to a white pocket square using the presidential fold (also known as the straight fold).
Ready Sleek founder. Obsessed with casual style and the minimalist approach to building a highly functional wardrobe. Also a fan of classic, vintage hairstyles.