There are certain combinations in your wardrobe that you will just keep coming back to while others get neglected. The so-called "workhorses" of your wardrobe. That begs the question; can you wear chinos with a T-shirt?
Chinos are T-shirts can be worn together in a huge number of settings and circumstances ranging from casual to semi-casual. The versatility of both of these items makes options for outfits almost endless, working with everything from blazers to boat shoes.
Having a system for knowing what to wear with this combination is important.
Although it's hard to go too far wrong with chinos and a T-shirt, combining them with the right and most appropriate items can make a straightforward outfit really stand out.
Plus, knowing how to properly color match within this combination can take things to the next level.
We'll be talking through all of this and more. Enjoy.
How To Wear Chinos And T-Shirts: The 2 Crucial Rules
It's best to think of a pair of chinos and a T-shirt as a skeleton. It's a foundation on which you can add a whole range of other items to suit your needs.
The type of chinos and the type of T-shirt isn't an issue. Pretty much all T-shirts (V-necks, crew necks, polos, Henleys, etc) could work well with both slim-fit and skinny fit chinos.
Color matching is more important – but we'll get onto that.
The real art is knowing what to combine them with, or whether you should combine them with anything at all.
Here are two tips to help you know what to wear with this classic combo.
1. The Weather Definitely Matters
It should come as no surprise that the weather will play a huge role when deciding what to wear with your chinos and T-shirt.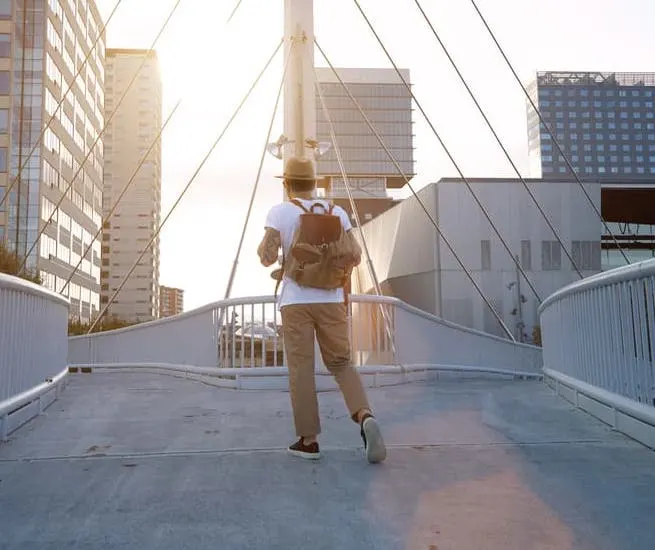 The beauty of chinos is they're suitable for all seasons. The cotton twill is light and airy enough to be comfortable in warm weather, but also snug enough in cold weather.
You may want to go for a pair of chinos with heavyweight cotton in the winter, however.
Although a T-shirt is less versatile and obviously more summer-suited, the power of layering makes it possible to rock one even in the depths of winter.
Let's talk through some specific casual example outfits based on climate.
Hot/Warm – Slim-fit chinos, basic half-sleeve T-shirt, fedora hat, boat shoes, with an optional open denim shirt to layer on those breezy evenings.
Mild – Skinny or slim-fit chinos, crew neck T-shirt, open button-down shirt as a top layer, and suede loafers.
Cold/Crisp – Heavyweight chinos, crew neck T-shirt, a merino wool cardigan as a midlayer, a parka on top, and chelsea boots.
As you can see, the options really are endless.
But those are just the more "casual" options. This brings me to my next point.
2. The Formality Definitely Matters
The chinos and T-shirt combination can also work in semi-casual settings when combined with the right items.
These are those occasions with more ambiguous dress codes where you aren't really sure whether a button-down shirt is essential or not.
In other words, "semi-casual" is one step more casual than "casual" and one step less casual than "business casual".
There's a risk of underdressing here if you're not careful, so make sure the items you're combining them with are traditionally "formal" enough for it to make sense.
Here are some semi-casual example outfits, once again based on climate.
Hot/Warm – Slim-fit lightweight khaki chinos, white short-sleeve T-shirt, navy blazer, leather loafers.
Cold/Crisp – Heavyweight navy blue chinos, white turtleneck T-shirt, quilted vest or wool cardigan as midlayer, tweed gray sports coat on top, brogue shoes.
See what I did there?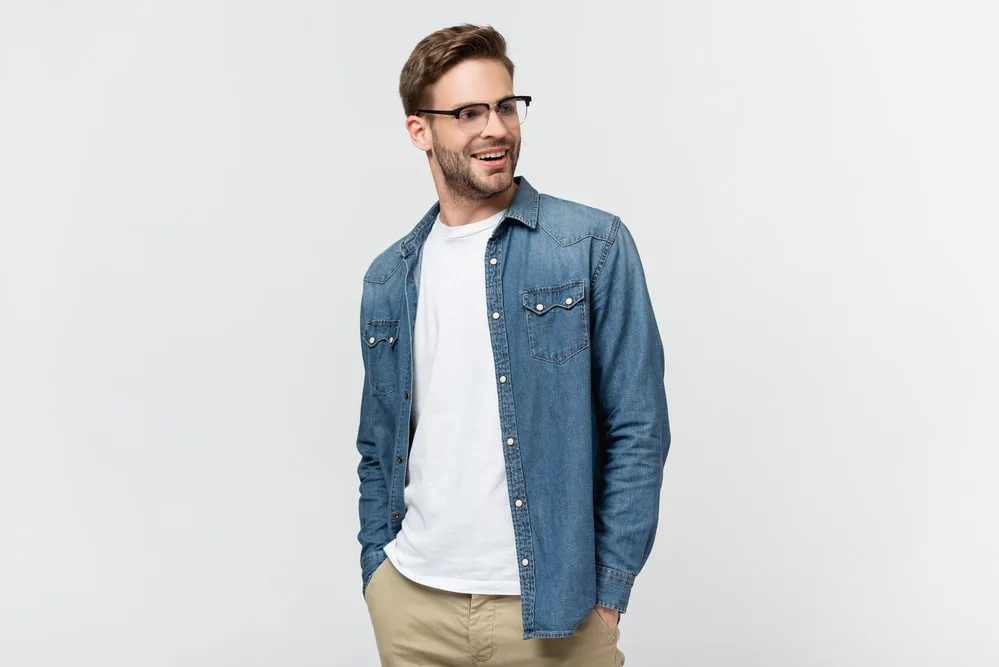 To up the formality, stick to neutral, muted, basic colors as a rule-of-thumb. Blazers, sports coats, and leather shoes such as Oxfords, brogues, and loafers are great.
Moral of the story – chinos and T-shirts can be worn in so many different settings and climates as long as they're combined with the right items.
Color Matching Chinos And T-Shirts
As always, I recommend a minimalist approach here.
The beauty of sticking with neutral colors throughout your wardrobe is that everything always matches and you're wearing the same items over and over without people noticing.
Neutral colors include shades of black, brown, white, gray, navy, and olive green.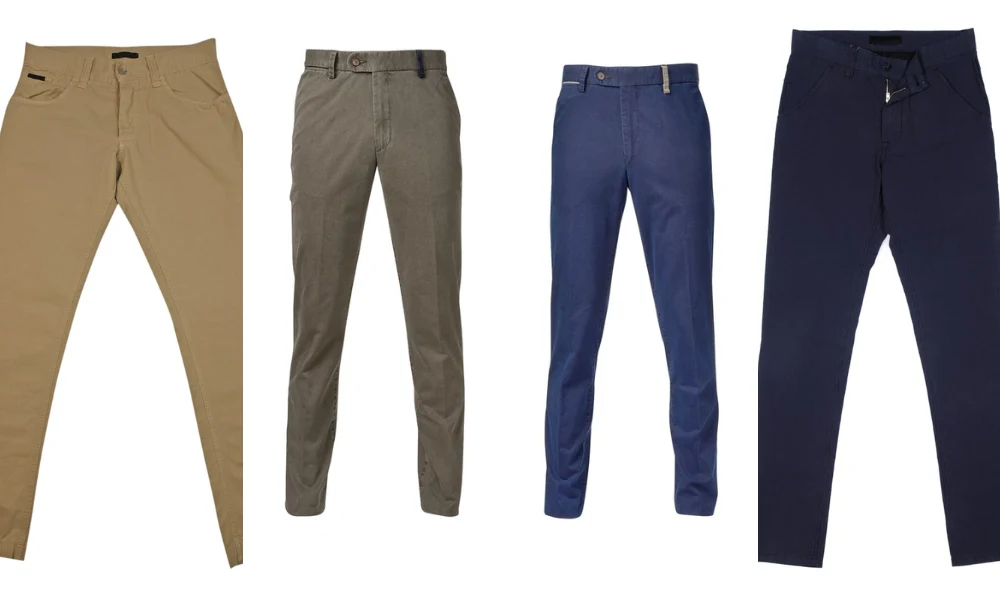 They're "neutral" because they're not in-your-face. The colors are subtle, understated, sometimes muted, and incredibly versatile.
Using these colors to guide your choice of chinos, T-shirts, and other clothes could save you needless stress. The convenience that comes with being able to combine any items of clothing you own is massive.
One thing to note is that these colors do, of course, have different shades. Some shades have "warm" undertones such as yellow and red, whereas others have "cool" undertones such as blue or green.
Without overcomplicating things too much, you may want to use the weather to guide your choice of colors.
For example, a summer neutral combo may be a white T-shirt and khaki chinos (warmer undertones). A winter neutral combo may be a black T-shirt and navy blue chinos or a white T-shirt with dark blue chinos (cooler undertones).
Having said all of this, your taste may well differ. The summer is rife with men who choose bright, pastel-colored chinos and T-shirts; this can work well.
But if you're looking for a simple, versatile wardrobe that's suitable for all seasons, stick to neutrals.
What Shoes Should You Wear With T-Shirts And Chinos?
The shoes you wear with a T-shirt and chinos depends on both the weather and how formal the occasion is. The color will also depend on the other clothes you wear them with, but sticking to a neutral scheme throughout means that white, brown, and black would all work well.
Let's use some examples. Once again we'll work on the premise that this two-piece combination could work well for semi-casual occasions if combined with the right clothes (sports coats, blazers, etc).
However, truly formal outfits would require an OCBD shirt at the very least.
Here are some examples of shoes you could wear with a T-shirt and chinos depending on both the weather and the occasion.
Warm Semi-Casual – Brown leather loafers, moccasins
Warm Casual – Boat shoes, canvas sneakers, suede loafers
Mild/Cold Semi-Casual – Brogues, leather loafers
Mild/Cold Casual – canvas sneakers, Chelsea boots
The T-shirt, chinos, and loafers look is great because it's very versatile in terms of both weather and formality. However, you may want to swap suede for leather in the winter, as it generally doesn't deal with colder weather as well.
Remember, the examples listed aren't hard-and-fast rules. For example, those brogue Derby shoes may well work perfectly fine for a summer semi-casual garden party.
But this is just to give you an idea of what options you have because there are a lot. The beauty of chinos is that they can be worn with a huge range of shoes.
Don't overcomplicate it and stick to basic principles like trying to make sure the shoes match your belt.
What About Polo T-Shirts And Chinos?
Polo shirts and chinos can work fantastically well in many different settings and occasions, ranging from casual to semi-casual.
The versatility of a well-fitted polo shirt is often underestimated. It has the benefit of fitting seamlessly into a huge number of outfits, whether it's with a sports coat, madras shorts, or jeans.
Both chinos and polo shirts are usually made of breathable cotton, making for comfortable wearing during warm weather.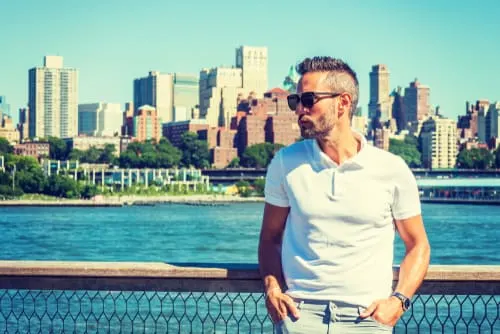 The combination is often simple and stylish, despite being what some may call a stereotypically "preppy" ensemble.
When color matching between the two, sticking to the neutral color scheme described earlier should save you a lot of headaches.
Plus, it'll make it easier to match the two with your other clothes if necessary.
The question of whether the polo shirt should be tucked into the chinos is an interesting one. Tucked in polos can look great at times and not so great at others.
Tucking in a polo shirt into chinos can look absolutely fine – it's just a case of trying it out as a lot of it is down to personal preference.
If you do choose to leave it untucked over those chinos, be sure that the polo shirt is sized properly. The tail shouldn't go down past the middle of your rear end. This looks too long and can make your proportions look odd, particularly from side-on.
Tucked or untucked, the polo shirt should be fitted properly. If you're looking for something to wrap tight around your skin, the polo isn't the one.
A polo shirt should hover slightly above your body as it's worn, skimming the skin. It's made to be slim-fitting, not tight.
You should be able to fit an entire finger in between your bicep and the sleeve of the shirt. If you can't, it's probably too tight. If you can fit any more than that, it's probably too loose.
Wearing Chinos With T-Shirts And Blazers
Wearing chinos with a T-shirt and blazer is powerful because it's an easy way to transform a casual outfit into a semi-casual one.
Just pop on a blazer – it doesn't get any simpler than that.
The classic navy blue of a blazer would go great with a white T-shirt and khaki or stone chinos. Having said that, any neutral color would fit well with navy blue.
You may feel as though a blazer is slightly too formal for your purposes, being only a notch-less formal than a suit jacket.
In which case, a sports jacket (a.k.a sports coat) may be a perfect solution. It often goes great with T-shirts and chinos because it lends itself well to casual occasions.
A sports jacket sets itself apart from a blazer because of its looser fit and often more rough and rugged texture. Popular fabrics include tweeds such as houndstooth.
It also has typically more "casual" features such as arm patches and pleats.
Wearing this combination would work very well for occasions where you feel the need to dress up a little, but feel that an OCBD shirt would be a bit too much.
Garden parties, sporting events, etc.
When wearing a blazer or sports jacket with chinos and a T-shirt, it's usually best to choose a more formal pair of shoes such as loafers or Brogues.
Although a pair of white sneakers may well be fine, it may make the formality of the blazer or sports coat look a little bit out of place with the rest of the outfit.
Should You Tuck In T-Shirts Into Chinos?
Although T-shirts can look fine when tucked into chinos, as a general rule it's usually not a risk worth taking. T-shirts are casual by their very nature and the act of tucking one in may seem contradictory and awkward.
Having said that, when wearing a blazer or sports jacket on top, it can look less awkward as the formality appears to sync up better.
You may occasionally find T-shirts with uneven hems, and long "tails" at the back. These can actually look odd when untucked, and so are exceptions to the rule and should always be tucked.
Polo shirts often look stylish when tucked into chinos. When the polo shirt comes with an uneven hem and long "tail", it's compulsory. As I mentioned, if the tail extends beyond the midway point of your bottom, it's too long to leave untucked.
Ultimately, if you're thinking of tucking in a flat-bottomed, evenly hemmed T-shirt into chinos it's usually best to think twice. If you're intent on doing it, make sure that the T-shirt is long enough so that it doesn't keep popping out of your chinos.
Tucking it into your underwear should minimize the risk of this happening.
Chinos are semi-casual enough for it to potentially work quite well, but leaving a T-shirt untucked will always seem more natural.
Conclusion
This classic combination may become a workhorse within your wardrobe. Two items of clothing that you call upon time and time again for a huge number of purposes.
The versatility is largely thanks to the huge range of other clothes they work well with.
Understanding and sticking to the basic principles we've talked through should help you figure out exactly how to wear it with style, each and every time.
Ready Sleek founder. Obsessed with casual style and the minimalist approach to building a highly functional wardrobe. Also a fan of classic, vintage hairstyles.