Typically, brown shoes with black pants should be avoided in formal situations. However, jeans are much more casual. So, can you wear brown shoes with black jeans?
It's definitely possible to wear brown shoes with black jeans. Remember to keep it casual by ensuring your shoe and shirt styles aren't too formal. Consider matching your brown shoes to other garments in your outfit, like a leather jacket, and avoid darker shades of brown.
While that's the gist, there's much more to it.
This post will explain the ins and outs of wearing black jeans with brown shoes.
Let's get to it.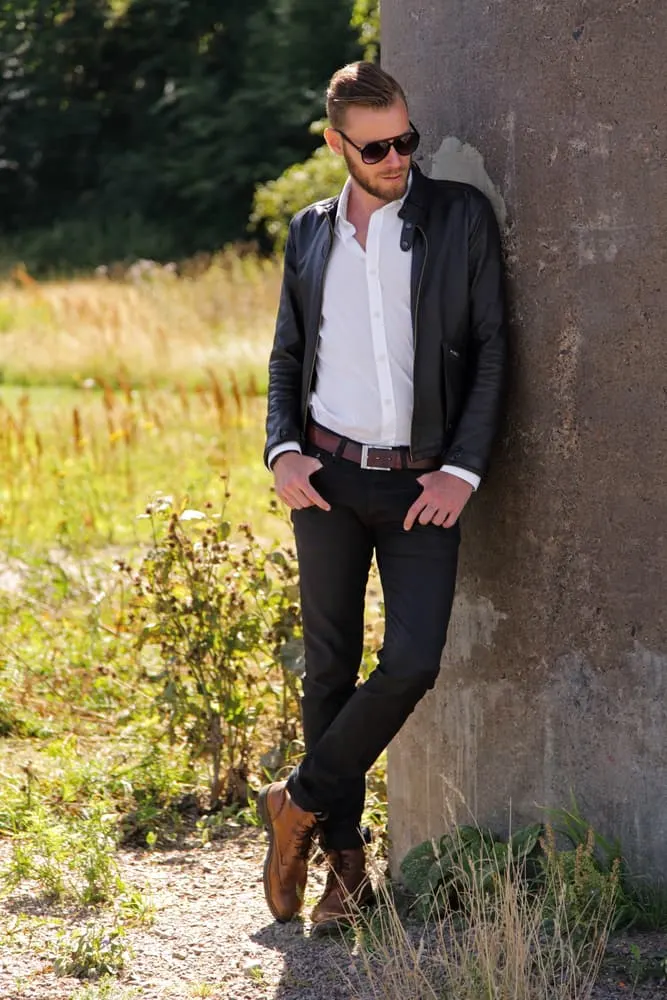 1. Avoid Darker Shades Of Brown
When wearing brown shoes with black jeans, it's best to avoid darker shades of brown.
Doing so can make the outfit look incredibly awkward due to the colors being close but not quite the same.
Regardless of how sleek the rest of the outfit may look, the near-match of dark brown shoes alongside black jeans will appear sloppy.
Therefore, you should pretty much always avoid colors like taupe and walnut for your brown shoes – if wearing them with black jeans.
Instead, go for a contrast between your jeans and shoes. Colors such as tan, cognac, and camel work incredibly well.
For a start, they demonstrate that the pairing of black and brown was on purpose and not an attempt to wear a monochromatic outfit – without it being monochromatic.
On top of this, while monochrome outfits can be great, black pants with black shoes have become so common they can seem repetitive.
Wearing lighter brown shoes with black jeans is a great way to somewhat break up this monotony, adding some contrast to your outfit.
Successfully incorporating contrast into your outfit can also act as a statement without seeming flamboyant or extravagant.
Note that making a statement with atypical contrast isn't always recommended and isn't appropriate for every setting, so do so with care.
2. Consider Other Brown Garments
While wearing brown shoes with black jeans can look great with the right colored shoes, the ensemble can be enhanced with garments or accessories of a similar color to your shoes.
A great example of this is wearing a leather jacket with your black jeans and brown shoes.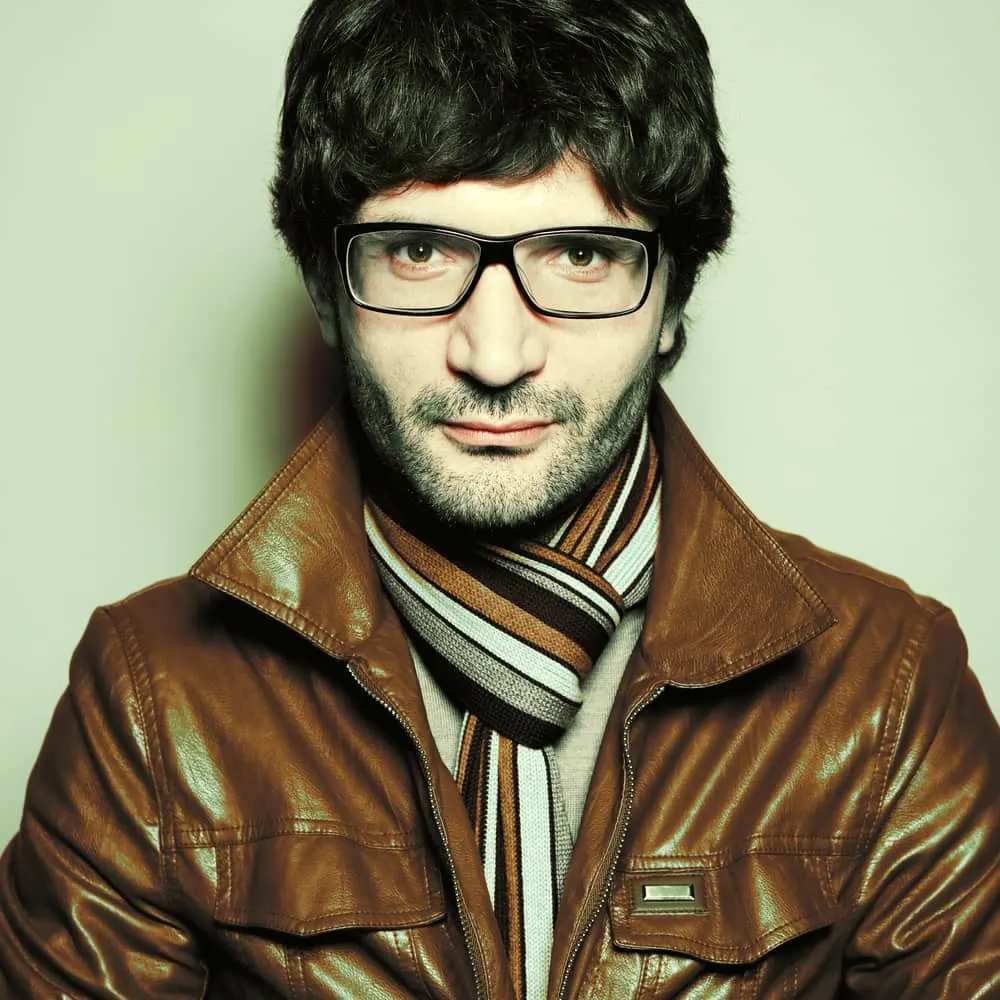 To optimize the look, try to match the leather jacket's color with that of your shoes as best you can – this means that lighter colors look best.
The pairing of two similarly-colored light-brown garments means that there is much less of a color clash between your black jeans and brown shoes.
There are a couple of accessories that will couple with the brown shoes a little more subtly than a leather jacket if that's what you prefer.
A leather-strapped watch is a fantastic demonstration of a subtle way to add some matching brown.
Alternatively, because this outfit is quite casual, a discreet leather bracelet can look great too. Again, try to match the brown to that of your shoes.
It's important not to wear the watch and bracelet together, however. Pick one or the other, or else it'll appear excessive.
For something a bit more unusual, a cowboy hat can do the job well too. Make sure you understand how to wear a cowboy hat before attempting to pull it off.
3. Smart-Casual Shoes Work Best
Denim is the epitome of casual wear. Despite this, however, black jeans can also be appropriate for smart-casual occasions.
The accumulation of these factors means that, when wearing brown shoes with black jeans, it's best to ensure that your shoes are casual.
A pair of minimalist, brown leather sneakers work fantastically alongside this combination.
The less formal dress shoes styles such as monk straps and Derby shoes can also work, especially if they have a brogue pattern.
Going a step further, brown suede shoes work especially well with black jeans given how the napped texture of suede syncs well with the rugged texture of denim.
Light brown casual boots, such as Chelsea boots or chukka boots, can also look great when worn with black jeans.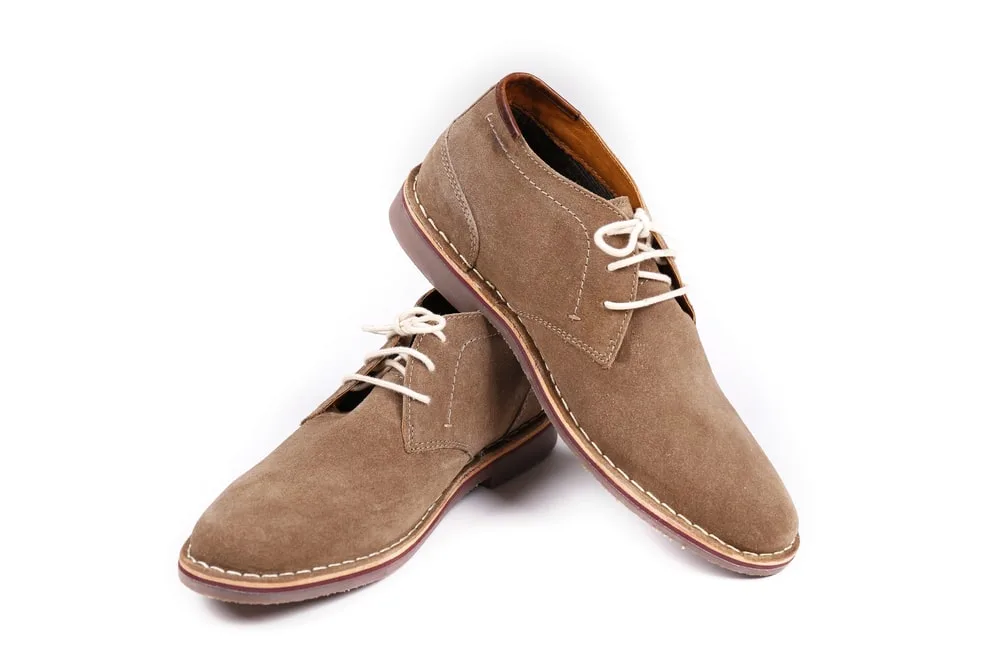 An important element of wearing jeans with boots is making sure you don't tuck your jeans into your shoes.
Your jeans should sit over your boots comfortably without dragging on the heels of your boots.
Cowboy boots are an option too, but if you go for these, make sure you wear boot-cut jeans.
This will allow your jeans to sit over your boots without being uncomfortable, despite cowboy boots rising higher than most other boots.
4. Button-Up Shirts Can Look Great
If you wish to somewhat dress up this ensemble, the best way to do so is by wearing a button-up shirt.
While there are many different styles of button-up shirts, ranging in formality, they are typically more formal than they are casual.
Furthermore, because black jeans can be worn smart-casually just as easily as they can be worn casually, a button-up shirt wouldn't look out of place.
Dress shirts are a solid pick if you wish to add an even more formal edge to your outfit.
However, if wearing a dress shirt, it's essential to tuck it in. Else, it'll seem too long and, therefore, disproportionate to the rest of your outfit.
This is because dress shirts have a bit of extra length in order to allow them to be tucked in with ease.
Casual shirts can be tucked in, too. However, it's more difficult to do so as they aren't designed to be tucked in.
Regardless of the shirt type you're wearing, if you decide to tuck in your shirt, wearing a belt is crucial.
Not wearing a belt with a tucked-in shirt can make the outfit appear incomplete and put you at more risk of your shirt becoming untucked.
A brown belt should be worn, sticking to the basic principle of matching your belt to your shoes.
5. Think About The Situation's Formality
You should always consider the formality of the situation before deciding what to wear.
As mentioned, denim is generally associated with casual wear.
This – alongside the conflicting black-brown combination – means that this outfit is best kept for casual situations.
Having said that, it is also acceptable for most smart-casual occasions due to the versatility of both black jeans and brown shoes.
Dress it up with a white, light blue, or navy button-up dress shirt, and tuck in the shirt, to complete the smart-casual ensemble.
Avoiding this outfit at anything of a formality greater than smart-casual is advisable, as it's simply too casual for this kind of event.
6. Shirt Color Is Important
Shirt color is an essential factor to consider when wearing brown shoes with black jeans.
Choosing the wrong shirt color can throw off the entire outfit and indicate a lack of style knowledge.
Therefore, it's good practice to ensure that your shirt is the right color.
Navy shirts are pretty much guaranteed to look good with this outfit; as long as they aren't so dark they're indistinguishable from your black jeans.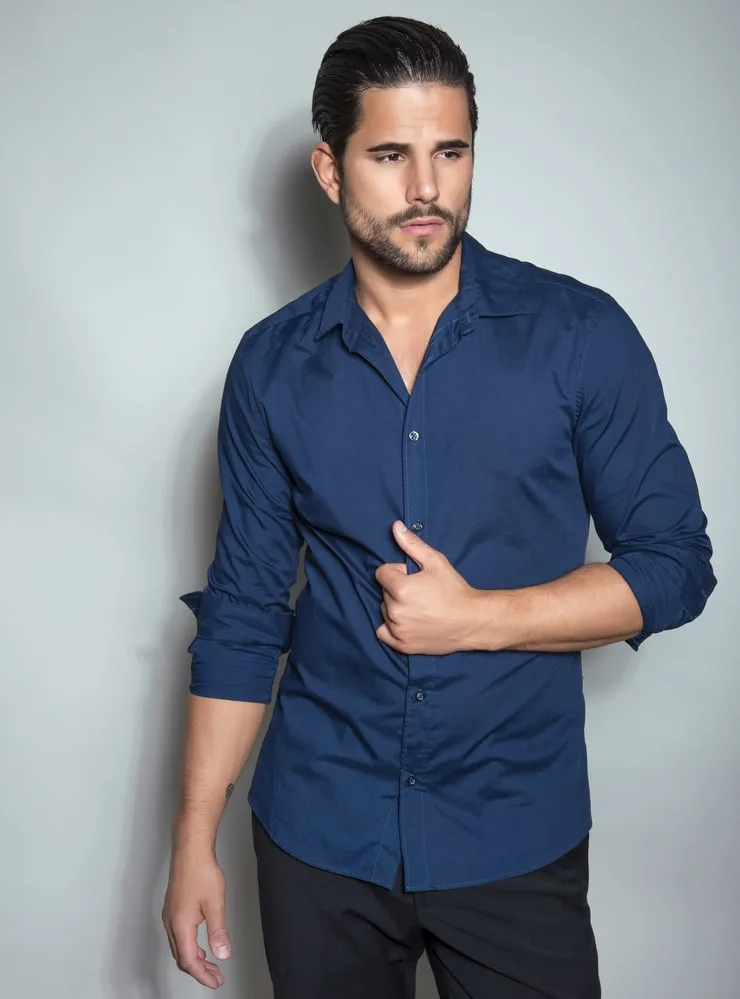 Black and navy are renowned for pairing together perfectly, and alongside the contrast of your light brown shoes, the outfit will come together brilliantly.
White is another shirt color that can work very well with brown shoes and black jeans.
A white shirt will further contribute to the contrasted look and therefore looks great with this outfit.
Similar to white, a light blue shirt can also look good with this outfit for the same reason.
Both navy and white are very versatile colors, so they will work with most things, and light blue is great for dressing up your outfit a bit.