While it's commonly done, there are many that do feel this combination isn't the best choice. The question is, can you really wear blue jeans with black shoes?
Blue jeans can be worn with black shoes in casual and smart-casual settings. More casual-looking blue jeans look better with black sneakers, while less casual-looking blue jeans can be worn with dressier pairs of black shoes such as Derbys and monk straps.
That's the short answer, but there's more to it.
Here are some essential tips for wearing blue jeans with black shoes in the best way possible, each and every time.
Let's get to it.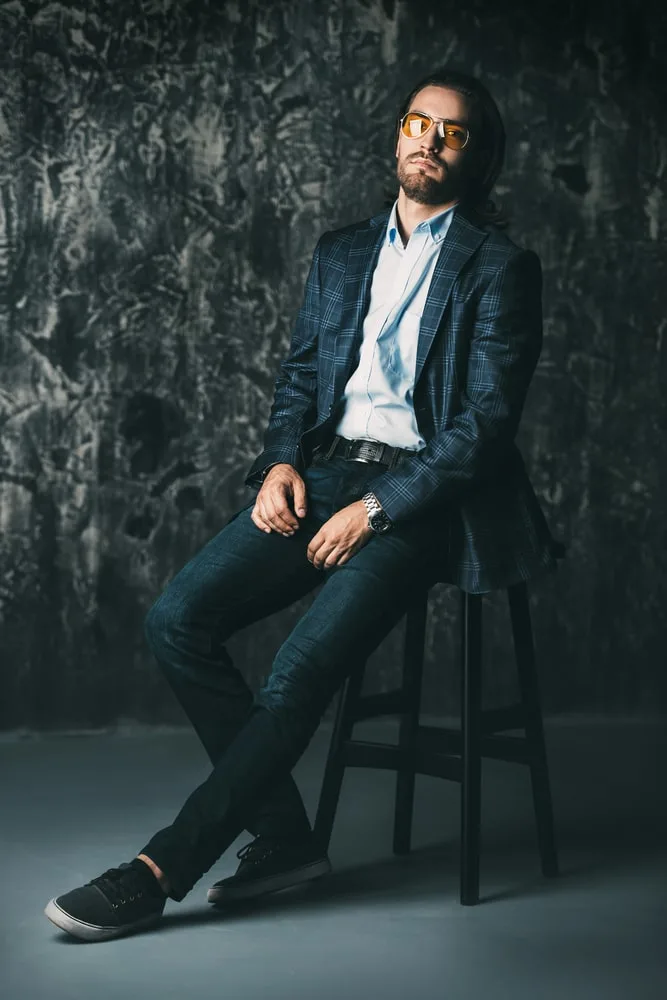 Consider The Dress Code
No matter how dressy the black shoes may be, the blue jeans and black shoe combo should never be worn to anything more formal than smart-casual.
It wouldn't be appropriate for business-casual settings and it definitely wouldn't be OK for formal occasions.
Here are the dress codes and settings where it would work well:
Casual – Think hanging out with friends at the local bar or going to the movies.
Smart-casual – Think first dates, garden parties, dinners at mid-level restaurants, etc.
There are certain features that make a pair of blue jeans look more casual:
Lighter shade of blue
More distressing (frays, rips, acid washing)
Baggy fit
And less casual:
Dark wash
Minimal distressing
Tapered fit
There are also certain features of black shoes that make them look more casual:
Casual styles (eg. sneakers, moccasins, espadrilles, loafers)
Napped textures (eg. suede)
And more formal:
Formal styles (eg. Oxfords, Derbys, monk straps)
Shinier grains of leather (eg. calfskin or cowhide)
In general, when wearing a pair of blue jeans with black shoes, it's best to avoid wearing black Oxford shoes altogether – they'll simply look too formal for even the "dressiest" looking blue jeans.
Instead, try to pair the other more "formal" looking black shoes (eg. Debys and monk straps) with the dressier pairs of blue jeans.
Doing so will lead to less risk of a formality mismatch.
Here's an example of a "dressier" pair of blue jeans worn with black dress shoes (Amazon Link).
Consider Dark Vs Light Blue Jeans
Wearing black shoes with dark blue jeans will lead to less contrast than wearing them with light blue jeans.
If you want to go a little dressier, consider going for less contrast and choosing a dark blue pair of jeans to go with your black shoes.
This is even more important if you're wearing a dressier pair of black shoes such as Derbys or monk straps.
They'll just look better with a dark pair of blue jeans.
If, on the other hand, you're dressing more casual, contrast can often be effective. Wearing light blue jeans with black shoes will lead to more contrast and produce a more casual aesthetic.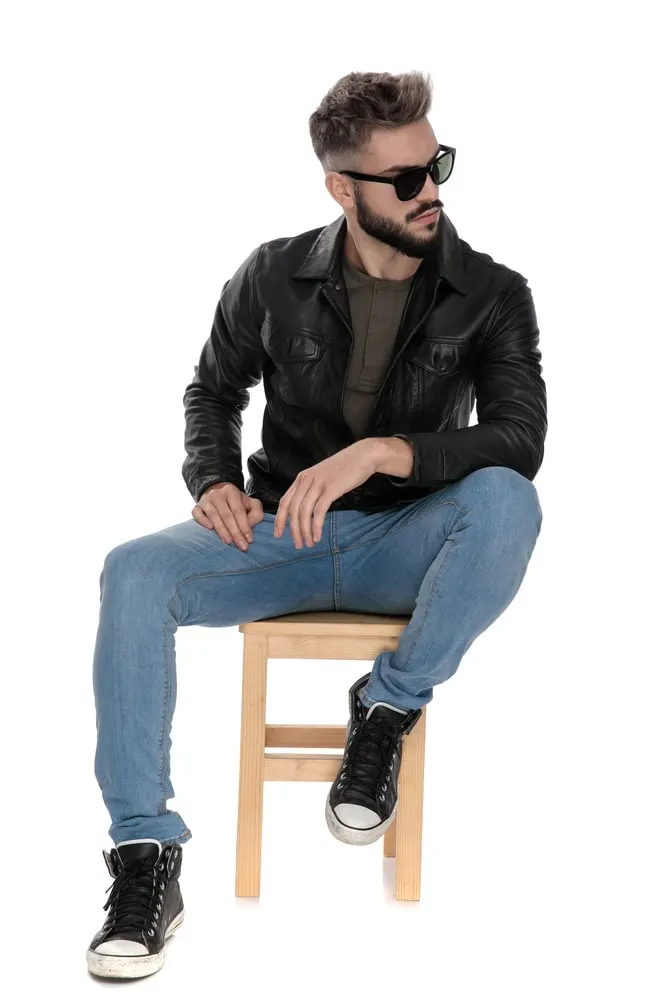 This works better when you're wearing more casual black shoes such as sneakers or moccasins.
It isn't a hard and fast rule. At the end of the day, wearing black Derby shoes with light blue jeans would still look OK. It just wouldn't look as good as a combination where you'd taken formality into account.
Try To Wear A Black Item Up Top
When wearing blue jeans and black shoes, wearing another black item up top is a great way to add a sense of balance.
It just makes it clear that your outfit is well thought out and coordinated instead of put together in a hurry.
Once again, it isn't essential, but it's very effective.
It doesn't really matter what the black item is – it just needs to be large and prominent enough to be noticeable.
The obvious items are T-shirts, shirts, sweaters, hoodies, and coats.
All of the items you wear up top don't need to be black. For example, you could wear a black coat layered over a grey turtleneck or an off-white OCBD shirt.
But having a touch of black up top is a great way to add some balance between your top half and your bottom half.
Black Boots Work Well
Wearing black boots with blue jeans is incredibly popular and for good reason. It's a pretty effortlessly stylish combination, especially effective in the winter and fall.
The range of boots you've got to choose from is pretty broad, but the two that should spring to mind first are black Chelseas and black chukkas.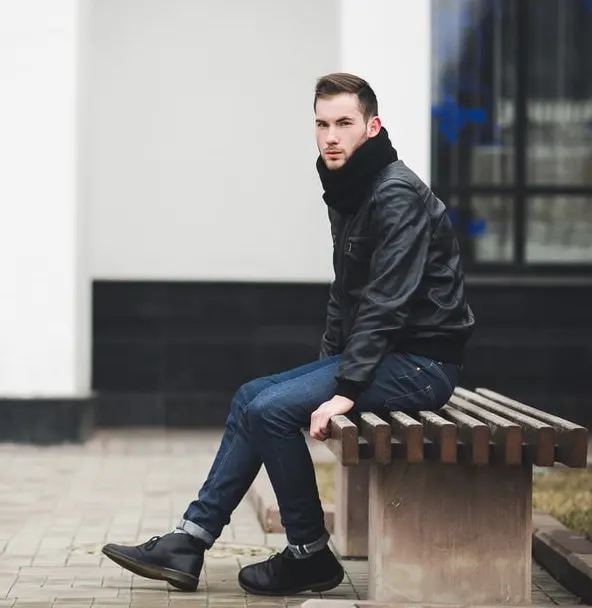 They aren't exactly "casual", but they aren't too formal-looking to wear with blue jeans either.
The same tips listed earlier would apply to this combination as well.
For example, black suede Chelsea boots and chukka boots look incredibly effective when worn with blue jeans.
Pair them with a black leather jacket up top and you may have a simple, stylish, and edgy outfit for the colder months of the year.
Consider Cuffing
Cuffed blue jeans work well if you're going for a more casual aesthetic, especially if you're wearing a low-cut, casual pair of black shoes such as sneakers, loafers, espadrilles, or moccasins.
It works especially well in the summer.
It's great because it shows the black shoes off by giving them more prominence and visibility. They aren't simply hidden behind the hem of your blue jeans.
If you do decide to cuff your blue jeans, strongly consider wearing no-show socks.
Cuffed jeans with visible socks – even ankle-length socks – doesn't usually look great. No-show socks are ideal because they remain hidden and don't throw off the aesthetic.
In addition, they're more hygienic and comfortable than simply going sockless altogether.
Sock Color Is Important
When wearing blue jeans with black shoes, wear socks in a shade of blue. In general, it's best to match your sock color to the color of your pants, not your shoes.
This isn't always easy to achieve, as you may not have blue socks readily available.
However, the shade of blue doesn't matter that much. You could go for a darker shade such as navy, or a lighter shade of blue if that was all you had available.
If you didn't have any blue socks to hand at all, the next best option would usually be grey, as it would form a reasonable bridge between the black shoes and blue jeans without causing too much conflict.
Black Suede Shoes Often Look Great
Suede shoes often look fantastic when worn with jeans. The main reason they work so well is that they're incredibly versatile.
Suede dress shoes such as Oxfords, Derbys, and monk straps are pretty easy to find. They can be worn to a variety of dress codes ranging from casual to business-casual.
Here's an example of a pair of black suede Derby shoes on Amazon as an example:
The napped texture of suede pairs well with the rugged texture of denim.
While you should avoid wearing shiny black leather Oxford shoes with jeans (eg. in calfskin or cowhide), the texture of suede would be casual enough for you to pull it off.
Black suede shoes aren't quite as easy to find, but they're definitely out there. If you're looking for black shoes that'll work with practically any pair of blue jeans you've got, strongly consider seeking them out.
Wear A Black Belt
If you were going to color match any two items in your outfit, it would be your shoes and your belt.
Wearing a belt and shoes in different colors can work, but it's difficult to pull off. It's also very easy to make it look awkward.
Matching your belt and your shoes is the simplest way to make an outfit look well coordinated.
Because of this, whenever you wear black jeans with black shoes, wear a black belt. This is especially true if your belt is going to be visible.
For example, if you were going to be tucking your shirt in.
If it wasn't going to be visible, it isn't as big of a deal, but it's still a good habit to get into.
Ready Sleek founder. Obsessed with casual style and the minimalist approach to building a highly functional wardrobe. Also a fan of classic, vintage hairstyles.