A blazer is an incredibly versatile item that can dress up even the most casual of outfits. But the question is, can you wear a blazer with a pair of jeans and a shirt?
A blazer can be worn with jeans and a shirt in casual and smart-casual settings. Neutral blazer colors often work best, as they're easy to combine with a wide range of shirts and jeans. In general, the combination tends to look better without a necktie.
But there's more to it than that.
After going through a few outfit ideas you can try out for yourself, we'll run through some essential tips for making it work every time.
Let's get to it.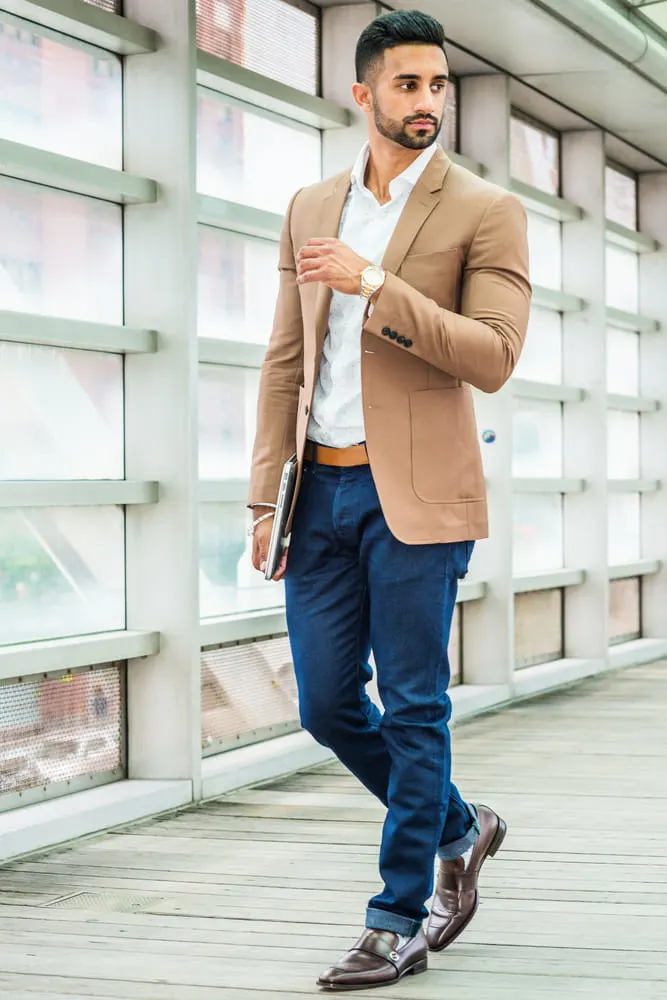 3 Blazer, Jeans, And Shirt Outfits To Inspire You
We're going from the dressiest option to the most casual one. There are likely to be plenty of outfits in between, but this should get those ideas flowing.
Enjoy.
Dressy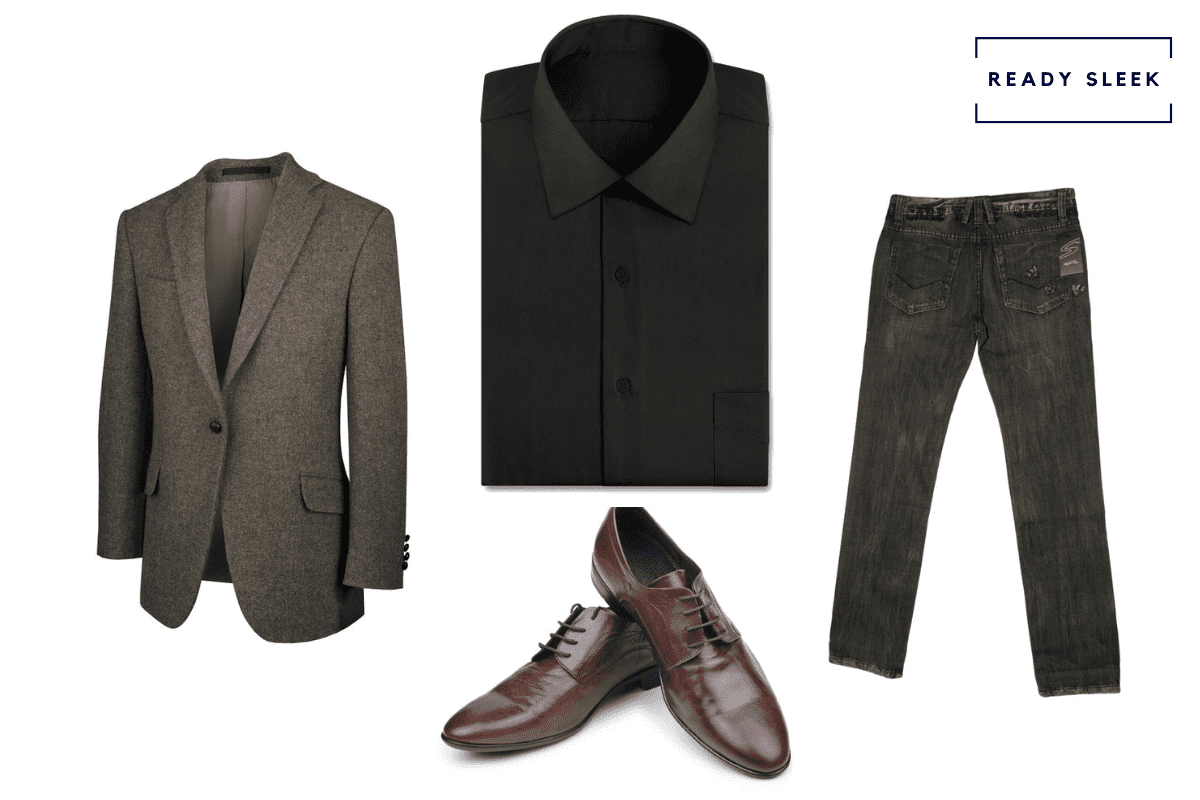 Items: Grey Blazer, Black Button-Up Shirt, Black Jeans, Dark Brown Derby Shoes, White Pocket Square
A blazer is, ultimately, a "dressy" item. The beauty of it, however, is that it can be dressed up or dressed down at will, depending on the other items you choose to wear it with.
When dressing up a blazer and jeans outfit, consider a button-up shirt in a dark and neutral color such as black.
The combination is effortlessly sophisticated and sleek.
To dress up a notch further, go for a pair of jeans in a similarly dark and neutral color.
While a pair of dark grey jeans would be perfectly acceptable here, black jeans will always be the dressiest option.
The dark brown Derby shoes used in the example work well because the brown adds a touch of contrast to an otherwise greyscale and monochromatic combination.
More Casual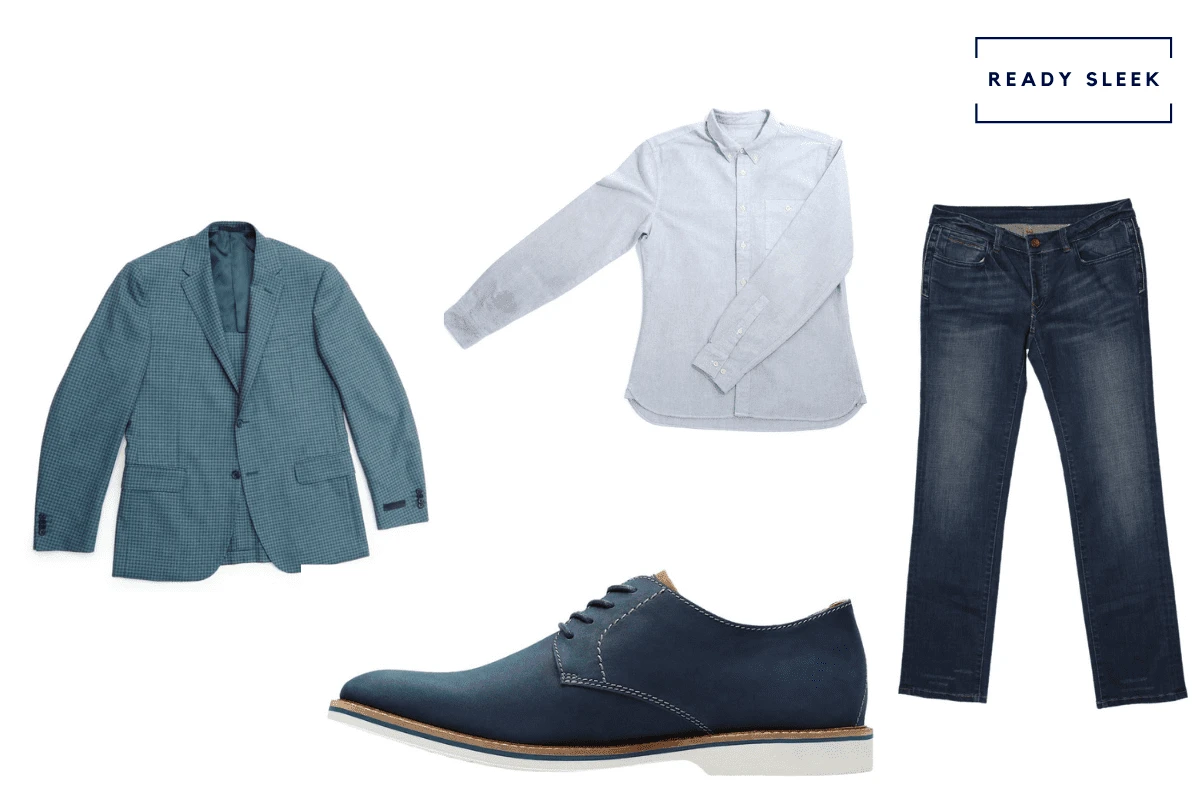 Items: Teal Blazer, Light Blue OCBD, Blue Jeans, Navy Suede Shoes
Here, we're dressing down a little by going for a less neutral blazer color. Teal works well because it's eye-catching, but still relatively muted.
The shirt style and color are a little more casual than the black button-up in the previous example.
More casual shirt fabrics such as linen or Oxford cloth are great options here.
Ultimately, a teal blazer and a light blue OCBD shirt would be a fantastic smart-casual combination.
Dark blue or indigo jeans would work well here and produce a near-enough monochromatic combination with the teal blazer and light blue shirt. It's tough to go wrong here.
Finally, round things up with a pair of suede Derby shoes.
While you could easily go for a brown pair here, consider navy if you wanted a more unusual option that would still pair perfectly well with the rest of the outfit.
Most Casual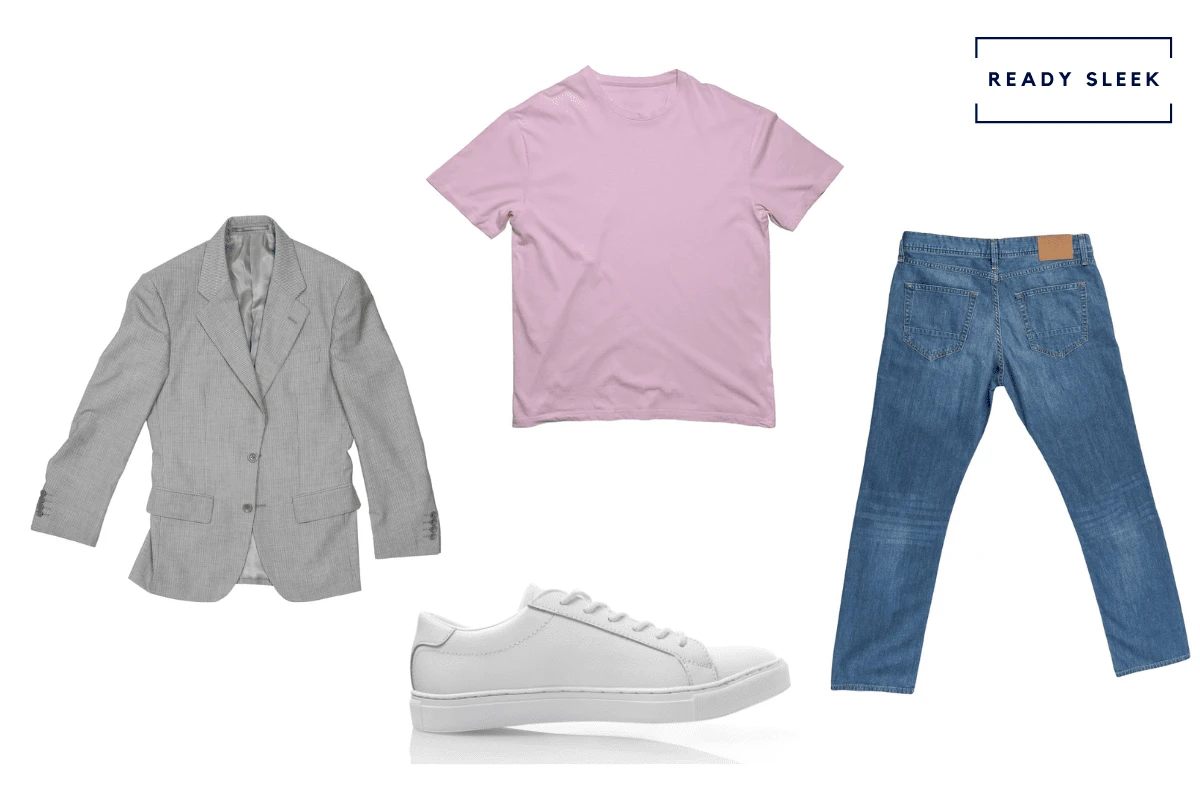 Items: Light Grey Blazer, Pink T-Shirt, Blue Jeans, White Sneakers
The lighter the blazer, the more casual it'll come across.
However, going for a light and neutral blazer color such as grey does give you more options when it comes to coordinating the other items in your outfit.
Here, we're really dressing down by wearing a light grey blazer over a pink T-shirt.
The vibrant and energetic pink shirt will add a nice sense of contrast to the subtle and understated grey blazer worn over it.
Again, blue jeans would work well here. But when dressing down, jeans in lighter colors such as light blue, light grey, or even white can work extremely well.
In this outfit, the pink T-shirt becomes the "pop" of color against an outfit that's pretty neutral for the most part.
Using a single pop of color works well in casual and smart-casual ensembles.
5 Tips For Wearing A Blazer With Jeans And A Shirt
Here are some great tips for pulling this combination off, no matter what setting you may be dressing for.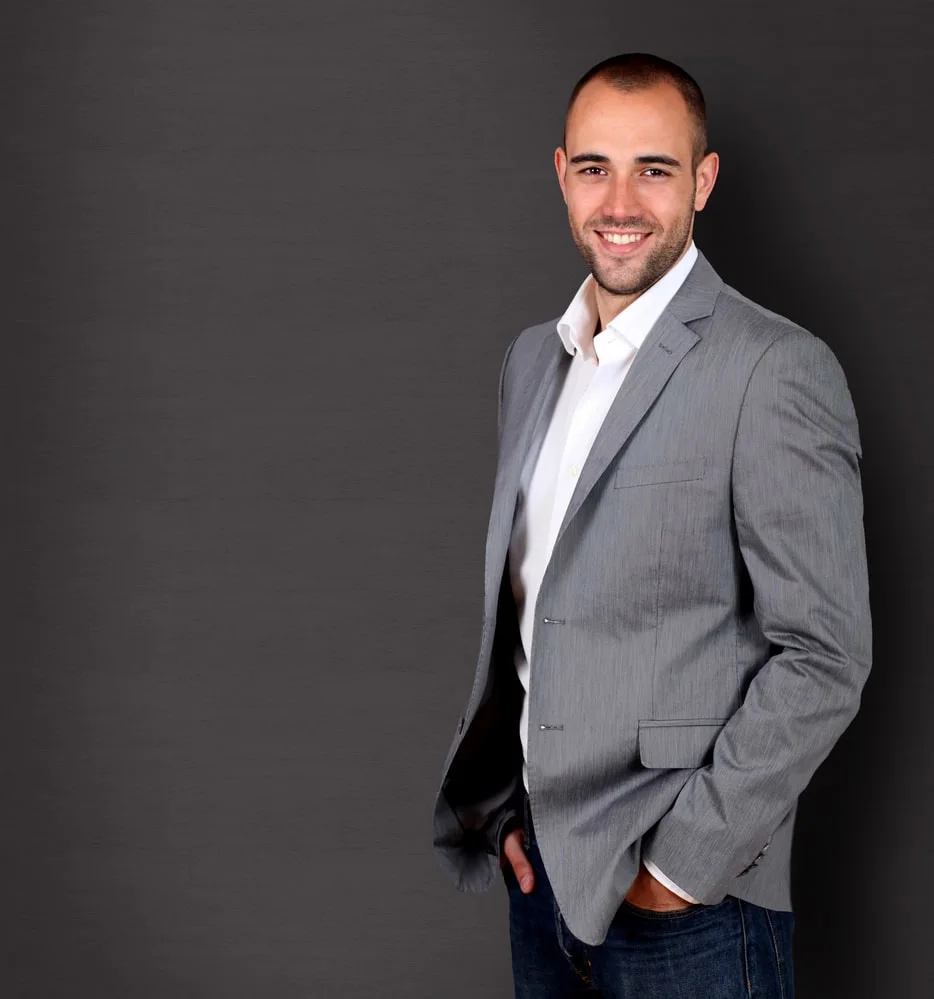 Make Sure It's Appropriate
A blazer, jeans, and shirt combination should only be worn in casual and smart-casual settings.
It should never be worn in formal, business professional, or even business-casual environments.
In formal or business-professional settings – wear a 2-piece suit. A blazer and jeans combination would never be considered appropriate.
While you could wear it in some business-casual settings, it wouldn't usually go down too well. Go for a chinos/dress pants combination instead.
A blazer worn with jeans and a shirt works best in casual or smart-casual settings where there's very little risk of underdressing.
No matter how dressy or formal your blazer looks, a pair of jeans is very restricted to casual wear. Trying to wear it in other contexts is often a bad idea.
Consider Your Blazer Color
Blazers come in a huge variety of different colors ranging from very neutral ones to not-so-neutral ones.
At the end of the day, you could potentially wear a blazer of any color with a pair of jeans.
Having said this, the easiest and most versatile blazer colors would be black, brown, navy, and grey.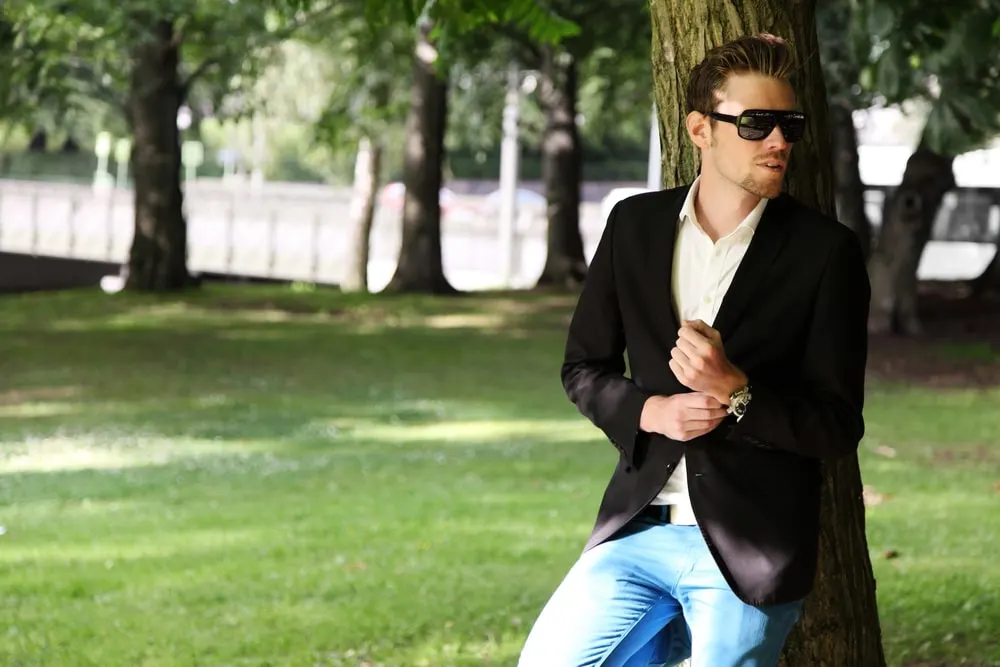 These neutral blazer colors can be worn with jeans and shirts in a huge variety of different colors.
Given how you're more likely to own multiple pairs of jeans and shirts and possibly only one or two blazers, go for a neutral blazer color whenever possible.
It's also worth considering how much contrast you want between the blazer and the jeans.
To cut a long story short, the more contrast there is between the blazer and the jeans, the more eye-catching, striking, and casual the combo is likely to come across.
A high-contrast example would be a light grey blazer worn with black or dark grey jeans. On the other hand, a low-contrast example would be a dark grey blazer worn with black jeans.
Neither option is "correct". Your choice should depend on how much contrast you're aiming for and how understated or subtle you want it to look.
Go For A Casual Blazer Style
A casual blazer is much easier to wear with a blazer and jeans than a more formal-looking one.
The main factors that determine whether a blazer looks more casual or more formal would be the fit and the fabric.
Blazers with a more relaxed structure, minimal shoulder padding, and a light lining will always come across as more casual than ones that don't.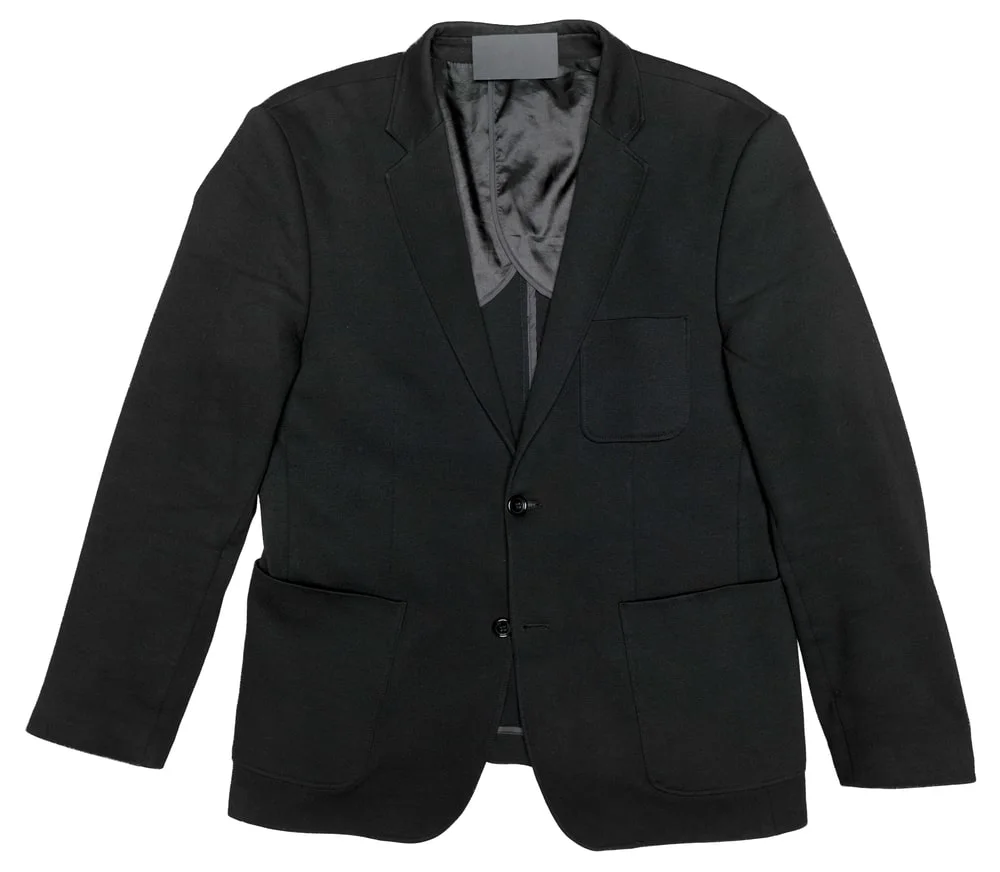 Those made from more rugged or wrinkly fabrics/weaves such as linen, hopsack, and tweed will also look more casual than more formal fabrics such as worsted wool.
No matter how "dressy" a pair of jeans looks, it'll always be considered casual first and foremost.
To prevent a formality mismatch between the blazer and the jeans, it's usually best to go for a blazer that looks suitably casual enough for the combination to make sense.
So, go for a blazer with a relaxed fit and structure and one that's made from a rugged or wrinkly fabric.
Stick To One Pop Of Color (If Any)
When dressing down, it's often a good idea to add a pop of color to the outfit to make it more visually interesting.
Let's say you've gone for a neutral blazer color such as grey or navy. You've combined it with a similarly neutral jeans color such as indigo, grey, or black.
Consider choosing a shirt that adds a pop of color to the neutral blazer and jeans combination.
For example, you could wear a grey blazer, black jeans, and a salmon pink shirt.
Alternatively, consider a navy blazer, indigo jeans, and a mint green shirt.
It'll all work.
But let's say you're actually wearing a more colorful blazer – for example, one in maroon or sage green.
Here, you'll want to keep it neutral with the shirt and jeans color and let the blazer become the focus as the single pop of color.
You've got plenty of options, but try to stick to a single pop of color to prevent the outfit from coming across as too much.
This is true even when dressing down and going casual. It's a good principle to stick to and ensures the outfit looks sophisticated and well-coordinated as a whole.
Forget The Tie
As we've now seen, mixing typically casual items with formal items can work exceptionally well.
A blazer can be worn with jeans and a shirt with good effect.
However, it's quite easy for it to cross the line and fall apart if you're not careful.
A formality mismatch occurs when the difference in formality levels is so high that the combination looks awkward as a result.
This is what usually happens when you try to wear a tie with a blazer, jeans, and shirt combo.
It doesn't look right.
The tie is just way too formal for the jeans, especially when you're pairing it with a button-up shirt and blazer.
So, forget the tie. Embrace the smart-casual aesthetic and go tie-less. Undo one or two buttons and go for a more laid-back approach to the combination.
Frequently Asked Questions
Let's round things up with a couple of FAQs on the topic.
Can You Wear A Polo With A Blazer And Jeans?
A polo can be worn with a blazer and jeans in casual or smart-casual settings, with cotton-pique polo shirts working especially well.
One thing to note here is that polo shirts can sometimes be tough to wear with blazers.
This is because the collar and placket of the shirt tend to conflict with the lapels of the blazer.
However, wearing a polo with a more relaxed collar tends to help it stay put under the blazer and not pop out in a stubborn way.
While you can find polo shirts made from a variety of different fabrics ranging from silk to polyester, cotton pique polos often look great with denim jeans.
When wearing a blazer and jeans, tucking in the polo shirt is usually the best approach. While it isn't essential, it often produces a more elegant look.
Tucking the polo in will produce a more tapered silhouette against the torso while letting it hang loose can sometimes look a little untidy when wearing a blazer on top.
However, as you'll read in the next FAQ, the right untucked shirts can still look pretty good.
Can You Wear An Untucked Shirt With A Blazer And Jeans?
It's definitely possible to wear an untucked shirt with a blazer and jeans, as long as the hem of the shirt suggests it's suitable for untucking in the first place.
A common mistake people make is untucking shirts that were designed for tucking in.
It's usually quite easy to spot these.
Shirts that are meant to be tucked in often have long and rounded hems to make them more likely to stay tucked when they're tucked.
Leaving them untucked actually often looks awkward.
But shirts that don't have these long and rounded hems can confidently be left untucked, no matter what fabric they may be made from.
In fact, an untucked shirt can look great with a blazer and jeans, with the laid-back aesthetic suiting the casual jeans nicely.
Conclusion
It's a combination that isn't suitable for every setting. However, in the right place and at the right time, it can look fantastic.
Reserve it for casual and smart-casual settings. Consider the fabric and color of your blazer and shirt, and try to stick to a single pop of color when dressing down.
Overall, it's a versatile combo that'll serve you well, as long as you stick to a few basic principles to make it work.
Enjoy.
Ready Sleek founder. Obsessed with casual style and the minimalist approach to building a highly functional wardrobe. Also a fan of classic, vintage hairstyles.