Traditionally, you'd wear a white shirt alongside a black suit. So, can you wear a black suit with a red shirt?
Wearing a black suit with a red shirt is possible. Consider the shade of the red shirt and the fit of your suit. Black ties work best; however, ties in a darker red than that of your shirt can work too. Stick to a collared shirt if possible.
Though that's the beginning, there's much more to it.
So, let's explore further.
6 Tips For Wearing A Black Suit With A Red Shirt
Wearing a black suit with a red shirt can look great, but it's got to be done the right way. Here are some no-nonsense tips to ensure you'll pull it off every time.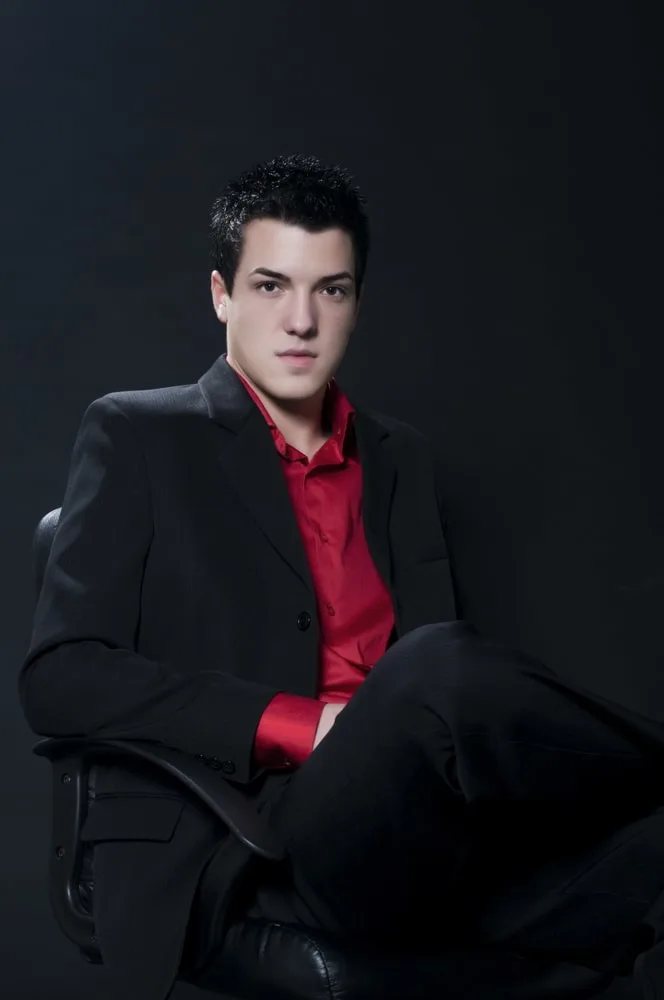 1. Stick To Darker Ties
If you're going to wear a tie with it, go dark.
It's best to avoid brightly colored or light ties when wearing a black suit with a red shirt.
Ties of this nature are typically much more informal than darker ties, so they don't fit the black suit theme especially well.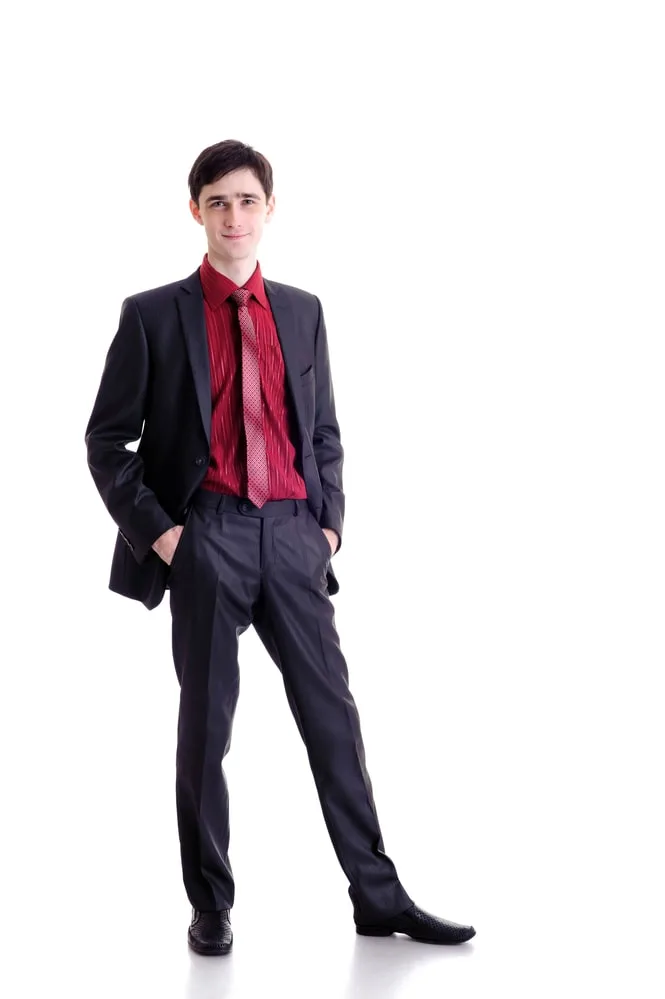 Furthermore, red shirts – regardless of shade – are pretty colorful garments, so pairing one with a similarly bright tie can look too extravagant.
It is, therefore, best to stick to darker ties. When picking a darker tie to wear with your black suit and red shirt, there are only a few colors that should be considered.
These include dark red (such as burgundy and maroon), black, and charcoal.
Navy can work too, but it's generally better to avoid this color. This is because its blue undertones can combat the red shirt rather than work together with it.
Black or dark red ties will maintain the sophisticated, formal appearance of the outfit and prevent any colors from clashing with each other.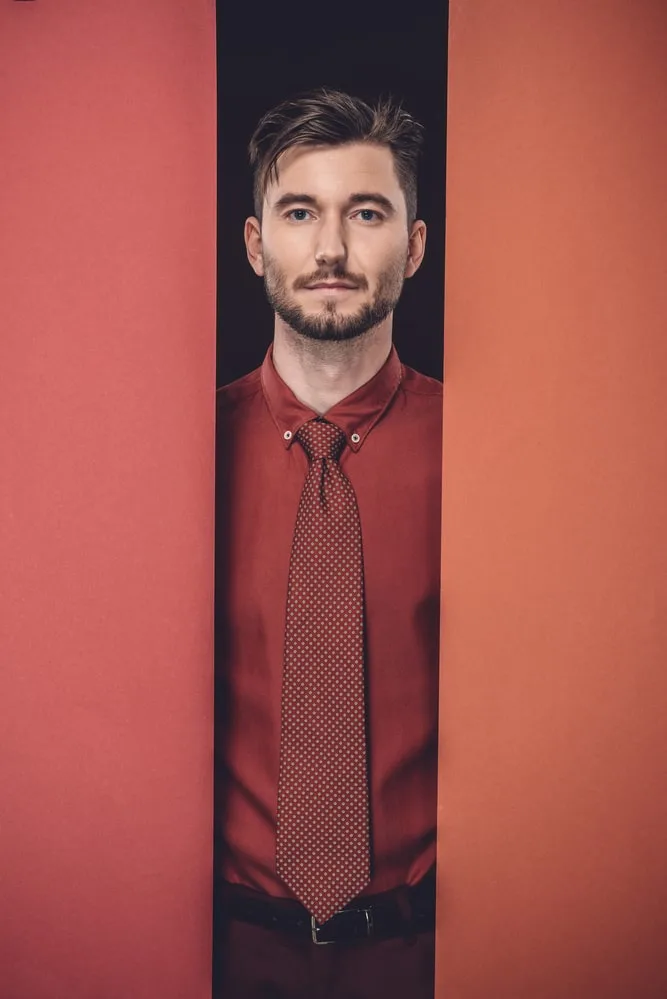 Ultimately, if you're going for a more smart-casual aesthetic, going tie-less would be a great option too.
2. Consider The Shade Of Your Shirt
The shade of your shirt is an important factor to consider when wearing a black suit with a red shirt
Because black is a dark, formal, neutral color, there's room for a lot of color experimentation for your shirt.
However, the shades that are acceptable vary depending on the formality of the occasion, so always take that into consideration.
For events that lead toward formal, dark red shirts work best. They uphold the formal dress code and add a subtle hint of color to your outfit.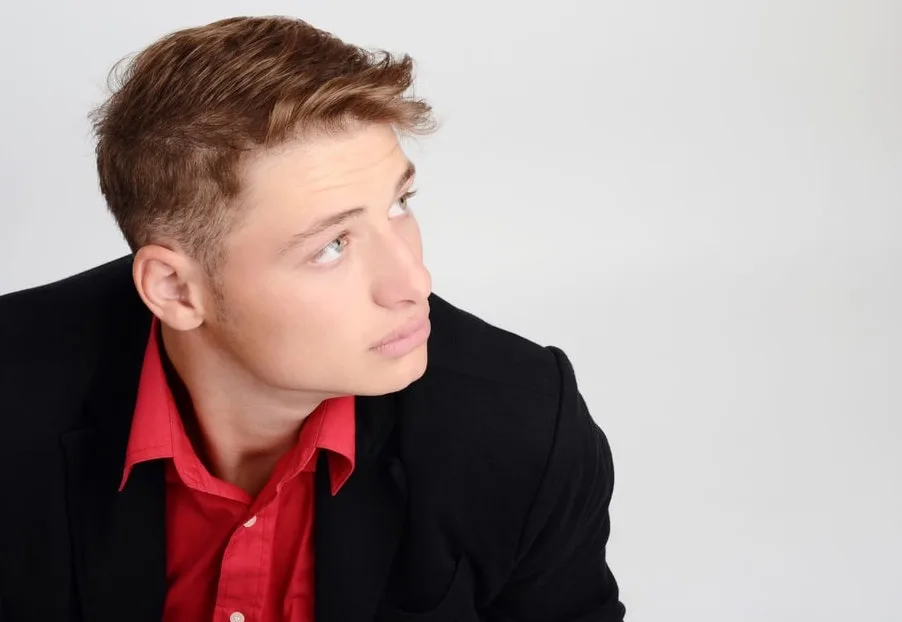 When paired with the right tie and shoes, this outfit is appropriate for pretty much any formal situation.
There are only three true exceptions to this: black-tie events, white-tie events, and funerals.
Black and white tie events are far too formal for anything other than their traditional dress codes.
A funeral, on the other hand, isn't so much formality as respect. It's widely accepted that you shouldn't wear red to a funeral unless otherwise stated.
Lighter shades of red can also work, but it's important to keep in mind that these are less formal and, therefore, not as versatile as darker red shirts.
Therefore, they should generally be kept for semi-formal occasions.
Whether you're wearing a light red or dark red shirt, you should stick to a dark tie.
3. Bow Ties Can Work
While ties are significantly more popular, bow ties can work just as effectively.
They are a great way to add some personality and flair to your outfit without going overboard.
Also, bow ties have pretty much the same formality level as ties, so you don't sacrifice anything by wearing one.
Because they are slightly less common, bow ties work particularly well for fun, celebratory events such as a wedding reception or birthday party.
When wearing a bow tie with a red shirt and black suit, follow the same color-matching guidelines of ties.
This means primarily sticking to black or dark red bow ties.
4. Wear A Collared Shirt
Although non-collared red shirts can work with black suits, generally, it's best to ensure your shirt is collared.
This is because, without a collar, you can't wear a tie or bow tie – both of which can play a major part in the outfit looking good.
Furthermore, collared shirts are pretty much always considered more formal than any non-collared shirt variations due to their traditional, conservative appearance.
They are versatile and, therefore, suitable for most occasions.
On the other hand, non-collared dress shirts are quite controversial and can be seen as inappropriate for lots of scenarios.
Therefore, if you do decide to wear a shirt without a collar, keep it for more informal occasions.
5. Think About The Dress Code
The combination works best for evening social events.
Despite black suits being the most common and most acceptable apparel at a funeral, avoid wearing a red shirt in this context.
This is because wearing red to a funeral is considered disrespectful and should, therefore, be avoided.
However, there are some situations where wearing red to a funeral may be acceptable.
For example, some funerals require a specific dress code, different from the traditional black suit, black tie, and white, collared dress shirt.
Similarly, some funerals may request a colorful dress code – in which case a red shirt could be appropriate.
If you're ever unsure if your outfit is appropriate for a funeral, asking a close family member of the deceased is always an option.
6. Formal Shoes Work Best
When wearing a black suit with a red shirt, it's best to choose formal shoes over informal or casual shoes.
While this outfit can work with casual shoes, such as sneakers, on informal occasions, generally, this outfit is reserved for semi-formal, smart-casual, or formal settings.
Therefore, dress shoes look best with a black suit and red shirt.
Black dress shoes generally work best with the outfit, usually in a shiny grain of leather. However, dark brown dress shoes would be a reasonable alternative.
Derby shoes or Oxfords are typically considered the most formal shoes and, therefore, are the optimal shoes to wear with this outfit.
Avoid wearing sneakers, as these are too casual and will create a noticeable formality mismatch in the outfit.
Semi-formal shoes like loafers or monk straps can work well too when wanting to dress down the outfit.
Frequently Asked Questions
Here are some frequently asked questions regarding wearing a black suit with a red shirt to really round things off.
Can You Wear A Black Suit And Red Shirt With No Tie?
Wearing a black suit and red shirt without a tie often looks great. Always leave the top button of your shirt undone and consider different shirt collar styles, such as a "grandad" collar shirt.
Not wearing a tie with a black suit and red shirt is a great way to add a more relaxed vibe to an otherwise very formal outfit.
Always leave your top button undone when wearing this outfit without a tie.
Additionally, not wearing a tie allows you to experiment with your shirt.
For example, shirts such as grandad collar shirts can work fantastically.
Can You Wear A Black Suit And Red Shirt To A Wedding?
A black suit and red shirt would usually be inappropriate to wear to a wedding. It's formal, but often too attention-grabbing to wear to the ceremony. Wear a 2-piece suit with a white dress shirt instead.
The outfit may be appropriate to wear to the wedding reception, but not to the ceremony wear blending into the crowd should take priority.
Drawing attention away from the wedding couple is widely considered to be a faux pas. Avoid it at all costs.
Conclusion
Now that you know how to wear a black suit with a red shirt and when it's appropriate, you'll be able to look great wearing it every time.

Ready Sleek founder. Obsessed with casual style and the minimalist approach to building a highly functional wardrobe. Also a fan of classic, vintage hairstyles.