Tucking in your T-shirt is becoming increasingly popular. But can you tuck a T-shirt into jeans?
Tucking your T-shirt into jeans can look great. Consider casual tucks such as the French tuck if you don't want to go for the dressier option of a full tuck. In addition, a T-shirt tucked into jeans often looks better with a belt.
While that's the gist, there's much more to it.
Let's explore further.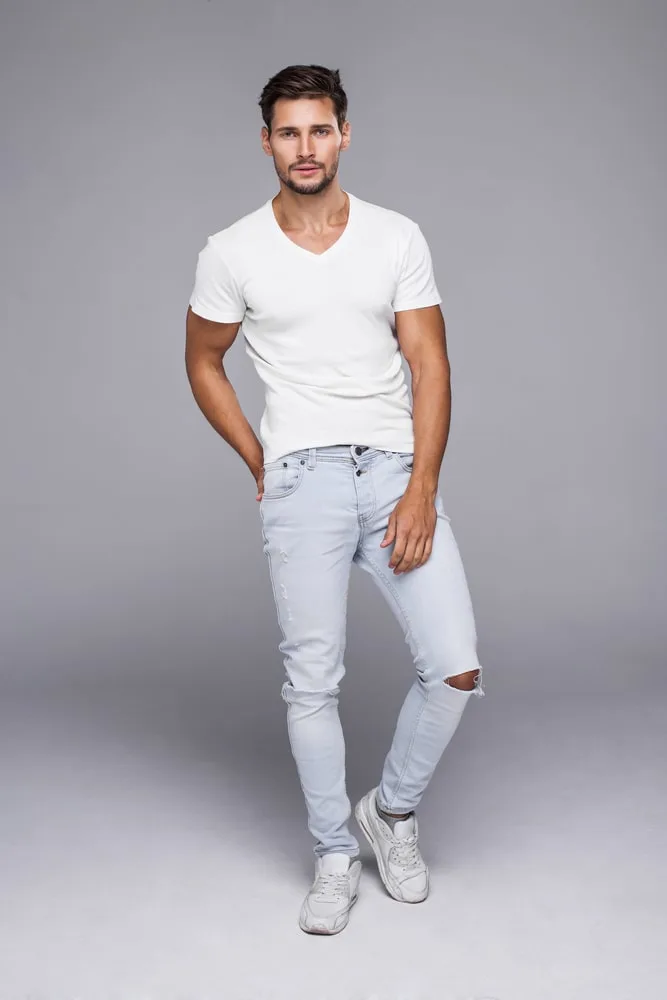 1. Explore Different Tucks
Although tucking in your shirt may seem like a straightforward task, there are many different ways to tuck in a T-shirt.
Typically considered the dressiest option, the full tuck is common and what people generally associate with tucking in any style of shirt.
It involves simply tucking your shirt into your pants all the way around the waistline.
However, because of its relation to formal situations, you should consider a different tuck to the full tuck, as this outfit isn't particularly formal.
Having said this, when wearing a fitted T-shirt, the full tuck is often the better choice – other tucks are better for loose-fitting T-shirts.
A tuck that looks great and is becoming more recognized as an effective way to spruce up your T-shirt-with-jeans outfit is the French tuck.
The French tuck is also known as the "half-tuck" and is simple to pull off.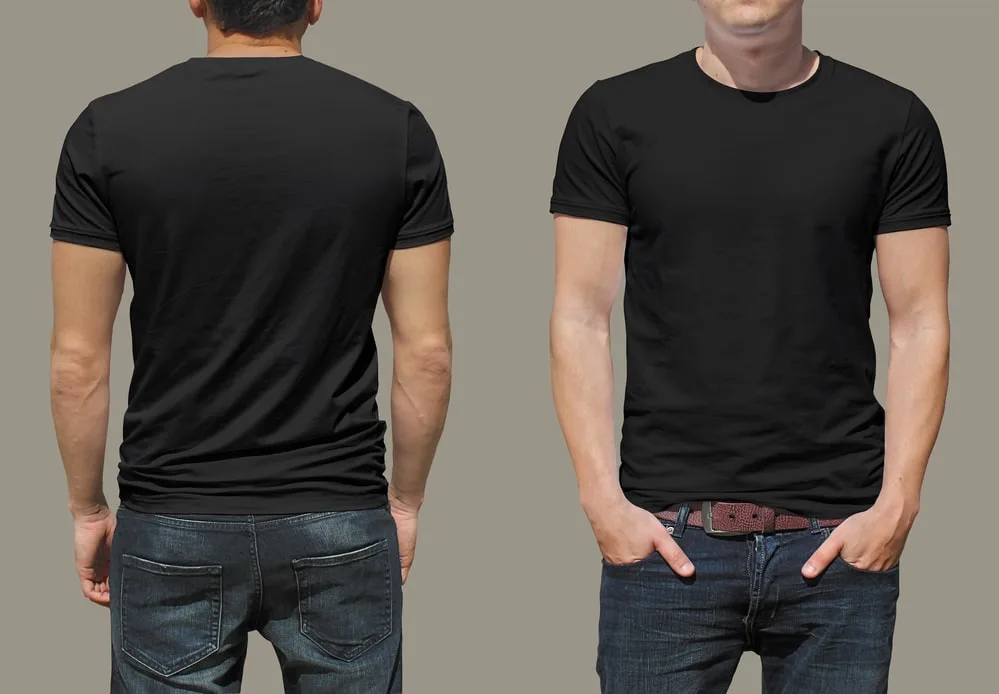 Tuck in the front half of your shirt to begin with. Then, slightly off-center it to complete the look.
This tuck thrives in casual situations and adds a touch of personality to your outfit.
2. Consider The Fit Of Your Jeans
There is such a variety of jeans fits on the market that it can be difficult to know the best fit for you.
When tucking a T-shirt into jeans, it's essential to consider the fit of your jeans.
A tucked-in T-shirt with jeans that are the wrong fit can look awkward or clumsy.
This is because tucked-in T-shirts sit close to the body and generally conform to its shape.
Poorly-fitted jeans can throw off the tailored look of a properly tucked-in T-shirt and ruin the outfit.
The best jeans fit for tucking in a T-shirt are slim-fit or straight-leg jeans.
Their tailored look is not only slimming but will also make you appear taller when combined with a tucked-in T-shirt.
Avoid anything that is relaxed-fit or baggier, as these will clash with the close-to-the-body nature of a tucked-in tee.
The ideal way to get perfectly-fitted jeans is by taking them to a tailor. It can be costly; however, if you're able to, it can elevate your style to the next level.
3. Stick To Plain T-Shirts
While it may be tempting to go for a bright, patterned, or graphic T-shirt, you should try to avoid this.
Despite jeans being pretty casual, tucking in your T-shirt adds a formal edge to the outfit.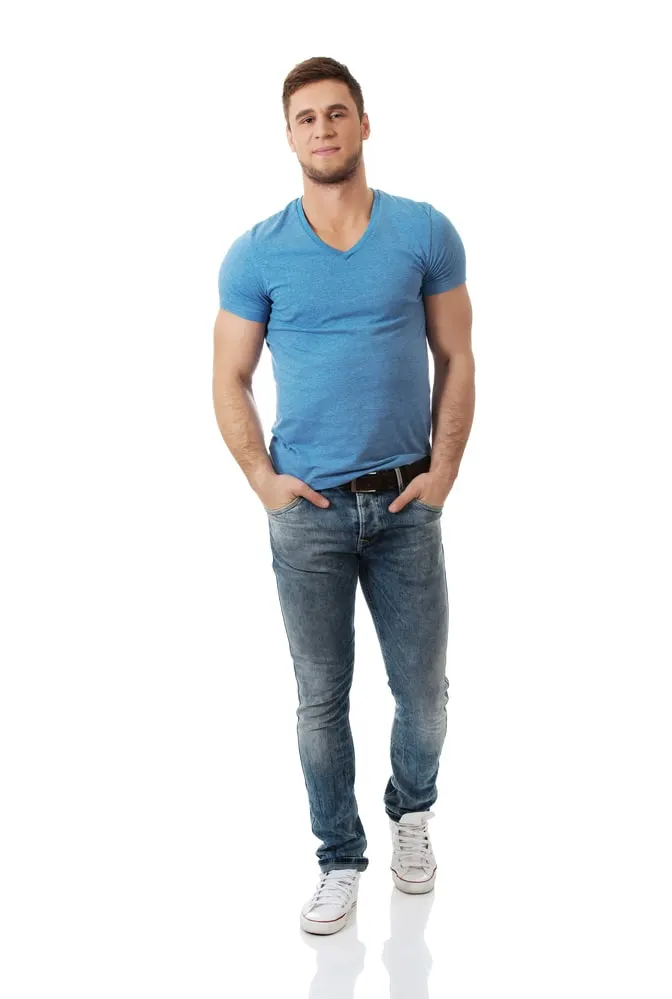 Furthermore, well-fitted clothes, such as slim-fit jeans, can create a more formal look than baggy jeans, for example.
Therefore, to maintain this touch of formality, it's best to stick to plain, block-colored T-shirts. Neutral colors are ideal but not a necessity.
Choosing a pictured T-shirt could come across as immature and wouldn't match the casual sophistication of tucking your T-shirt into your jeans.
Patterned T-shirts – while not ideal – are acceptable. Ensure you stick to a subtle pattern to avoid any formality clashing.
T-shirts with chest pockets are also quite common. These can be appropriate for tucking in if you wish to add an extra splash of casual to your outfit.
4. Wear A Belt
It's widely accepted that when tucking in a button-up shirt, you should wear a belt with it. The same applies when tucking in your T-shirt to jeans.
While it's not quite as important to wear a belt with this outfit, it's still highly recommended.
A belt is both functional and aesthetic, particularly when tucking in your T-shirt.
It will help keep your T-shirt tucked in. And, since it'll be more visible than usual due to the tucking in, it adds some character to your outfit too.
With formal outfits, it's much easier to pick a belt than it is for a casual outfit, such as this one, as formal belts are all very similar.
However, there's a wide range of casual belt types, from large canvas belts with plastic buckles to leather belts with metal buckles.
Not only that, but every style of casual belt comes in many colors, some even with patterns.
The best belt style to wear with this outfit is one that leans slightly toward formal.
Leather belts with metal buckles work best for this. Slim or skinny belts should be avoided, however, as these are too formal.
Aim for a belt of width 1 3/4 – 2 inches to optimize the look. Anything wider could risk looking disproportionate, whereas a slimmer belt will look more like a dress belt.
While there are many colors available, you simply can't go wrong with a brown leather belt.
A brown belt will look amazing with pretty much any jeans color due to its versatility.
5. Avoid Bunching
Bunching can sometimes occur as a result of tucking in your T-shirt. Try to avoid this as much as possible.
A bunched T-shirt contrasts too much with the formality of tucking it in and can, therefore, look awkward.
On top of this, T-shirt bunching can be incredibly uncomfortable. So, overall, it's best to avoid it.
There are some things you can do to make sure your T-shirt doesn't bunch up when you tuck it in.
For example, shirt-stays are an option; however, these are generally reserved for dress shirts, as they can be uncomfortable.
Wearing a belt is another option to help keep your shirt tucked in properly.
Bunching in your jeans can also be a consequence of poorly-fitted jeans, so, as mentioned, it's best to ensure your jeans fit well.
6. Think About Your Shoes
Picking the right shoes is an essential part of looking good when wearing a tucked-in T-shirt with jeans.
The wrong shoes can cause a formality or color mismatch, so knowing which ones to pick is crucial to any gentleman's knowledge.
Shoes that go best with this outfit are typically those of a more casual nature, such as sneakers.
Minimally-detailed sneakers work best. Black and white sneakers are incredibly versatile and fit perfectly with this outfit.
Semi-formal shoes also look great due to the formal edge that tucking in adds to the ensemble.
These include loafers and Chelsea boots – both of which look fantastic. However, they generally come in brown.
7. Accessories Can Look Great
Wearing a watch can be a great way to complete your outfit. Watches add some charisma to your outfit while also being functional.
Because wearing a tucked-in T-shirt with jeans is pretty casual with a hint of formality, there are a couple of watch styles that are suitable: field watches and diver watches.
Field watches are typically more casual than dive watches, as they usually have a canvas strap. Dive watches, on the other hand, normally have a metal strap.
When wearing a watch with a tucked-in T-shirt and jeans, it's important to color-match your watch with your outfit.
Generally, neutral colors are the safest option; a silver watch with a black face (also known as a dial) is optimal.
Other dial colors that can work include navy and white, as these are also very versatile.