There's a lot of confusion surrounding dress pants, what they actually are, and what you can wear with them. So, can you wear a T-shirt with dress pants?
Wearing dress pants is a great way to dress up your T-shirt. Consider wearing a blazer alongside it and try to go for a more "casual" dress pant style to avoid a formality mismatch. Slim-fit T-shirts work best here.
While that's the gist, there's much more to it.
So, let's dig deeper.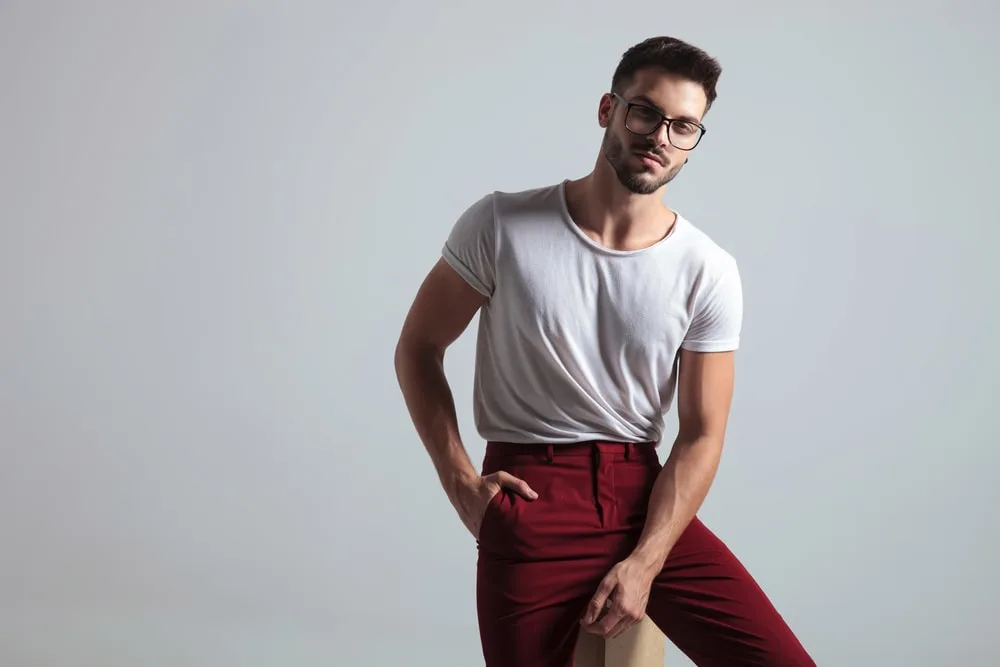 7 Tips For Wearing A T-Shirt With Dress Pants
We've put together a list of the best tips for wearing a T-shirt with dress pants. Stick to these and you'll pull it off every time.
1. Consider A Jacket
The first tip to successfully wearing a T-shirt with dress pants is to consider wearing a jacket over the top of your T-shirt.
There are many different styles of jackets and it's important to know which ones are appropriate for this outfit.
Generally speaking, this outfit is smart-casual, so it's best to find a jacket that suits this formality.
Blazers and sport coats are generally the best jacket styles to wear with a T-shirt and dress pants.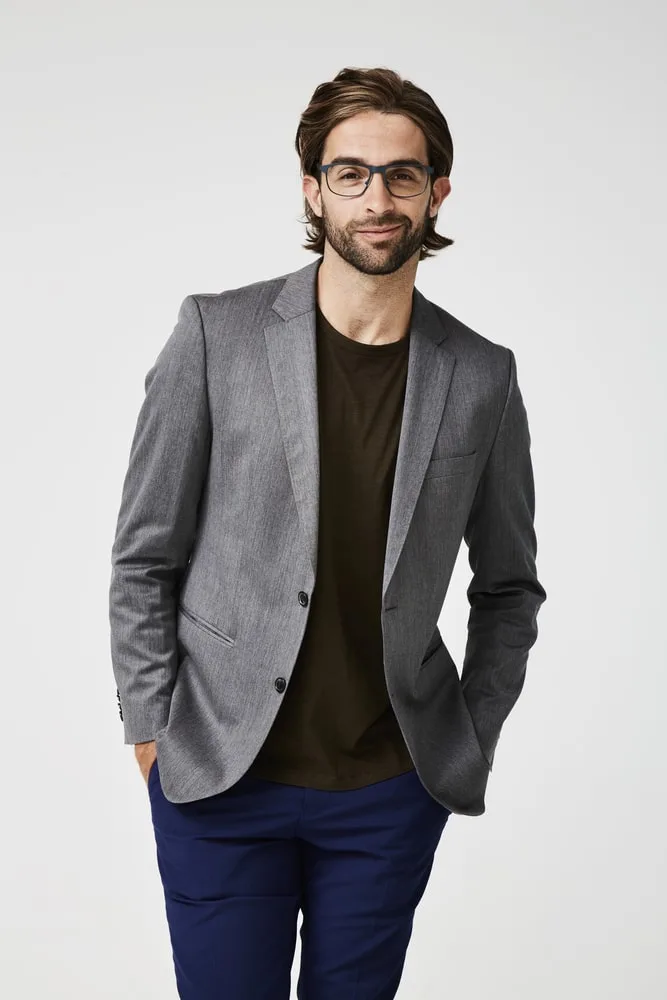 They are formal enough to dress up your T-shirt but not so formal they look out of place.
Whether you go for patterns and light colors or dark, neutral colors depends on the formality of the situation.
That being said, if wearing a T-shirt with your dress pants aligns with the given dress code, it's a fair assumption that it's not a particularly formal event.
Remember that patterns and lighter colors are typically considered less formal than dark, neutral colors, such as black, charcoal, dark grey, and navy.
Note that it's also possible to wear jeans with a T-shirt and blazer. And if you do this, always go for the more casual blazer colors.
This is because jeans are significantly more casual than dress pants, and wearing a too-formal jacket would create a formality mismatch.
2. Go For More "Casual" Dress Pants
While it may seem unlikely, there are actually different styles of dress pants.
Before exploring this, however, you must first understand the fundamentals of what dress pants are.
Dress pants are ultimately pants that have at least a couple of the following formal features: jetted pockets, front creases, tapered fit, and maybe even pleats.
It's unusual for dress pants to have all of these features – one or two is much more common.
Furthermore, while it's impossible to classify dress pants as just one fabric, there are a few fabrics you'll never find dress pants made from: denim, chino cloth, and corduroy.
This is because they are simply too informal.
So, now that you know what dress pants actually are, what are "casual" dress pants?
It's a broad term that basically comes down to their color and patterns.
Light grey, checkered dress pants are considerably more casual than plain, charcoal dress pants, for example.
The same would go for dress pants in lighter, brighter, and more vivid colors.
The primary reason casual dress pants work better with a T-shirt than more formal ones is that T-shirts are inherently casual garments.
So, when dressing up your T-shirt, it's important to keep some consistency to avoid too much of a conflict in formality.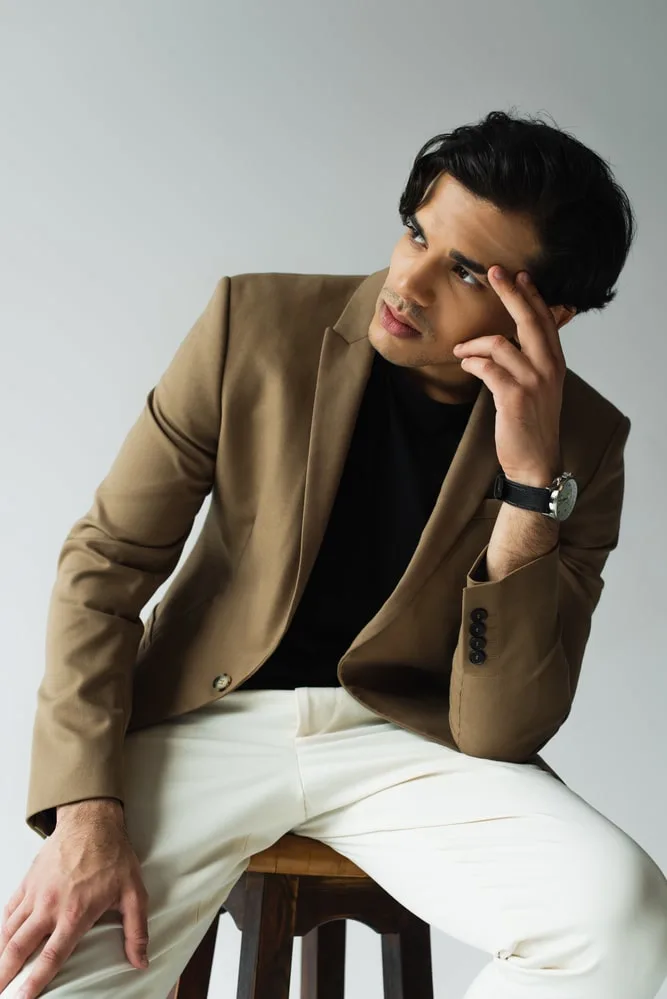 3. Slim-Fit T-Shirts Work Best
In casual situations, getting the right fit isn't such a significant factor. However, when wearing a T-shirt smart-casually, it's important to make sure you get it right.
There are many T-shirt fits, such as box, baggy, and regular fits.
The best one to wear with this outfit is a tapered, slim-fit T-shirt.
A slim fit is optimal because of its flattering shape. Also, it drapes close to the body, but not so much that it's uncomfortable or looks odd with the rest of your outfit.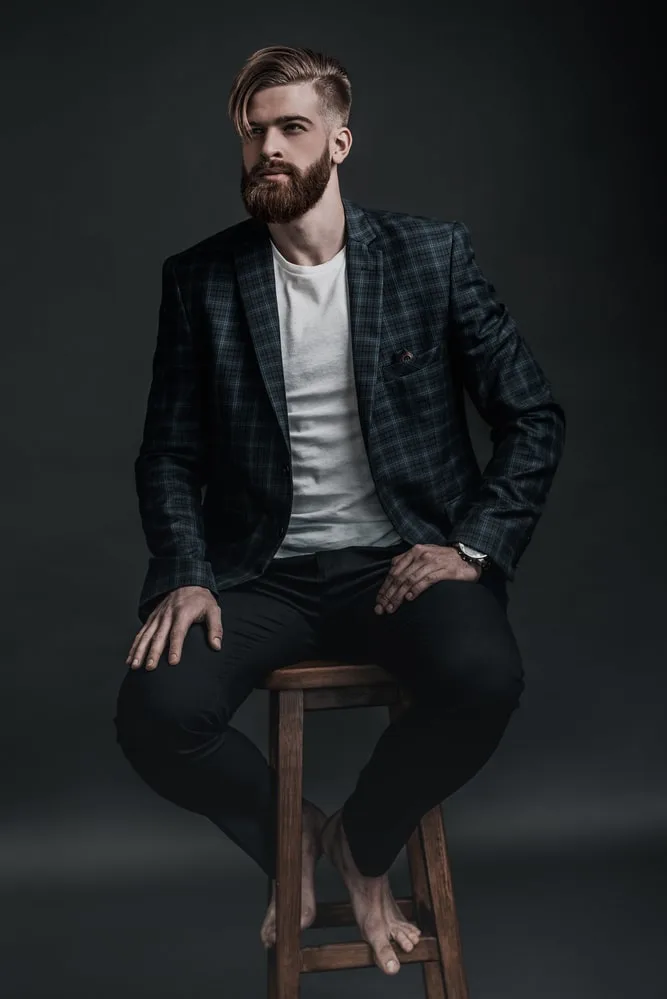 It should conform to your body's shape without being visibly tight or feeling restrictive.
Baggy-fit T-shirts shouldn't be worn with dress pants, as there's too much of a clash in formality.
4. Ensure It's Appropriate
Ensuring your outfit is appropriate for the occasion is crucial.
Getting it wrong can be seen as disrespectful or rude in some cases. In addition, overdressing could come across as pretentious.
The main thing to remember when wearing a T-shirt with dress pants is that this outfit isn't very common.
As little as 20 years ago, it may not have been acceptable.
It should be treated with caution.
Keep it for smart-casual occasions, where you know that a little experimentation or outfit controversy is OK.
As a general rule, it's best to avoid weddings – including those with a "casual" dress code.
"Casual" weddings are never as casual as they seem and should really be treated as smart-casual or semi-formal.
Moreover, wearing a controversial outfit could detract attention from the couple in question, so it's best to avoid it.
Avoid wearing this combination altogether in truly formal or business-professional settings.
5. Think About Your Shoes
There are so many styles of shoes that it can be difficult to know the best ones to wear with different outfits and formality levels.
A T-shirt with dress pants is generally on the more casual side of smart-casual, so there are a couple of shoe options.
The first is sneakers. While sneakers might seem unlikely, when worn with a T-shirt and casual dress pants, a pair of minimalistic sneakers really add to the look.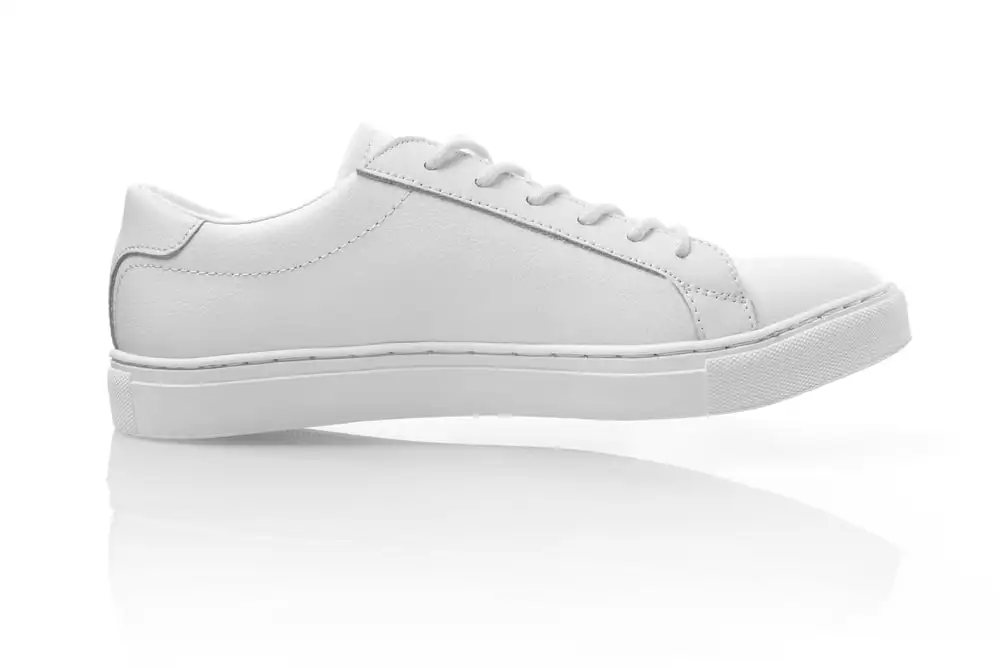 That being said, keep this outfit for primarily casual occasions.
As for the smart-casual outfit, go for semi-formal footwear, such as loafers or monk straps, as they will dress up the outfit nicely without creating a formality mismatch.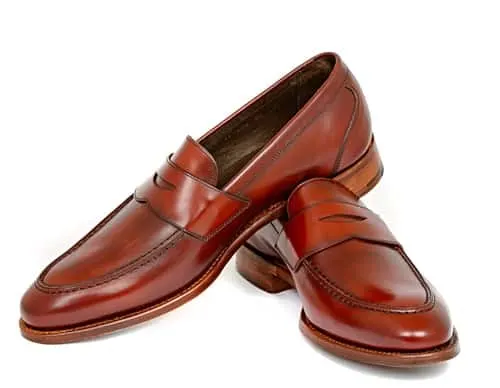 If you go for sneakers, white sneakers can look great.
However, if you stick to the more formal loafers (or other similar semi-formal shoes), go for black or brown.
Remember that, as a rule of thumb, the darker the shade of brown, the more formal the outfit.
With this in mind, lighter brown shoes usually work better with this outfit.
6. White T-Shirts Are Versatile
It's no secret that white T-shirts are incredibly versatile. However, what you may not have known is that this stands true for smart-casual attire.
While a white T-shirt should never be on your list of smart-casual essentials, it can certainly blend in nicely when worn correctly.
As mentioned, it's important to go for a tailored-fit T-shirt. This will help flatter your body and fit in with the often-sleek look of formal attire.
Despite it being pretty self-explanatory, ensure your white shirt has no marks or stains on it.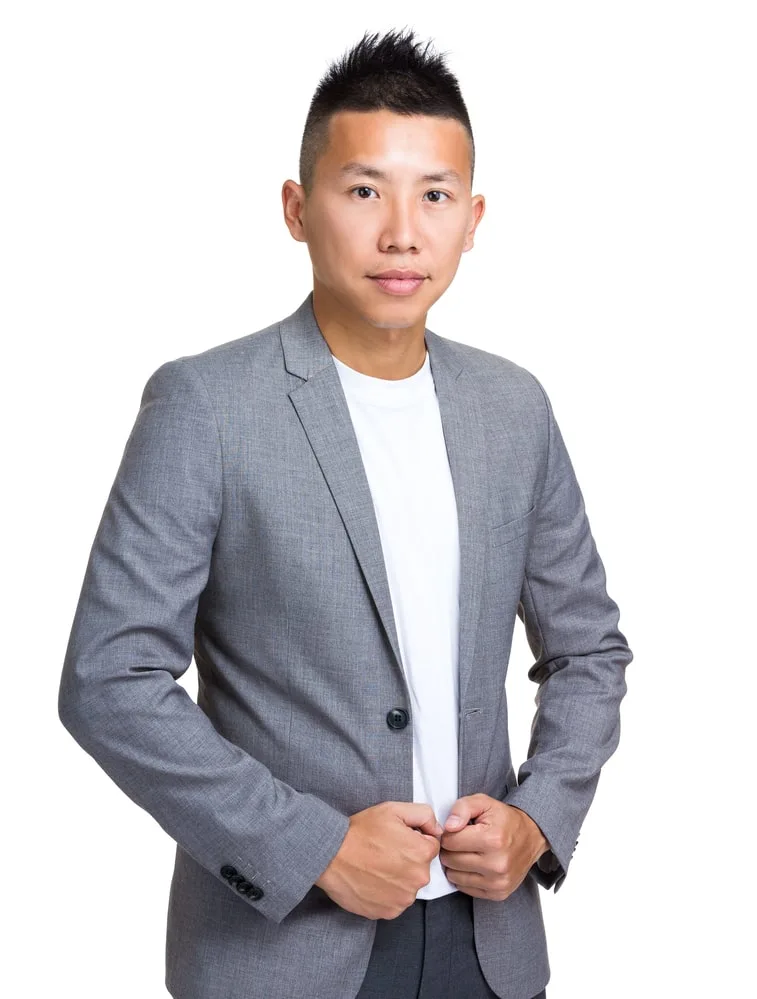 White T-shirts can get marked very easily, so make sure you check your white tee all over before putting it on with dress pants.
7. Consider Tucking Your T-Shirt In
Tucking in your T-shirt often works well when wearing dress pants.
It creates a smooth transition from your top half to your bottom half and adds to the formality of the outfit.
Go for a full tuck rather than a French tuck, as it's more formal.
The full tuck is what most people think of when they hear "tucked-in shirt," and simply entails tucking in your T-shirt all the way around your waistline.
Make sure you wear a slim, black or brown belt with your tucked-in T-shirt.
Frequently Asked Questions
To sum things up, we've answered some frequently asked questions to help you wear this combination effectively.
Can You Wear A Black T-Shirt With Dress Pants?
It's possible to wear a black T-shirt with dress pants. Keep this outfit for more casual or smart-casual occasions and consider wearing loafers or minimalist sneakers alongside them. Wearing a blazer is recommended but not strictly necessary.
You have a lot of freedom regarding your jacket color when wearing a black T-shirt: contrast looks great, as does monochromatism.
If you want to be a bit daring and stand out, go for contrast. Alternatively, for a more subtle, sophisticated look, go monochromatic.
Can You Wear A Long-Sleeved T-Shirt With Dress Pants?
Generally, it's best to avoid wearing a long-sleeved T-shirt with dress pants. A standard T-shirt pushes the boundaries enough – a long-sleeved T-shirt takes it too far and creates too much of a noticeable formality mismatch.
As a general rule, it's best to keep your long-sleeved T-shirts for casual occasions.
It'd stand out too much as casual alongside dress pants and would make the look appear awkward.