On the formality spectrum, black jeans can fall firmly within the "smart-casual" range when they're worn with the right items. Wearing a shirt with black jeans can work extremely well, but there's definitely a risk of a formality mismatch when it's done wrong.
Here's the bottom line:
Casual button-up styles such as OCBDs, chambray, and linen shirts tend to work best with black jeans. Ultimately, rugged textures tend to work best with other rugged textures.
Given how casual black jeans are at their very core, you've got plenty of outer layer options you can experiment with.
The different ways of wearing this combo you're about to see make use of this versatility.
1. With A Blazer Or Sport Coat
Items: White OCBD Shirt, Grey Tweed Blazer, Blue Shawl Collar Cardigan, Black Jeans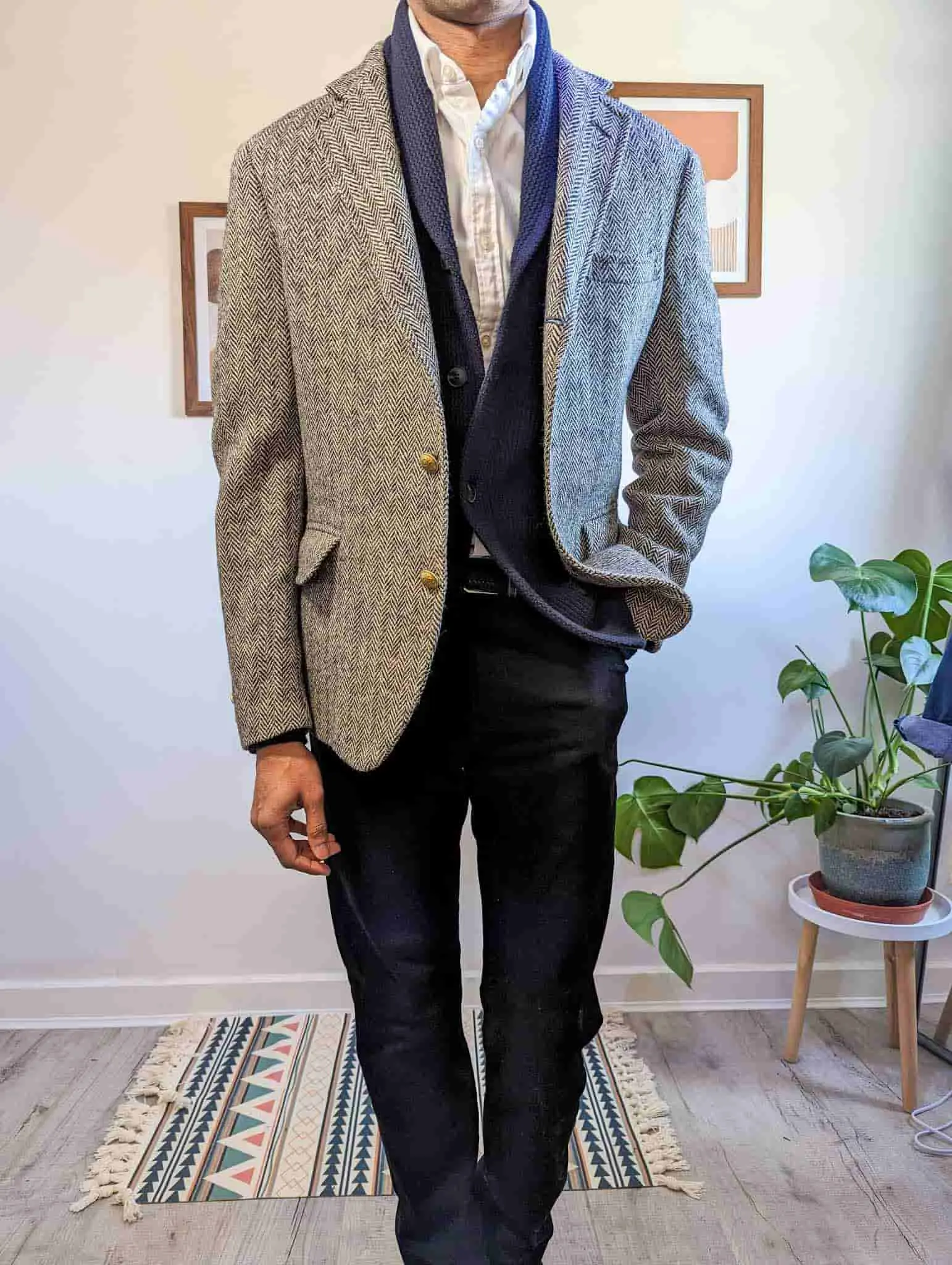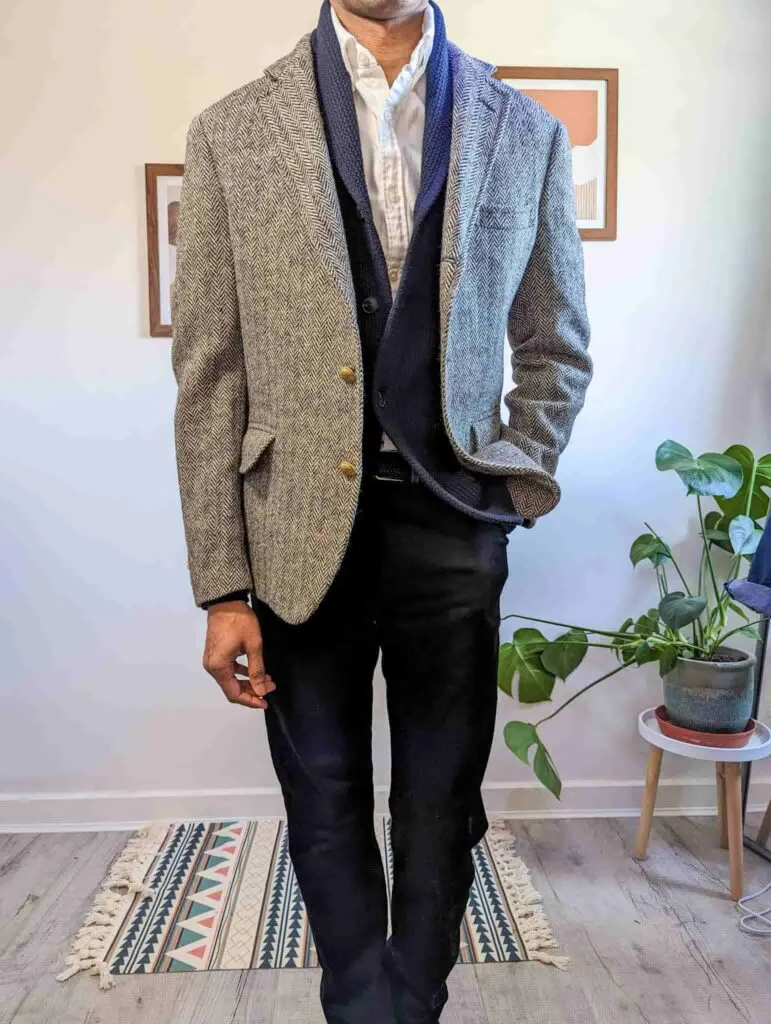 A blazer or sport coat is a great way to add a touch of sophistication to a black jeans pairing. Here, I've gone for a tweed one in a light shade of grey.
I always find that the herringbone pattern is incredibly photogenic.
While tweed works extremely well with denim, serge, flannel, and linen blazers also look great with jeans.
The white OCBD plus black jeans combination is a relatively dressy way of pulling this combo off. Ultimately, it's hard to get dressier than black and white.
What's great is that while white button-up shirts have a naturally "formal" feel to them, the rugged and wrinkly texture of Oxford cloth syncs so well with black denim.
You could simply wear the blazer over the shirt and leave it at that.
But let's assume the weather is cold enough for another layer to make sense.
Adding the shawl collar cardigan here is yet another way to add some visual interest and sophistication to the shirt and black jeans combo.
2. Layered Over A T-Shirt
Items: Blue OCBD shirt, White T-Shirt, Black Jeans, Grey Coat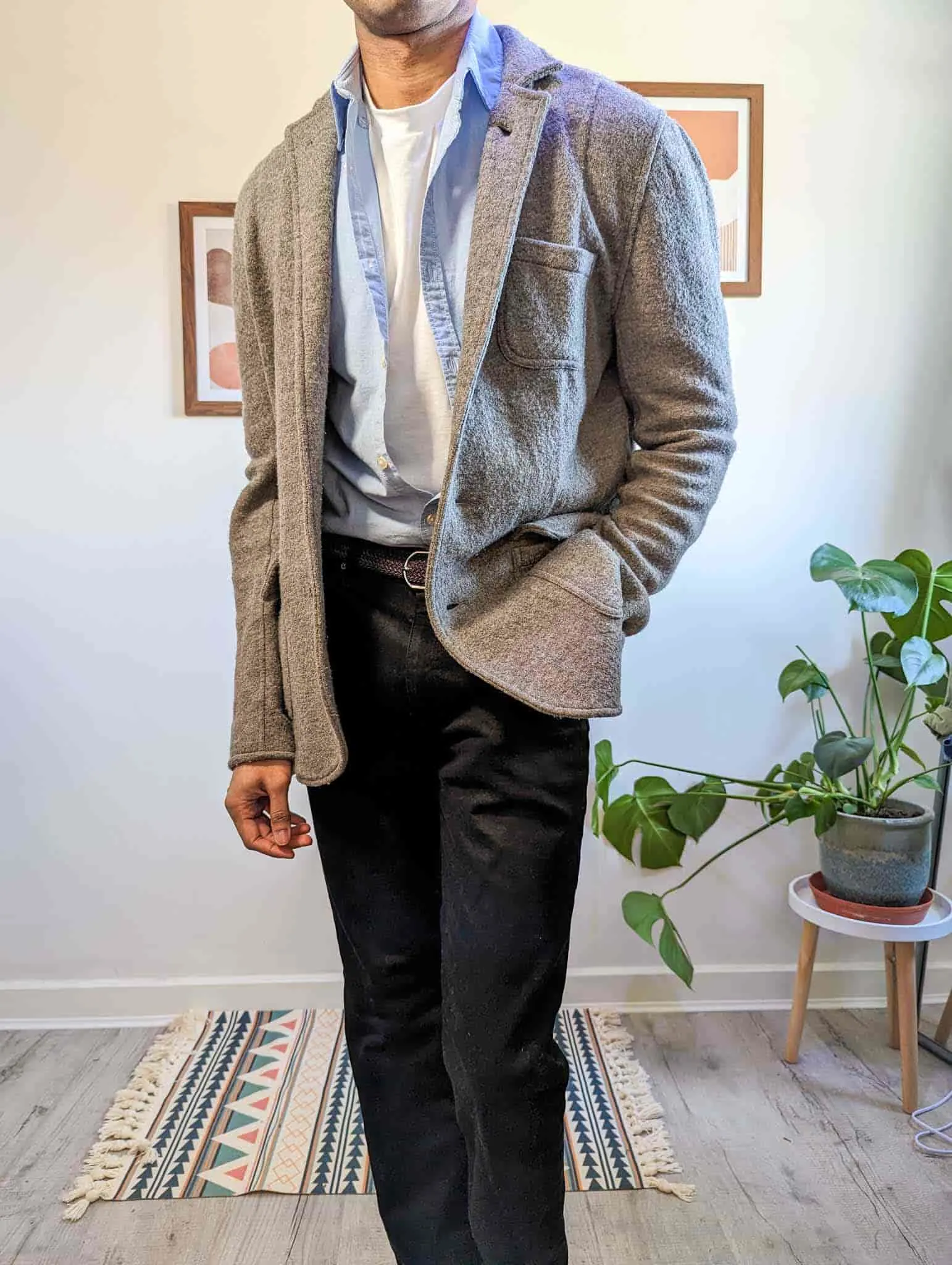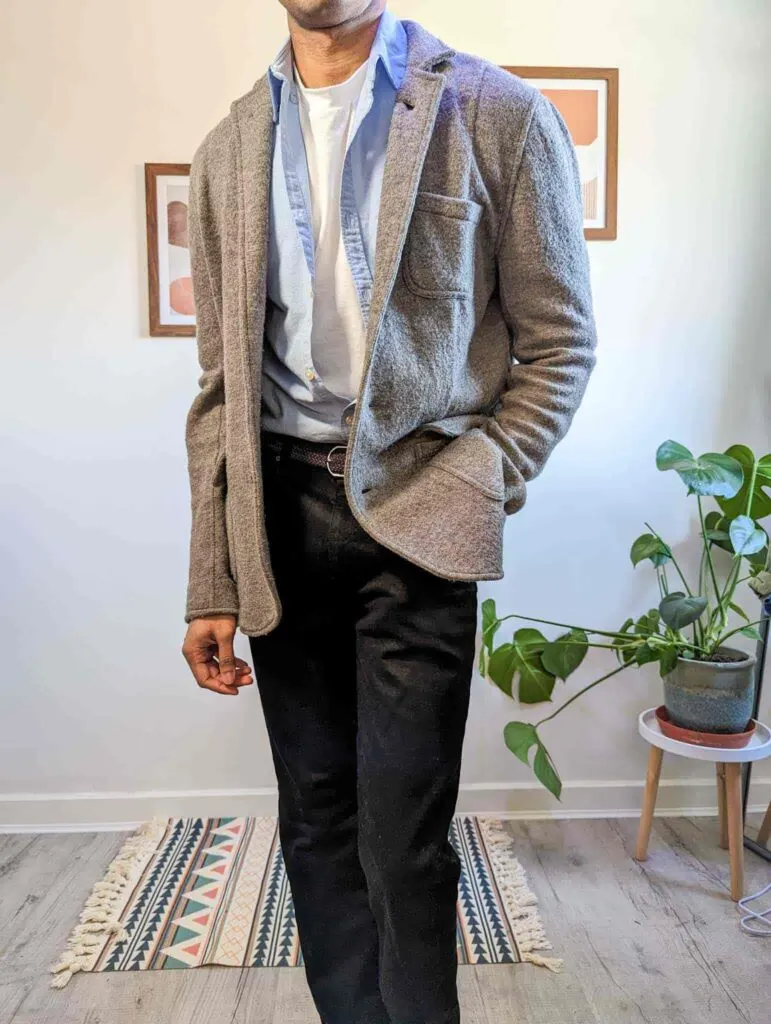 There are so many ways of wearing a simple white button-up shirt. Here, a blue OCBD is layered over a white T-shirt.
You could leave the button-up shirt unbuttoned and untucked (as most people would). But I like to button the bottom two buttons and tuck it in.
It just looks sleeker and sharper.
Here, the colors are what really make it work. The "coolness" of the grey coat from Reiss and the dark blue Levis 512s nicely contrast the "warmth" of the spring blue OCBD and the white T-shirt.
3. Layered Over A Mock Neck Or Turtleneck
Items: Steel Grey Button-Up, Black Mock Neck Sweater, Black Jeans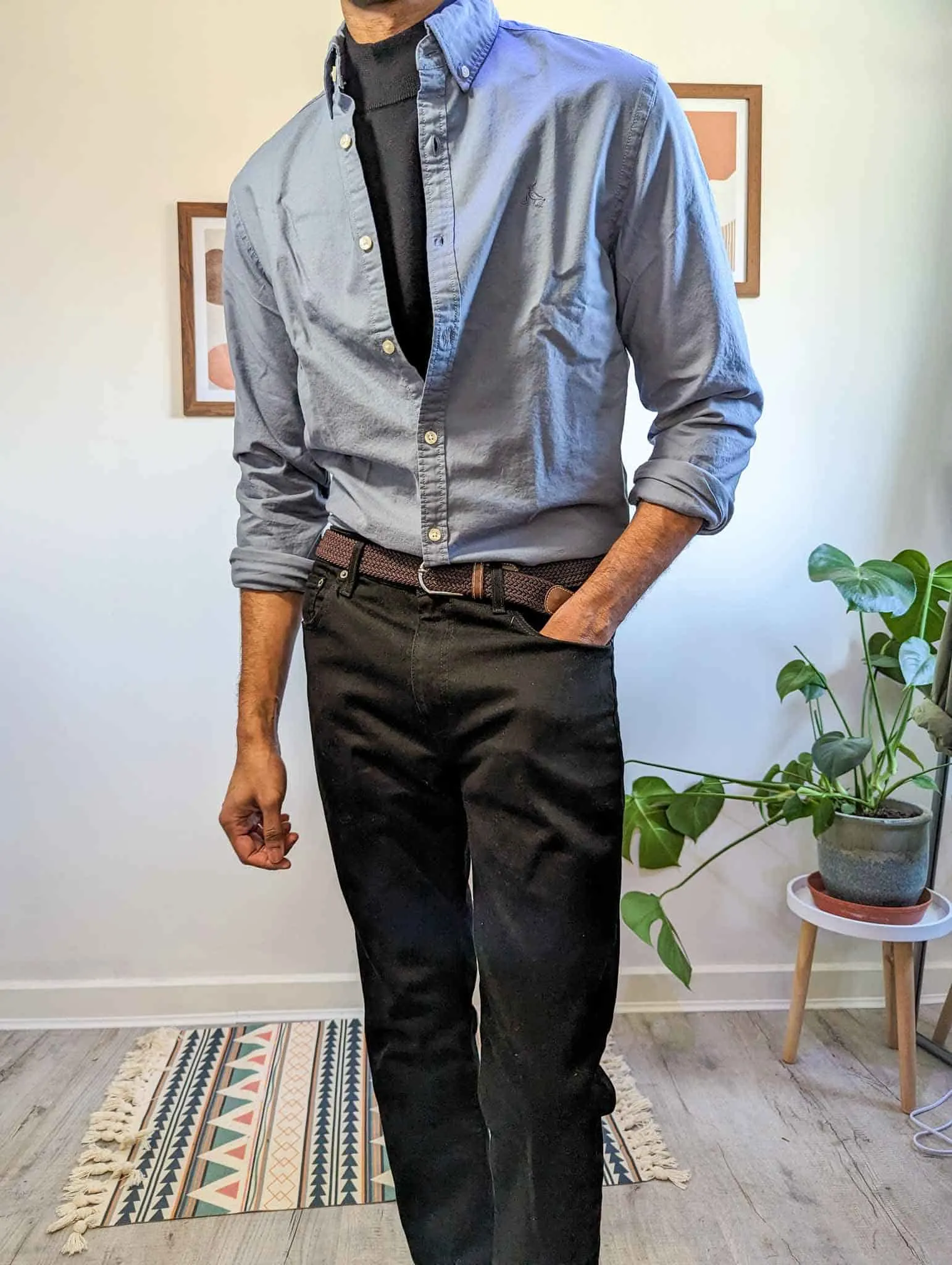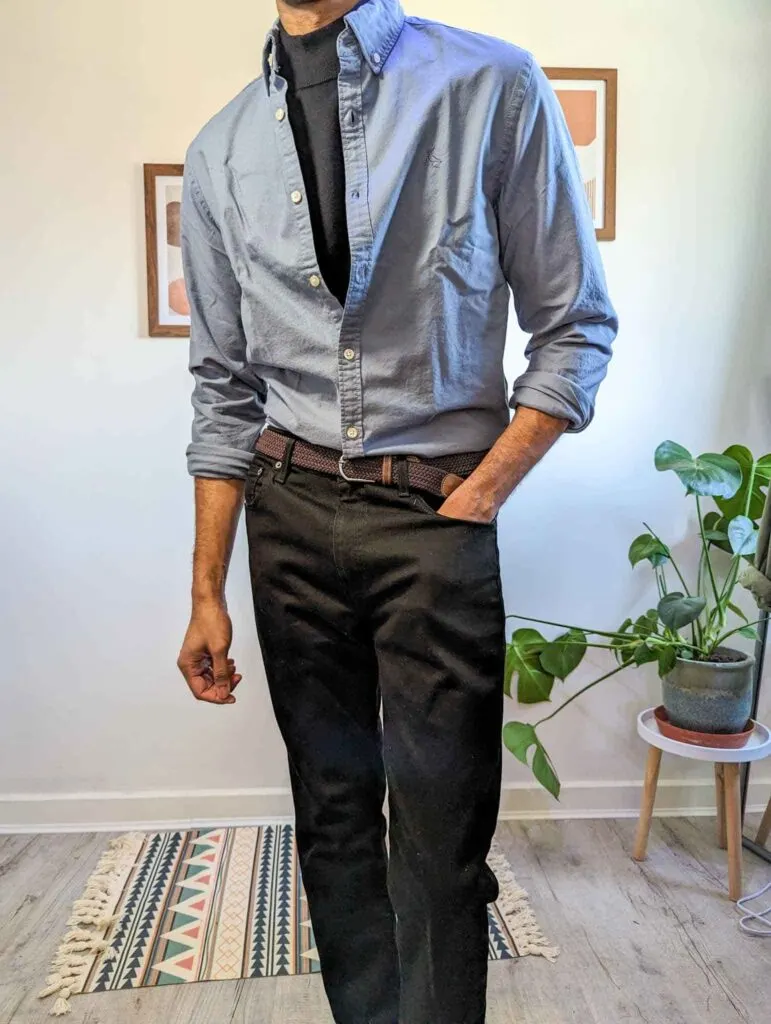 Here's yet another way of wearing a simple button-up shirt with black jeans.
As you've probably realized by now, I use button-up shirts as outer layers when it makes sense.
In the previous example, I layered a button-up over a T-shirt. In this example, I'm layering a button-up shirt over a black mock neck sweater.
You could easily do the same with a turtleneck.
As you can see, the uncommon "turtleneck under shirt" combo has a pretty sophisticated edge to it without looking too flamboyant.
It almost has an ascot-like appearance to it under the shirt.
Here, I've gone for a grey button-up (excuse the wrinkles – the garment steamer was giving me some trouble) over a black mock neck.
Round things up with a pair of black jeans and you're left with a grey and black color scheme that's monochrome and hard to go wrong with.
4. Under A Crew Neck Sweater
Items: Green Button-Up Shirt, Grey Crew Neck Sweater, Maroon Suede Jacket, Black Jeans
The shirt under crew neck combo does risk looking a little business casual. When this isn't the look you're going for, it's something to be mindful of.
But what makes this combination look more smart-casual than business-casual are the colors and the textures.
The green, relaxed, and slightly wrinkled green collar peeking out from under the crew neck has a casual and laid-back look to it.
The rugged texture of this grey cotton crew neck I got from Cos also has a casual aesthetic to it. It's just less business and more casual.
Add a pair of black jeans and you're left with a "cool" grey, olive, and black color scheme. It would work great during the fall months.
Because of this, I added my favorite fall outer layer – a maroon suede jacket.
5. Unbuttoned Over A T-Shirt
Items: Pink OCBD, Black Jeans, White T-shirt, Camel Coat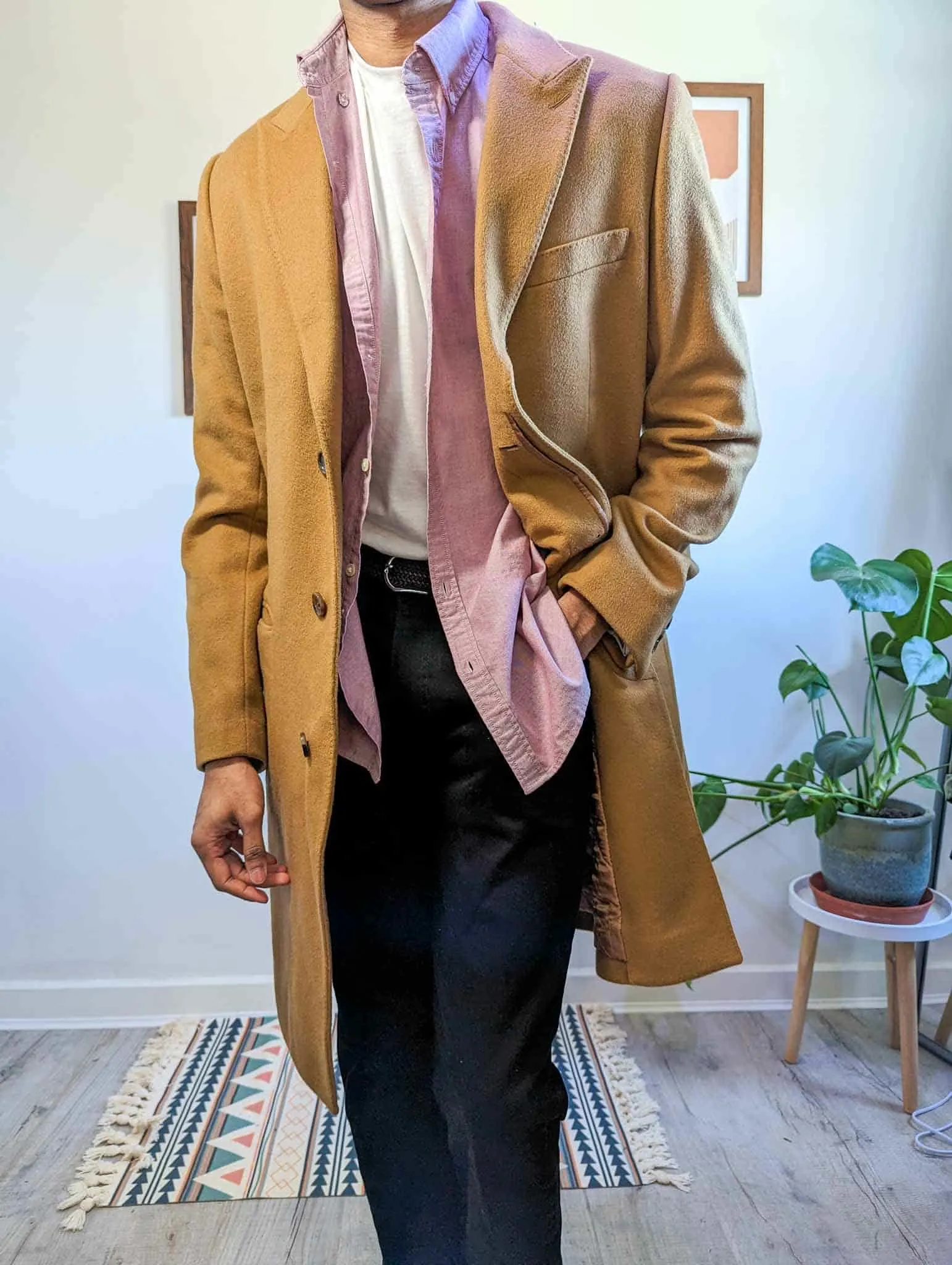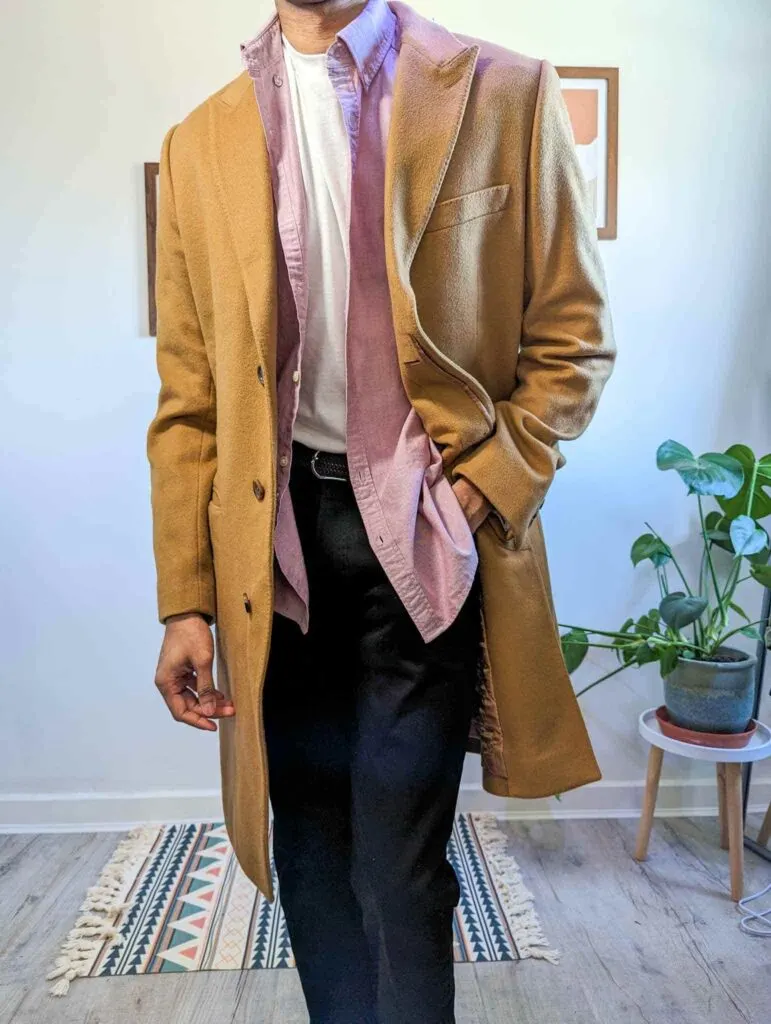 It's simple, but it works.
Here, I've simply left the button-up shirt unbuttoned and untucked. It's casual and very laid-back.
But here's how to make the outfit look well-proportioned:
Try tucking the T-shirt into the black jeans. Doing so breaks the outfit up in a way that's aesthetically pleasing – the "rule of thirds", as they call it.
Having the top part of your outfit take up 1/3 of the outfit and the bottom part take up 2/3 is pleasing to the eye.
It's a trick used in women's style quite a lot and is starting to become more widely known in the world of men's style too.
Here, I've tucked the white T-shirt into the black jeans, but I've left the pink shirt untucked – almost like a light jacket.
It looks so much sharper and better proportioned than if I were to leave the T-shirt untucked as well.
A quick note on the colors here:
You could easily go for a similarly neutral shirt color here if you wanted to.
But going for a more vivid color (eg. pink) is a great way to add a pop of color to the neutral black and white foundation.
The camel coat from J. Crew works well here because – I mean, it just looks great with everything. But being more specific, medium shades of brown like camel and khaki just slot nicely into most color schemes.
They work especially well when you pair them with other "warm" colors.
Here, we're combining the warmth of the pink shirt with the warmth of the camel coat and it just makes sense.
6. Unbuttoned And Tucked Over A T-Shirt
Items: Muted Blue Utility Shirt, Pink T-Shirt, Black Jeans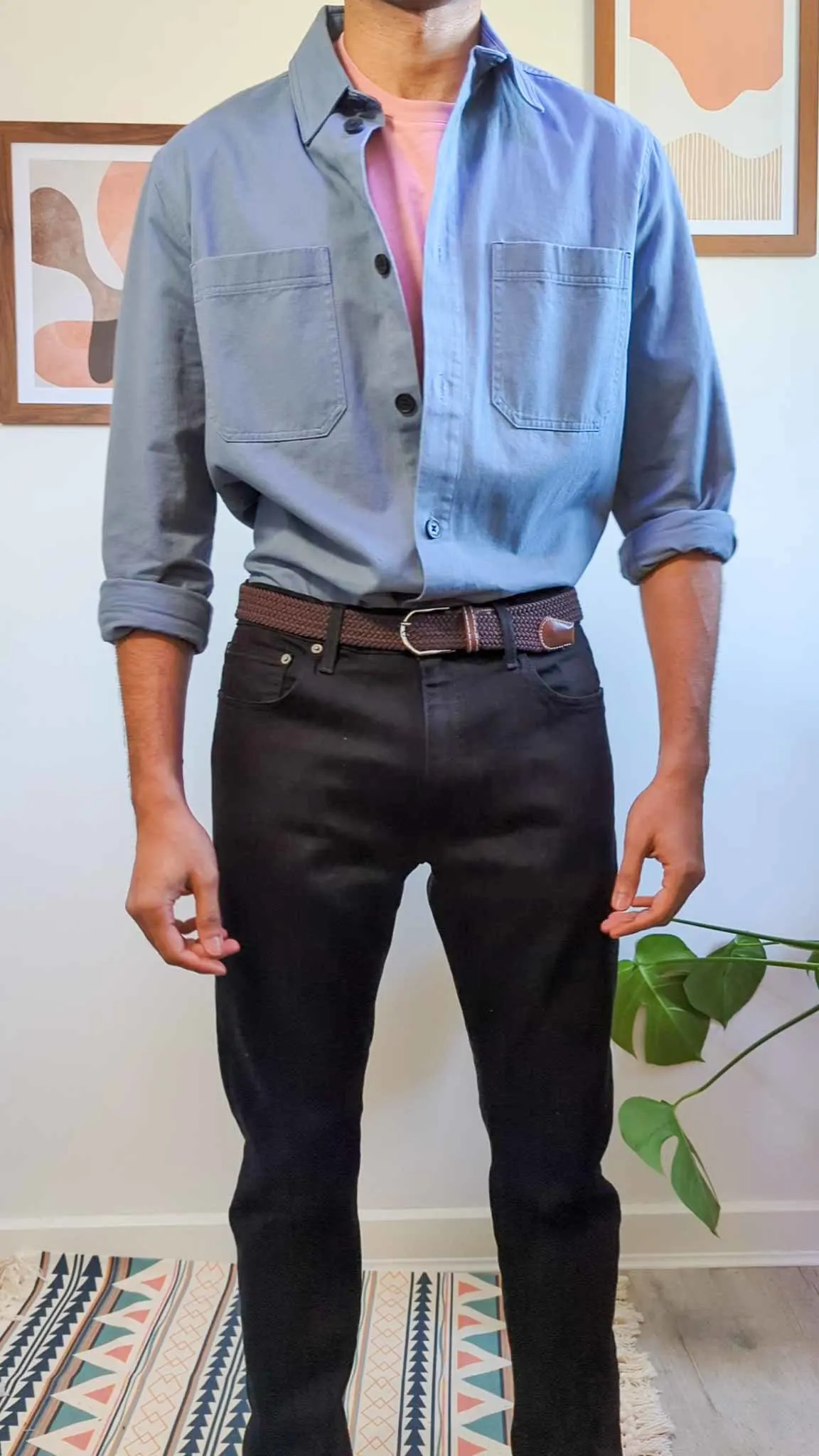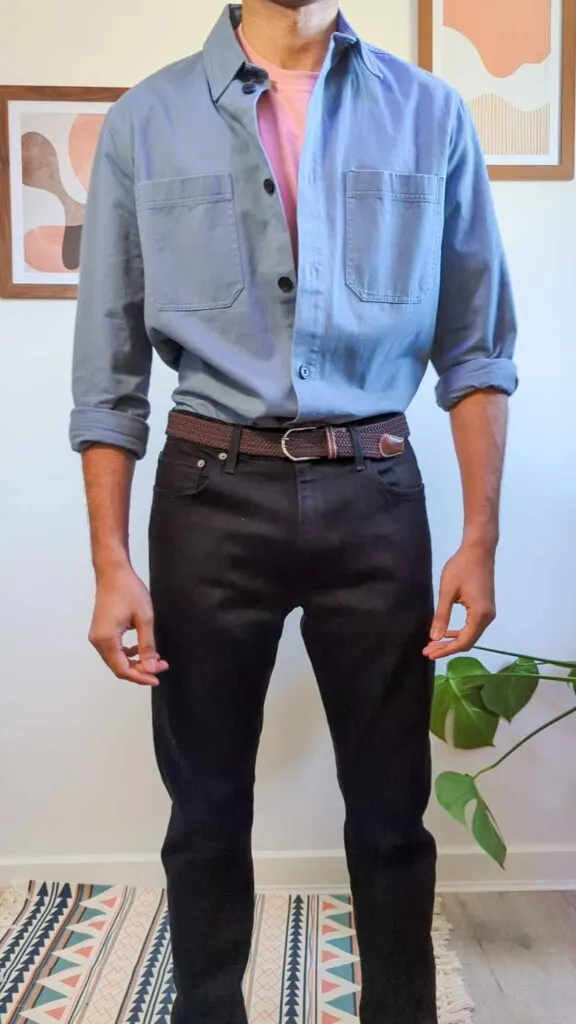 Here, we've tucked the (slightly) oversized blue shirt into the black jeans and layered it over a pink Supima cotton T-shirt from Uniqlo.
While the items used are the same as what was used in the previous example, simply buttoning the bottom one or two buttons and tucking the shirt in gives it a completely different vibe.
Going for a (slightly) oversized shirt like the blue utility shirt I'm wearing in this example also gives it a different aesthetic.
I often like to wear it as an overshirt, even though it holds its own as a button-up in its own right.
Tucking baggy shirts into jeans just looks great to me. I like to call it "smart workwear" but I may have just made that term up.
The colors – pink, black, and blue – work well together here.
This is mainly because the black jeans and the blue utility shirt are muted/neutral, allowing the pink pop of color underneath to catch the eye without looking too bold.
7. With A Leather Jacket
Items: Black Leather Jacket, Black Shirt, Black Jeans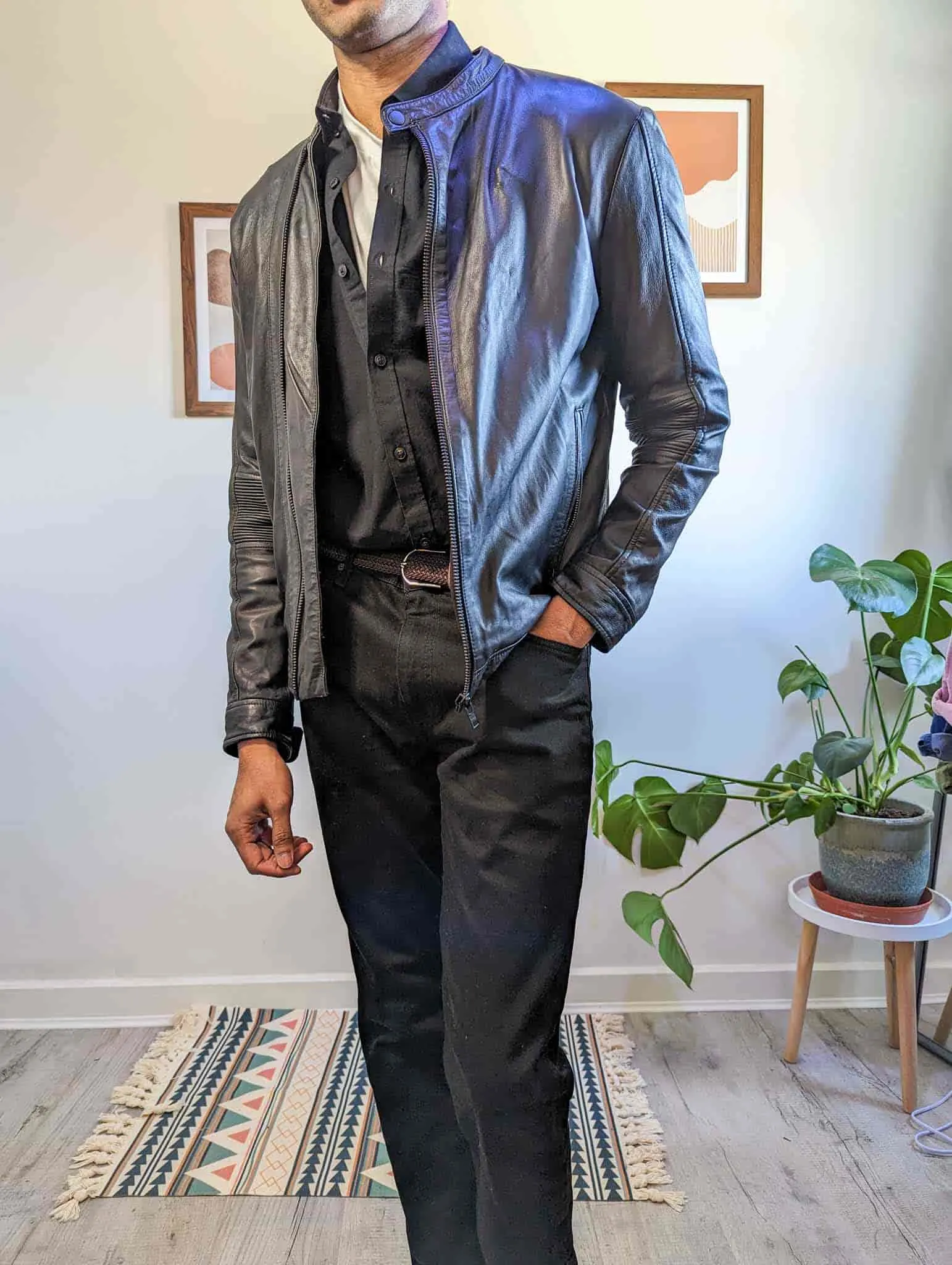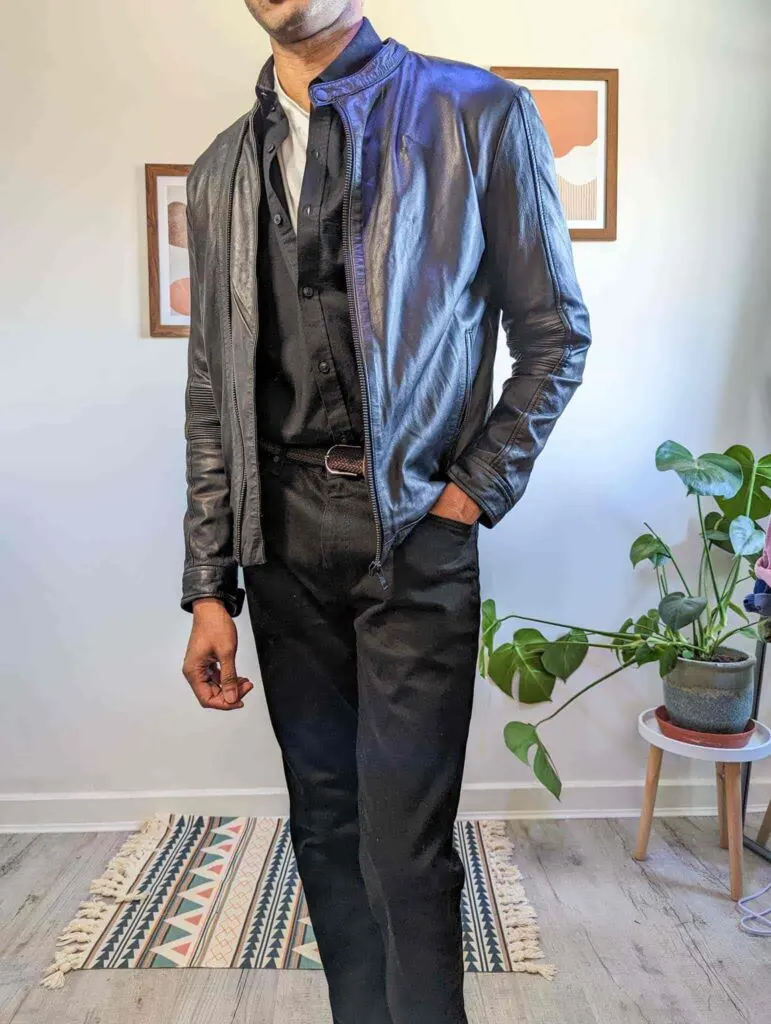 Leather jackets work very well with black jeans – it's an easy way for not-so-edgy men (such as myself) to get some edge.
Let's talk through this specific outfit.
It's a black shirt and black jeans outfit. Add a black leather jacket into the mix and you're left with an all-black, monochromatic combination.
Monochromatic outfits work best when you add a little bit of contrast and also use different textures.
We've got a pop of contrast here – the white T-shirt peeking out from under the black shirt.
We've also used different textures.
The rugged texture of the black jeans is clearly different from the smoother texture of the black button-up shirt.
The smooth, shiny shell of the black leather jacket is obviously very different from the black shirt and the black jeans.
Overall, it's a monochromatic combination that works well and I'll probably keep going back to it.
8. By Going All Denim
Items: Dark Blue Denim Jacket, Blue Denim Shirt, Black Jeans, White T-Shirt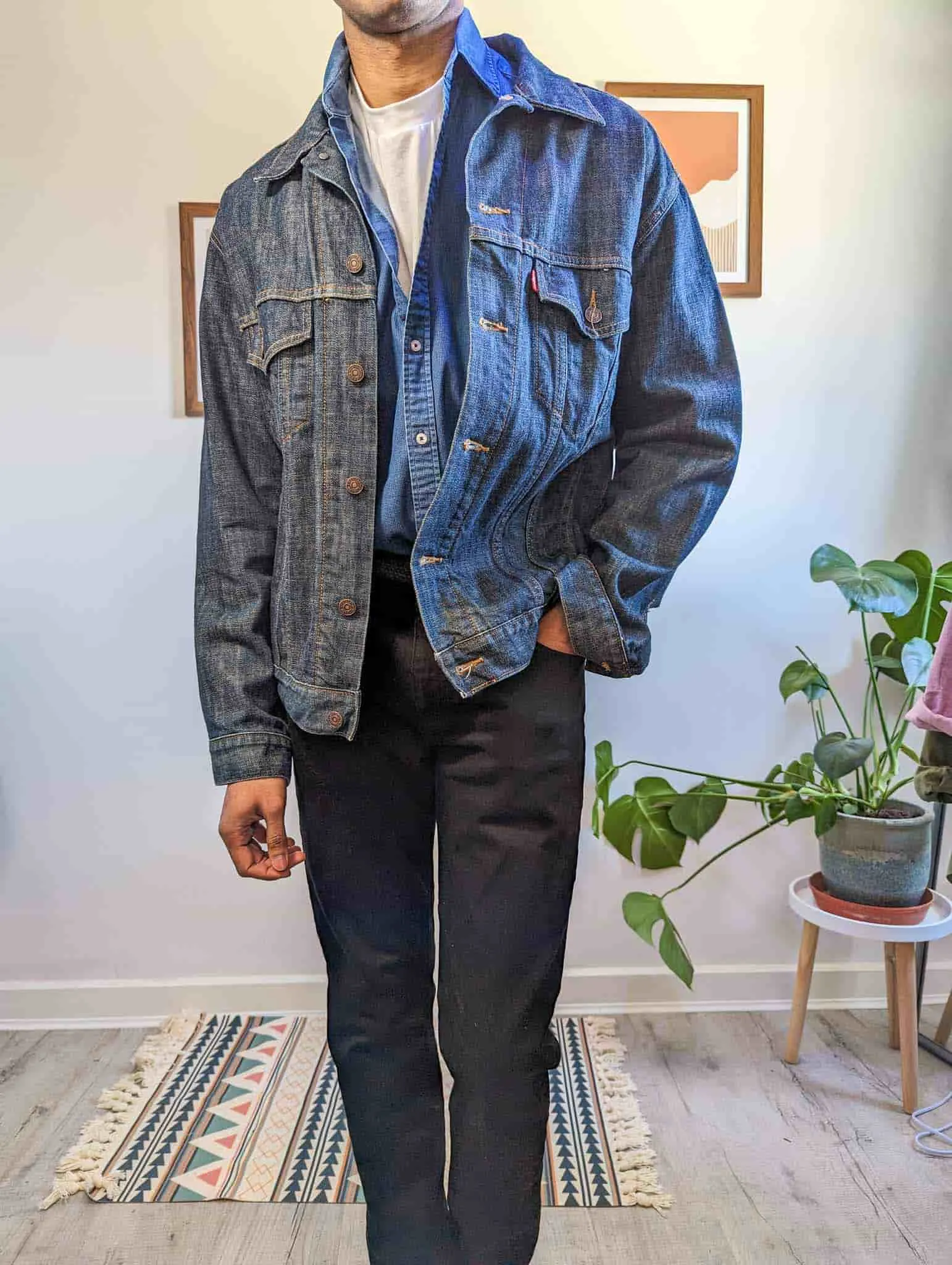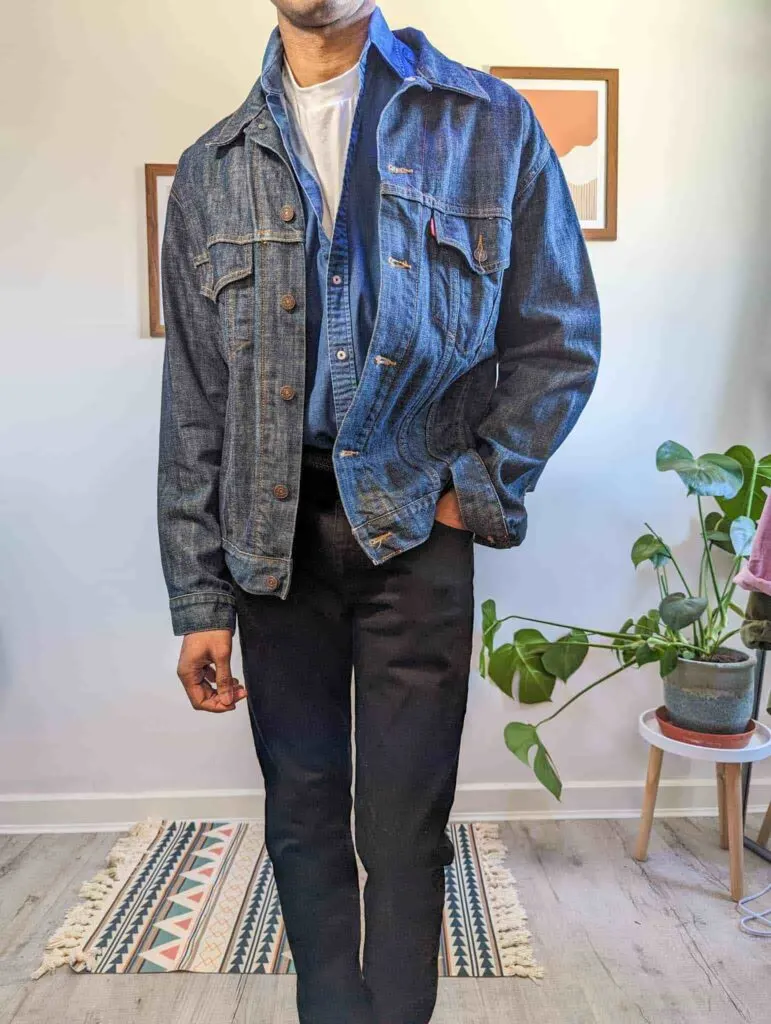 This is one of the more casual combinations on this list – going all-denim is a pretty easy way to take the formality level down a couple of notches.
It can also be pretty hard to pull off. Covering yourself in denim can sometimes feel a little heavy and uncomfortable, especially in warmer weather.
It can also just come across as too much.
Too much blue, too much denim, etc.
A great way to make it work is to choose different colors and shades of denim.
Here, the denim shirt and the denim jeans are clearly different colors – black and blue.
In addition, the denim jacket is clearly a darker shade of blue than the denim shirt worn underneath.
9. As An Oversized Top
Items: Beige Overshirt/Utility Shirt, Black Jeans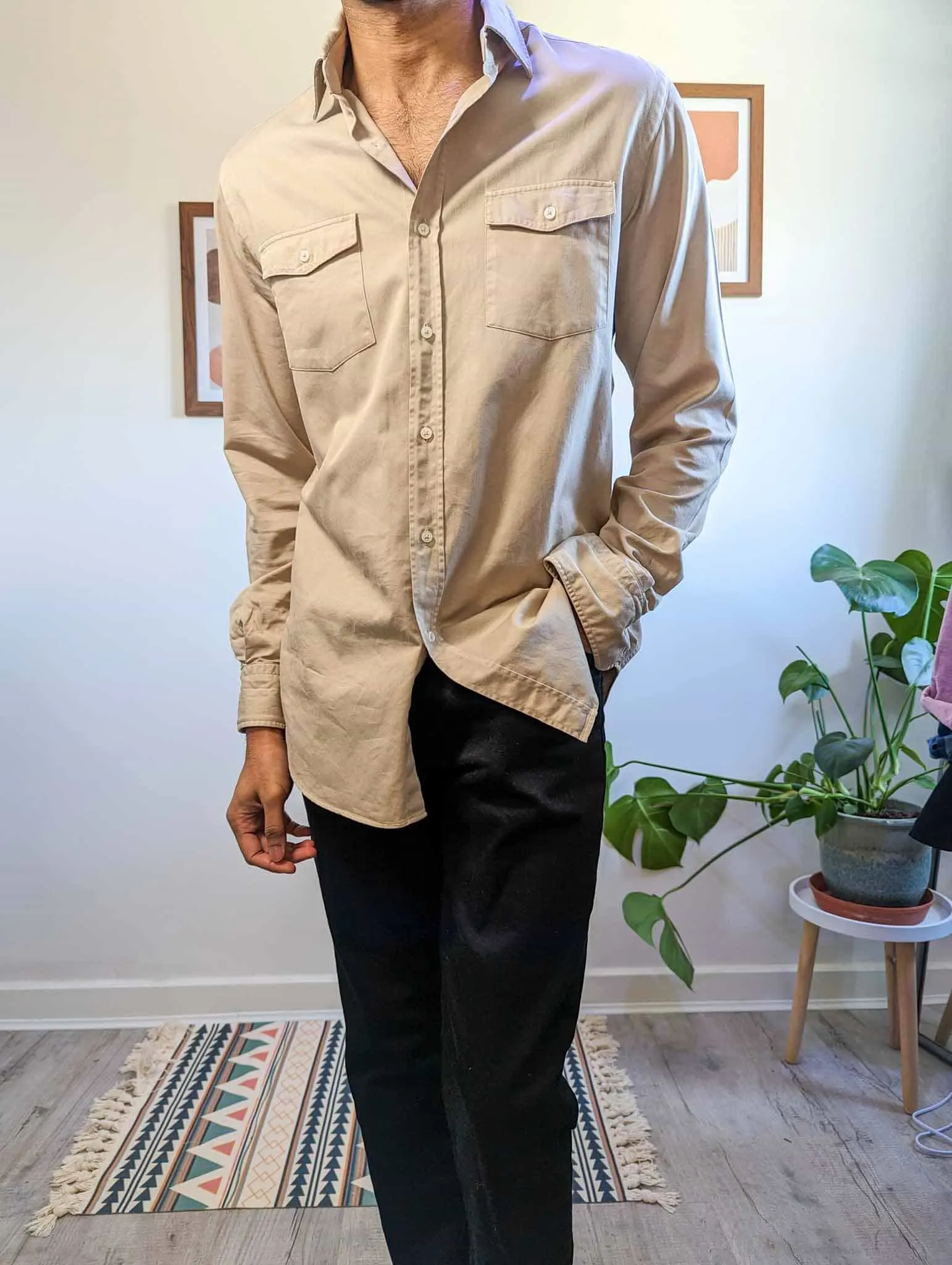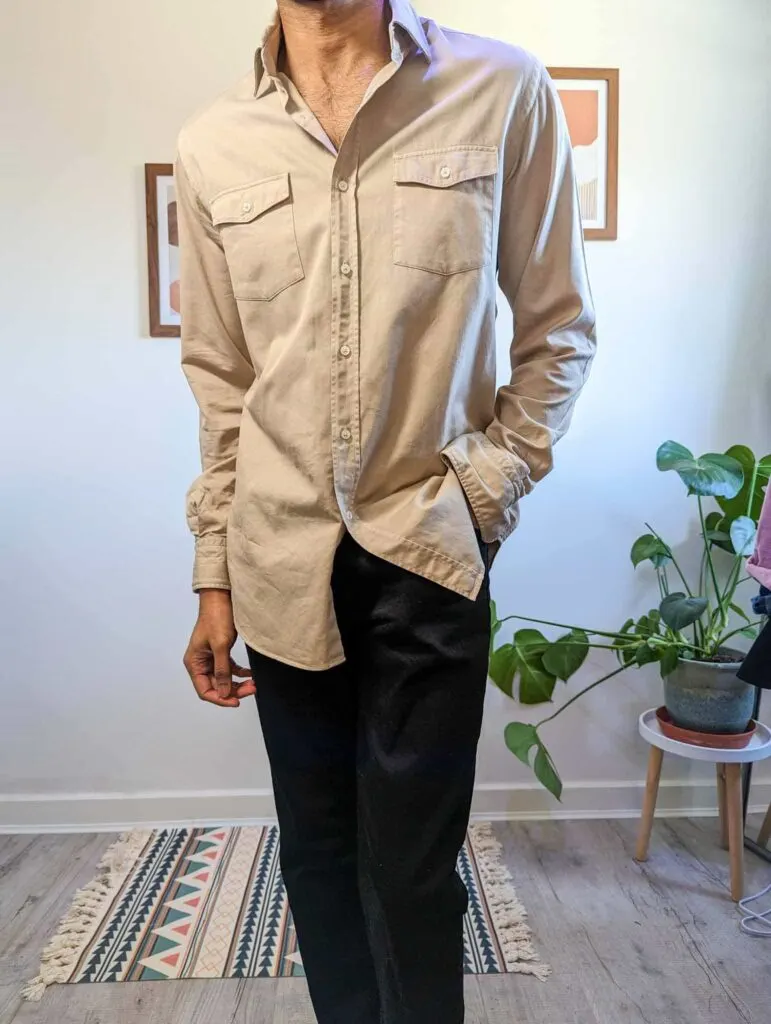 Here, I've gone for a beige utility shirt and the same pair of black Levis 512s. While I'd usually wear this beige utility shirt as an overshirt, I do like to sometimes wear it as an oversized button-up.
While I can hear my streetwear enthusiasts chuckle at the suggestion that this is "oversized", it's definitely larger than what I'd usually wear buttoned up.
But the main point here is that it's great to experiment with shirts when wearing casual pants (eg. black jeans).
That doesn't just mean experimenting with color.
Experiment with how you wear your shirts – what you wear them over, what you wear them under, how you button them up, and so on.
10. By Going For A Flannel
Items: Red Flannel Shirt, Black Mock Neck, Black Jeans, Maroon Suede Jacket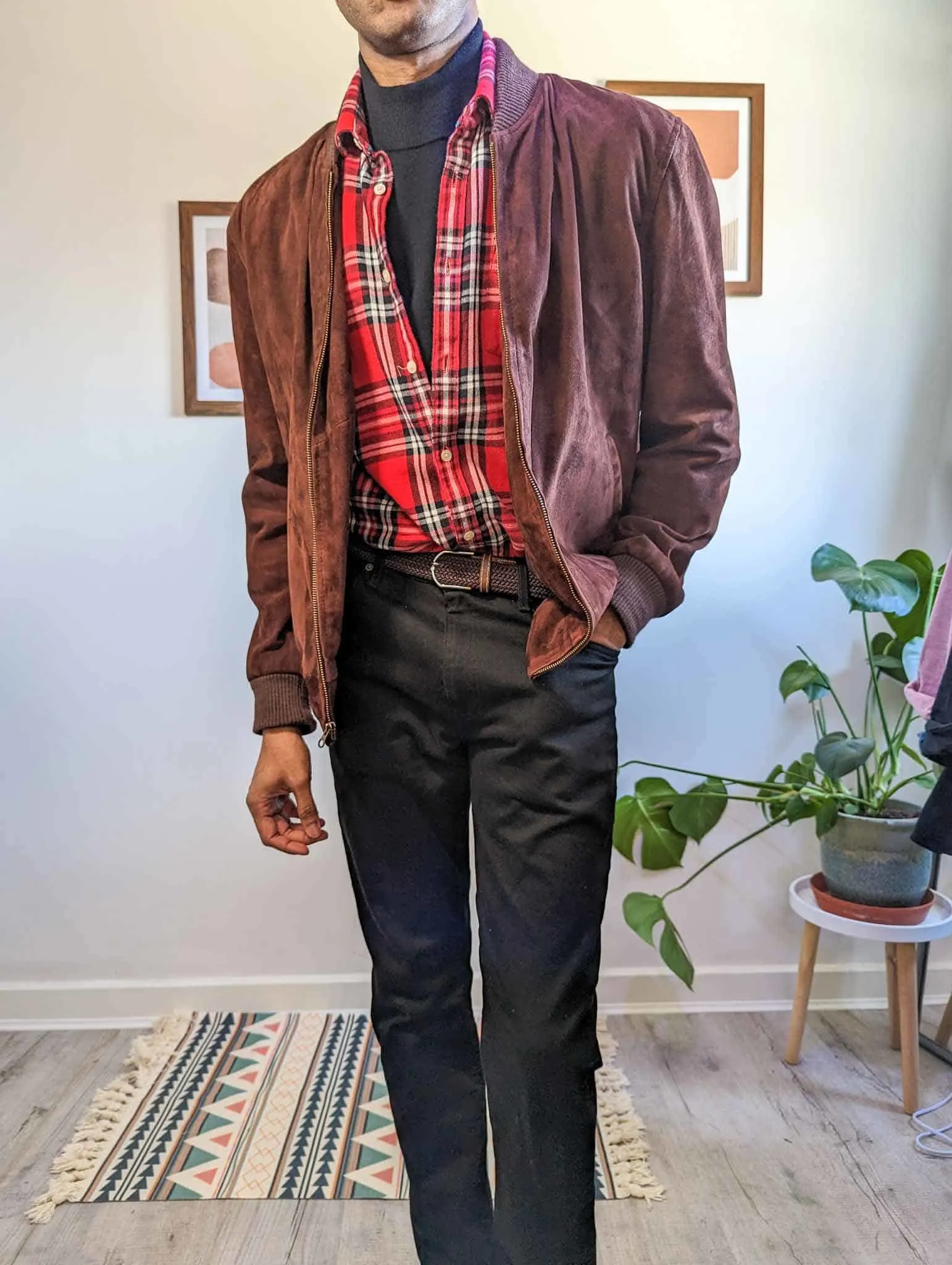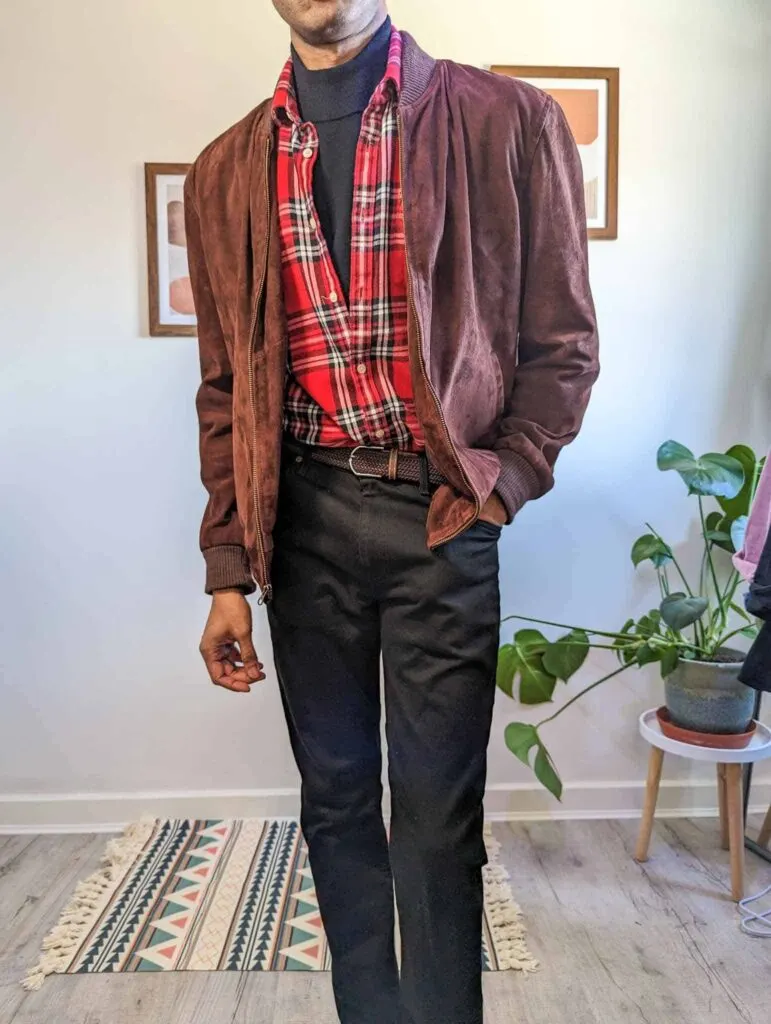 A flannel shirt in a bright, bold color such as this one often looks great with a pair of simple black jeans.
Flannels are appealing because they give you the scope to get bold with color in ways you otherwise might not.
While you could easily just wear the flannel buttoned up and leave it at that, as always, I like to get creative with layering.
I've layered it over the black mock neck here and it seems to work great. The black from the flannel shirt compliments the black sweater and the black jeans.
In addition, the red from the flannel compliments the reddish hue of the maroon suede jacket.
While flannels are generally seen untucked, try tucking it in for that same "smart workwear" aesthetic I referred to earlier on.
11. With A Shawl Collar Cardigan
Items: Blue OCBD Shirt, Navy Shawl Collar Cardigan, Black Jeans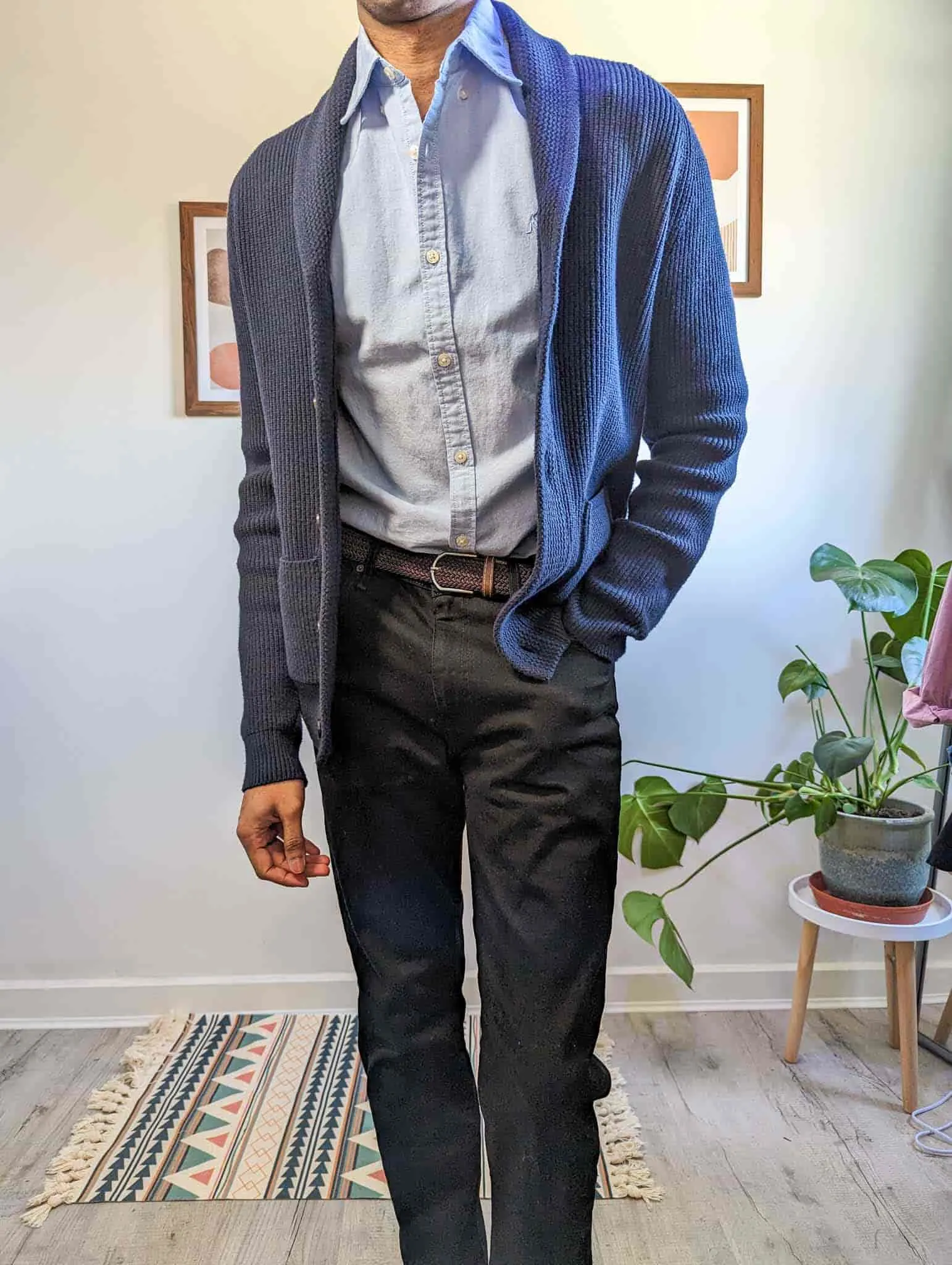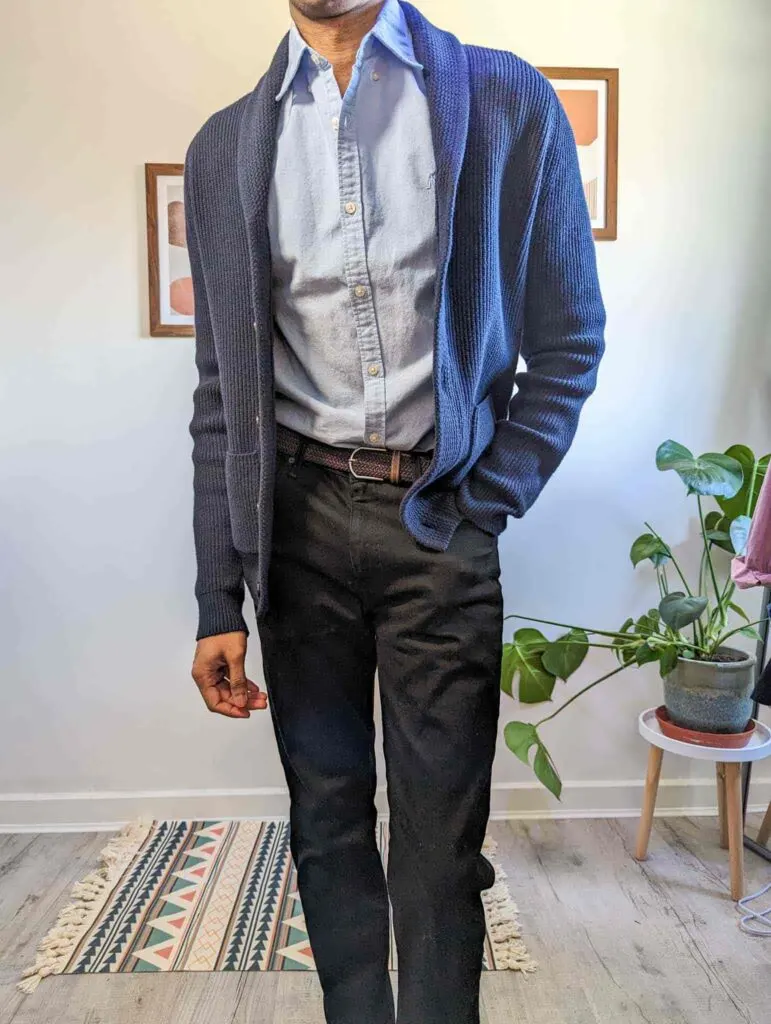 Finishing off with a relatively dressy one, consider wearing your black jeans with a shawl collar cardigan layered over an OCBD shirt.
Here, the light blue OCBD and the navy shawl collar cardigan produces an effective monochromatic combination.
This is one outfit I think could potentially fit in well in a business-casual setting.
I generally like to stick to a "no jeans and no suits" rule when it comes to business-casual, but it's debatable when the jeans are black, non-distressed, and slim-fit/tapered.
In general, I think it could work, especially when you add a dressy wool cardigan (eg. crew necks/shawl necks) into the mix.
Ready Sleek founder. Obsessed with casual style and the minimalist approach to building a highly functional wardrobe. Also a fan of classic, vintage hairstyles.