"Stubble rash" a.k.a "beard burn" is a widely documented hazard affecting the partners of stubbled and bearded men universally.
Kissing a man with stubble, although to many is an irresistible urge, carries with it a significant risk of soreness and irritation of the face.
But in a nutshell, can anything be done to prevent and treat stubble rash?
Although stubble rash due to kissing can be prevented in several ways, a joint effort between the stubbled man and his partner always works best. Ensuring that the man's skin and beard are well washed, moisturized, and trimmed with a good technique forms the core of the strategy. The kissing partner should also ensure that the skin is well looked after both before and after the act. If the rash has already occurred, giving it time to heal, as well as moisturizing and monitoring for infection is important.
If you're reading this, you're most likely either a clean-shaven man looking to get a closer shave, a stubbled or bearded man looking to soften things up, or a disgruntled partner wondering what to do.
It's the little things that make all the difference when trying to prevent this extremely common problem.
The issue can cause significant tension between die-hard scruff carriers and their increasingly frustrated partners.
What we're going to do is talk through what causes stubble rash, and 9 simple ways you can prevent it.
Plus, for those of you looking to fix a stubble rash that's already reared its head, we'll talk about how we can manage it.
What is a stubble rash?
It's a name for the skin irritation that you can get due to hair rubbing against skin.
It usually refers to sore facial skin caused by kissing a man with stubble but can refer to any skin surface that comes into contact with the bristles.
The reason it occurs is due to the often underestimated phenomenon, friction.
As those follicles rub back and forth against the skin during an intimate moment, it removes moisture and natural oils from your partner's skin.
This leads to an increase in the soreness and irritation caused by the direct effect of friction against the unprotected skin.
It's what's called irritant dermatitis and can be pretty painful when severe.
Irritated skin as you'd expect looks dry, red, flaky, angry, and bumpy. The rash generally affects the areas around the lips and on the cheeks, but again can affect any skin that comes into contact.
Girls with sensitive skin need to be particularly careful.
In a worst-case scenario, this irritated skin can become infected, escalating what was previously just a minor annoyance into a nightmare.
But don't panic just yet, because there are things that can be done to stop it from happening.
Some of them are things that you can do, and some of them are things that your partner can do.
Let's talk through them all now.
8 Simple Ways To Prevent Stubble Rash After Kissing
As with all of our "tips and tricks" list remember, not all of these will work for you or your partner. But it would be very surprising if none of them did.
The best thing to do would be to just try them all out. In fact, most of them are just good general hygiene practices.
You'll most likely notice more benefits from them than just an improvement from a stubble rash perspective.
1. Grow it a little longer
It's generally accepted that the shorter the beard hairs, the worse the irritation. Although all beard lengths can cause trouble, stubble is the main culprit when it comes to "stubble rash". I mean, it's even in the name.
Stubble generally refers to any length of facial hair up to 5mm in length. After this point we refer to it as a "short beard".
The reason stubble is more likely to cause this rash is because shorter hairs are coarser and stiffer. This leads to more friction.
So even a man that does his best to shave it all off every morning can still cause problems for his partner. This is because even a light 5 o'clock shadow can scratch and scrape.
One way to combat this is to simply let your beard grow a little longer. You may have been owning the "permanent 5 o'clock shadow" up until now. Try growing it out to the "heavy stubble" range (i.e nearer the 5mm mark) and see if it improves things.
If this is still too coarse, try an even longer length. Once you find a length that doesn't seem as harsh or coarse on the skin, grab it by the horns and don't let go.
Keep this as your length, and if you don't mind the look of it just keep it every day.
Your relationship will thank you for it.
2. Wash it properly
Nothing fancy here. Remember I did say a lot of these are just good general hygiene practices. But, you'd be amazed at how often they're neglected.
Washing your stubble or your beard is the key to a healthy beard and a happy partner. Regardless of whether the hairs are long or short, it's very important.
Simply washing your face with water just isn't enough, gentlemen.
Using a moisturizing beard wash works wonders by hydrating the shafts and the underlying skin, as well as removing any impurities that may be layering up at the bases. This includes oil, dirt, and dead skin cells.
Following this up with a beard conditioner is a simple step that can 10x the result. Massaging a conditioner into your facial hair will nourish the follicles and remove pollutants.
This, in turn, strengthens the hair shafts, preventing breakages and split-ends. The hairs will feel smoother, softer and more even against your girlfriend's skin.
All of this will all act to make the facial hair smell great as well which is always a plus.
As you'd probably guess, this simple step will also make the facial hair look great as well as feel great. There's really no reason not to do it.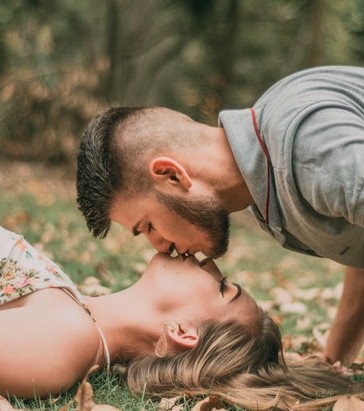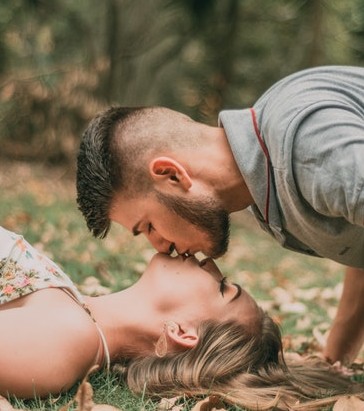 3. Beard Oil
Massaging a nutrient-rich beard oil into your facial hair isn't just for calming the skin and making your beard smell divine.
They're usually filled with ingredients such as jojoba oil and argan oil which give the beard an irresistible shine and great volume.
But more importantly, these ingredients soften the hairs and really smooth out that edge they can have.
As opposed to conditioners, the beard oil isn't washed off. Massage it in gently, and then use a comb to evenly distribute it across the entire facial hair domain.
Remember to apply it to dry facial hair. Applying beard oil to wet facial hair will reduce it's effectiveness because wet hair clumps together. This prevents the oil from nourishing individual hairs.
Also, the water will dilute the oil and make it less potent.
Beard oil also makes facial hair look thicker, fuller and more uniform. It also gives the beard a very intentional look, as opposed to the "accidental beardsman" look.
Some people may not feel that a mere stubble beard or short beard really needs any beard oil. They may believe that it's usually reserved for those with longer beards. But they'd be wrong.
The softening effect will reduce the risk of girlfriend irritation, both physically and psychologically.
Try it out and see it if it works to prevent stubble rash. You'll most likely be pleasantly surprised.
4. If you shave, go closer
Like I mentioned earlier, you may be reading this because you'd like to go fully clean-shaven but end up with a face that feels like a gravel pit just two hours after the act.
Or, you may be a stubbled man who has accepted the sandpaper feel of his bristles but wants to be as smooth as possible wherever his beard doesn't extend. I.e, beneath the neckline and above the cheek line.
Either way, what you need is a close shave. This just means you're cutting those hairs as close to the skin as possible.
Yes, we did say that the shorter the hairs the spikier and more irritating they are.
But when they're so short that they're barely even noticeable by look or by touch, what you have there is a close shave. Close shaves feel smooth for your partner.
The key to a close shave is multi-faceted.
First of all, you'll need to exfoliate. Yes, you heard me correctly. You, as a man, will have to exfoliate. You'll see this tip on so many of our shave and trim tutorials.
What exfoliating does is remove the layer of dead skin cells, oil, and dirt that's mattifying or clogging the bases of your facial hair shafts.
This layer of gunk just causes more friction when you try to shave, leading to worsening irritation for your self as well as preventing you from going as close to the skin as possible.
You can use a chemical exfoliant or a physical exfoliant such as a face scrub.
You can achieve a close shave with both razors and electric shavers. The one you choose is more a matter of personal preference and whether you prefer a dry or a wet shave.
When it comes to actually getting a close shave though, using clean and sharp blades is more important.
Using dull or blunted blades causes you increased skin irritation. It also causes uneven cuts to the hair shafts making them feel harsher on your partner's face.
Keeping the skin taut as you shave will also ensure the razor or shaver is able to glide across it easily, catching the more elusive hairs as it does.
Shaving against the grain refers simply to shaving against the direction of hair growth. It's great for allowing you to cut nice and close to the skin, but for that very reason, it increases your chances of irritating the skin. If a close shave is what you want though, it may be worth doing.
5. Moisturize
It's easy to blame facial hair for absolutely everything. After all, they're short, sharp, spikes sprouting out of the skin.
But simply moisturizing your facial skin properly after you trim and shave can reduce that nasty post-shave irritation.
All the tugging and scraping that's just occurred is going to leave your skin feeling angry, dry and flakey. This doesn't feel good on your partner's skin either and will make stubble rash even worse.
Using a thoroughly hydrating moisturizer after you shave is crucial here.
6. She should moisturize too
I told you it was a joint effort, didn't I? Yes, your girlfriend, date, partner or whoever needs to moisturize well too.
Stubble rash is simply due to angry skin. Skin is more likely to become angry when it's dry because dry skin really can't handle even mild irritation.
Moisturized, well-hydrated skin is able to protect itself from external annoyances such as the prickly threat of a stubbled or bearded man.
It's then less likely to become irritated, red and sore.
So if she moisturized in anticipation of meeting you later that evening, you may both be pleasantly surprised by how frictionless the experience is.
After a kissing session, it's also important to moisturize once again. There's nothing more soothing to irritated skin than moisture.
The only way to get that moisture into the top layer of the skin is by using a good moisturizer. This should prevent the lady in question waking up the next morning with a scarlet red face.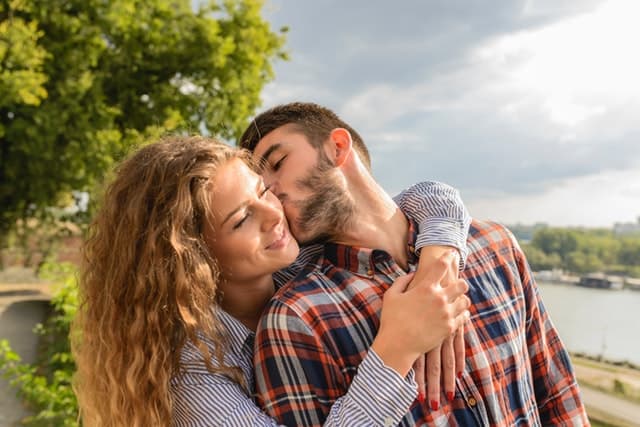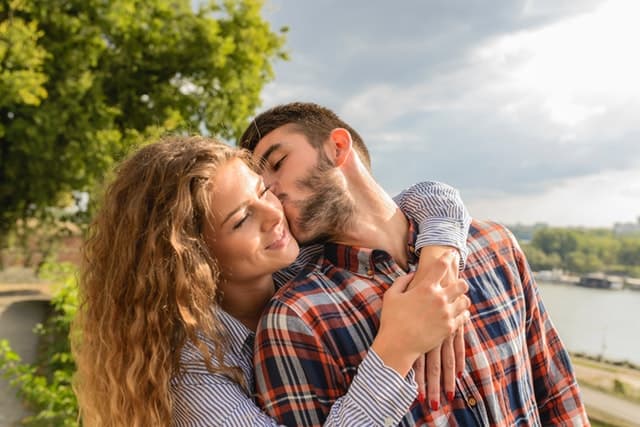 7. She should avoid exfoliating too soon before or after
This might sound contradictory seeing as we've just been bragging about the magic of exfoliation.
It's no secret that women exfoliate more often as they're generally more aware of its benefits.
It not only allows for a closer shave but also unclogs pores and reduces skin breakouts.
But exfoliating in itself can cause some temporary irritation to the skin.
Chemical exfoliants and physical exfoliants both act by removing that layer of gunk from the skin. An innocent bystander of this process is the skin itself.
Allowing around 24 hours before or after a kissing session will give make sure the irritation from exfoliating doesn't reinforce the irritation from the stubble rubbing.
8. Use a stubble softening pad
This new and nifty invention isn't very widely known at present. Soft Goat is a big player in this pretty niche game and has an innovative solution to the ever-frustrating issue of sharp stubble.
The idea is that a hypoallergenic pad is rubbed across the hair shafts of your stubble, and as it does so it dulls those sharp edges. This leaves it feeling smooth and soft as a whole.
It can take away the hard edge to your bristles and your partner may become it's biggest fan.
Simple enough. There are those who swear by this invention and its miraculous effects.
But do bear in mind there are others who aren't as enthusiastic, although most people do at least report some improvement in texture.
But given the fact that it's relatively inexpensive, it's definitely worth a try.
Is it going to make stubble rash a thing of the past? Probably not on its own. But it could definitely make a difference when combined with the tips we've laid out above this one.
How Do You Treat Stubble Rash?
Unfortunately, there are those of you reading this as inflicted partners or guilty perpetrators who want to know how to treat a rash that's already occurred.
Most of the management is just giving the skin time to repair itself. But there are some things that can be done to speed up the process.
At the risk of hitting the internet record for "most times mentioning moisturizing in one article", moisturizing does in fact play a very important role.
Given moisture to damaged skin is going to give it the support it needs.
Going one step further, using a moisturizer or gel infused with soothing anti-inflammatories such as aloe vera or witch hazel is also going to make it less angry.
If it's a particularly nasty stubble rash it's important to go and see a doctor, as there's only so much you can learn from a facial hair blog. You may need a mild steroid cream to really get on top of that inflammation.
The risk is that irritation turning into infection and requiring more intensive treatment. That's what we want to avoid.
Conclusion
Stubble rash has caused tension between a man and his partner for eons.
It's not often that we can say we've provided solid facial hair advice as well as relationship counseling in one article. But in this circumstance, I do believe we have.
To sum it all up, stubble rash may be difficult to manage, but it is to at least a certain extent preventable.
A well-managed facial hair routine and strategy will go a long way in ensuring you, your partner or you date doesn't dread the next time you approach their face with those magnificent bristles.
Try these tips out and see how it goes. At the very least they'll most likely leave your skin looking smooth and your stubble or beard looking slick.
Thanks for reading. Do you have any tips or tricks for preventing or treating stubble rash? If so, please share them in the comments below!
Ready Sleek founder. Obsessed with casual style and the minimalist approach to building a highly functional wardrobe. Also a fan of classic, vintage hairstyles.