There aren't many hair products that have remained popular for nearly a century. Needless to say, it's gotta be doing something right. You're about to learn everything you need to know about Murray's Superior Hair Dressing Pomade.
The pomade market is huge at the moment, with new products cropping up all over the place.
But men often find themselves going back to classic products such as this one because they're affordable and they know it'll get the job done.
Having said that, Murray's Pomade isn't the easiest pomade to use. A lot of men find themselves giving up on it after a couple of tries because it just isn't that user-friendly.
In addition, men with certain hair types would really be better off using a different type of product altogether.
After reading this, you'll know exactly whether it's actually the right fit for you. If so, you'll also know exactly how to use it in the most effective way possible.
I'll also be going through washing it out, product comparisons, and some essential frequently asked questions.
Let's get to it.
What Is Murray's Pomade?
Murray's Superior Hair Dressing Pomade is an oil-based pomade first produced in 1925. Its thick, waxy consistency, high shine, and affordable price have made it a popular choice for vintage hairstyles. It's often used for pompadours, slicked-back hair, and side parts.
But it's versatile enough to be useful for styles including waves and dreadlocks as well. Its wide market appeal is a major reason behind its longstanding success.
Although Murray's now produces a variety of different products, the original pomade remains its most popular offering.
Murray's Superior Hair Dressing Pomade: Key Features
In short, what does Murray's pomade do to your hair?
It provides a medium hold and medium-to-high shine.
Although that's what most people want to know, I've gone into more detail below. The information is based on my own experiences using it.
It's important to note that men will have different experiences using it based on their specific hair type. Having said that, the following information would be relevant to everyone regardless of their hair type.
1. The Look
Murray's Pomade looks like a pale yellow and distinctly waxy-looking substance in its bright orange tin packaging.
The lid of the tin has a fantastic illustration of a man and a woman with well-groomed afros. It's intriguing and looks great.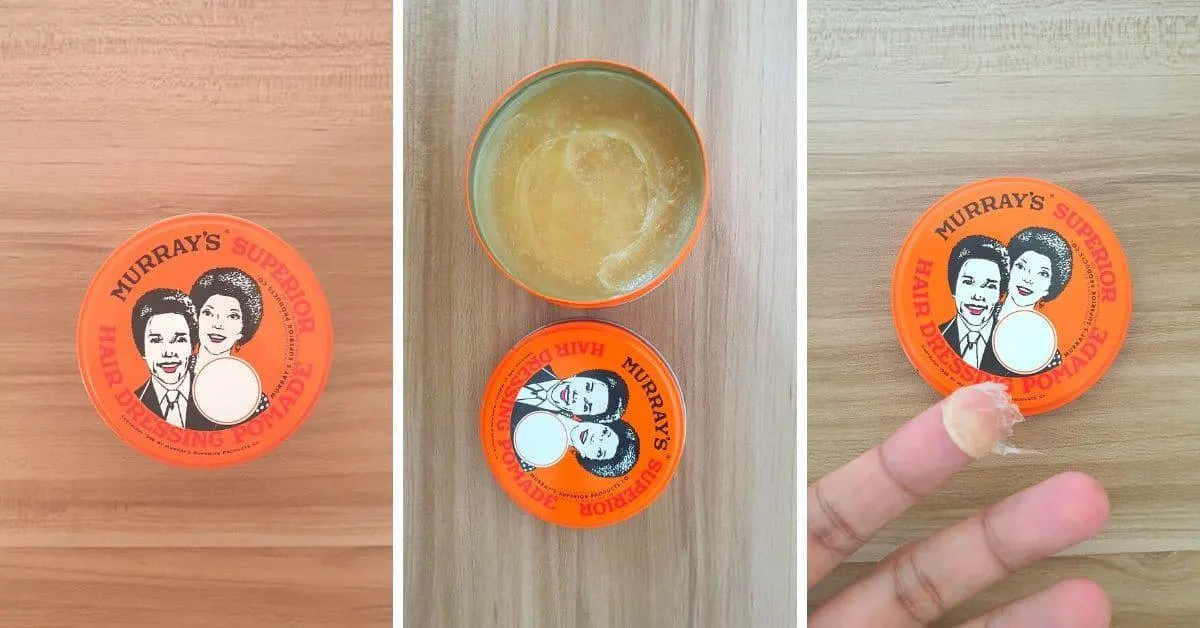 The old-fashioned red and black text has a very classic feel to it and helps to set it apart from more modern pomade packaging.
2. The Feel
Murray's Pomade has a thick, tough, and waxy consistency to it. It's quite easy to scoop out but can be difficult to break down and emulsify between the palms before applying it.
It's this difficulty that puts some men off from using it, but ultimately it feels quite typical for an oil-based pomade.
3. The Smell
The smell of Murray's pomade can be described as a subtle but noticeable blend of cologne and baby powder.
Although some may disagree, I think this is a fair description that most would agree with.
It's definitely pleasant. Much like the packaging, the scent has a very "classic" aesthetic to it and sets it apart from the many modern pomades that all seem to go for the same tropical aromas.
4. The Application
Applying Murray's pomade can be difficult due to the tough, thick, and waxy consistency.
If it isn't properly broken down, there will definitely be tugging, pulling, and general resistance as you try to distribute it through the hair.
You'll also get bits and clumps of wax residue peppered through your hair if you don't break it down first.
So, take the time to warm it up nicely by rubbing it in between your palms. Using heat from a blow-dryer to melt it down a little is often useful.
5. The Hold
The hold you'd get from Murray's Original Pomade is best described as a medium hold.
It's definitely strong enough for thin and medium-thickness hair types to keep their hair in place. Thick-haired men may struggle to keep more complex styles where they want it, but for simple slick-backs and pomps it would be just fine.
The hold you get from Murray's is less than what you'd expect given the effort it takes to distribute the thick pomade through the hair.
Plus, in warm weather, you can expect it to melt a little and provide a weaker hold than in the colder months.
6. The Shine
You can expect a medium-to-high shine from Murray's pomade.
As with most oil-based pomades, the shine keeps pretty well throughout the course of the day; definitely more so than what you'd expect from a water-based one.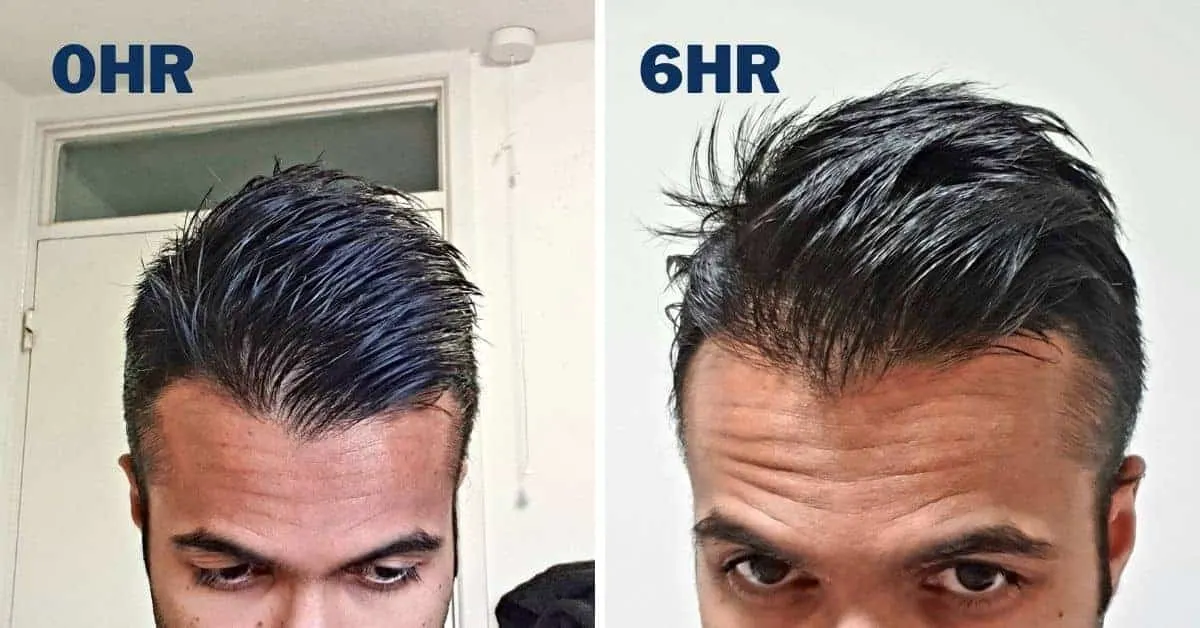 The two easiest and probably most effective ways of getting more shine out of the product are to simply use more of it or to apply it to damp hair.
Murray's Pomade: Hair Types
As I mentioned earlier, the product won't necessarily be ideal for everyone. It'll definitely suit some hair types better than others.
I've split "hair types" into three categories; thickness, length, and straightness.
Thick Vs Thin Hair
Murray's Original Pomade works well for men with normal or thick hair given its tough and heavy consistency. Men with thin or fine hair would most likely find that it weighs their hair down and the shine makes the hair look even thinner.
The high shine produced by oil-based pomades such as this is often too much for men with hair that's on the thinner side. It will most likely reveal too much of the scalp.
Plus, it's difficult to produce the fullness, texture, and volume these men would probably be better off trying to achieve. A matte paste or clay would be more suitable.
Having said that, men with very thick hair may struggle to get the hold they need with Murray's Pomade.
To sum that up, it works best for men in that in-between range.
Long Vs Short Hair
Murray's Pomade works best on hair that's medium in length or long. Men with short hair may find that the product is too heavy to benefit from it.
Again, the shorter the hair the more likely it will be that the shine will reveal too much of the scalp unless the hair is very thick.
A good rule-of-thumb would be this:
If the hair is long enough to slick back or to the side, it's most likely long enough to benefit from the use of an oil-based pomade like this one.
After all, those styles are what these pomades are best known for.
Curly Vs Straight Hair
Murray's pomade works very well on curly hair, particularly for hair types I to IV. It's great for adding free-flowing definition and glossiness to the curls.
It also works just as well for straight hair.
So, don't base your decision on the straightness or curliness of your hair. Focus more on whether it's an appropriate length and thickness for Murray's Pomade and whether you actually want the sleekness and glossiness it will produce.
How To Use Murray's Superior Hair Dressing Pomade
Here's a step-by-step routine you can use to style a basic, classic slicked-back or side-slicked style on natural hair using Murray's Original Pomade.
1. Wash The Hair And Leave It Damp
The key thing to remember when applying Murray's is that it isn't easy.
It takes work to distribute it through the hair. One of the ways you can make it easier would be to wash your hair first.
Clean hair is more responsive and less obstructive to pomade. It'll help to loosen any clumps or tangles.
Towel-dry it until it's damp. You'll find that trying to apply Murray's pomade to dry hair will be tough.
2. Break Down A Dime-Sized Amount
Start with a small amount. A dime-sized scoop is usually a good place to start and may well be enough, depending on the length and thickness of your hair.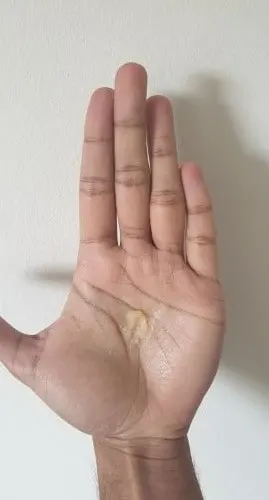 Warm it up in between your palms, being sure to break down any bits or clumps of the waxy substance as you do.
You should be left with a nice shine on your palms and nothing else. If you want some additional help with this "emulsification", try using some heat from a blow-dryer.
3. Distribute The Pomade
It's time for the first application; using your fingers and palms is usually best for this.
Sweep Murray's pomade through in all directions. As you're most likely going to eventually slick it back or to the side, be sure to distribute it in the opposite direction first in order to get an even coating.
At this point, review how much shine and slickness you've got and decide whether you want an additional scoop.
Don't forget the sides. A common mistake is to concentrate all of the pomade on the top and forget the sides and back. Flatten any flyaways and strays at the sides; you can use a small amount of additional pomade here if you want to.
Do not worry if it feels tough at first, with tugging, pulling, and resistance. Murray's Pomade does this, but it will break down if you've warmed it up properly beforehand and you take the time to distribute it as well.
4. Brush The Hair Back (Or To The Side)
Brushing the hair at this point is great to get the initial styling started and also to help get an even distribution.
The bristles of a brush are great at breaking down clumps of pomade and also detangling.
You can use any brush you want but I find that Denman and Vent brushes are particularly helpful.
If your hair isn't quite long enough to brush all the way back, choose a side and brush towards it instead.
5. Comb The Hair Back
Now is where the styling really begins.
The narrower teeth of a comb are better for producing those intricate lines that look so great with the shine you get from a pomade like Murray's.
The finger-combing and brushing should have helped to break it down and distribute it by now, so the combing should be simpler.
So, comb in your desired direction to get a nice, slick, and glossy finish.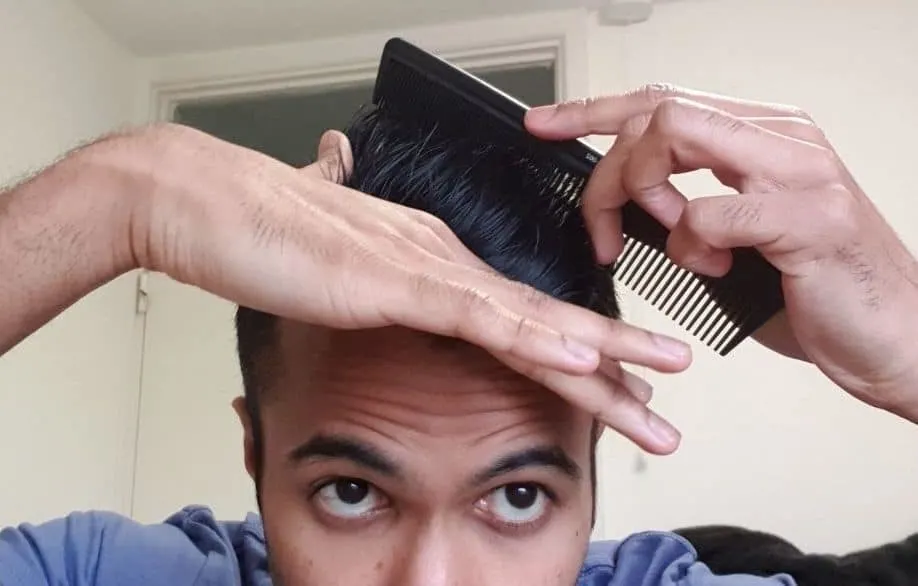 N.B – if you find that Murray's is just too tough to distribute through your hair, you could mix in a light pomade like Murray's Super Light to make things easier.
It shouldn't be necessary if the product was properly emulsified first, but this is an option you should be aware of.
6. Define the Side Part
Defined side parts work so great with these classic, vintage, '50s "greaser" hairstyles.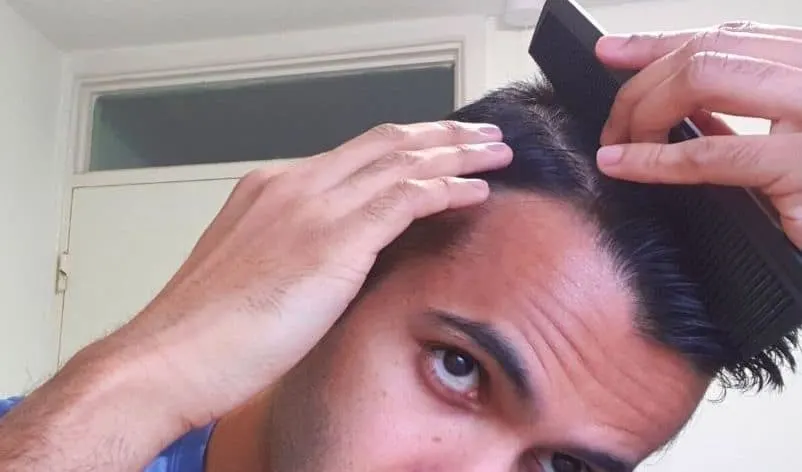 You don't have to, but making the side parting obvious and defined is a great way to make things pop.
Use your comb to find the side parting you want to outline and comb the shortest hairs on either side of it to really define it.
7. Add A Contour If You Wish
This isn't a tutorial on how to style a full pompadour, but adding a little contour at the front is easy. It's great for when your hair isn't long enough for a full pomp.
Again, it isn't essential, but it's a nice touch if you're looking for something a little more interesting than a simple slick-back.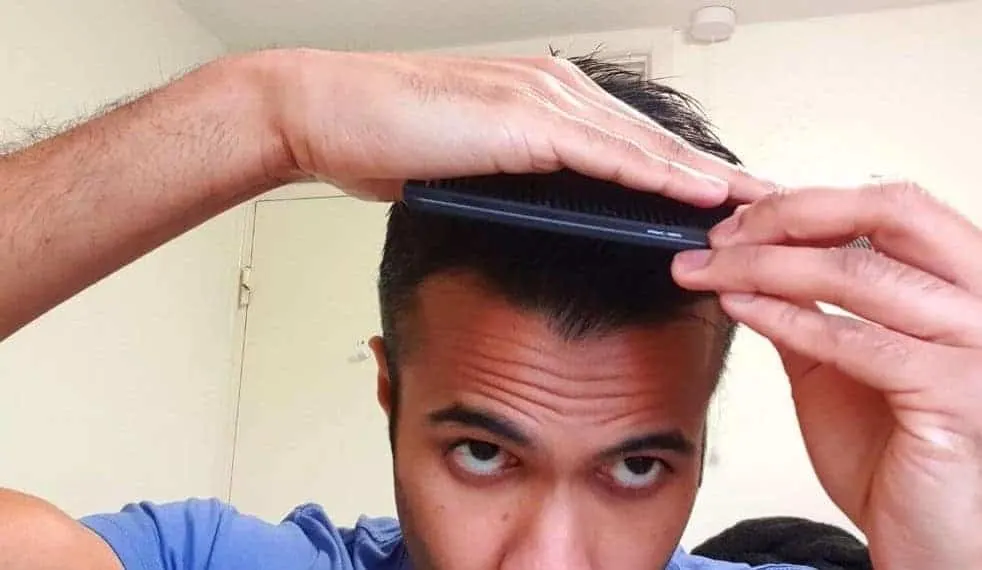 Use your comb to lift the front hair upward in a flicking motion, with the palm of your other hand obstructing it from the top. What this will do is add some height and volume at the front – like a shapely quiff.
At this point, you're done.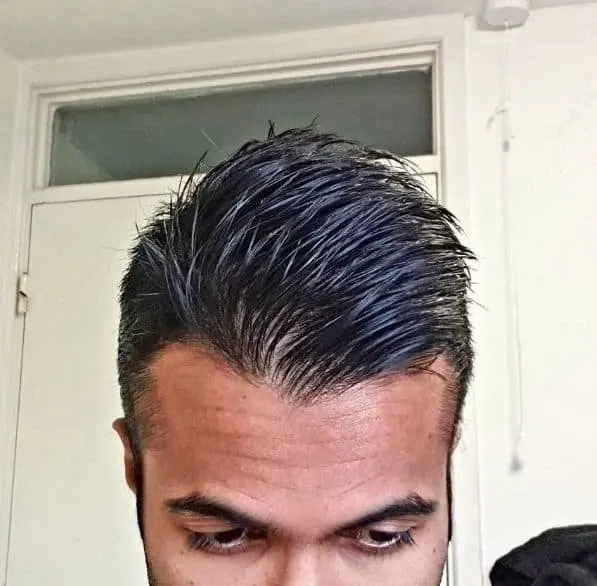 Have a quick look for any flyaways and be sure to flatten them before you step back and review the end result.
How To Wash Out And Remove Murray's Pomade
Murray's is notoriously difficult to wash out of the hair. To be fair, this is something a lot of men look for from a petroleum-based pomade in any case.
"Build-up" is a great way to ensure you've always got a bit of residual pomade in your hair for restyling.
But there will be times when you need a proper clean of your hair and want to get Murray's pomade out.
Here's a quick routine you can use to do so.
What You'll Need:
NOT dish soap: Although many seem to think this is a suitable degreasing agent to use, it's too strong for your scalp and will dry it out over time.
Deep Conditioner: I use Aussie 3 Minute Miracle Moist (Amazon Link). Trust me, it works and is great for degreasing.
A Hair Brush: Any will do, but once again I like using a Denman.
1. Apply The Deep Conditioner To Dry Hair
Apply a generous amount of Aussie's 3 Minute Miracle (Moist) to dry, Murray's-pomade-filled hair.
A good rule-of-thumb would be to use a similar amount of conditioner to the amount of pomade you initially applied.
As soon as you start applying it using your fingers, you'll notice the thick, waxy feeling start to break down and loosen.
It feels great.
2. Brush It Through
Brush the conditioner through the hair to get a nice, even distribution and to break up any clumps.
Once again, it's pretty similar to what you probably initially did when you applied the pomade.
You can leave it slicked back or to the side – it doesn't really matter as you'll be washing it out soon. But not quite yet.
3. Let It Sit For 10 Minutes
Once you're happy you've got a nice and even distribution of the conditioner throughout your hair, leave it in for around 10 minutes.
This will give the conditioner some time to get to work and really break down the waxy ingredients of Murray's Original pomade.
4. Wash It Out
After you've given it enough time, simply rinse the pomade out with lukewarm water. You'll most likely be pleasantly surprised by just how effective it was.
Try and avoid using the more "DIY" degreasing methods as they often do more harm than good.
This method will work and you'll be using a well-known brand of conditioner to do it.
Murray's Pomade: Range Comparisons
As I mentioned earlier, although Murray's is best known for the original Superior Hair Dressing Pomade, it does have several other products on the market now.
It's worth getting to know how these products are different, as you may find that one of them is more suitable for your specific needs.
The two main ones to know about are Murray's Beeswax and Murray's Super Light.
Murray's Superior Pomade Vs Murray's Beeswax
Murray's Beeswax is slightly softer and smoother in consistency and a little easier to distribute and wash out than Murray's Superior Pomade.
Having said that, Beeswax is still not an easy oil-based pomade to use.
It's still tough, thick, and very waxy, just less so than the original Murray's.
Other than the consistency, the scent is also different. While Murray's Superior has that classic and cologne-like scent, Beeswax has a more honey-like scent (as you'd expect given the name).
Despite the name, Murray's Beeswax is actually petroleum-based, although it does have a heavy concentration of beeswax within it.
There is a similar alternative called Murray's Black Beeswax which behaves similarly but has a jet black appearance.
Murray's Superior Pomade Vs Murray's Super Light
Murray's Super Light is an oil-based pomade that is oilier, shinier, and produces a much weaker hold than Murray's Superior Pomade. If you're looking to produce height, volume, or anything more than a very light hold, Murray's Superior would be more suitable than Super Light.
Super Light is a very simple product that's perfect for men looking for high shine and a very light hold. For simple slick-backs, this may be ideal.
But for more complex glossy styles like pompadours where some hold is necessary, Super Light will be way too weak.
Having said that, it's a great product to use as a top layer after you've applied a different product.
As I mentioned earlier, applying some Murray's Super Light after you've applied some Murray's Superior will allow for easier distribution and a higher shine as well.
Much like Superior, Super Light has a very classic and cologne-like scent.
Murray's Pomade: Alternatives
Over the years, Murray's has seen its fair share of competitors come and go. I thought I'd compare some of them here.
1. Royal Crown Pomade
Royal Crown Pomade has a lighter hold and is easier to distribute than Murray's Superior Pomade. It also has a higher shine.
It's an oil-based pomade but isn't as tough, waxy, or thick in its consistency as Murray's.
It's what you might call a "light" pomade. This is noticeable as soon as you scoop it out; it's easy and smooth.
Although this makes it nice and simple to apply, as you'd expect, it isn't ideal for styles where you'd want height or volume like with pompadours. The hold isn't quite good enough.
But for simple slick-backs, the high shine and smooth application of Royal Crown makes it ideal.
It's pretty similar to Murray's Super Light in this respect but has a better hold. Super Light is very light indeed.
Plus, the build-up is surprisingly good with Royal Crown despite it being light. If this is something you value in a pomade, bear it in mind.
The scent on Royal Crown is fantastic – a light lavender.
To sum this up, if you're looking for a stronger hold, go for Murray's. If you're looking for a high shine pomade with a light and smooth consistency and you don't mind a weak hold, go for Royal Crown.
2. Dax Wax
Dax Wax (also known as Dax Wave And Groom) is a petroleum-based pomade that is greasier and smoother in consistency than Murray's Superior Pomade. It's easier to emulsify, distribute, and wash out than Murray's is.
The shine and hold you get from Dax Wave And Groom are great for a store-bought and budget product.
In many ways, it's a lot more "user-friendly" than Murray's Pomade is and is a great option for men who are looking for a pomade that's quick and simple to apply.
The tough, thick consistency and difficulty in washing out Murray's does put some men off from using it. Dax Wax would be a great alternative to use within this price range.
It may not be as good as a home-brewed product, but it definitely gets the job done.
3. Suavecito Original Pomade
Suavecito Original Pomade is water-based pomade and so has a gel-like consistency and is much easier to apply and wash out than the oil-based Murray's Superior Pomade.
The two products are about as different as they can get, despite both bearing the label "pomade".
It's important to note that as with most water-based pomades, Suavecito does dry stiff. This makes it awful for restyling throughout the course of the day. It won't be possible without wetting the hair down again first.
Plus, it's water-soluble and so is definitely not rain-resistant.
But the main benefit it has over the tough and thick Murray's Superior Pomade is just how easy Suavecito is to use.
It's very easy to scoop out and apply (just like a gel) and in some ways, the fact that it does dry stiff is preferable to some men. They prefer the "set it and forget it" hold that you'd get from a water-based pomade like this.
It's that classic, age-old battle between water-based and oil-based pomades here.
In terms of washing out – there's no contest. Suavecito Pomade is infinitely easier to wash out than the notoriously difficult Murray's.
To sum that up, if you don't mind a stiff hold and prefer gel-like, water-soluble pomades that are super-easy to wash out, Suavecito Pomade may be for you.
If you'd rather a more classic pomade with a pliable, soft hold, Murray's would be a better choice if you don't mind the tough application and difficult washout.
4. Nu Nile
Nu Nile is a medium hold and medium shine oil-based pomade that has a similar tough and waxy consistency to Murray's Superior Hair Dressing Pomade. It is a little easier to apply and distribute than Murray's, however.
Out of all of the pomades on this list, it's the most similar to Murray's Superior Pomade.
The tips, tricks, and how-to advice detailed in the rest of this article is all very relevant to Nu Nile as well.
There isn't a whole lot more to say about Nu Nile. If you're looking for something with a similar shine and hold to Murray's but goes on a little smoother, Nu Nile may be a good option.
Frequently Asked Questions
I wanted to round things off by going through some frequently asked questions on Murray's Superior Hair Dressing Pomade.
How Often Should You Use Murray's Pomade?
Murray's Pomade can be used daily but rinsing and conditioning are necessary every 1 to 2 days to avoid excessive greasiness.
It's an oil-based pomade and so build-up will occur despite rinsing. Because of this, it's a good idea to use smaller amounts with every application of Murray's until you have a proper degreasing session.
The routine detailed earlier in this article (using Aussie 3 Minute Miracle) would be fine for a nice and comfortable de-grease.
Does Murray's Pomade Expire?
As with all pomades, Murray's does expire although most likely won't have an expiration date specified on the tin.
You can expect it to last longer than 6 months, but if you notice an odd change in the smell or texture of the pomade, it's best not to use it.
Can You Bring Murray's Pomade On A Plane?
A standard 3oz jar of Murray's Pomade would be fine to take on planes that have to stick to the TSA limit for liquids and gels of 3.4oz.
Although it might sound strange, pomades are still treated as "liquids and gels" and do need to be below the limits.
Although 3.4oz is the limit for most, it's worth checking with each individual airline you fly on to make sure.
How Long Does Murray's Pomade Last?
A regular 3oz jar of Murray's Pomade could be expected to last approximately 6 to 8 weeks with everyday use.
Of course, this does depend on your hair type, as well as how much shine you really want on that scalp.
Men with longer and thicker hair can expect to finish a jar of Murray's a little quicker than this, while men with finer and shorter hair would probably make it last a little longer.
But on average, 6 to 8 weeks is a pretty safe bet.
Is Murray's Pomade Oil-Based Or Water-Based?
Murray's Superior Hair Dressing Pomade is an oil-based pomade. In fact, it's one of the most famous oil-based pomades on the planet.
Is Murray's Pomade Vegan?
Murray's Superior Hair Dressing Pomade is vegan as it doesn't contain any direct animal products.
Its only ingredients are Petrolatum, Fragrance, Limonene, Linalool, Benzyl alcohol, and Coumarin.
Should Murray's Pomade Be Used On Wet Or Dry Hair?
Murray's should be used on dry or damp hair. Using it on damp hair will make it easier to apply and distribute.
Use it on dry hair for less shine and damp hair for more shine.
Using it on wet hair would be difficult due to the weight of the water weighing the hair down and making it difficult to style properly.
This is despite Murray's being oil-based and so pretty water-resistant.
Can You Sleep With Murray's Pomade In Your Hair?
Ideally, Murray's Superior Pomade should be rinsed out of the hair before sleeping.
This doesn't mean a full degreasing session. It just means shampoo rinsing with or without conditioner.
Although some men disagree, the oil and wax from the product will smear on your pillows and eventually make its way onto your skin.
If you only use small amounts, this may not be necessary. But anyone layering on some glorious pomade shine onto their hair would be better off rinsing before getting into bed.
It's also important to remember that you'll most likely have some residual pomade left in your hair even after rinsing. Oil-based pomades build up.
So, don't worry – you'll still have some to play with the morning after, assuming you haven't had a full degreasing session.
Is Murray's Pomade Good For Waves?
Murray's Superior Pomade is an extremely popular pomade for getting waves, providing enough hold, training, definition, and shine for most men.
It can be applied dry or using the hot towel method. A lot of men apply it twice a week or so to get the slickness and pattern they want for their waves.
Can You Use Murray's Pomade On Your Beard Or Mustache?
Murray's Superior Pomade should not be used on the beard or mustache as it is too thick, heavy, and greasy for facial hair.
Hair pomade should only be used on scalp hair. As beard hair is thicker and coarser than scalp hair, you really don't need that heavy of a hold.
Facial skin is more sensitive than scalp skin, so the products you use on facial hair need to be considerate of this.
There are styling products designed specifically for facial hair including balms, waxes, and pomades.
These are usually gentler and may even have ingredients such as jojoba oil, argan oil, shea butter, and others that are kind to facial skin.
Can Murray's Pomade Be Used For Braids?
Murray's Superior Hair Dressing Pomade is a popular choice for men and women looking to braid their hair. It allows for an effective grip during the twists, great definition, and a medium-to-high shine finish.
Can Murray's Pomade Be Used For Edges?
Murray's Superior Pomade is commonly used to smooth out edges. It allows for good edge control, laying them flat and keeping them in place for prolonged periods of time.
Conclusion
There you have it.
Hopefully, all you could have ever wanted to know about this glorious, classic pomade.
If you were ever on the fence, try it out. It's affordable and there are many men with various different hair types and styles that love it.
It may not be for everyone, but you won't know for certain until you try it.
Ready Sleek founder. Obsessed with casual style and the minimalist approach to building a highly functional wardrobe. Also a fan of classic, vintage hairstyles.