Wearing a blazer is a great way to dress up an outfit, and white shirts are generally pretty formal too. So, can you wear a blazer with a white shirt and black pants?
Yes, a blazer, white shirt, and black pants combination works well in formal and business-casual settings. Wear black or dark brown dress shoes, such as Oxfords or Derby shoes, and be sure to tuck in the shirt.
However, this is just the start – there's much more to it.
Let's get to it.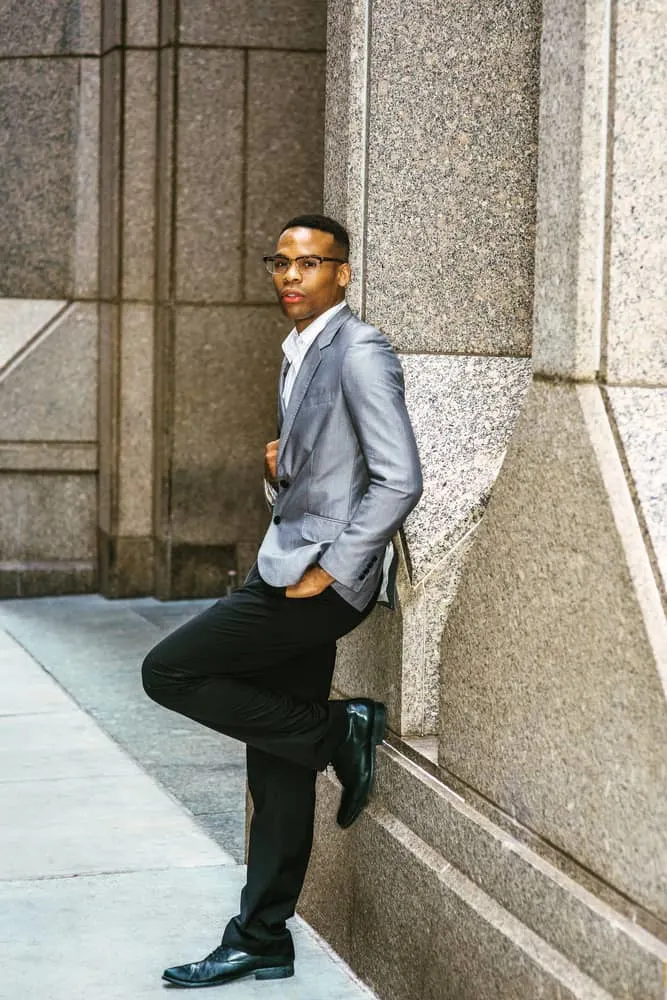 1. Consider The Color Of Your Blazer
Your blazer is the item that will likely stand out the most in this outfit.
Therefore, picking the right color for your blazer is essential to pulling off the ensemble.
The acceptable blazer colors vary, primarily depending on the formality of the situation.
A black blazer is the most obvious and formal option to wear alongside a white shirt and black pants.
However, if going for a black blazer, it's important to ensure that your blazer is actually black rather than charcoal or dark grey, for example.
If your blazer's color doesn't match that of your pants perfectly, it can appear as a poorly-matched suit. This should always be avoided.
Other blazers that can look great and their most appropriate situations are as follows:
| | |
| --- | --- |
| White Shirt With Black Pants And Blue Blazer | Ideal for formal and business-casual settings |
| White Shirt With Black Pants And Grey Blazer | Great for semi-formal, business-casual, and business-formal occasions – consider the shade of grey |
| White Shirt With Black Pants And Red Blazer | Best kept for smart-casual settings only. |
| White Shirt With Black Pants And Maroon Blazer | Can look great at formal events if you want a bit of personality – such events could include weddings |
| White Shirt With Black Pants And Navy Blazer | Looks great in any scenario ranging from smart-casual or business-casual |
As a general rule, your shirt should be lighter than your blazer, and white – being the lightest color – allows for pretty much any colored blazer to work.
This is especially true when also taking into account the versatility of black pants.
Here's an example of a red blazer demonstrated with black pants on Amazon:
And a blue blazer (again on Amazon:
Textured blazers, such as corduroy, tweed, or linen, can look great but should be kept for semi-formal occasions rather than formal ones.
Wearing a patterned blazer is also an option; however, you should do so with care – ensuring you wear one only when it's appropriate. The more obvious the pattern, the more casual the blazer will typically look.
2. Choose Your Pants Type Carefully
Wearing black pants with a white shirt and blazer will look good under most circumstances.
Having said that, however, it's important to pick the right pants for the occasion.
Attending an event with pants that are too formal or casual can make you appear awkward.
The best pants to wear depends pretty much entirely on the formality of the occasion.
For example, wearing jeans to a strictly formal situation isn't appropriate and could seem disrespectful.
This means that choosing your pants type carefully is a crucial aspect of wearing this outfit.
Typically, black dress pants would be worn with a blazer and white shirt. This is the most formal option and looks great in such scenarios.
However, to dress down your outfit for smart-casual occasions, black jeans are viable and look great.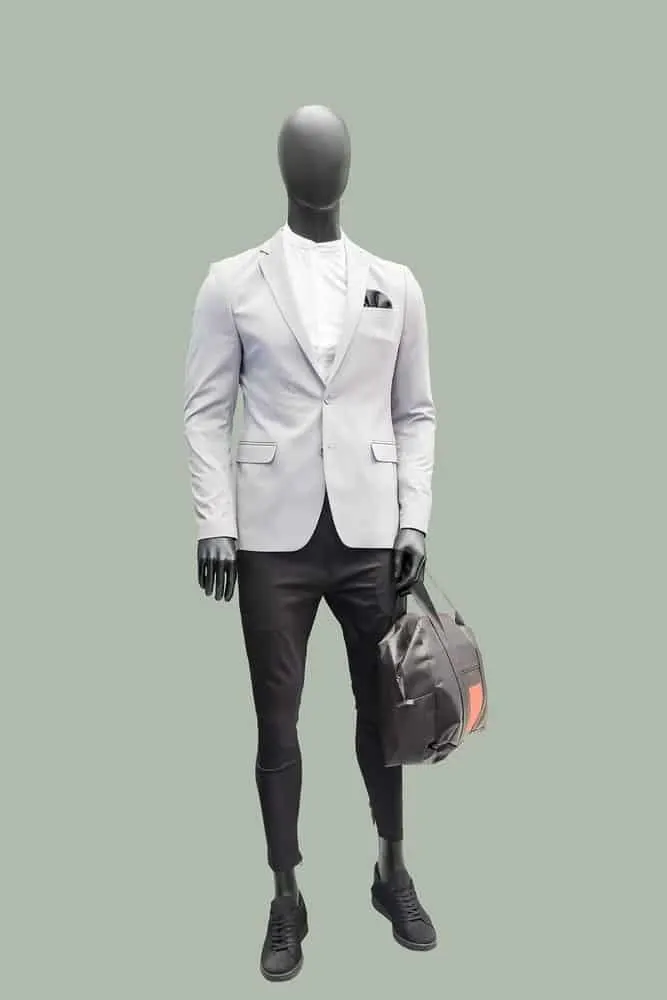 If you wish to bridge the gap between formal and casual attire, chinos work particularly well.
Wearing incredibly casual pants with this outfit, such as cargo pants, is a fundamental style error, so steer clear of them.
3. Tuck In Your White Shirt
Something as seemingly minimal as tucking in your shirt can heavily impact the overall vibe of your outfit.
When wearing a blazer with a white shirt and black pants, tucking in your white shirt is advisable – even semi-formally.
This is because the outfit leans much more toward formal than casual, and by tucking in your shirt, you're subtly adding a hint of extra formality to it.
There are a few different kinds of tucks; however, the only acceptable one to wear with this outfit is the full tuck.
It's the most formal tuck, and other tucks are typically worn with casual outfits.
The full tuck is incredibly straightforward and involves tucking in your shirt all the way around the waistline of your pants.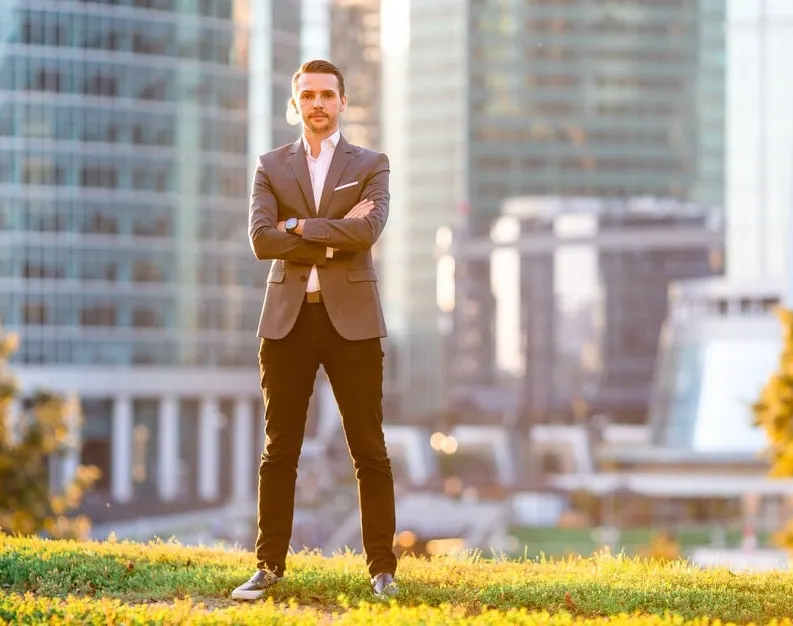 Wearing a belt is essential when tucking in your shirt with the full tuck.
Not only does it help keep your shirt tucked in and keep your pants in place, but it also aids the transition from your shirt to your pants.
The best belt style to wear with this outfit is a slim or skinny, leather belt with a silver buckle.
Slim and skinny belts are much more formal than standard belts and fit nicely with this outfit.
On top of this, the black belt with black pants means that the belt is a subtle detail as opposed to the bold statement that it would be in a different color.
Make sure the belt matches the shoes and nothing else. If you've gone for black shoes, wear a black belt. If you've gone for dark brown shoes instead, go for a dark brown belt.
4. Black Or Dark Brown Dress Shoes Work Best
Despite the many shoe styles and colors on the market, the ideal shoes to wear with a blazer, white shirt, and black pants are the classic black or dark brown dress shoes.
Dress shoes is an umbrella term that basically means shoes of utmost formality. Such shoes include Oxfords and Derbys.
The main reason these are the best shoes to wear alongside a blazer with a white shirt and black pants is that the outfit is quite dressy.
To match a dressy outfit, suitably dressy shoes are the most appropriate option.
If you do want to add a touch of contrast to the outfit, dark brown dress shoes would make for a reasonable option.
Once again, make sure the belt matches the shoes.
Detailing, such as brogueing or decorative stitching, can look good too – it'll add a touch of personality to your outfit.
5. Pocket Squares Look Good
There's a surprising amount of variety in pocket squares – from several different factors, for example, different pocket square folds, patterns, colors, and textures.
This variation and versatility mean that you can add a splash of color to your blazer with a white shirt and black pants without being excessive or going overboard.
For a traditional look, go for a white pocket square worn with the presidential fold (otherwise known as the straight fold). This is ideal for formal situations.
However, for more relaxed, semi-formal occasions, there is much more potential experimentation for your pocket square.
For example, consider different colors – darker colors, like maroon, are optimal.
Also, try different folds – the three-tips-up fold (also known as the "crown fold") is a great example of a more exciting fold that still remains subtle.
6. Stick To Black Socks
Sticking to black socks is a must when wearing a blazer with a white shirt and black pants.
In general, socks should always match the pants. It's the little touches like this that make an outfit appear well-coordinated right from the start.
Poorly-matched socks are much more noticeable than you may initially expect. They can take an outfit from a ten to zero as soon as they become visible.
Therefore, it's important to keep your socks subtle and blended with the rest of the outfit.
You want a seamless transition from your pants to shoes.
Dark navy or charcoal grey could potentially work if you had no other choice, but definitely wouldn't be the best choice.
Going a step further, any brightly-colored or patterned socks should be avoided as they will appear flamboyant, detract from the formality of the outfit, and look clumsy.
7. Think About A Tie
Pocket squares have already been mentioned, but why not consider a tie instead?
Wearing a tie immediately increases the outfit's formality and looks great with a blazer, white shirt, and black pants.
This is particularly true when wearing a black or dark grey blazer with black pants, as the tie will add a splash of color to an otherwise primarily black outfit.
Whether you wear a skinny tie or a standard tie depends on the situation's formality; skinny ties should be reserved for more formal scenarios.
Block-colored ties work best – particularly those of a darker color, such as navy, maroon, or dark purple.
However, patterns can work too, but if wearing a patterned tie, it's important to keep it subtle.