While long socks are often worn in formal wear, they're also becoming increasingly common in casual wear. So, can you wear high socks with sneakers?
Wearing high socks with sneakers is a great look for casual occasions. Ensure that you think about sock color and branding, and remember that sneakers and long socks look good with shorts. It's best to avoid dress socks. Instead, go for athletic socks to enhance the casual look.
While that's the gist, there's a lot more to it.
So, let's dig deeper.
1. Think About Sock Color
The color of your socks is one of the most important things to consider when wearing long socks with sneakers.
Long socks generally act as a statement and are, therefore, the centerpiece of the outfit.
Because of this, one of the first things people will notice about your outfit is your socks' color. This means that getting it right is essential.
Understanding the best high sock colors to match with the rest of your outfit can be confusing. However, there are a couple of rules of thumb that simplify it.
The first is that you can't go wrong with a pair of black or white long socks.
Black and white are both neutral colors, meaning that they don't appear on the color wheel.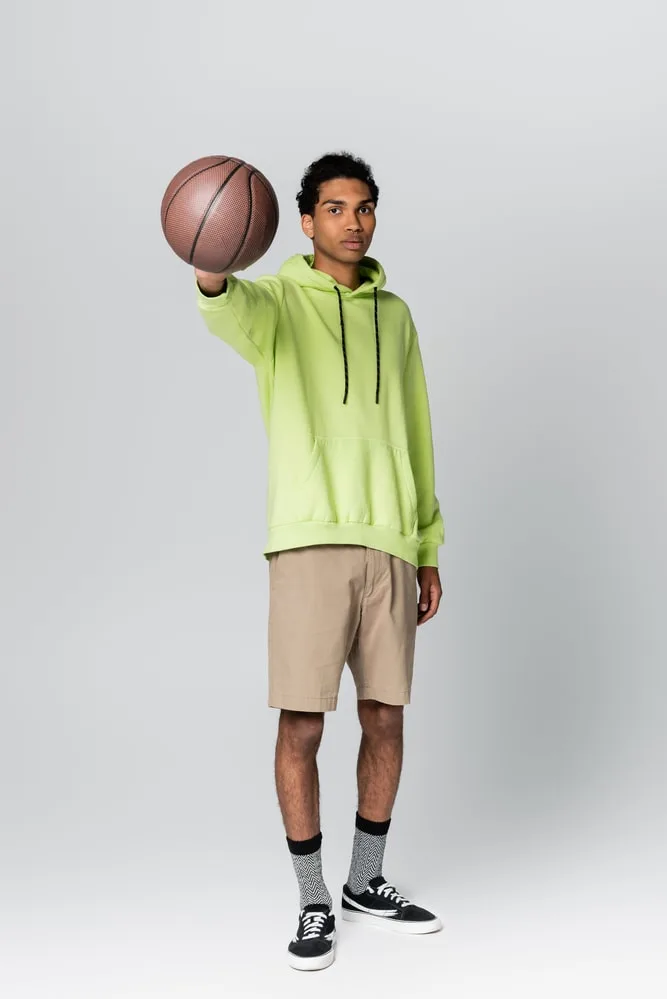 This makes both of them incredibly versatile; black and white socks work with pretty much anything in casual wear.
However, when it comes to dressy attire, it's important to avoid contrasting sock colors. For example, white socks with a black suit should be avoided.
Having said that, this outfit is solely casual, so you have the freedom to wear either black or white socks.
The second rule of thumb is that – if you don't have black or white socks – other neutral colors are the best choice.
As mentioned, neutral colors are very versatile. This should be utilized and used to your advantage as much as possible.
Colors such as off-white, shades of grey and brown, and navy are all neutral and look great as long socks.
If you wear a pair of neutral-colored sneakers, however, there's a lot more room for sock color experimentation. White sneakers with blue socks, for example.
2. Avoid Dress Socks
A common misconception is that all dress socks are long socks. "Dress" is a sock style, not a sock length.
That being said, the majority of dress socks are, in fact, long socks.
The primary difference between them and casual socks is the material from which they are made.
Dress socks are typically made from higher-quality materials than casual socks.
This leads to a difference in feel and appearance – with dress socks looking silkier and less textured than casual socks.
Furthermore, they are generally block-colored and have no patterns.
Sometimes dress socks can be found with patterns. However, they are usually more discreet than those found on casual socks.
All of these factors mean that dress socks are, overall, the more formal option, while casual socks are – as the name suggests – best suited to casual situations.
When wearing long socks with sneakers, it's best to avoid dress socks as they are far too formal and will create a noticeable formality mismatch. Instead, stick to casual socks.
The best casual long socks to wear with this outfit are athletic tube socks, as they have the casual nature required to pull off this outfit.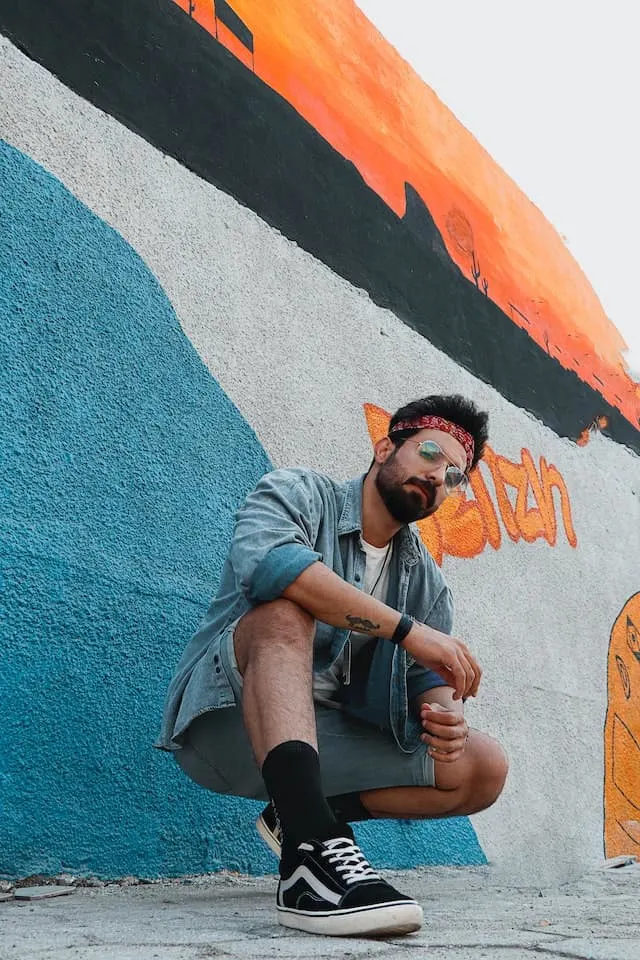 Furthermore, athletic tube socks often have a stripe or two at the top of them.
While these stripes aren't a necessity, they can be a great way to add a bit of extra personality to your outfit.
3. Sock Branding Looks Great
Your first instinct may be to avoid branding on socks – or garments in general. However, it's a great way to spruce up your outfit.
Different brands represent their own individual styles, so by wearing particular logos, people will understand the style you're going for.
When going for sock branding, it's best to ensure that the branding is either analogous or complementary to the base sock color.
Any other colors look out of place and can appear awkward.
Analogous simply means the colors next to a color on the color wheel, while complementary means colors that are opposite one another.
Complementary colors are often called contrasting or opposite colors. For example, blue socks with an orange logo.
However, it was mentioned earlier that neutral colors are the best long socks color and most neutral colors work well together, so there's lots of freedom regarding branding color if you stick to that.
If in doubt about what color to wear, it's hard to go wrong with white. White branding looks good on every base sock color.
Whether the logo is subtle or bold is down to personal preference, as both work equally as well.
To elevate the outfit up a level, consider wearing socks and sneakers of the same brand.
Adidas socks with Adidas sneakers, for example, will create a well-put-together, intentional streetwear aesthetic.
Brands similar to Adidas in the streetwear aspect of the brand include Converse, Nike, and Reebok.
4. Patterned Socks Can Work
If branding isn't your thing, but you want to add some extra personality to your outfit, consider wearing patterned long socks.
In many ways, patterns have more versatility than branding, as there are a variety of different pattern styles and colors.
On top of this, patterns can be incredibly bold, incredibly subtle, or somewhere in between.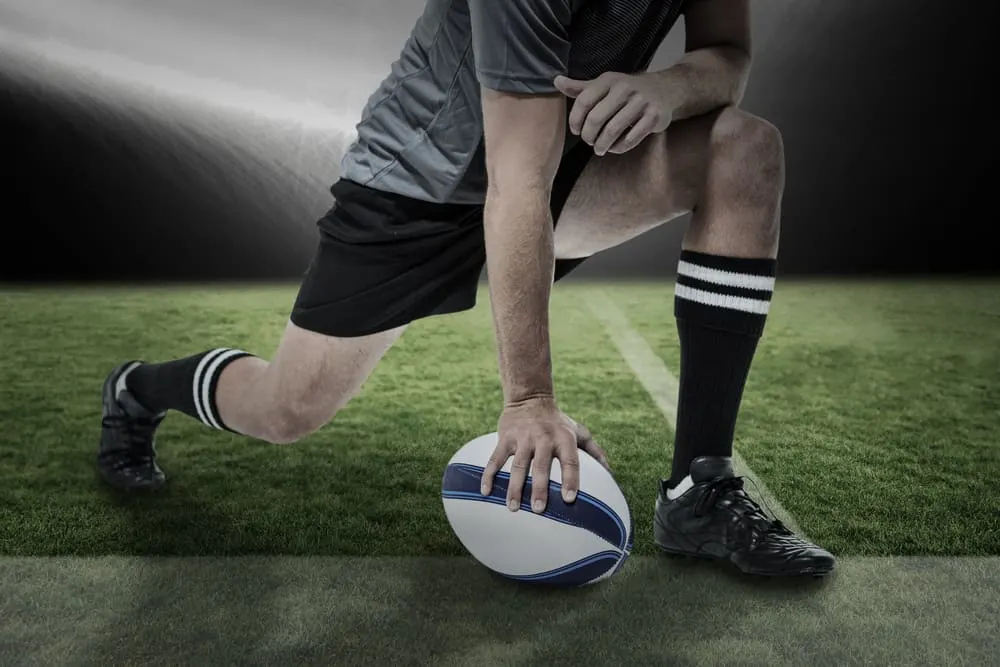 This means that they are an ideal way to spruce up the outfit without wearing any branding.
Black and white are the best base sock colors for long patterned socks because of their fantastic versatility and ability to pair with pretty much any color.
Furthermore, you won't need to worry so much about pairing your socks to the colors of your sneakers or pants/shorts if you are wearing black or white socks.
There are so many patterns on the market that it's impossible to name them all.
However, some examples of patterns that look particularly good with long socks are horizontal stripes and a combination of different shapes.
While black or white patterned long socks work best, other colors can work too.
But when wearing other colored base socks, ensure that the patterns are complementary to the base color.
This will ensure that they stand out as a pattern and don't look like poorly-made socks (as they would if the colors were too similar).
5. Consider The Situation's Formality
Something always worth considering is the formality of the situation.
Wearing the wrong garments for the occasion can be awkward and – in some cases – disrespectful, so it's important to get it right.
While the umbrella term "long socks" doesn't explicitly specify whether or not they are casual or formal, avoiding dress socks and going with athletic tube socks is much more casual.
Similarly, while sneakers are sometimes worn under a smart-casual dress code, generally, they are best kept for casual situations.
This means that wearing high socks with sneakers is ideal for casual scenarios – particularly if you go with tube socks.
That being said, going with dress socks and sneakers may be acceptable for some smart-casual events, but overall, it's best to keep this outfit casual.
6. They Look Good With Shorts
Shorts are inherently very casual garments – rarely appropriate for smart-casual attire and pretty much never acceptable on formal occasions.
Because of this, combining the casual nature of shorts with similarly casual high socks and sneakers makes for a fantastic outfit.
When wearing shorts with long socks and sneakers, however, it's important to ensure that you pick the right kind of shorts and that your shorts are the right length.
Ultimately, most common short types are acceptable – chino, denim, and cargo shorts are optimal.
Sports and summer shorts such as board shorts and running shorts should always be avoided as the two simply don't go well together.
Similarly, Bermuda shorts are often too formal and too long for this outfit to look good, so it's best to avoid these, too.
As for the ideal shorts length, they should sit just above your knees. This will make sure that they aren't too long, nor are they too short.
When worn with high socks, shorts that are too long can overlap with your socks. This can create a clumsy and not-thought-out look.