Certain combinations are so versatile that they can be tough to pin down. It's no secret that there are great ways of wearing them and not-so-great ways of wearing them.
Here are some tips for wearing chinos with boots in the most effective way possible.
1. Choose Chinos With A Tapered Silhouette
When wearing boots, pants with wide leg openings can look a little strange and awkward.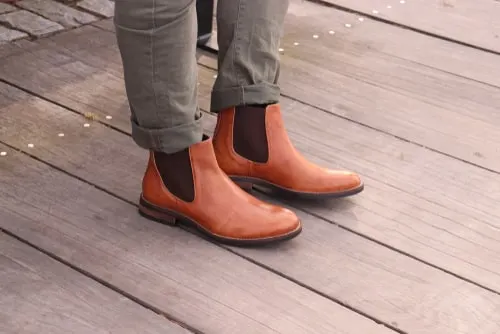 Chinos are no exception.
While it's possible, it won't look as sleek or stylish as wearing those boots with chinos that have a tapered silhouette at the opening.
Chinos with a narrow and tapered silhouette aren't difficult to find. In fact, they're more common than wide-leg chinos in any case.
But having the chinos subtly taper as you go down from the knee to the ankle is a great effect when wearing boots.
It'll allow more of the boots to be seen – a great way to show them off.
This doesn't mean you need to go for skinny-fit chinos. Slim-fit and straight-leg chinos can also work well.
It really depends on the shape of your calves and how the chino pants wrap around them.
If you find that your chinos are a little too baggy or wide at the leg openings, pinrolling is one way of getting around the issue.
Let's talk about cuffing and pinrolling in a little more detail.
2. Cuffing Chinos Works Well
First of all, I've written a more detailed article on how to cuff and pinroll chinos if you're interested.
But here's a quick rundown of why it works so well with boots.
Essentially, to "cuff" chinos (or any type of pants) means to roll the bottom edges or the "hem" of the pants.
It's a great option if you want to shorten the chinos or if you simply want the decorative benefits of the cuff itself.
Boots are a common reason why people choose to cuff their chinos. It's a good way to show off the entire boot, making it a focus of the outfit overall.
When cuffing chinos and wearing boots, try to have the bottom edge of the cuff rest against the top edge of the boot opening. Any higher will look awkward.
Given how boots will generally reach at least an inch or two above the ankle, you'll probably need at least a double-rolled cuff if you're looking to expose the entire boot.
All this means is that the hem is rolled at least twice.
The size of the cuff itself shouldn't exceed more than 1.5 to 2 inches.
Here's an example of a double roll I did on a pair of my chinos: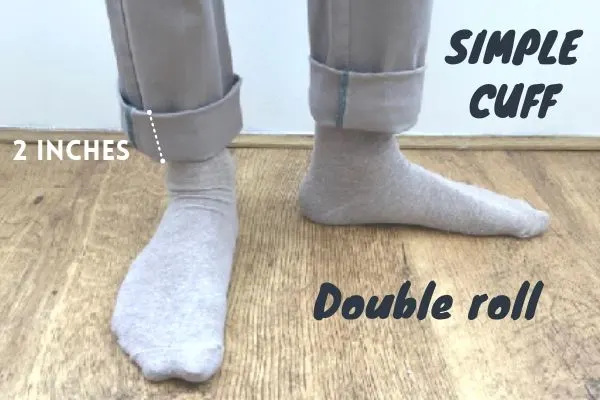 Pinrolling is similar, but with a slight adjustment.
Essentially, this is where you cuff the pants but tuck a little bit of fabric into the cuff to produce a narrower and more tapered bottom edge to the pants.
If you find that the leg openings of your chinos are simply too wide, pinrolling could be a good option to get that nice, tapered silhouette when wearing your boots.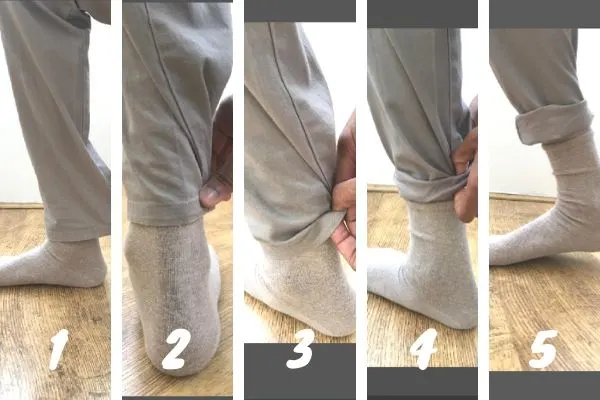 3. Consider Stacking But Be Careful
"Stacking" simply means letting the chinos bunch up above the boots. You aren't rolling, cuffing, pinrolling, or anything like that.
You're simply letting the excess fabric of the chinos bunch up above the high-ankle boots.
It really only works well with skinny fit or very slim-fit chinos. Anything looser than that and stacking them will just look like the chinos are too big and baggy for you.
So you have to be careful with the fit.
Even with the correct fit, stacking can sometimes look a little too casual for your needs when wearing boots.
It's a little more casual than cuffing, so it really depends on what your objectives are.
4. Lace Ups Work Well For Casual Dress Codes
The main types of dress boots you'll most likely be considering are lace-ups, Chelsea boots, and chukka boots.
Lace-ups are the most casual boot of the three. This is due to the open lacing system, the decorative patterns and cross-stitching they often come with, and how high up the ankles they reach.
Here's an example of a pair on Amazon. Notice the obvious stitching, durable and heavy-set construction, as well as the high ankle.
Lace-ups can look great with chinos, but really only for casual and smart-casual dress codes.
Avoid the combination for business-casual as it simply doesn't look formal enough.
Lace-ups look great with more "casual" looking pairs of chinos. Casual chino features include patch pockets, flat fronts, and bolder/brighter colors.
Casual items that pair well with chinos and lace-up boots include T-shirts, hoodies, and sweaters.
Smart-casual items that work well with chinos include polo shirts, Henley shirts, shackets, and denim jackets.
5. Chukkas And Chelseas For Business Casual
Chelsea boots are usually considered the most formal type of dress boot. They're laceless, elasticated at the sides, usually don't go higher than 2 inches above the ankle, and have leather soles without much traction.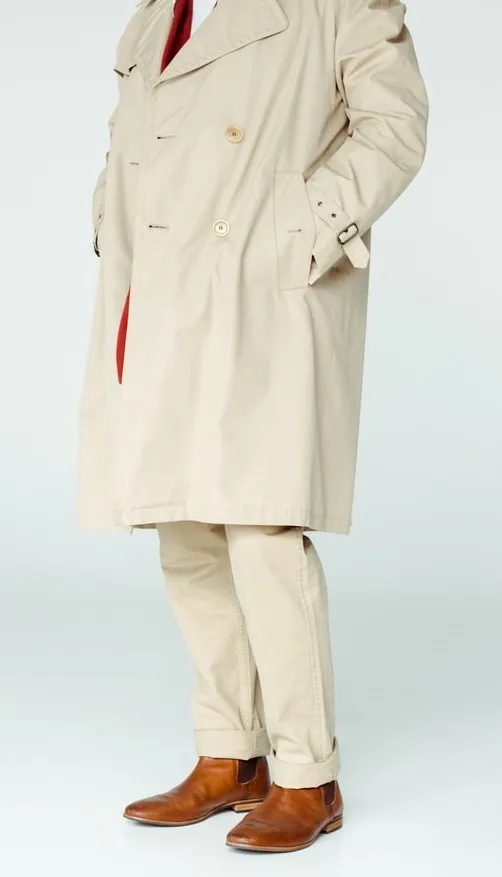 Chukka boots are a notch less formal than Chelsea boots but still more formal than lace-ups. Much like Chelseas, they usually don't extend higher than 2 inches above the ankle either.
Here's an example of a pair of leather chukkas on Amazon:
Leather will always look more formal than suede too.
Chinos are a classic item of business-casual clothing. They work so well with other items such as OCBD shirts, cardigans, blazers, and sports coats.
If you want to throw boots into the mix, it's important that you choose a pair that's formal enough to fit into a business-casual ensemble.
Lace-ups usually won't look formal enough to wear as part of a business casual outfit. It can still work, but it isn't ideal.
Chelsea boots or chukka boots in a smooth leather, minimalist color, and with a relatively low ankle would be a better option.
These boots can still work great in casual or smart-casual outfits. But they often look formal enough to be worn with business-casual outfits as well.
6. Avoid Boots And Chinos For Formal Dress Codes
When a dress code is clearly "formal", it means a suit would be necessary at the very least.
While dressier boots such as dark leather Chelseas and even chukkas can sometimes be worn to formal dress codes, chinos cannot.
Chinos simply don't look formal enough for truly formal dress codes.
They're an incredibly versatile form of pants – you can wear them to casual, smart-casual, and business-casual settings.
But they simply won't be good enough for formal dress codes.
This would be true even if you were to combine them with the sharpest and dressiest of chukka boots or Chelsea boots.
So, avoid the combination of boots and chinos altogether if you're going formal.
If you were to wear boots to a formal dress code, be sure to stick with dark leather in brown or black and avoid suede or other more napped/rugged materials.
Opinions can vary on this matter, but ultimately, a pair of Oxfords or Derbys would usually look more natural with a suit than a pair of dress boots.
7. Brogue Patterns Often Look Great
The term "brogue" is often misunderstood. It essentially refers to the decorative perforations (i.e holes) that you often find on dress shoes and boots.
They usually line the seams, but you can also get patterns of brogue perforations on the toe cap itself in the form of what's known as a "medallion".
Brogue patterns can be found on many dress boots and they can look great when combined with a fitting pair of chinos.
It's eye-catching and a great way to make the lower half of your outfit stand out a little.
Remember, brogue patterns are a casual feature. You wouldn't want much brogue-ing at all when dressing for a formal dress code.
But given the fact that you're wearing chinos, the most formal dress code you'll be dressing for is going to be business-casual in any case.
Brogue dress boots can be worn with chinos to casual, smart-casual, or business-casual settings.
With business-casual, however, be careful not to go overboard with the brogue patterns on the boots. Try to keep it relatively subtle – wingtips may be a bit too much but not out of the question by any means.
Overall, don't be afraid to liven the combination up with brogue patterns if it appeals to you.
This tip, as well as the others on this list, should ensure you maximize the potential that wearing chinos with boots can bring.
Enjoy.
Ready Sleek founder. Obsessed with casual style and the minimalist approach to building a highly functional wardrobe. Also a fan of classic, vintage hairstyles.