When it comes to men's grooming, convenience is important. Sometimes, this means doubling up on products. But is it always a good idea? More specifically, can you use hair wax on your beard and mustache?
Hair wax shouldn't be used on your beard or mustache. The truth is that hair wax is specifically designed for styling the hair on your head and therefore has different properties to products that are designed to style your beard and mustache.
This doesn't mean that you can't try and experiment with hair wax on your beard and mustache if you want to – just know that the result is unlikely to be as good as when the right products are used.
Let's dig a little deeper into why switching up these products isn't a good idea, and exactly what you should do instead.
Is Hair Wax The Same As Beard Wax?
Hair wax and beard wax are not the same.
Hair wax, as the name suggests, is a wax-containing product designed to give good hair holding properties for scalp hair. Hair wax has a thicker consistency than beard wax and will give a longer-lasting and more complete hold than beard wax.
Hair wax is less likely to dry out the hair compared with hair gel, as most hair gels contain alcohol compounds.
Hair wax generally contains ingredients such as beeswax, castor wax, emulsifying wax, carnauba wax, or lanolin.
Beard wax, on the other hand, is less thick in consistency than hair wax and so will give less of a complete hold. Beard wax, like hair wax, may also contain beeswax, but also typically makes use of ingredients such as coconut oil or shea nut butter.
3 Reasons You Should Not Use Hair Wax On Your Beard
Now that we've gone through the main differences between hair wax and beard or mustache wax, let's break down the main reasons you shouldn't use hair wax on your beard.
1. Hair Wax Gives Too Heavy Of A Hold
As I mentioned earlier, hair wax has a thicker consistency than beard wax.
As a result, hair wax will give more of a complete hold than beard wax. This may be desirable for scalp hair, where you want to make sure you've got a secure hold throughout the day.
However, in a beard, having some natural movement of the hair is better, as a stiff beard with no movement can run the risk of looking odd.
2. Hair Wax Is Harsh On Facial Skin
Hair wax is more likely to contain harsh chemicals in addition to the core wax ingredient, compared to beard wax. This is generally OK for the tougher scalp, but it's less suitable for the delicate facial skin beneath your beard.
3. Hair Wax Is Too Greasy For The Beard
As hair wax is of a thicker consistency than beard wax, it is more likely to trap in moisture and create a seal around your hair and skin.
This is usually seen as ok for scalp hair, as this property of hair wax ensures good hair hold whilst also giving the hair an attractive shine.
However, hair wax can cause beard hair to look excessively greasy and shiny.
This is because beard hair tends to be thicker and wirier than scalp hair, so less wax is needed to hold it in place, and it is easier to make it look stiff and greasy (which isn't what you want).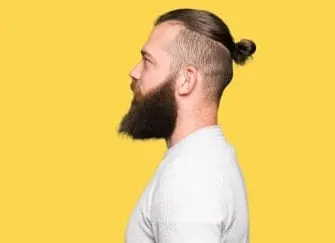 Can You Ever Use Hair Wax On Your Mustache?
Hair wax is not a good substitute for mustache wax because it's too heavy, greasy, and thick.
Mustache wax is specifically designed for coarse facial hair and will usually contain ingredients that are suitable and moisturizing for facial skin.
Yes, in a very similar way to beard wax.
What To Use On Your Beard And Mustache Instead Of Hair Wax
Fortunately, there are many suitable products that are specifically made for use on your beard and mustache, including beard wax, mustache wax, beard oil, and beard balm, to name a few.
Read on to find out more about these types of products and when you might wish to use them.
Beard oil
Think of beard oil as a combination of a moisturizer and a conditioner for your beard hair.
Regular use of beard oil can soften the hair of your beard and reduce itching over time. In addition, many beard oils contain scented essential oils, meaning that the beard oil can also act as a cologne or deodorant.
It is generally recommended to apply beard oil after you have washed your beard, when the hair is almost fully dry. Simply rub together in the palms and massage into your skin and throughout the beard. You can then brush through the beard to ensure the oil is evenly dispersed.
Beard balm
Beard balm, unlike beard oil, has some hold. Although beard oil is great, it won't keep your beard in place and so isn't great for styling.
Balms, on the other hand, are.
Beard balms simultaneously act as a moisturizer, conditioner, and styling tool for your beard. They give a lighter hold than beard wax, but because they are usually a wax-based product, they can be used to help lightly style your beard.
Good beard balms to use are those containing ingredients such as shea butter or beeswax.
It is recommended to apply beard balms once your beard is fully dry after you have used your beard oil.
Apply beard balm in a similar fashion to how you applied the beard oil, using your palms to rub the balm together first then running the product through your beard with your fingers.
Brush through afterward to ensure all of the beard hairs are coated, then style as desired.
Beard wax
Beard wax is a great styling product specifically designed for your beard.
It will give more of a complete and heavy hold than beard balm, but not as heavy a hold as hair wax. It allows you to achieve a hold for your beard that is just right, allowing some natural movement of the hair.
As mentioned before, beard wax also usually contains some moisturizing ingredients.
Apply beard wax to a clean, dry beard, and style away however you choose. It is best to use a beard comb once you've applied beard wax, to assist with your beard styling.
Mustache wax
We shouldn't forget about the mustache – after all, good mustache styling will nicely frame your face and complete your look.
Mustache wax is perfect for giving your mustache great hold as well as helping you achieve your ideal style. It's supposed to provide a good hold throughout the day despite eating and drinking.
Rub a pea-sized amount of wax between your thumb and finger – when it is soft and sticky it is ready to apply to a dry mustache. Apply from the center outwards and use a comb to brush the wax through. Once styled and set the wax shouldn't be visible.
If you've got a mustache as part of a beard you probably don't need to buy separate mustache and beard waxes. A single beard wax would do.
But if you just had a mustache, it would be worth getting mustache wax specifically.
Can You Use Beard Wax On Your Hair?
It isn't recommended to use beard wax on your hair. Beard wax will not give you the desired result on your scalp hair for the simple reason that it is designed for coarse facial hair, not finer scalp hair.
The most likely outcome of applying beard wax to hair is a weak hold. This isn't a terrible outcome but is likely not what you bargained for.
As neither products are that expensive, the best thing to do is buy separate wax for your hair and beard so that you can achieve the best possible result.
Conclusion
Hopefully, this article has helped to explain why certain products are suitable for different types of hair, and what place these products have in your grooming routine.
Ultimately, all of these products are designed with a specific type of hair and location in mind, so it is best to stick to what they are specifically created for to accomplish your desired look.
Ready Sleek founder. Obsessed with casual style and the minimalist approach to building a highly functional wardrobe. Also a fan of classic, vintage hairstyles.