Certain color combinations ooze sophistication but don't always work with every pair of items. The question is, can you really wear a black shirt with a navy blazer?
It's entirely possible to wear a black shirt under a navy blazer, but the combination should only be worn in smart-casual settings. In dressy environments, structured navy blazers, black dress shirts, and pants in dark and neutral colors often work best.
While that's the short answer, as always, you'll need more.
First, we'll go through some outfit examples. Then, we'll run through some crucial tips you'll need to really perfect this combination.
Let's get to it.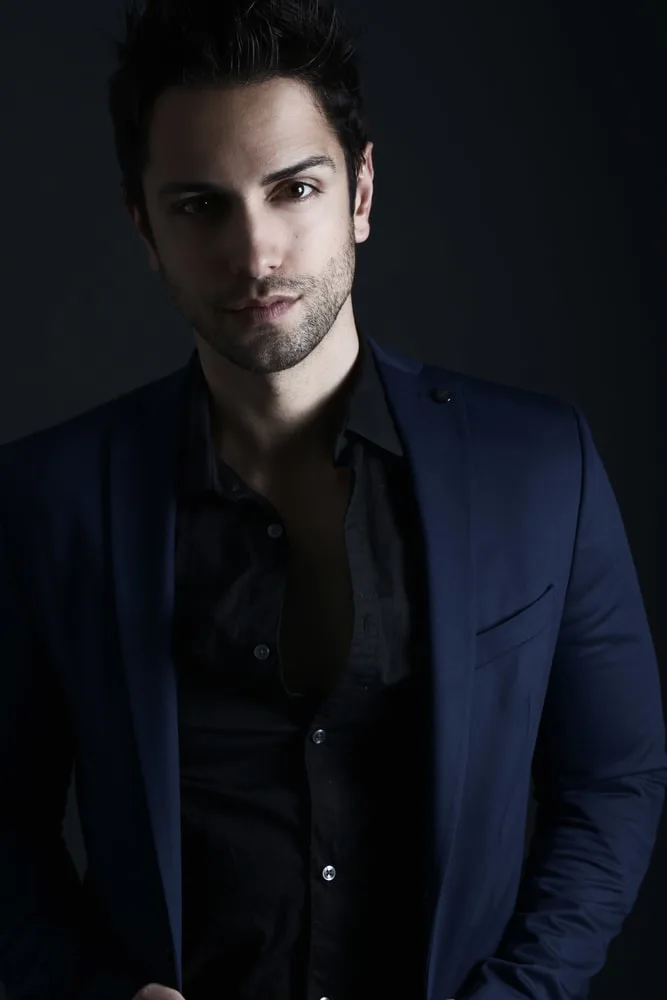 3 Black Shirt And Navy Blazer Outfits To Inspire You
We'll start with one of the dressiest ways to wear it and finish up with one of the most casual ways.
Dressy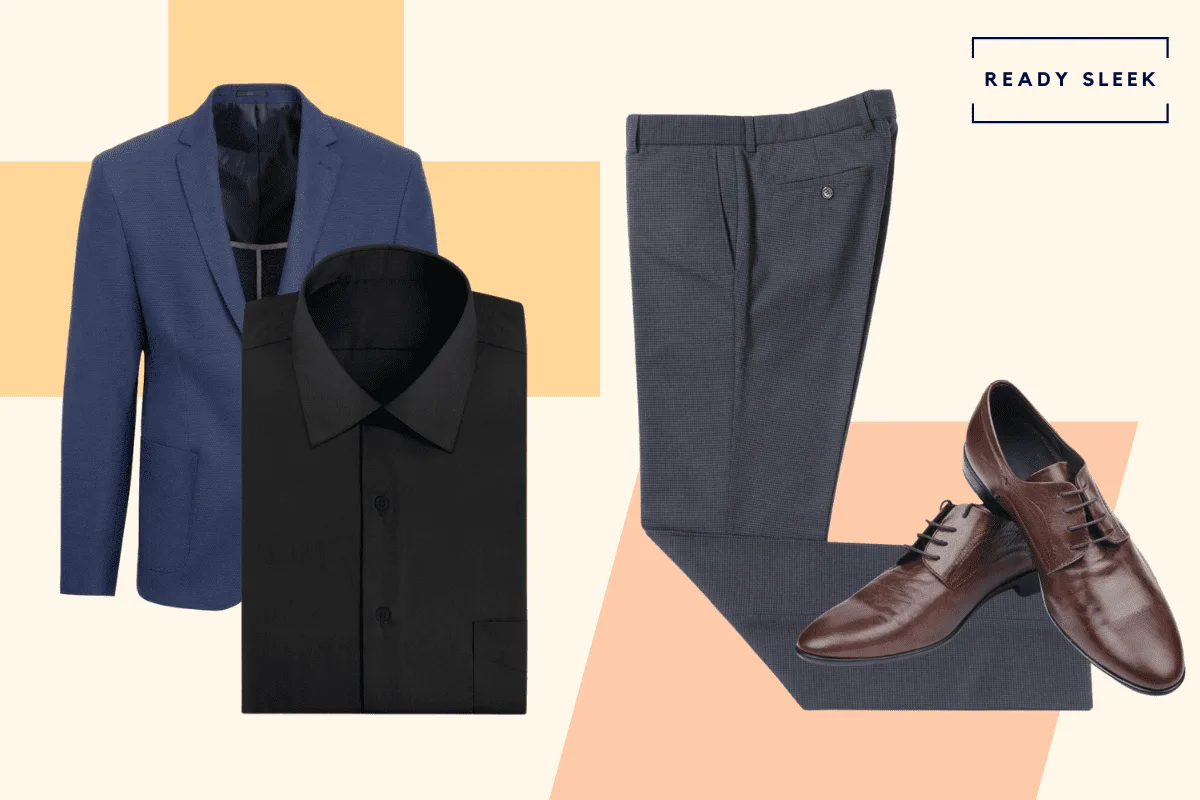 Items: Black Dress Shirt, Navy Blazer, Charcoal Dress Pants, Dark Brown Derby Shoes
While a black shirt and navy blazer pairing should really only be worn in smart-casual settings, some of these settings will undoubtedly be dressier than others.
"Smart-casual" can mean a bunch of different things and apply to a whole range of different settings.
In dressier smart-casual settings, an outfit like the one in the image above would be a great option.
We've gone for a black dress shirt – a button-up with a sleek and sophisticated look to it. You'll usually find these in 100% cotton, broadcloth, or poplin.
Over it, you'll be wearing a blazer in a dark shade of blue. We've gone for navy here, but midnight blue would also look great.
To keep things looking dressy, go for a pair of dress pants in a dark and neutral color. Charcoal grey and black would both work well.
Finally, consider a pair of dark brown dress shoes to really round things up nicely. We've gone for Derby shoes in this example, but monk straps would also work well.
More Casual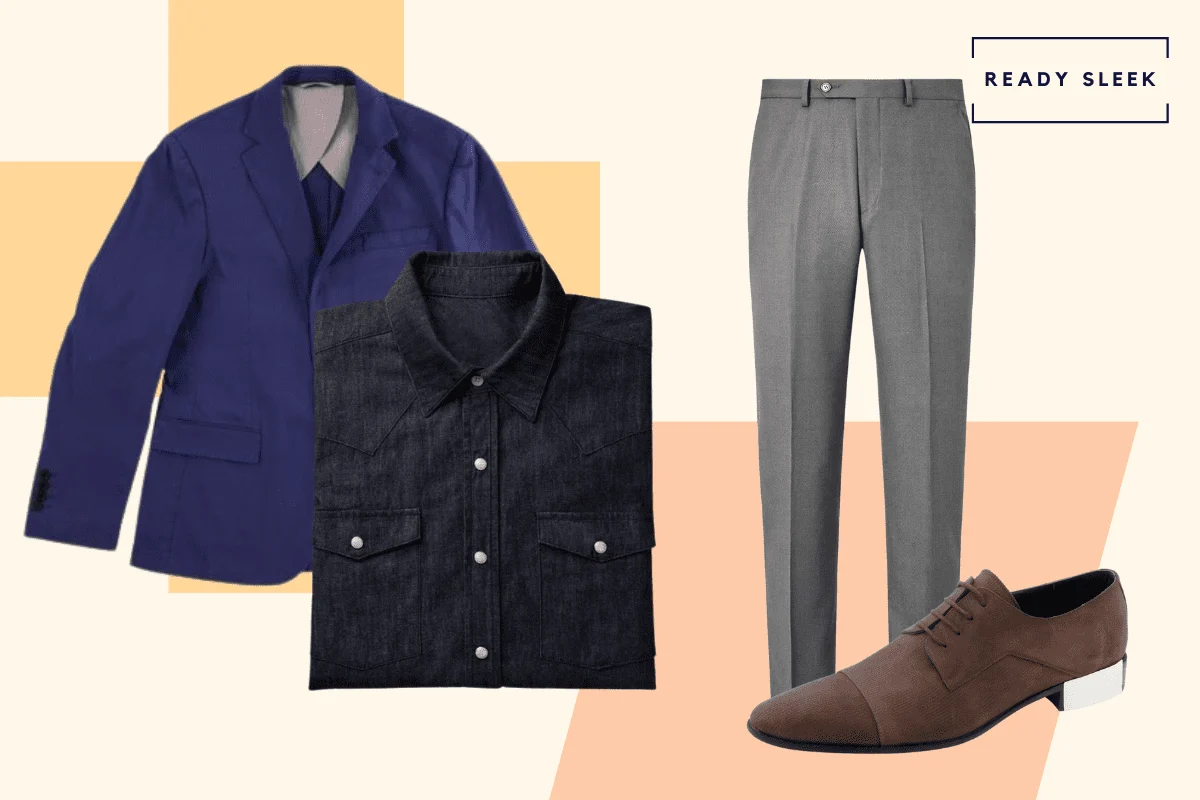 Items: Black OCBD, Navy Blazer (Less Structured), Slate Grey Dress Pants/Chinos, Brown Suede Derby Shoes
Sure, it's more casual, but not that much more casual. It would still be a good option in most smart-casual settings, especially when you're not too worried about underdressing.
Swap the black dress shirt for one made from a more casual-looking fabric. They'll usually have a more rugged or wrinkly look and feel to them.
Consider an OCBD, linen, or chambray shirt.
We've gone for a navy blazer here too, but you'll notice that it has a more relaxed structure, immediately making it look more casual than the one in the previous example.
The dress pants are in a lighter color but have still been kept neutral. Slate grey is a lighter shade than charcoal and will lead to more contrast with the navy blazer and black shirt.
Finally, consider a pair of suede dress shoes in a dark color when you're looking to dress down a little (but not too much).
Most Casual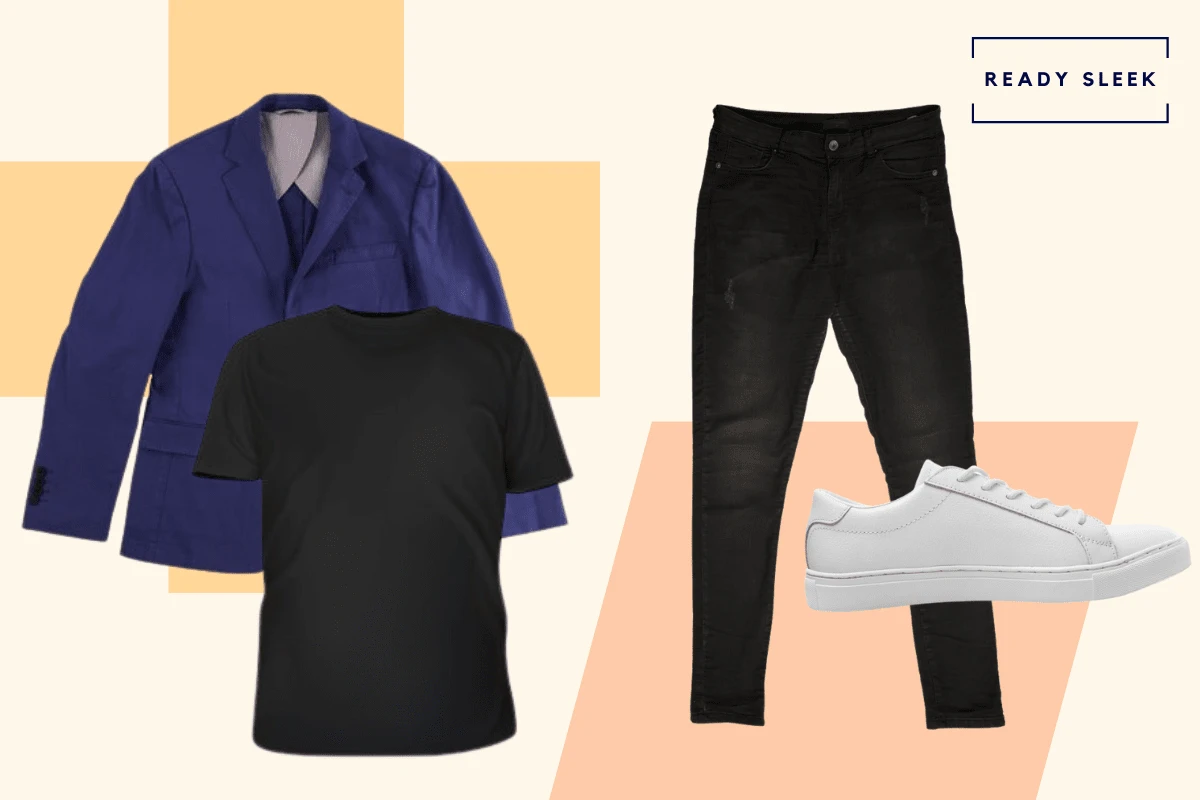 Items: Black T-Shirt, Navy Blazer, Black Jeans, White Sneakers (Low-Top, Leather)
Wearing a black T-shirt under a navy blazer is a great way to dress down this combination.
Popping a navy blazer over any T-shirt combination is an easy way to up the sophistication of an otherwise ultra-casual outfit.
But as you can imagine, it needs to be worn in the right setting.
There's a real risk of underdressing here, so ensure the setting is casual enough to allow for it.
Consider pairing it with black jeans to really embrace the casual aesthetic.
While black jeans will always look more casual than dress pants or chinos, they'll still look dressy enough to wear with a navy blazer and T-shirt combination.
Finally, consider a pair of all-white leather low-top sneakers to really make it clear you're going casual.
It's high-contrast and eye-catching, but it'll work.
5 Tips For Wearing A Black Shirt With A Navy Blazer
Here are some essential tips for wearing this combination perfectly, no matter what setting you may be dressing for.
It's Never Formal
No matter how dressy and formal your navy blazer and black shirt may look in isolation, the combination should never be worn in formal or business-casual settings.
In truly formal environments, a 2-piece suit would be required.
In business-casual settings, a black shirt would always be considered too casual. It has more of a "social" look and feel to it, as opposed to a more "professional" color such as white or light blue.
Instead, reserve the black shirt and navy blazer pairing for smart-casual settings. Here, it'll often look great.
As you've seen in the outfit examples above, there are also plenty of different ways to wear it.
One thing to note is that the color combination tends to look great in dressy evening social settings due to the dark aesthetic.
Consider The Structure And Fit Of The Blazer
The style of the navy blazer you choose to wear over the black shirt is crucial, as certain blazers will always look dressier than others.
A key reason for this is the structure and fit of the blazer.
In general, the more structure a blazer has, the dressier it'll look. These navy blazers will usually have features such as heavy shoulder padding and heavy canvassing.
They'll often have a more slim-fitting and tapered appearance.
In contrast, more casual-looking navy blazers will have less structure, with less shoulder padding, lighter linings and canvassing, and a more relaxed fit.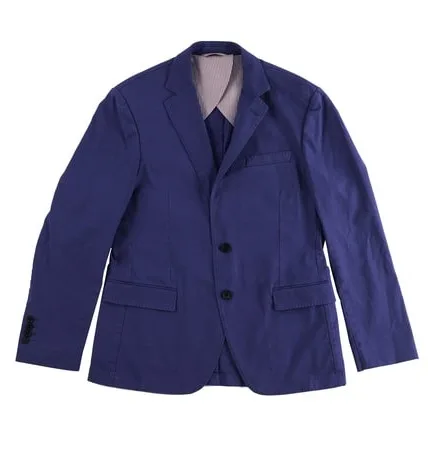 The fabric/weave plays a huge role here too.
Navy blazers made from more rough and rugged fabrics/weaves such as serge, flannel, hopsack, and linen will look more casual.
Those made from shinier and less wrinkly fabrics such as worsted wool will look more formal and dressier.
So, consider the setting when choosing a navy blazer to wear over a black shirt.
In dressier smart-casual settings, consider one with a more structured and dressy appearance.
In more casual settings, consider a less structured and more relaxed alternative.
High-Contrast Vs Low-Contrast
The more contrast produced between the navy blazer/black shirt pairing and the pants you're wearing, the more casual and striking the outfit will look as a whole.
Let's use examples.
When wearing a navy blazer, black shirt, and charcoal grey/black pants, the contrast between your top half and bottom half is low.
Low-contrast combinations are more subtle and understated. They tend to work well in dressier settings.
When wearing the same navy blazer, black shirt, and cream/tan chinos, for example, the contrast between your top half and bottom half is high.
The difference between the dark items you've got up top and the light item you're wearing down low is bold and eye-catching.
High-contrast combinations always are.
But it's still very effective. It just needs to be worn in the right setting – make sure it's casual enough to allow for it.
If you're looking for a more subtle and dressy appearance, go for a low-contrast combination and wear a pair of pants in a dark/neutral color instead.
Black Or Brown Shoes Are Best
When wearing a black shirt with a navy blazer, black and brown dress shoes tend to work best.
They're traditional, subtle, and dressy.
This is beneficial when the blazer and shirt combination you're wearing is pretty in your face like this one.
Keeping your other items (i.e pants and shoes) more subtle in contrast is usually a good way to go.
In dressy settings, black or dark brown dress shoes would work well. The darker the shoes, the dressier they'll look.
Dark brown shoes definitely have their appeal here, mainly because they'll add a touch of contrast to the outfit while still looking dressy.
They're also appealing because black dress shoes tend to have a more formal and professional appearance to them.
Sometimes, they may come across as too formal to wear with a black shirt and navy blazer pairing.
This is especially true with ultra-formal black shoes such as Oxfords.
If you'd prefer to dress down a notch, consider a pair of dress shoes in a lighter shade of brown (eg. tan, caramel) or even a pair of suede shoes.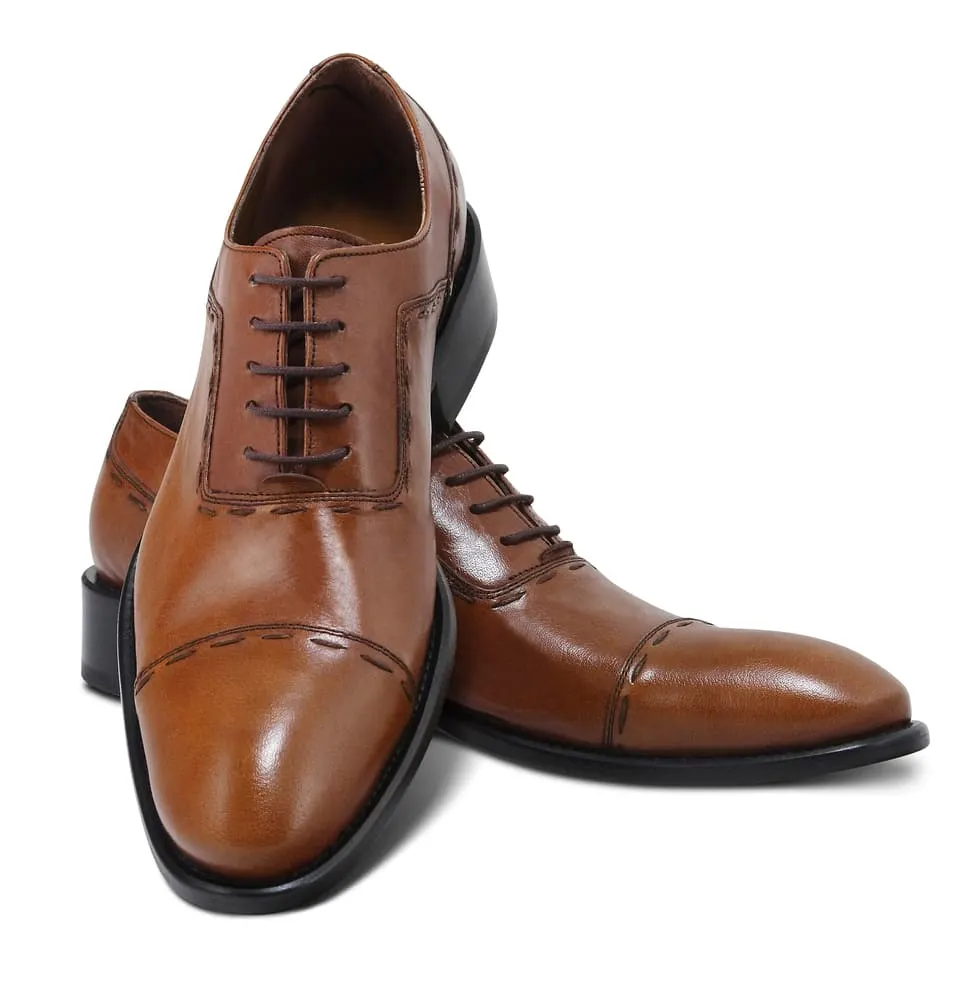 Ties Are Tough To Pull Off Here
Ties are difficult to wear with black shirts, regardless of whether you're wearing a navy blazer or not.
The main reason for this is that it's usually best to wear a tie that's darker than your shirt.
Not sticking to this principle will usually turn some heads and not always in a good way.
If you think about it, it's impossible to wear a tie that's darker than a black shirt.
You'll inevitably end up wearing one that's lighter. The lighter the tie is, the more attention-grabbing and awkward it'll look against the backdrop of the black shirt.
Consider a black shirt and white tie combination as an extreme example of this.
In general, it's not a good look.
So, the best option here would be to ditch the tie completely and simply undo one or two of the black shirt's buttons.
It is smart-casual, after all.
Ready Sleek founder. Obsessed with casual style and the minimalist approach to building a highly functional wardrobe. Also a fan of classic, vintage hairstyles.