It's a combination that often impresses and rarely disappoints. You're about to learn everything you need to know about the pompadour and beard look.
It may seem niche, but it's actually incredibly broad.
There are so many different variations you could try out. The scope for experimentation is very wide indeed.
Having a good understanding of what's possible is the first step to forging out a specific look that works for you.
You'll need to take different factors into consideration when doing so. Your face shape, personal preferences, hair thickness, and facial hair distribution will need to be taken into account.
Consider this a guide. A source of inspiration you can keep coming back to.
Let's get to it.
What Is The Pompadour And Beard Style?
It's a combination of hair that's shaped into a pomp of some variety and facial hair of any length, thickness, or style.
Broad, right?
A pompadour can take many different forms, but it's essentially a hairstyle where the top is swept upward and backward.
Unlike the quiff, it's usually swept all the way back or to the side. It's characteristically big, but not always.
The fullness and volume that it's known for are usually achieved through the use of a blow dryer.
It's generally got a tidy, pristine, and glossy appearance.
Let's move onto beards – I mean, where do you even start?
There are so many different styles out there that trying to categorize them would be a whole article itself.
The main point here is that pompadours go so incredibly well with beards of many different varieties.
Whether it's stubble, goatees, short beards, or woodsman-esque facial locks, it's pretty hard to go wrong.
The main reason for this is that facial hair adds a masculine and rugged edge to a hairstyle that's traditionally more pristine and clean-cut.
Now, let's get to the fun part.
11 Fantastic Pompadour And Beard Styles
The pictures do most of the talking but the explanations and details should help you figure out whether it's the one for you.
1. Pompadour Mid Fade And Full Beard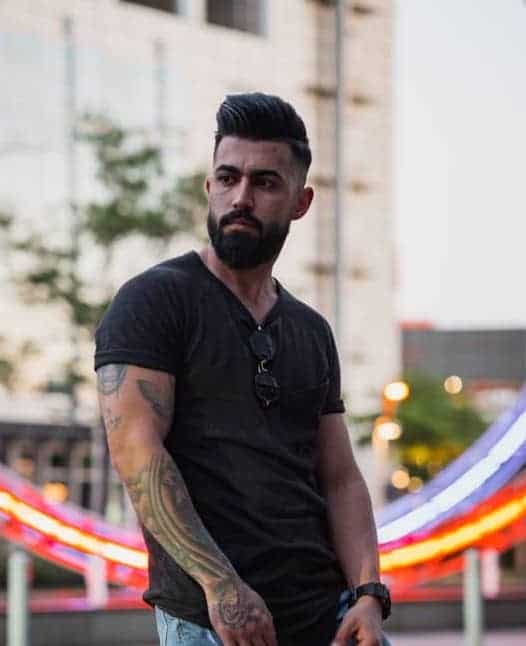 This classic pompadour has clearly been styled using either a round brush or comb, together with the use of a trusty blow-dryer.
It's neat, yet subtly textured.
There's a slight tilt to the right but not enough to lose too much symmetry or balance.
You'll see several examples of pompadour fades working incredibly well on this page. This is one of them.
It's a mid-fade because the fade starts in between the top of the ear and the temple. You could say that it's a skin fade because it's been shaved down to the level of the skin.
The beard is neat and shaped immaculately, with an even trim and well-defined cheek lines.
The pointedness of the beard at the chin adds so much definition to the lower jawline.
This style would work very well for men with faces that are round or typically shorter shapes such as square.
The reason for this is that the tall pompadour and pointed beard both act to elongate the face.
They're great for adding height as well as length.
The faded sides also make the face look narrower and the jawline more angular. For any face that lacks sharp angles and has more curvature instead, this is golden.
2. Finger-Combed Pompadour And Medium Stubble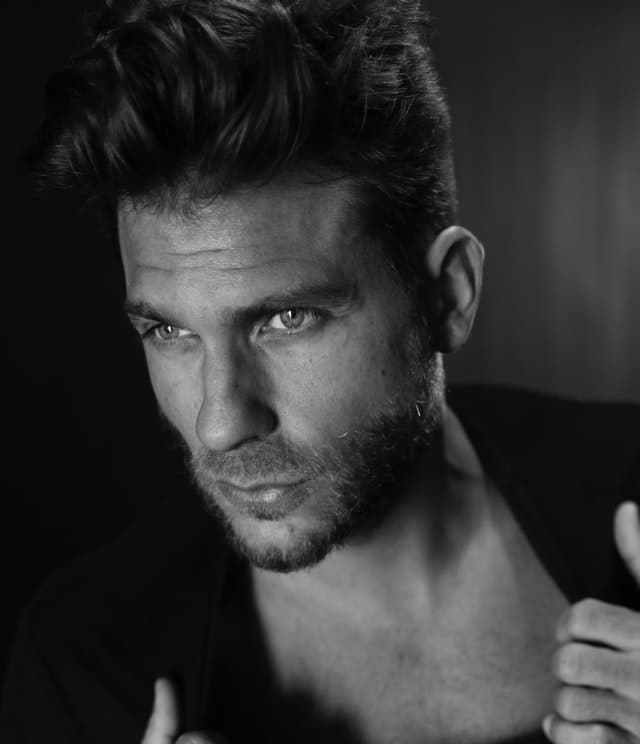 You'll notice that the pompadour here is a lot more textured and wavy than the first one.
This tousled look is best achieved by using your fingers instead of a round brush or comb.
What you're left with is several layers of tufts that look quite separate from each other, despite the hair being swept upward and backward like any other pompadour.
It's a very natural and laid-back look, as opposed to the super-tidy look of those glossier pomps.
Here's one of several examples of pompadours looking fantastic when combined with stubble.
This should most appropriately be labeled medium stubble because it appears to be around the 3 to 4mm mark.
The beauty of stubble such as this is that it's incredibly versatile.
There really aren't any contexts or situations where it wouldn't be considered "appropriate".
Plus, it's easy to maintain. There isn't a need for brushing, combing, or oiling like you might consider with longer facial hair lengths.
Sure, the stubble adds a layer of masculinity to the pompadour aesthetic. But it does so in a very subtle and nuanced way.
3. Messy Pompadour With Salt And Pepper Beard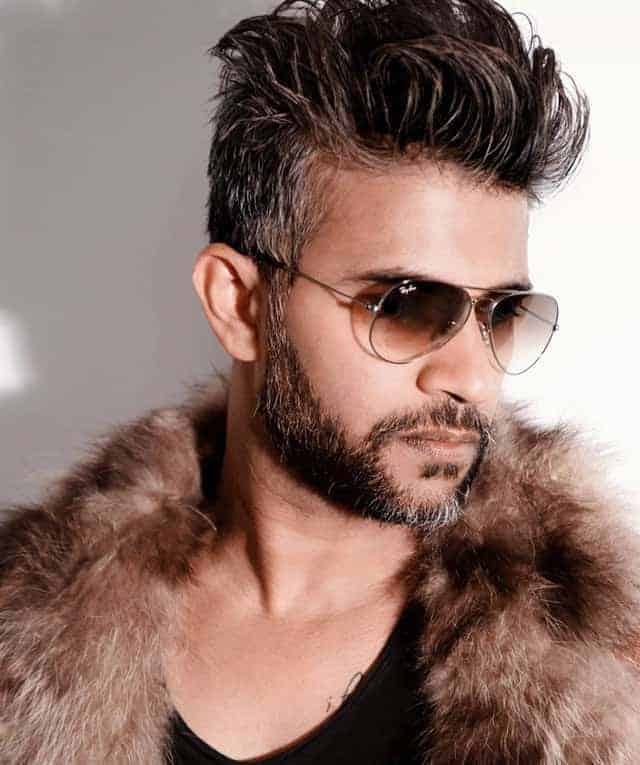 This pompadour has a very similar, tousled look to it.
But it takes it a step further. The fingers most likely played a large role in styling this one – hence the waves, the layers, and the texture.
Although it seems like it would be easier to achieve and maintain than a glossier and neater one, this glorious mess doesn't just happen.
You'll probably find that it'll take a fair amount of time to settle on a messy pompadour you actually like.
Whether you prefer this more natural and relaxed style of pompadour is down to personal preference.
The stubble beard here is a little heavier but still subtle.
As any good stubble beard should be, it's meticulously shaped, with a carefully defined cheek line and stubble neckline.
One thing that makes this style combination stand out is the salt and pepper aesthetic.
Salt and pepper beards are becoming increasingly popular, with many more men going for the natural vibe as they mature in age.
The "silver fox" is definitely in trend these days.
What "salt and pepper" refers to specifically is the mixture of colored hair with grey hair.
Most men stumble into this appearance as they get older and some of their hair has greyed but not quite all of it.
Others may choose to recreate this appearance artificially through the use of a dye.
As you can see from the picture, both the pompadour and the beard have this appearance and it adds a fantastic sense of maturity.
4. Pompadour Undercut With Chinstrap Beard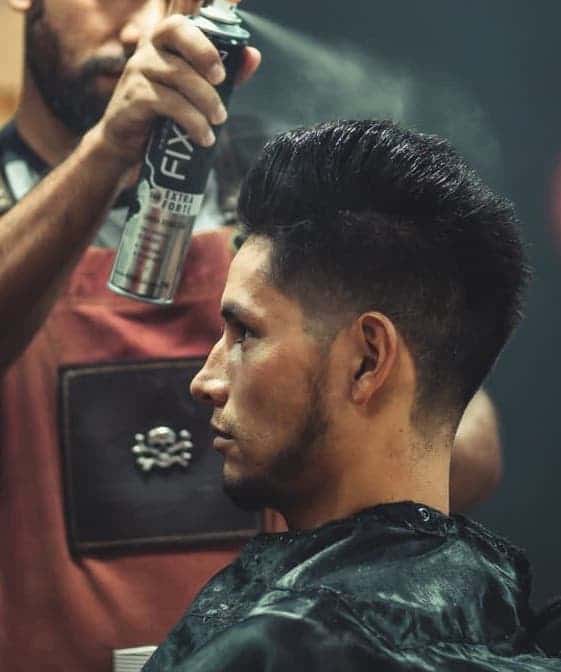 An undercut refers to a style where the hair on top is left long while the sides and back are trimmed short.
This is different to the usual "short back and sides" style because they're trimmed much shorter than the hair on top.
It's this stark difference in length that makes it stand out.
With any undercut, the hair on top can be styled in many different ways – from quiffs to man buns, to pompadours.
There may be a hard line at the side part where the top meets the back and sides. There may also be a fade.
Here you've got a tidy pompadour brushed up and to the right. There isn't a hard line at the side parting, but there's certainly an undercut.
There's a gentle mid-fade and it's been trimmed very intricately indeed. You'd need a good barber to achieve a subtle yet noticeable fade like this one.
As you can see from the picture, styling products such as hairspray are often necessary to keep the pompadour in place.
Pompadours are generally quite "product heavy". They're pretty high maintenance and will require more styling product than a quiff, for example.
Before blow-drying, you'll want to use some pre-styling mousse to protect the hair from the heat, as well as add texture and volume.
You'll also probably need a significant amount of pomade to get the shape you want, as well as some hairspray potentially.
This is just something to bear in mind.
Let's talk about the beard.
The facial hairstyle may not be for everyone but it definitely works here.
The chinstrap beard doesn't have the best of reputations but when shaped correctly it can look great.
It adds a lot of definition to the lower jawline, so once again is a great option for men with round faces and more curved features.
5. Pompadour Undercut With Short Boxed Beard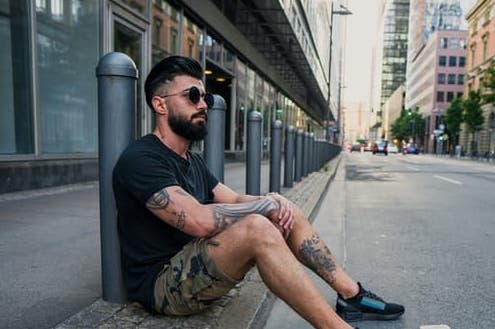 Here's another pompadour undercut. As you can see, the sides are buzzed down very short while the top has been swept up into a pompadour.
It's been slicked directly backward and has a great side profile.
The beard is fuller here and should technically be called a "short boxed beard" given the shape.
If you're willing to put up with the additional maintenance requirements of a medium-length beard such as this, the outcome can be well worth the effort.
Yes, you'll need to regularly wash it with beard shampoo.
You'll also need to brush it using a boar bristle beard brush to distribute those natural oils and to train it to grow in the right direction.
The benefits of beard brushing are widely documented.
Once you've had 2-3 months of growth, beard combing will also become worth your while for its detangling and styling benefits.
The great thing about the beard in this picture is that the beard is gradually tapered into the faded sides.
There isn't a hard line (although this can also work). The beard blends very well into the hairstyle – not easy to pull off without the help of a barber, but definitely worth it.
6. Small Pompadour With Beard Line Up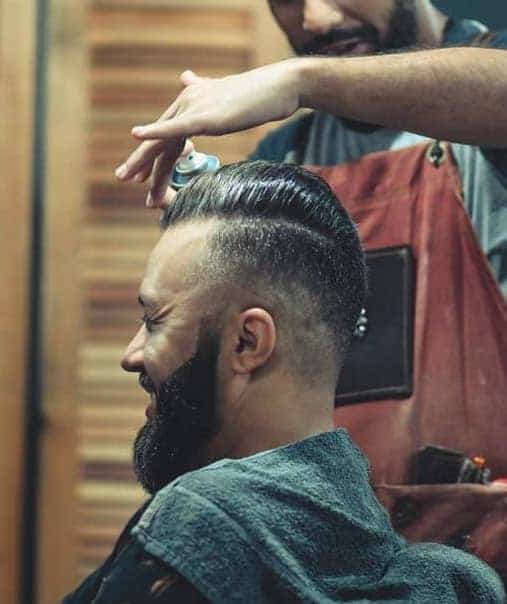 Not all pompadours need to stand tall.

Sometimes, smaller is better. This is particularly the case if you want the glossy, voluminous appearance of a pomp but don't want to make your face look longer.
This is particularly the case for men with naturally longer face shapes such as oblong, rectangular, and diamond.
A giant pompadour wouldn't be doing them any favors.
Plus, the addition of a beard would only add to their problem.
Keeping the pompadour short gives them more room for growing the beard out longer.
In this picture, you've got a small pompadour with a mid-fade and a hard side part.
The beard doesn't gradually taper into the faded sides here. Instead, you've got a hard line at the top of the sideburn.
It may not be everyone's preference, but as you can see, it can still work very well.
The short beard is pretty straightforward here, but what makes it stand out is how well it's been lined up.
If you prefer your borders more natural-looking, this may not be for you.
But there's just something about a neat and meticulously sculpted beard that goes so well with the typically glossy pompadour.
Pompadours are classically known for slickness, definition, and tidiness. It just makes sense that a properly lined up and neat beard would work well with one.
7. High Volume Pompadour And Beard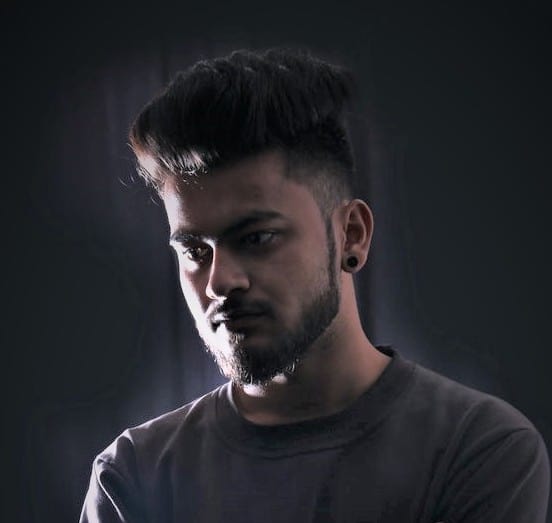 To get serious volume you'll most likely spend more time styling it.
Here are some basic volumizing tips to get you going:
As I mentioned, some pre-styling mousse with some heat protection (ideally) is essential.
When blow-drying backward, use medium heat and maximum speed.
First blow dry in the direction you eventually want the pompadour to go – either left, right, or straight back.
Then, blow-dry in the opposite direction to add even more fullness. After that, switch it right back. You'll quickly notice that this technique adds volume.
Set the blow dryer to cold air to lock in the shape you're happy with.
Use some volumizing powder to enhance the texture.
Finish off with enough styling product to get the job done. This may be a matte finish clay or a pomade. For men with thicker hair, a strong hold is more important.
The thicker the hair, the more volume you'll eventually be able to achieve. It may just take some time to get there.
The picture is also a great example of a goatee with chinstrap beard.
This is where you've got a Full Goatee encircling the mouth, with a chinstrap running from ear-to-ear at the same time.
As always, the chinstrap will add a lot of definition to the lower jawline. The addition of a Full Goatee adds a layer of sophistication.
8. Wavy Pompadour And Goatee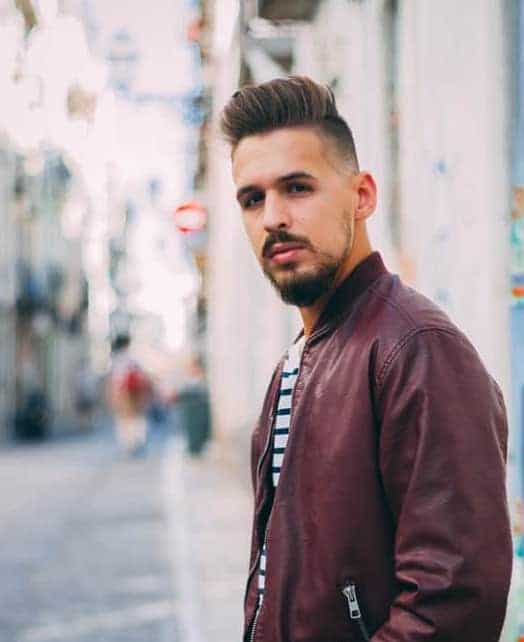 This is another pompadour undercut with a mid-fade.
The wavy, layered texture could be produced using the fingers or a comb. It's pretty easy to get to grips with after a few tries.
The beard here is a goatee with a subtle chinstrap to boot. It's the chin beard that really makes the style pop here, however.
The additional length elongates the face and adds a lot of prominence to the chin.
It's a good time to mention that goatees are a great option for men with patchy cheek hair.
This is a common problem and goatees are great because they completely remove the need for any hair on the cheeks. It's usually just shaved off.
9. Pompadour Burst Fade With Stubble Beard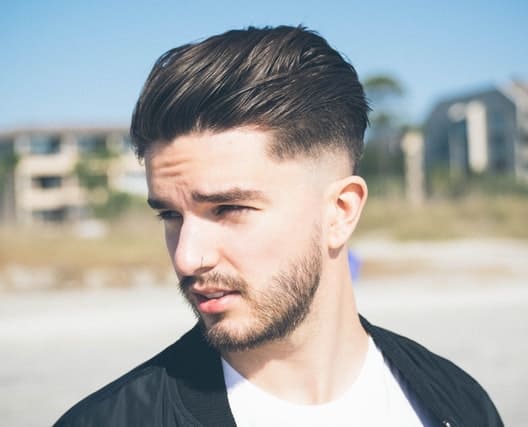 A burst fade is one where the hair is neatly tapered around the shape of the ear but doesn't extend to the back of the neck.
It produces a semi-circular shape around the ear, while the neck hair is left as it is.
As with any fade, it can be low, mid, or high. This one is a mid-fade and is shaved down to the skin.
The tidy, layered texture of the pompadour has most likely been achieved using a round brush or a comb.
If you're looking for a neater pomp, this may be a good example to follow.
The faded sides just add even more prominence to the top.
Once again, the medium stubble beard adds just a touch of ruggedness and prevents the overall aesthetic appearing too clean or perfect.
10. Curly Pompadour And Light Stubble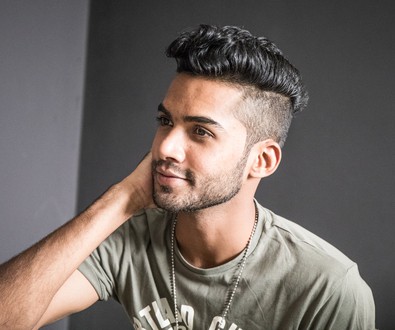 Curls aren't always the easiest to manage, but once you know how to tame them the world is your oyster.
Curly pompadours are immediately eye-catching and the natural kink gives you plenty of styling options.
Although men with straighter hair will find it easier to style a pristine, classic pompadour, men with curly hair will find it easier to get textured variations.
As you'd expect, that wavy look is easier to achieve and is often even more effective when you've got curls.
Your fingers are often better than your brush or comb for working a curly pompadour and getting that textured, tousled look.
Go for a matte clay or paste.
The medium stubble beard here is a nice touch and has been neatly lined up to give a very intentional-looking finish.
11. Puffed Pomp With Stubble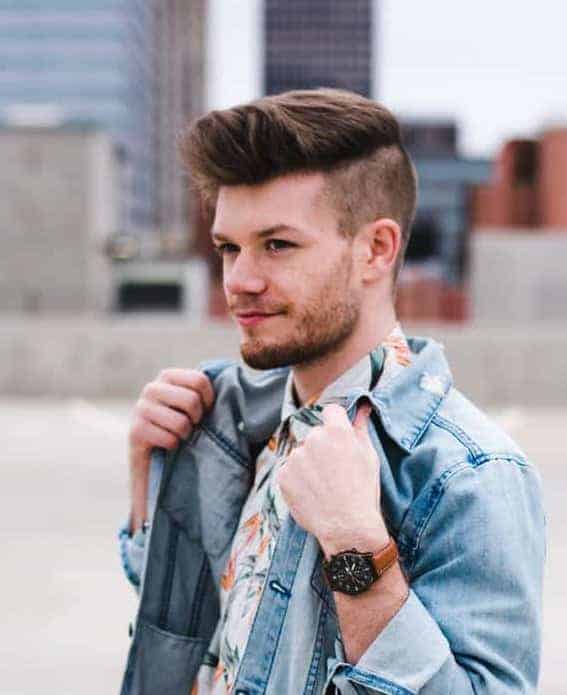 Technically you could call this a quiff because the forelock is definitely taller than the hair further back.
However, the back has clearly been given more volume and "bigged up" enough to probably qualify for a pomp.
Either way, if you're looking for a more subtle approach where you don't want all of the hair swept up and back uniformly, this may be a good option for you.
The sides have been neatly buzzed down short producing a typical, yet effective undercut appearance.
The stubble beard has been nicely tapered as it approaches the sideburns. This produces a nice and gradual blend into the sides.
Summary Of Pompadour And Beard Tips
I'll finish off by rounding up the most important tips.
Take your face shape into consideration. Pompadour and beard styles suit rounder and shorter face shapes better than longer ones.
Pompadour undercuts are a great way to give prominence to the pomp itself, while also making the face look narrower overall.
Take your facial hair distribution into consideration when choosing your beard style. Goatees are fantastic for men with patchy cheek hair.
Pompadours go great with facial hair of any length, whether it's light stubble or a goliath Garibaldi. Take your personal preference and your willingness to maintain it into consideration.
Conclusion
So, you've now got a good idea of just how versatile this style combination is.
Now it's time to pick one that works for you. Take this information and use it to experiment regularly.
Enjoy.
Ready Sleek founder. Obsessed with casual style and the minimalist approach to building a highly functional wardrobe. Also a fan of classic, vintage hairstyles.