It's a combination that often impresses and rarely disappoints. You're about to learn everything you need to know about the pompadour and beard look.
It may seem niche, but it's actually incredibly broad.
There are so many different variations you could try out. The scope for experimentation is very wide indeed.
Having a good understanding of what's possible is the first step to forging out a specific look that works for you.
You'll need to take different factors into consideration when doing so. Your face shape, personal preferences, hair thickness, and facial hair distribution will need to be taken into account.
Consider this a guide. A source of inspiration you can keep coming back to.
Let's get to it.
What Is The Pompadour And Beard Style?
It's a combination of hair that's shaped into a pomp of some variety and facial hair of any length, thickness, or style.
Broad, right?
A pompadour can take many different forms, but it's essentially a hairstyle where the top is swept upward and backward.
Unlike the quiff, it's usually swept all the way back or to the side. It's characteristically big, but not always.
The fullness and volume that it's known for are usually achieved through the use of a blow dryer.
It's generally got a tidy, pristine, and glossy appearance.
Let's move onto beards – I mean, where do you even start?
There are so many different styles out there that trying to categorize them would be a whole article itself.
The main point here is that pompadours go so incredibly well with beards of many different varieties.
Whether it's stubble, goatees, short beards, or woodsman-esque facial locks, it's pretty hard to go wrong.
The main reason for this is that facial hair adds a masculine and rugged edge to a hairstyle that's traditionally more pristine and clean-cut.
Now, let's get to the fun part.
11 Fantastic Pompadour And Beard Styles
The pictures do most of the talking but the explanations and details should help you figure out whether it's the one for you.
1. Pompadour Mid Fade And Full Beard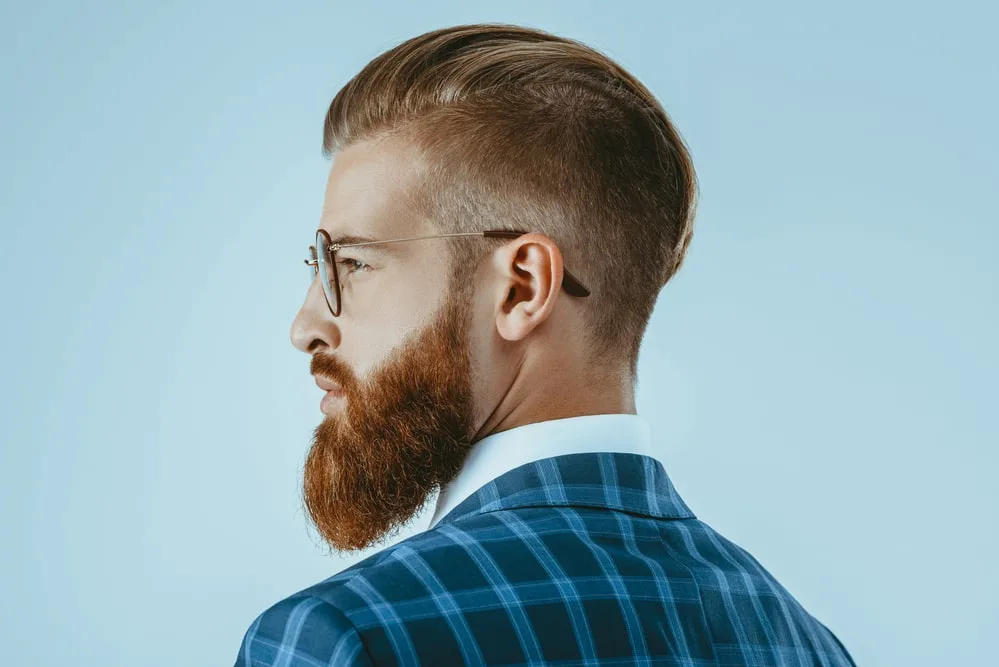 This classic pompadour has clearly been styled using either a round brush or comb, together with the use of a trusty blow-dryer.
It's neat, yet subtly textured.
There's a slight tilt to the right but not enough to lose too much symmetry or balance.
You'll see several examples of pompadour fades working incredibly well on this page. This is one of them.
It's a mid-fade because the fade starts in between the top of the ear and the temple. You could say that it's a skin fade because it's been shaved down to the level of the skin.
The beard is neat and shaped immaculately, with an even trim and well-defined cheek lines.
The pointedness of the beard at the chin adds so much definition to the lower jawline.
This style would work very well for men with faces that are round or typically shorter shapes such as square.
The reason for this is that the tall pompadour and pointed beard both act to elongate the face.
They're great for adding height as well as length.
The faded sides also make the face look narrower and the jawline more angular. For any face that lacks sharp angles and has more curvature instead, this is golden.
2. Finger-Combed Pompadour And Medium Stubble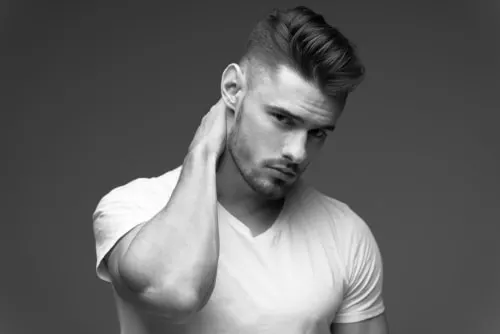 You'll notice that the pompadour here is a lot more textured and wavy than the first one.
This tousled look is best achieved by using your fingers instead of a round brush or comb.
What you're left with is several layers of tufts that look quite separate from each other, despite the hair being swept upward and backward like any other pompadour.
It's a very natural and laid-back look, as opposed to the super-tidy look of those glossier pomps.
Here's one of several examples of pompadours looking fantastic when combined with stubble.
This should most appropriately be labeled medium stubble because it appears to be around the 3 to 4mm mark.
The beauty of stubble such as this is that it's incredibly versatile.
There really aren't any contexts or situations where it wouldn't be considered "appropriate".
Plus, it's easy to maintain. There isn't a need for brushing, combing, or oiling like you might consider with longer facial hair lengths.
Sure, the stubble adds a layer of masculinity to the pompadour aesthetic. But it does so in a very subtle and nuanced way.
3. Curly Pompadour And Light Stubble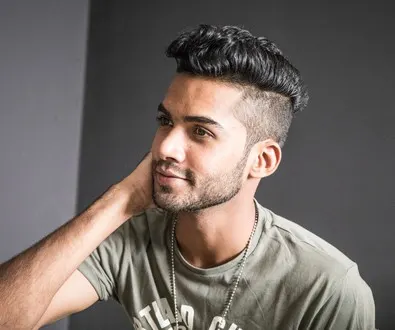 Curls aren't always the easiest to manage, but once you know how to tame them the world is your oyster.
Curly pompadours are immediately eye-catching and the natural kink gives you plenty of styling options.
Although men with straighter hair will find it easier to style a pristine, classic pompadour, men with curly hair will find it easier to get textured variations.
As you'd expect, that wavy look is easier to achieve and is often even more effective when you've got curls.
Your fingers are often better than your brush or comb for working a curly pompadour and getting that textured, tousled look.
Go for a matte clay or paste.
The medium stubble beard here is a nice touch and has been neatly lined up to give a very intentional-looking finish.
4. Puffed Pomp With Stubble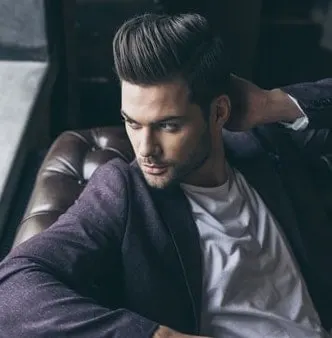 Technically you could call this a quiff because the forelock is definitely taller than the hair further back.
However, the back has clearly been given more volume and "bigged up" enough to probably qualify for a pomp.
Either way, if you're looking for a more subtle approach where you don't want all of the hair swept up and back uniformly, this may be a good option for you.
The sides have been neatly buzzed down short producing a typical, yet effective undercut appearance.
The stubble beard has been nicely tapered as it approaches the sideburns. This produces a nice and gradual blend into the sides.
Summary Of Pompadour And Beard Tips
I'll finish off by rounding up the most important tips.
Take your face shape into consideration. Pompadour and beard styles suit rounder and shorter face shapes better than longer ones.
Pompadour undercuts are a great way to give prominence to the pomp itself, while also making the face look narrower overall.
Take your facial hair distribution into consideration when choosing your beard style. Goatees are fantastic for men with patchy cheek hair.
Pompadours go great with facial hair of any length, whether it's light stubble or a goliath Garibaldi. Take your personal preference and your willingness to maintain it into consideration.
Conclusion
So, you've now got a good idea of just how versatile this style combination is.
Now it's time to pick one that works for you. Take this information and use it to experiment regularly.
Enjoy.
Ready Sleek founder. Obsessed with casual style and the minimalist approach to building a highly functional wardrobe. Also a fan of classic, vintage hairstyles.