Let's face it. Thin hair doesn't always give you a heap of options when it comes to styling. But pompadours definitely aren't out of reach. I'm about to teach you everything you need to know.
Some men are born with it, while others witness their thick locks thin out as they mature in age.
Knowing how to work thin and fine hair is an art in itself. There are certain styles that lend themselves well to it, while others are a little more tricky.
Pompadours aren't exactly simple to achieve, unfortunately. To a certain extent, they do require hair staying upright and supporting itself.
It can be difficult to do this with thin hair.
But with the right style variation, the right technique, and the right products, there's absolutely no reason why you can't find one that works for you.
That's the main objective of this article. Let's get to it.
15 Awesome Pompadours For Thin And Fine Hair
1. Wavy Pompadour Undercut
That layered, wavy appearance is pretty easy to achieve with thin hair. If you're a fan of it, you're definitely in luck.
It's best achieved using either your fingers or a comb with relatively wide teeth.
It's an "undercut" style because the top is left long, while the sides and back are clipped much, much shorter.
This stark contrast in length is what defines the undercut. When the hair on top is styled into a pompadour, as you'd expect, it's called a "pompadour undercut".
It's a great option for men with thin hair, particularly those with receding hairlines because it can make them look less noticeable.
The facial hair is a nice touch, with the relatively lengthy goatee adding a lot of prominence and strength to the chin and lower jawline.
2. Tapered And Tidy Pompadour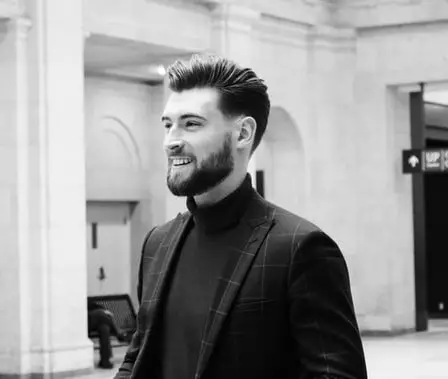 This one's most likely been combed or round-brushed to the side, as opposed to styled using the fingers.
The neat and tidy shape is characteristic of a classic pompadour. It's pristine, it's glossy, it's meticulous.
The sides and back are left natural, unlike more modern pompadour variations such as undercuts.
This style is better suited to men looking for a more sophisticated cut that harks back to a classic era.
Having said that, the tapered sides are an interesting touch here. It isn't exactly a "low fade", because it starts below the top of the ear.
But still, this touch is a nod to more modern styles. It's a great way to blend the old with the new.
The short beard is a great way to add a layer of masculinity and ruggedness to a traditionally pristine style.
3. Tousled Pompadour Undercut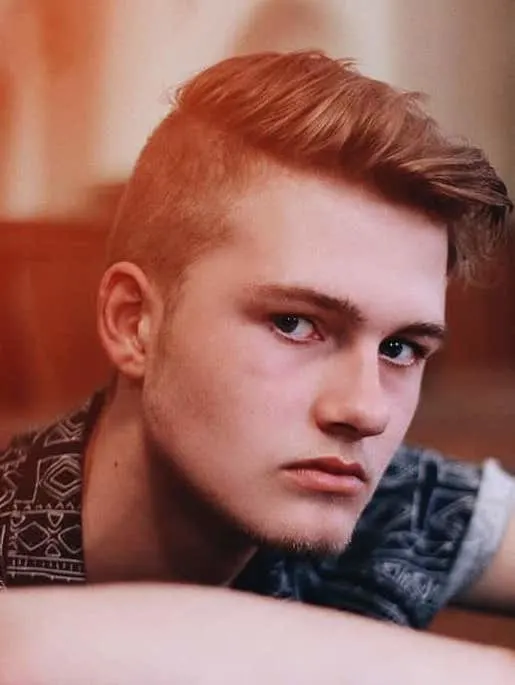 You may not be a total fan of the typical swept up and voluminous pompadour.
It is possible to keep them more subtle. A simple way of doing this would be to keep the pomp relatively small.
This picture shows a hairstyle with the usual features of a pompadour – it's been swept upward and backward.
But it's been slicked to the side more so than the average. This is an easier option for men with thin or fine hair because it's more likely to stay in place.
Upright pompadours, in contrast, are more likely to collapse when the hair is too fine to support itself.
The front has been tousled a little using the fingers here. It's a nice way to add a bit of mess to a clean-cut pompadour.
4. Skin Fade Pompadour With Line Design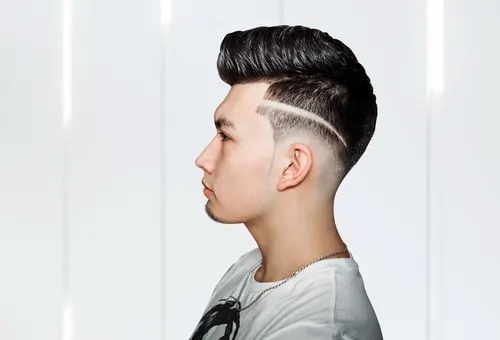 Skin fades are immensely popular right now. In fact, so popular that it's hard to see an end to this trend.
It refers to a style where the fade goes down to the level of the skin. Essentially, shaved.
They're a great way to make practically any style more interesting.
High fades are particularly useful for a lot of men with thin or fine hair because they often make receding hairlines look less noticeable.
They've been incorporated into pompadours in very effective ways indeed.
This pompadour is as tidy and shapely as it gets. The skin fade could be labeled a "mid-fade" because it starts in between the top of the ear and the temple.
But how can we not mention that line design?
They may not be for everyone and they're most likely better suited to the younger generation.
However, if you were looking for a way to make a modern pompadour really stand out from the crowd, a line design such as this would be a great way to do it.
5. Messy Pompadour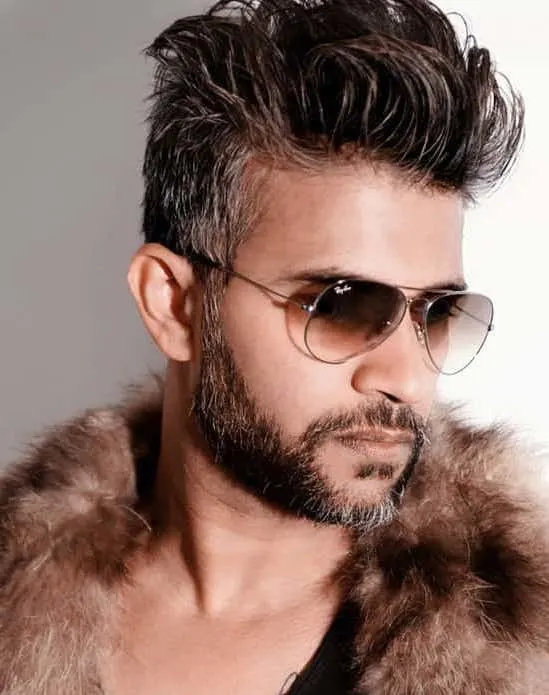 This could also be considered a modern variation because it flies in the face of the traditionally pristine and glossy pompadour.
A messy pompadour might seem easy to shape in theory, but it's actually tougher than you think.
It takes time to get the type of mess you really want. This mess is layered, textured, and wavy.
But messy pompadours are often great for men with thin hair because the randomness, the layers, and the kinks actually make the hair look thicker.
The salt and pepper stubble beard is also a nice touch here and adds a silvery sense of maturity and wisdom.
It's a good example of just how phenomenal pompadours can look with a well-maintained beard.
When it comes to adding ruggedness, there's really no better way to do it.
6. Finger-Combed Pompadour Undercut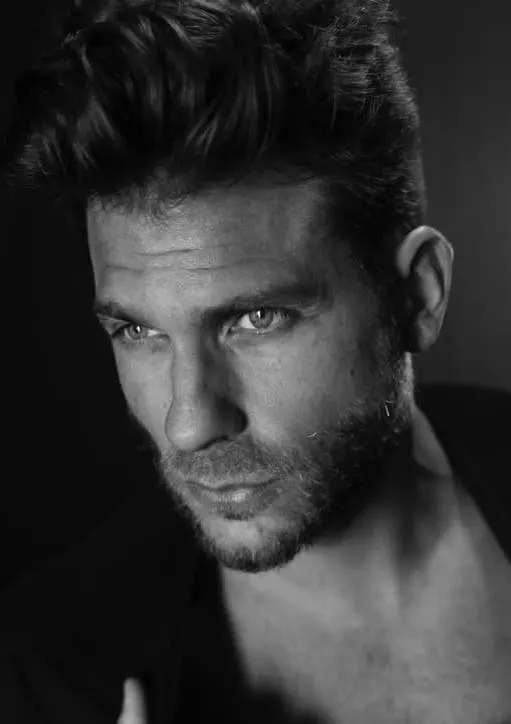 Now is a good time to mention what tools are available for you to use when styling your pompadour.
A blow dryer will be the most consistently useful tool at your disposal – you will need one. Set it to medium heat, maximum speed, and have at it.
But what do you use for the actual styling while blow-drying?
You could use a comb or a round brush for a glossier and neater finish. This is very common and is a great way of achieving that look.
But if you're looking for a more natural or laid-back vibe to your pompadour, you should really try using your fingers as well.
It may not work for everyone, but many men will find that it produces just the right texture for them.
The picture above is a great example of the relaxed, layered, and wavy appearance you can achieve with finger-combing and gently tousling it into shape.
7. Slicked Back Pompadour And Stubble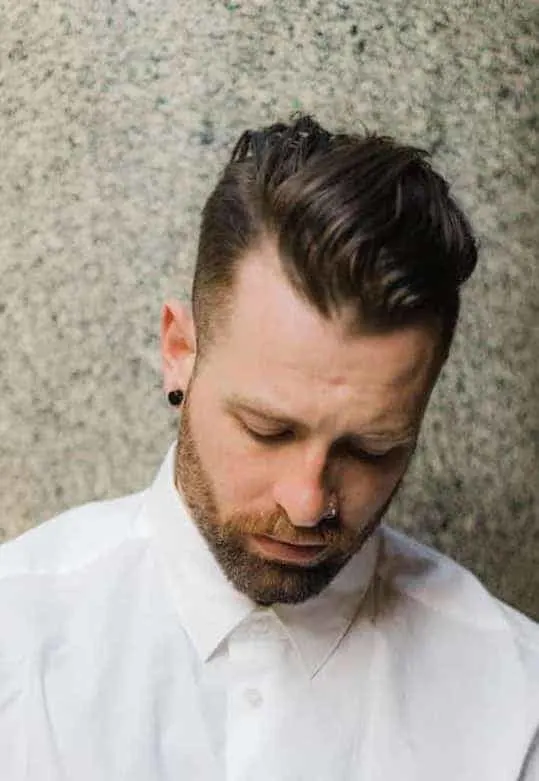 Slicking back the pompadour won't always be easy for men with thin hair. You may find that it refuses to stay in place.
Slicking it to the side may be easier.
However, using styling products such as matte clay, or a pomade with a strong level of hold should allow you to get it done.
You should be able to produce a layered, slicked-back appearance through the use of a comb and a good-quality blow-dryer.
Keeping the sides and back short is often a good option for men with finer hair as well. You don't even necessarily need to go as far as trimming an undercut.
You just want some difference in length between the top and the back/sides. Having the top significantly longer will give it more volume, making it look thicker and fuller in comparison.
8. Neat Classic Pompadour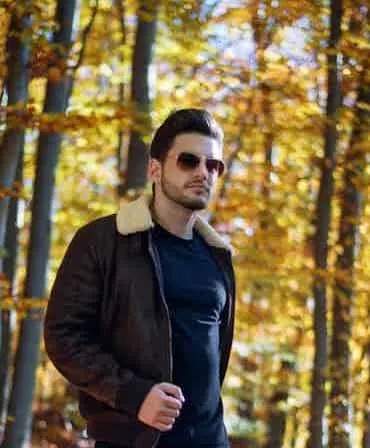 Here's another classic pompadour, brushed to the side, and kept tidy.
As you can see, the hair itself isn't all that thick but the pompadour still looks full thanks to effective styling.
It also shows that you don't always need the sides faded for it to look sleek and slick.
The facial hair is also a nice touch. The light stubble adds a subtle contouring effect, almost like a layer of shadowing across the lower portion of the face.
This defines the facial features and bone structure, adding a lot of definition.
Stubble is great like that, and it always goes very well with pompadours.
9. Small Pompadour And Hard Part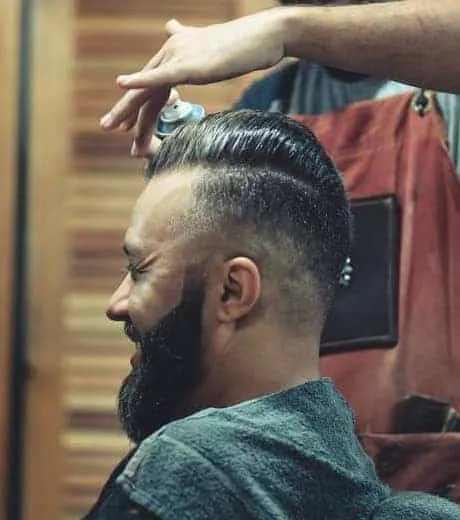 As you'd expect, thinner hair lends itself well to smaller and shorter pompadours. This is because the smaller the pompadour, the better it'll be able to support itself and keep itself upright.
Here you've got a tidy, modern pompadour that's been slicked to the right. There's a "hard part", which means the side parting is well-defined and in-your-face.
This is a great feature, particularly for men with thin hair as it draws attention.
The mid-fade here is well done and once again makes the top look thicker and more voluminous.
The way the beard meets the fade here is interesting. Instead of tapering it into the fade to allow for a more natural blend, there's a hard line at the top of the sideburn.
Although this can at times be jarring or a little too obvious, it can be a good way to add definition to the upper borders of the beard. It works well here.
10. Side Slicked Pompadour Undercut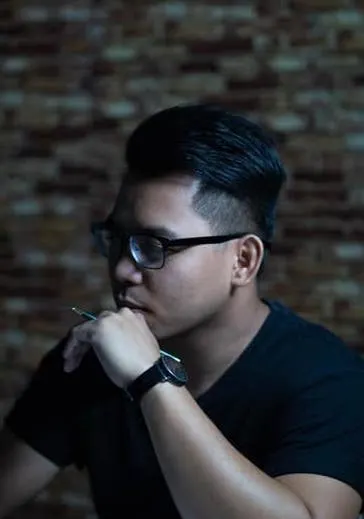 Once again, slicking the hair to the side is a good option for men with finer hair.
It stays in place, it behaves, it doesn't disappoint. This looks great.
It's either been brushed or combed to the side, while the sides have been clipped very, very short.
The style is an undercut as opposed to a fade, although in this case it could easily be confused. But as you can see, the entire side has been clipped short as any undercut would be.
The pompadour majestically swoops over to the left.
Figuring out which direction you want your pompadour to end up is part of the fun. Experiment with it.
You may find that slicking it straight back is too difficult. You may also find that combing it to one particular side doesn't feel right or looks a little unnatural.
Try stuff out and find one you're a fan of.
11. Wispy Relaxed Pompadour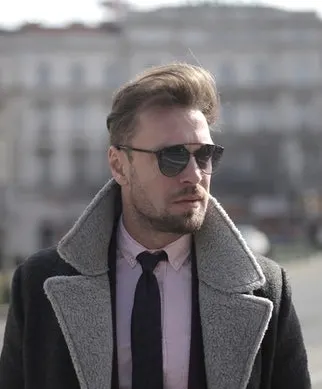 This could technically be labeled a quiff as opposed to a pompadour because the forelock (hair above the forehead) is a little more prominent than the hair further back.
But overall, it's big and voluminous enough to be called a pompadour. At its very core, that's all a pompadour really is.
As you can see, you don't need thick hair to pull off a classic pompadour. In fact, the styling of the pompadour here actually makes the hair look fuller overall.
It's quite relaxed in shape and hasn't been meticulously sculpted into anything particularly glossy.
This gives it a very laid-back vibe. This would appeal to a lot of men who are a fan of the volume of pompadours but aren't quite as drawn to its glossiness or definition.
A more casual option like this may be more appropriate.
The stubble is once again a great touch. The fact that the goatee area is longer than the cheeks gives the chin a lot of prominence.
N.B – For men with rounder faces, goatees are great when combined with a pompadour because they both act to elongate the face.
12. Angular Pompadour And Beard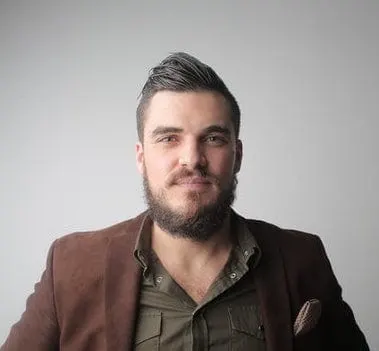 Men with thinner and finer hair may find that their pompadour leans to one side significantly more than the other.
The great thing about this is that it often looks pretty fantastic when styled correctly.
It works best when it's neat and well-defined. This makes it look more intentional.
Although some men may prefer a pompadour with a little more balance and symmetry, others may prefer this angular and sharp style variation.
It may not be for everyone, but for some, its immediately attention-grabbing slant would be appealing.
The fuller beard style is beneficial here because it rounds off the lower portion of the face. This actually adds balance because it contrasts the sharp angles of the pompadour.
A light layer of hairspray may be necessary to really keep this style in place.
13. Matte Finish Pompadour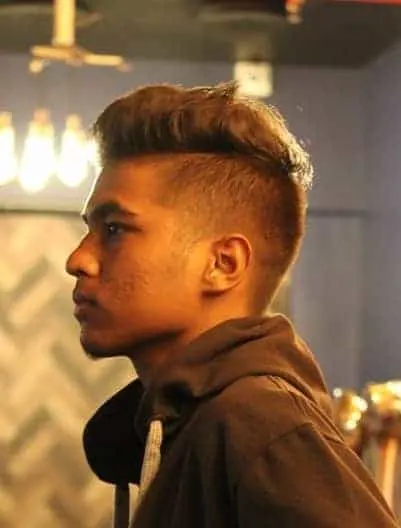 Here's another undercut for you.
The pompadour here has been tousled a little and has a nice, messy aesthetic.
It's got a matte finish as opposed to a glossy one – goes to show you how modern pompadours don't necessarily need all that shine.
In fact, a lot of men prefer to keep it pretty minimalist when it comes to styling products and their pompadours.
Using "wetter" styling products such as gels can often make thin hair look thinner because it causes the hair to clump together.
Matte clay may be a better option for men with finer hair who are just looking to add volume and texture while keeping the hair in place.
14. Swirled And Layered Pompadour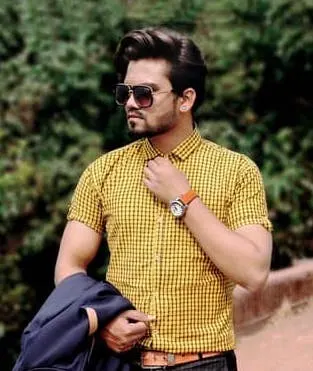 This may be a little trickier for men with thin hair, but it may be worth a shot.
The swirled, wavy forelock can be quite difficult to achieve. You'll need a good-quality blow dryer, most likely some volumizing powder, and a round brush to really set them in.
But if you're able to pull it off, it's a fantastic finish with an immediately eye-catching look.
15. Simple And Classic Pompadour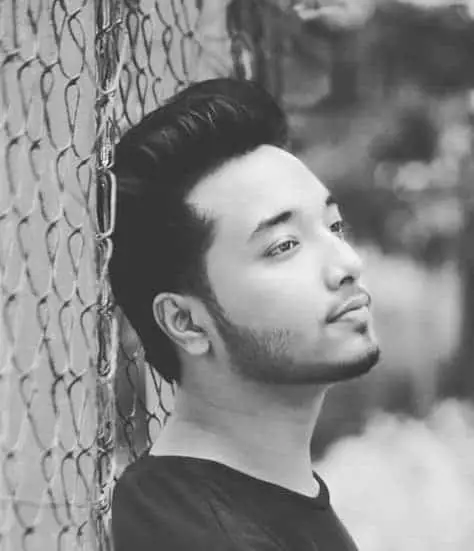 Sometimes, you don't need all the frills.
You don't need the undercuts, the fades, or the hard parts.
Just set the blow dryer to maximum speed and have at it. See what you can do.
This is more of a traditional, classic pompadour because the sides and back are left natural.
The pomp also has its traditional curve instead of sharp angles and also isn't messy or tousled.
As I mentioned earlier, men with thick hair may find that their pompadour naturally tilts to one side as opposed to sweeping straight back.
That's fine and is often a great effect.
Either way, if you prefer a more traditional variation, keep it classic like this.
Summary Of Pompadour Tips For Men With Thin Hair
For men with thinner hair, pompadours brushed or combed to the side are often a better option than slicked straight back. It'll be easier for it to support itself.
Make full use of available volumizing products. Use a pre-styling mousse, sea salt spray, and even volumizing powder if you wish to.
Matte clay is often a better option than "wetter" looking styling gels because they prevent the hair from clumping together and looking thinner.
Clean, washed hair will always look thicker and fuller than greasy, oily hair. So definitely wash that hair before styling that pompadour!
Conclusion
Always know that you've got options, no matter how thick or thin your hair may be.
Experiment regularly with these styles and find one that works for you.
Enjoy.
Ready Sleek founder. Obsessed with casual style and the minimalist approach to building a highly functional wardrobe. Also a fan of classic, vintage hairstyles.