Having long hair does bring you some serious versatility. If you're looking for a way to keep it tidy without having to go for a top knot, a long pompadour may be exactly what you need.
Pompadours are becoming increasingly popular and with good reason. They're a phenomenal throwback to a sophisticated era of men's style.
Defined by their vertical volume and fullness, it could be argued that pompadours are easier to style with long hair than they are with short hair.
You're about to see some incredible examples of this style done right, followed by some basic but essential tips on styling pompadours with long hair.
Let's get to it.
10 Best Pompadours For Long Hair
This is the fun part. Use this list as a source of inspiration when styling those long locks of yours.
Be sure to experiment regularly and with purpose. Enjoy.
1. Classic Long Pompadour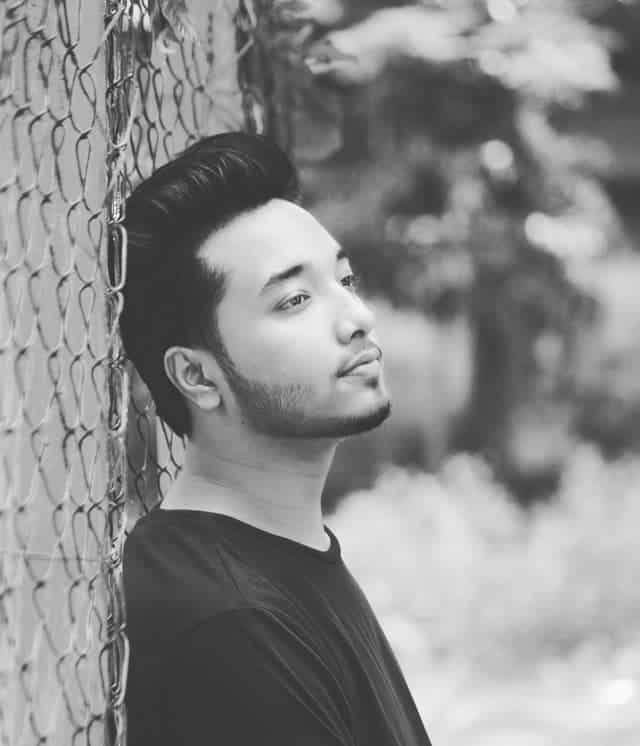 A pompadour is at its very core a style where the hair is pushed upward and backward, away from the face.
It's typically big and prioritizes fullness and volume. They're traditionally quite pristine and glossy; features that make them immediately attention-grabbing.
Although this isn't always the case, it's a good principle to bear in mind.
Classic pompadours are defined by their striking curves. In other words, there aren't many sharp angles or lines – the hair is swept backward and the side profile looks tall and curved.
The sides and back aren't trimmed into an undercut or fade. Nothing fancy here – they're swept backward just like the pomp on top is.
It's a great pompadour option for men with long hair as it's possible to get some serious height and volume. The end result is often impressive and it's a great throwback to a classic era.
2. Modern Long Pompadour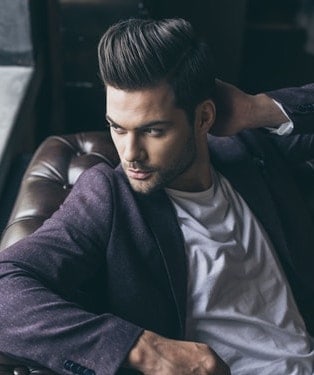 In contrast to the classic style, modern pompadours are more shapely.
There are more interesting angles and the curvature isn't as basic or simple.
Although it isn't the case with this example, modern pompadours often have the sides and back faded or clipped short into an undercut.
Styling may take a little longer because the shape you want might be a little harder to achieve.
More complex shapes often call for heavier duty pomades or waxes with stronger levels of hold.
With longer hair, the opportunities are pretty endless and the variety of pompadour shapes achievable is very broad indeed.
But at the same time, the longer the hair, the stronger the hold you'll need. Just something to bear in mind.
3. Wide And Relaxed Pompadour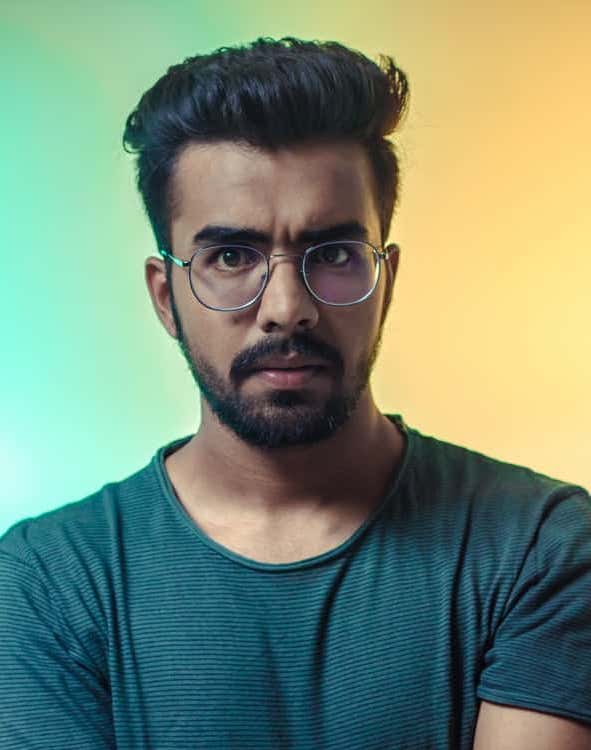 Relaxed pompadours definitely have their appeal.
They don't focus on getting perfect form, shape, curvature, or angles.
A little asymmetry doesn't do it any harm. With long hair, the outcome is often impressive regardless of shape.
This is a great example of just how great a heavy stubble beard looks with a pompadour.
There's just something about the ruggedness of stubble that perfectly contrasts the traditionally more pristine pompadour hairstyle.
The round-framed glasses are also a great touch and add balance. A pompadour can elongate the face, so round glasses are a fantastic way of contrasting this.
4. Side Swept Long Pompadour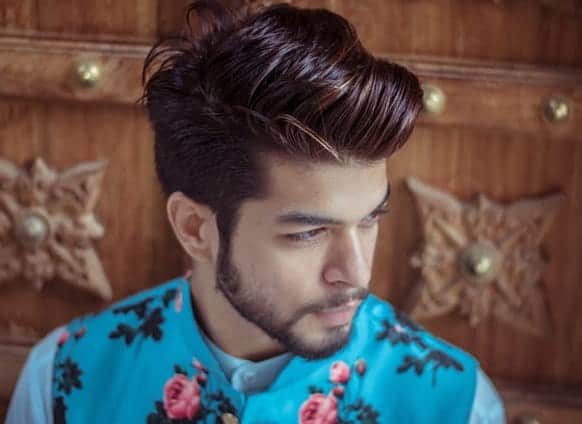 This pompadour has been swept to the left instead of directly backward.
The neat, layered, textured appearance can be achieved by using either a round brush or a comb, together with a blow dryer at maximum speed and medium heat.
If you aren't looking for that glossy shine, go for a matte clay as opposed to a "wetter" pomade or gel.
Clays, pastes, and even putties are great for producing lift and volume while also giving you that matte finish.
They aren't the "typical" product used for pompadour styling. After all, pomades are the kings when it comes to pompadours.
But a lot of men aren't a huge fan of the weight and shine that come with pomades – particularly oil-based pomades.
Alternative products may be more appropriate and still get the job done.
For men with long hair, sweeping the pompadour to the side may be simpler than pushing it straight back.
This is particularly the case for men with thinner hair, where sweeping it directly backward may make it tougher to stay in place. It may naturally tilt to one side or the other.
If you find this is the case, it'll most likely just look better swept all the way to one side like this.
Once again, it goes great with the stubble. This is a goatee with chinstrap beard and it's been very impressively lined up.
5. Long Pompadour Undercut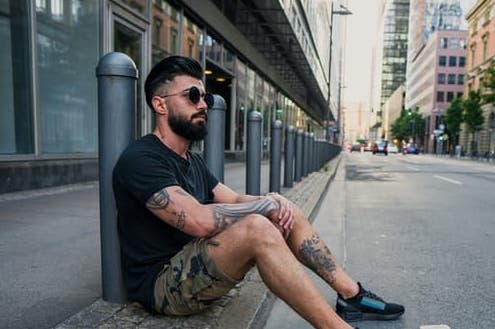 An undercut is where the hair on top is left long while the sides and back are trimmed short.
I know what you're thinking; how is this different to your every day "short back and sides"?
It's different because the contrast between the top and the back/sides is very obvious.
There's no gradual transition. As you travel up the sides and back, it suddenly goes from very short to much longer as you cross over onto the top.
The long hair on top can be styled any way you want. You may choose to keep it flopping forward into a fringe. Or, you may choose to tie it back into a top knot.
But a very effective option would be to sweep the hair on top upward into a pompadour.
This is what's known as the pompadour undercut, and it's an excellent option for men with long hair on top.
The reason for this is that the short back and sides contrast the top so strongly that the top looks even larger and fuller in comparison.
Pompadours pride themselves on volume, height, and fullness, so this is a benefit that shouldn't be underestimated.
Undercuts also make the face look slimmer and narrower as there's less fullness on either side when you look at the face front-on.
For men with rounder or shorter faces, this may be very appealing.
6. High Volume Long Pompadour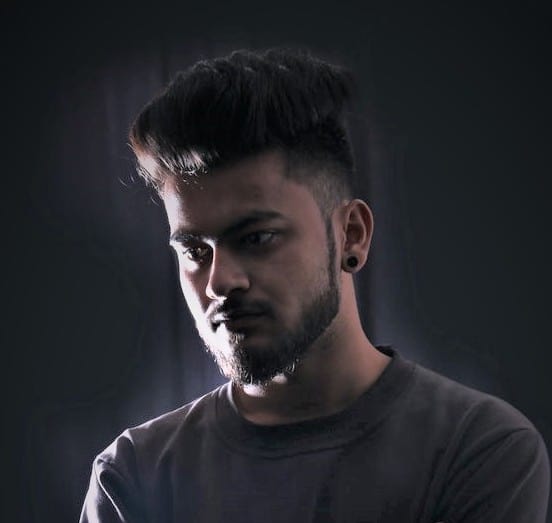 Getting serious volume is definitely easier with longer hair, but it isn't guaranteed.
For one, it'll be easier if you've got long and thick hair, as opposed to thin hair.
But either way, the correct styling technique will definitely make it easier for you.
Here are some tips on getting as much volume as possible with your pompadour:
Pre-styling mousse will be your best friend. The one you use should protect your hair from the blow-dryer's heat and also add texture and volume.
Blow-dry using medium heat. Anything higher just isn't necessary and may do some damage to the integrity of your hair.
Blow-dry in multiple directions, not just the direction you eventually want your pompadour to go. Left, right, forward, back. This should help you get as much fullness as possible when you eventually set your pomp in place.
Try some volumizing powder and see if you like the result. It's a pretty easy way to add some fullness to the final outcome.
Be careful with styling products when you're looking to set things in place. You want to use just enough to get the job done, but not so much that it weighs down the pomp or looks too unnatural.
Remember, go for a matte clay if you want a gentle sheen as opposed to a wetter, shinier look.
If your long hair is thick, a product with a strong level of hold is important if you want to make sure it stays in place.
Volume isn't everything, but it can really make a pompadour stand out from the crowd.
Getting the correct blow-drying technique will definitely take some practice. Be sure not to overdo it, but find one that works for you and stick to it.
7. Swirled Long Pompadour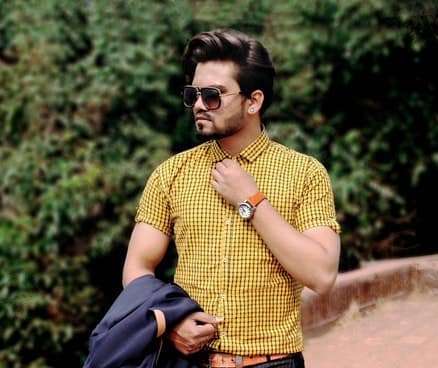 The swirls at the forelock here aren't as simple to achieve as you might think.
It's best done using a round brush while blow-drying.
The pattern is very attention-grabbing and is a good way to make a pompadour just a little bit more interesting.
This picture is also a great example of just how natural it can look when the sides and back are left full instead of clipping or fading them down.
It adds a sophisticated and classy touch.
8. Messy And Long Pompadour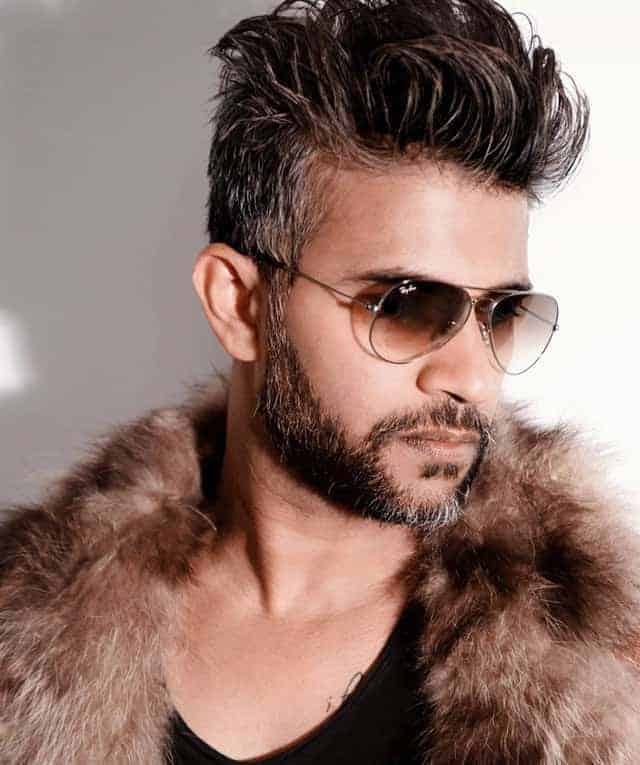 Sometimes, a bit of mess may be exactly what you need.
Yes, pompadours are traditionally known for those pristine shapes.
But modern pompadours often choose a bit of mess over perfection and the outcome can be very impressive indeed.
With long hair, however, you need to be a bit more careful as the pompadour can quickly descend into untidiness.
You want a long pompadour that looks messy but still looks very intentional.
The way to achieve this textured and tousled appearance is usually by using your fingers.
When it comes to getting that perfect wavy mess, there's really no substitute for digging in and working it with your bare hands while blow-drying.
That's what gives the pompadour that broken and separated appearance.
You may not get exactly what you're hoping for on your first couple of tries. Surprisingly enough, getting the right kind of mess is actually quite difficult.
There will definitely be some trial and error involved.
But with the help of a bit of styling product, you should eventually get the look you've envisioned in your head.
This picture is also a great example of a salt and pepper beard that blends seamlessly into the hairstyle.
It adds a layer of maturity and sophistication that can't be ignored. But I guess we're straying from the topic at hand.
9. Wavy And Long Pompadour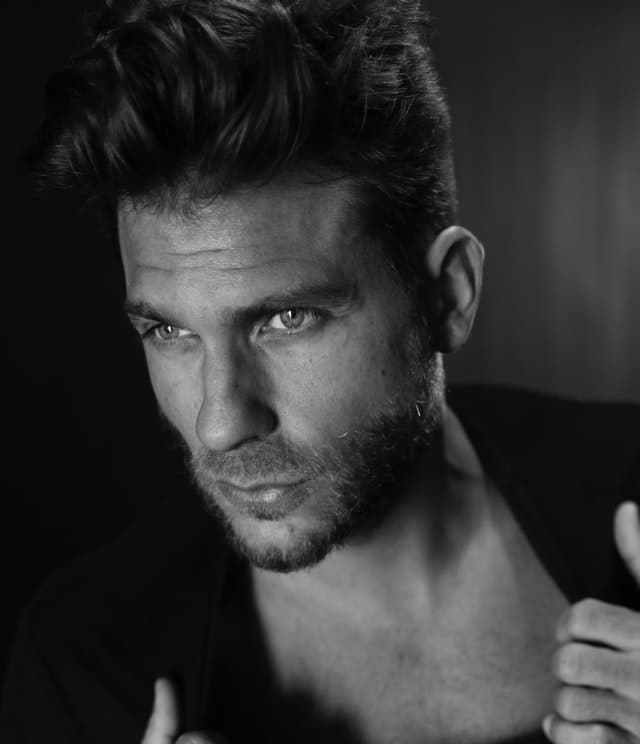 The tousled waves here seem intricately layered, but the simplest way to produce them is, once again, by using your fingers.
It's another great example of a messy long pompadour with a very natural and laid-back vibe.
Messier pompadours are a great option for men with thinner hair, as the layers often make the hair look thicker.
10. Slicked Back Long Pompadour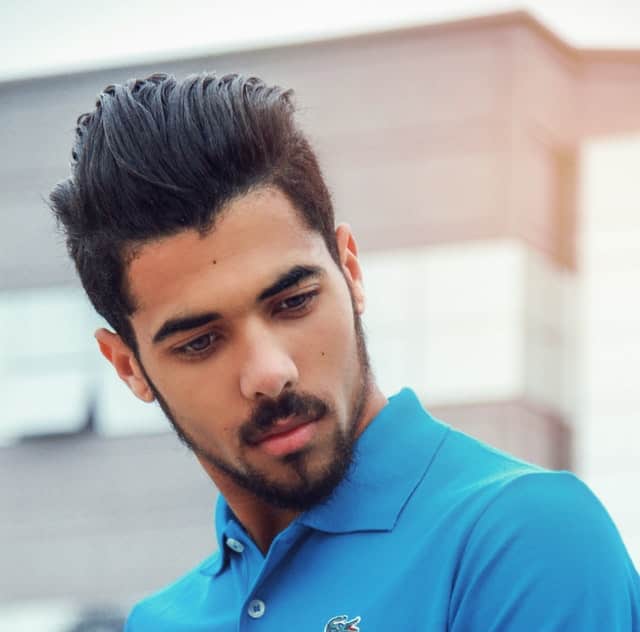 Slicking the pompadour directly backward may not be an option for everyone.
You may find that it sticks up, flops forward, or just doesn't stay in place. The thicker and longer your hair, the easier it'll be.
That's why a lot of men may find it easier to sweep it to one side or the other instead.
But if you're able to slick it directly backward like this the outcome is often impressive. From the front-on, it leads to a nice, symmetrical appearance.
Using the correct styling product should help you achieve it as well.
Choose a pomade or gel with a stronger level of hold if you find you're struggling. Some hairspray may come in handy as well.
Pompadour Styling Tips For Men With Long Hair
You've seen just how versatile the style can be. There are many, many variations out there.
Here's a summary of general tips for any man with long hair looking to style a pompadour of any sort.
Pompadours are easier to style with clean hair. Greasy, oily, unclean hair is harder to sweep into position and is less likely to stay in place.
Pre-styling mousse is essential for protecting the hair from the blow-dryer, as well as gaining fullness and volume.
Experiment with your styling tool of choice. Try a round brush, comb, and your fingers, and see what textures you're able to achieve with each.
Pompadours do look great with fades. If you're interested in trying this out, head to a barber you trust and talk through your options. Short and faded sides often make the pompadour on top look even fuller and taller in comparison.
Experiment with pomades, gels, and matte clays to see what type of finish you prefer. The differences in what you end up with maybe very broad indeed.
Conclusion
The additional maintenance requirements of having long hair are nicely offset by the incredible versatility it brings.
There's just so much you can do with it.
If you're looking to try something new, a pompadour may be the one.
Hopefully, this article has inspired you to try out some of the many different style variations out there.
Enjoy.
Ready Sleek founder. Obsessed with casual style and the minimalist approach to building a highly functional wardrobe. Also a fan of classic, vintage hairstyles.