A polo shirt with khaki shorts is widely considered the optimum summer outfit for a well-dressed man. However, there are many factors to consider to ensure you do it the right way. So, how do you wear a polo shirt with khaki shorts?
You should always consider the weather, your shoes, and the color of your polo shirt. It's acceptable to wear a wide range of shoes, from sneakers to boat shoes, but you should avoid anything of greater formality. Most polo shirt colors are acceptable; however, navy works best.
While that's the gist, there's much more to it.
With that in mind, let's dig deeper.
5 Tips For Wearing A Polo Shirt With Khaki Shorts
Here are some effective tips to help you nail the polo shirt with khaki shorts style, without looking awkward or over the top.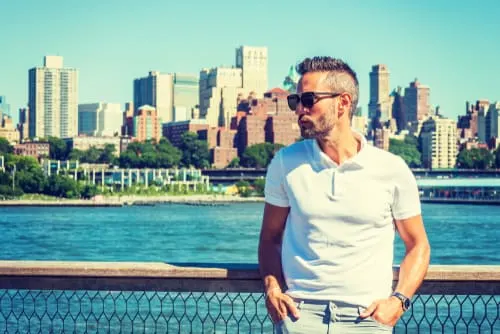 1. Consider The Weather
Something that should always be considered when picking an outfit – particularly one with shorts – is the weather.
The weather plays a major part in what clothes you can wear and what should be avoided because you don't want to be too warm or cold.
This combination of a short-sleeved shirt (the polo shirt) and shorts means that this outfit is primarily suitable for warmer weather.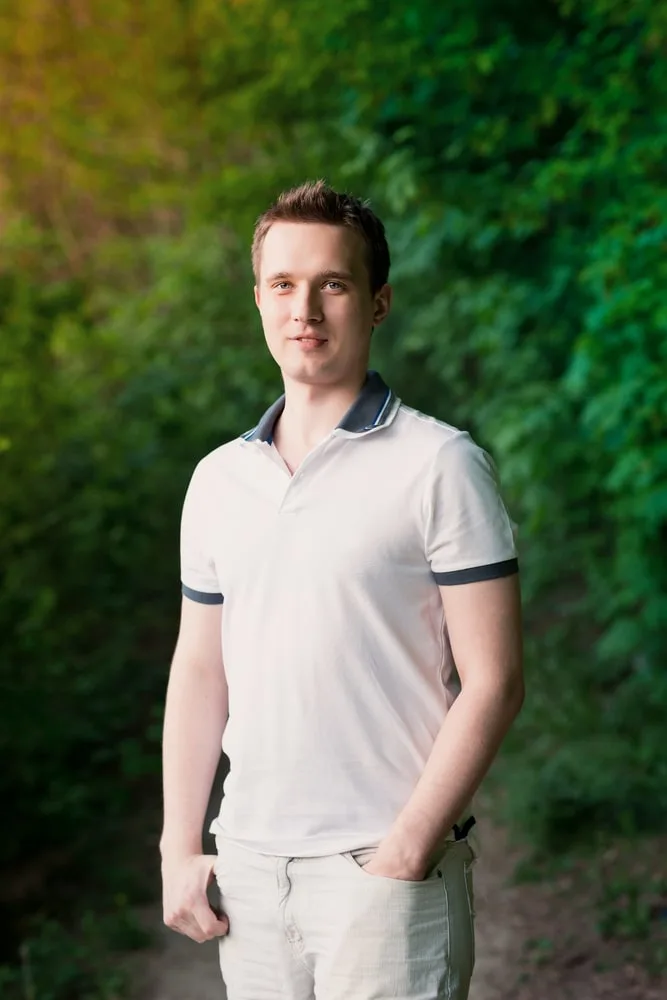 If the weather is moderately warm, but you still wish to wear a polo shirt with khaki shorts, you should consider wearing a vest underneath the polo for extra warmth.
Similarly, you can consider merino wool boxer briefs for a touch of additional warmth if wishing to wear this outfit in cooler climates.
2. Shoe Style Matters
There are many acceptable shoe styles to wear alongside a polo shirt and khaki shorts.
The standard low-top sneaker is a fantastic, common shoe style to wear with this outfit.
Because wearing a polo shirt with khaki shorts is a pretty casual outfit, sneakers compliment the outfit nicely.
While some trainers can look decent with khaki shorts and a polo shirt, generally, it's best to avoid them.
This is because trainers are typically associated with sportswear and can look out of place on a well-dressed man on any occasion other than exercise.
Another excellent shoe style to wear with a polo shirt and khaki shorts is the boat shoe – an iconic shoe for the summertime.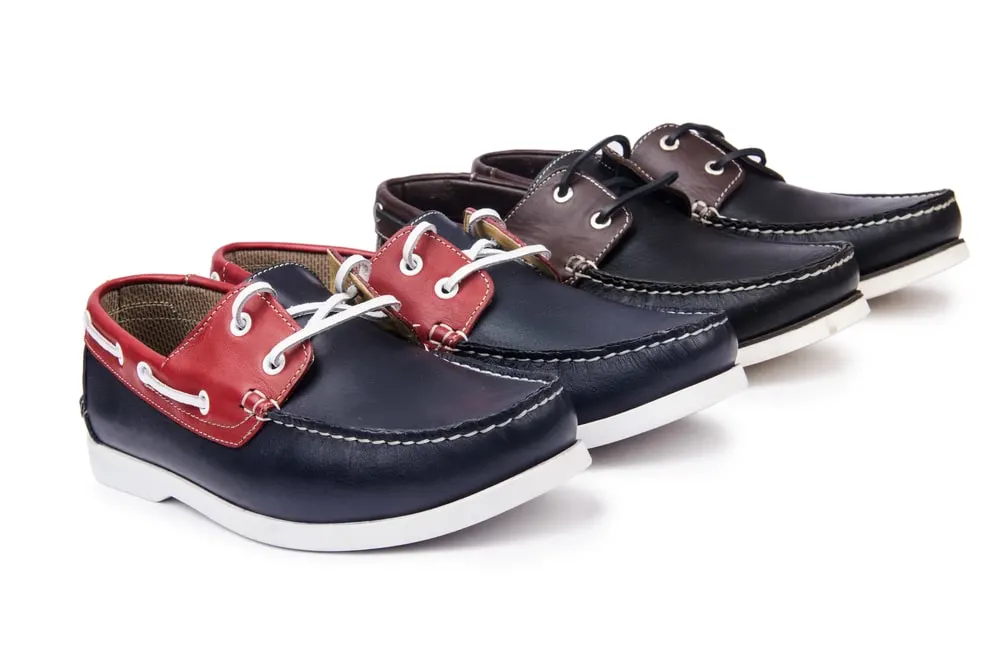 Boat shoes are generally appropriate for events of formality up to business-casual. This means that they synergize particularly well with the polo shirt – adding a touch of formality without going overboard.
Arguably the best material for boat shoes is leather, as it will last a long time, look great, and maximize comfort.
It's worth noting that your socks should never be visible when wearing boat shoes.
While visible socks are acceptable for some shoes, when it comes to boat shoes, ensuring your socks aren't visible is a fundamental rule.
A shoe style worth considering wearing alongside a polo shirt and khaki shorts is espadrilles.
Espadrilles are becoming increasingly common summertime shoes and are a fantastic option to wear with this outfit.
Because the standard espadrilles are canvas, they are often much more affordable than leather boat shoes and can, therefore, act as a solid alternative.
Like boat shoes, the socks of your espadrilles should never be visible, so no-show socks are pretty much a necessity.
3. Stick To Neutral Tones
While the shoe style you choose is a significant factor, the color of your shoes is just as important.
When wearing a polo shirt with khaki shorts, it's vital to pick a shoe color complementary to the rest of your outfit – one that harmonizes with the colors and shades of the rest of your outfit.
If your shoes are too bright, they will draw attention away from you and your overall appearance.
Additionally, shoes that are the wrong color to go with your outfit will look awkward and could make you appear fashionably clumsy.
Khaki is a neutral shade. The best, most complementary colors to neutral tones are typically more neutral tones.
Neutral shoe tones that go especially well with khaki shorts include white, gray, navy, black, and shades of dark brown.
Therefore, these should be the colors you stick to when choosing what shoe color to go with.
4. Think About Your Polo Shirt's Color
The color of your polo shirt is a huge factor when worn alongside khaki shorts; this can 'make or break' your outfit.
However, because khaki shorts and the neutral tones of your shoes are very versatile, there are many color options for your polo shirt.
As a general guideline, stick to lighter-colored polo shirts. These typically look best alongside khaki shorts.
Light blue works especially well because it adds a dash of color to your outfit – straying from the otherwise neutral tones. Mint green can work well too.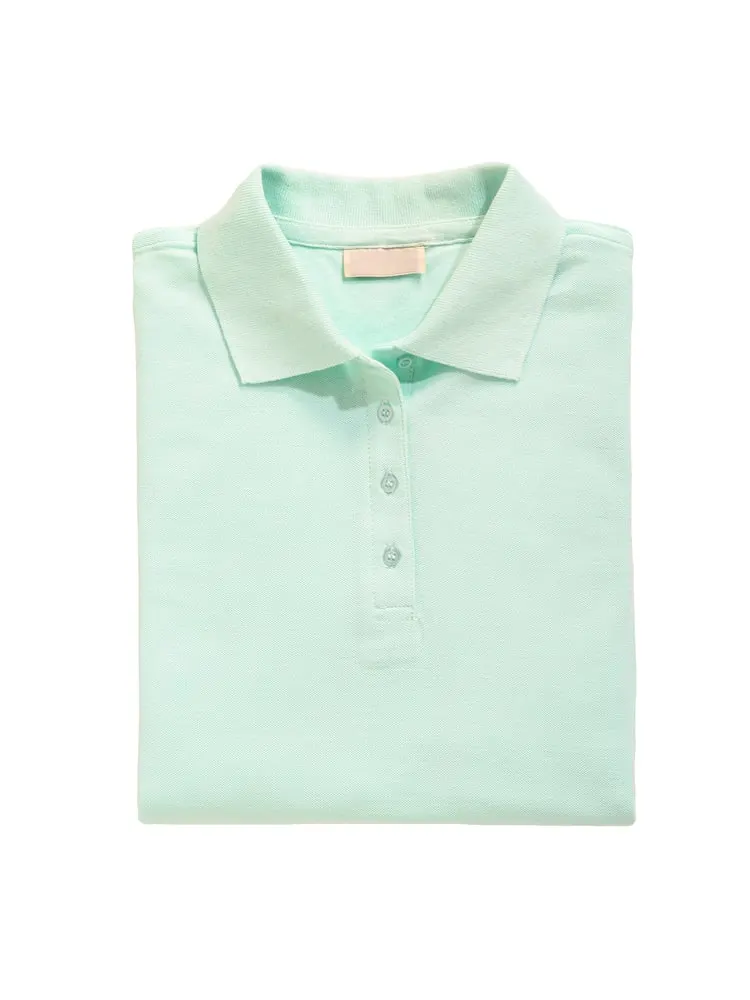 Another lighter color that looks great with khaki shorts is ivory. While not particularly common in fashion, ivory-colored polo shirts can look fantastic with khaki shorts.
Additionally, maroon and navy work extremely well with khaki shorts. They complement each other brilliantly.
However, darker colors like the mentioned may not be as suitable for summer weather. This is a factor that you should always take into consideration.
Alternatively, more neutral tones are an inevitable way to maintain looking good with a polo shirt and khaki shorts.
Having said that, because this outfit is most commonly worn on casual occasions, there is room for experimentation.
For example, while a brightly-colored polo shirt wouldn't usually be recommended, the versatility of neutral tones on top of the summertime weather may allow it.
5. Keep It Casual
When wearing any outfit, it's essential to consider the formality of the occasion before attending.
Pretty much every shorts outfit is only appropriate for casual occasions – and a polo shirt with khaki shorts is no exception.
While polo shirts can be acceptable for a business-casual occasion, the combination with khaki shorts doesn't allow for anything other than a casual situation.
Similarly, this casual outfit can be worn with boat shoes – a shoe style that you can wear semi-formally.
However, this doesn't mean that this outfit can be worn even semi-formally. Instead, you should keep it casual at all times.
Frequently Asked Questions
This section will discuss some frequently asked questions regarding wearing polo shirts with khaki shorts to round things up.
Can You Wear A Black Polo With Khaki Shorts?
You can wear a black polo shirt with khaki shorts for a more casual, relaxed look. A black polo shirt alongside khaki shorts looks best accompanied by dark, low-top sneakers. Navy boat shoes look great with this outfit too.
Black is arguably the most versatile color and works well with khaki shorts.
Because khaki shorts are also very versatile, this outfit demonstrates an understanding of basic color-matching and looks great under most circumstances.
While black is typically associated with formal attire, black polo shirts radiate a more relaxed, laid-back vibe.
Therefore, it's perfectly acceptable to wear a black polo shirt with khaki shorts.
Can You Wear A Navy Blue Polo With Khaki Shorts?
It's acceptable to wear a navy blue polo alongside khaki shorts, as khaki and navy complement each other nicely. To optimize the look, wear black or brown sneakers. Alternatively, brown boat shoes work well too.
Like black, navy is an incredibly versatile color. It does an amazing job of adding a dash of color to your outfit while not going overboard. This means that you can wear a navy blue polo shirt with khaki shorts.
Navy is typically a formal color, and this is continued when venturing into polo shirts.
Sneakers are the perfect accompaniment to your navy polo shirt to create a harmonious outfit, leaning more towards casual than formal – perfect for summertime.
Can You Wear A White Polo With Khaki Shorts?
Wearing a white polo shirt with your khaki shorts is a brilliant, neutral outfit, ideal for the summer. To complete the look, you should wear white sneakers with no-show socks. White espadrilles will also work, creating a more minimal style.
White is a brilliant summer color, and while white polo shirts can be unusual, they synergize well with khaki shorts.
The point of this outfit is to keep it light, fresh, and summery. Wearing white sneakers or espadrilles will maintain this vibe while keeping it casual at the same time.
What Shoes Should You Wear With Khaki Shorts And A Polo?
There are typically three acceptable shoe choices with a polo shirt and khaki shorts. These are sneakers, boat shoes, and espadrilles. They maintain a casual look and are perfect for the summertime. Wearing no-show socks is highly recommended, especially with boat shoes and espadrilles.
You can't go wrong when wearing sneakers with a polo shirt and khaki shorts, as they create a subtle contrast with the slight formality of the polo shirt.
Boat shoes add a hint of extra formality to your outfit, making you look well-dressed without appearing overdressed. They are summer favorites for most style enthusiasts.
Espadrilles are more minimalist than the previously mentioned shoes and work well with the polo shirt and khaki shorts outfit.
When wearing all of these shoes with khaki shorts and a polo shirt, wearing no-show socks is practically a necessity.
Conclusion
Overall, wearing a polo shirt with khaki shorts is a great summer outfit choice. It provides comfort and looks good, and by following these tips, you'll know how to nail it every time.
Ready Sleek founder. Obsessed with casual style and the minimalist approach to building a highly functional wardrobe. Also a fan of classic, vintage hairstyles.