Carhartt is a well-known brand for reliable workwear. However, knowing your size can be tough, especially if you're a first-time buyer. So, do Carhartt pants actually shrink?
It's possible to shrink Carhartt pants. Since they are usually cotton, dryer-shrinking them is recommended. Medium heat and a gentle cycle are optimum for dryer-shrinking Carhartt pants. Remember that damaging your pants or them shrinking too much is always possible when attempting to home-shrink your clothes.
While that's the essence of it, there's much more to explore.
Disclaimer: There's always a risk of shrinking the pants too much or damaging them when attempting a DIY method such as this.
With that in mind, let's dig deeper.
How To Shrink Carhartt Pants In 4 Steps
Here's a simple, step-by-step guide to shrinking Carhartt pants; it's easier than you think.
1. Check Your Pants' Materials
Researching your pants is one of the most important factors in shrinking them.
Different materials have different shrinking requirements. Therefore, it's important to get it exactly right.
Doing so will minimize the risk of damage to your pants or too much shrinkage.
You can usually find the materials on the label inside the pants. However, if your pants don't have a label, you should be able to find your pants' product details on the Carhartt website.
Luckily, Carhartt has its own fabric types: firm duck, washed duck, canvas, ripstop, and twill.
All of these fabrics are either 100% cotton or 99% cotton, so that's what will be covered in this post.
It's important to keep in mind that, while cotton is often more breathable and durable than synthetic fibers, it can be more sensitive to heat.
Additionally, it's worth mentioning that Carhartt pants have a pre-washed line. These are, as the name suggests, pre-washed to help prevent shrinking.
If you've checked the label of your pants, and they're pre-washed, your best bet is to buy new pants instead of attempting to shrink them.
This is because pre-washed Carhartt pants are often shrunk as much as they naturally can be.
2. Put Your Pants In The Dryer
Surprisingly, 100% cotton usually doesn't need any preparation prior to being put in the dryer.
This means that when you want to shrink your Carhartt pants, you don't need to spend a lot of time preparing them – you can put them straight into the dryer.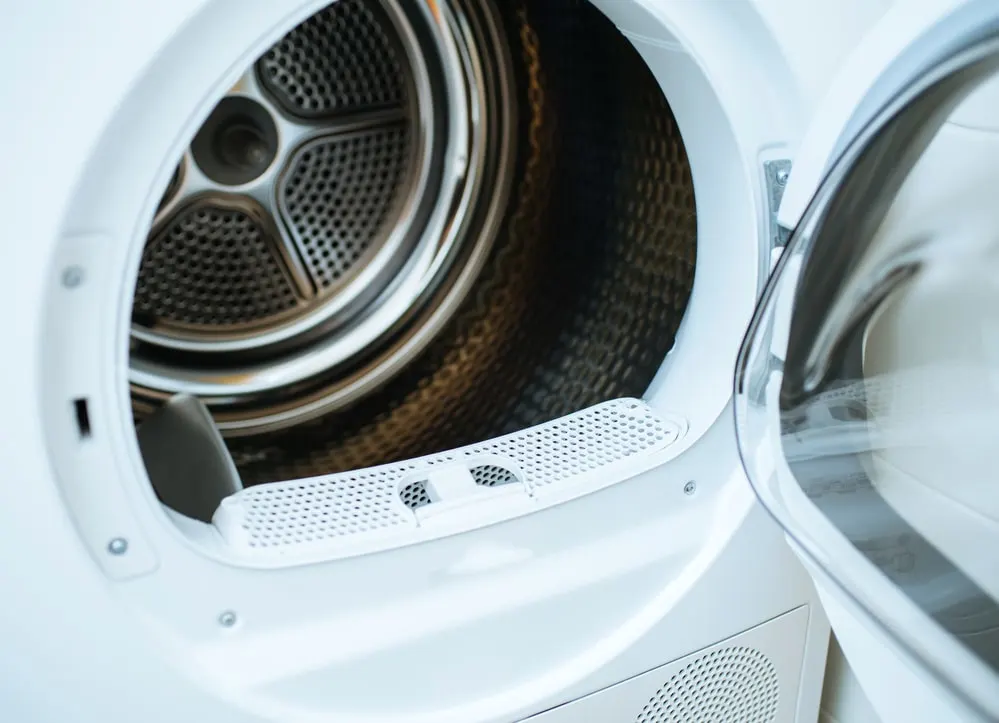 Initially, you should put your Carhartt pants on a medium cycle with no heat. Sometimes, the agitation of the dryer can be enough to shrink cotton pants.
However, if after the duration of the cycle, your pants have little or no shrinkage, you should try washing them first, then turning up the heat of the dryer.
To do this, you should first wash them in cold water – by hand or in the washer.
Next, put them straight into the dryer at low heat on a medium cycle. Throughout the cycle, checking on your pants regularly is essential. This will ensure they don't shrink too much without you realizing it.
Wetting the pants before putting them into the dryer will relax the fibers, aiding the shrinking process.
If you've attempted to shrink your Carhartt pants this way and still aren't having much success, or you want to shrink your pants significantly more, using a high dryer heat is recommended.
You should always be aware that when putting cotton pants in the dryer repeatedly on a high heat setting, there's the potential for damage or too much shrinking. Furthermore, it increases the chance of tearing.
3. Iron Your Pants
After putting your Carhartt pants in the dryer, you can iron them to further assist the shrinking process.
Using a steam iron rather than a standard iron is best. Steam irons will help shrink the garment without getting it wet. It's also widely accepted that steam irons are a better choice to use on cotton.
The best way to steam your pants using a steam iron is to hold your iron about half an inch from the fabric and release steam onto it.
Once you've finished steaming your Carhartt pants, leave them flat to dry off. It's worth mentioning that they shouldn't be wet after steaming – merely slightly damp.
Steaming your pants is a great way to control the specific area you shrink.
There's always a risk of injury when dealing with steam from a steam iron, so be extra careful.
4. Try Them On
The final step to shrinking your Carhartt pants is trying them on. Trying on your pants before wearing them out is highly recommended.
This is because they might still be too big after shrinking them. If this is the case, you can re-follow the procedures in this post.
On the other hand, it's possible that your pants will have become damaged or shrunk too much during the process.
While knowing if your pants fit well can be tough, there are a few guidelines that are pretty much always worth checking.
The first is the waistband: your waistband should be snug but not tight or constricting. If you can put a finger or two between the waistband and your waist, it's likely a good fit. Your pants should never be loose or slide down your waist.
Similarly, the crotch of your pants shouldn't be overly tight; comfort is key.
As for leg length, the best fit for your pants is when there is no bunching around the tops of your shoes but also minimal ankle exposure.
The bunching of pants looks scruffy and can be uncomfortable, while ankle exposure can look and feel awkward.
Carhartt is renowned for making reliable workwear; however, pants that don't fit can get in the way of your work. Therefore, ensuring they fit correctly is crucial.
Frequently Asked Questions
To really sum things up, here are a couple of frequently asked questions on the topic.
Do Carhartt Ripstop Pants Shrink?
Carhartt ripstop pants can and will shrink. Wash them in cold water – by hand or in the washer – then put them into the dryer on low heat and a medium cycle. Check on your pants regularly to ensure they haven't shrunk too much.
Because Carhartt ripstop pants are 98%-100% cotton, minimal preparation is needed.
They can be put in the dryer on a medium cycle with no heat for smaller shrinking jobs.
However, washing them in cold water first is recommended if you wish to shrink them a little more.
You should then put them straight into the dryer and run it on a low heat setting with a medium cycle.
Checking your Carhartt pants regularly throughout the cycle is important to make sure they are shrinking the correct amount.
Do Carhartt WIP Pants Shrink?
While Carhartt WIP is a division of the main brand, Carhartt, it maintains the top quality cotton for its pants. This means that Carhartt WIP pants will shrink when the correct procedure is followed. Washing and drying Carhartt WIP pants is the best way to shrink them.
As mentioned, cotton will shrink a bit when put straight into the dryer. Similarly, for more shrinkage, it'll shrink when washed in cold water first.
Using a steam iron can also aid the shrinking process. Hold the iron about half an inch away from the fabric and begin releasing steam onto it.
This can also be great for shrinking particular areas of your pants.
Conclusion
Now you know the steps required, you can shrink your Carhartt pants correctly every time. Keep in mind that the possibility of shrinking your pants too much, or damaging them, is always possible.
Ready Sleek founder. Obsessed with casual style and the minimalist approach to building a highly functional wardrobe. Also a fan of classic, vintage hairstyles.