For some, a hat is a fantastic way to round off a stylish outfit, and tuxedos are no exception. As always with fashion, there are some dos and don'ts that will be explained in this article. So, can you wear a hat with a tuxedo?
It's entirely possible to wear a hat with a tuxedo, but it's essential you wear the right style. The tuxedo is a traditional formal outfit, so you risk a formality mismatch if the hat is too casual. Homburg hats and Bowler hats are both generally considered appropriate.
While that's the short answer, there's a lot more to it.
Read on as we discuss some of the best hats you can wear alongside a tuxedo, as well as answer some frequently asked questions on the matter.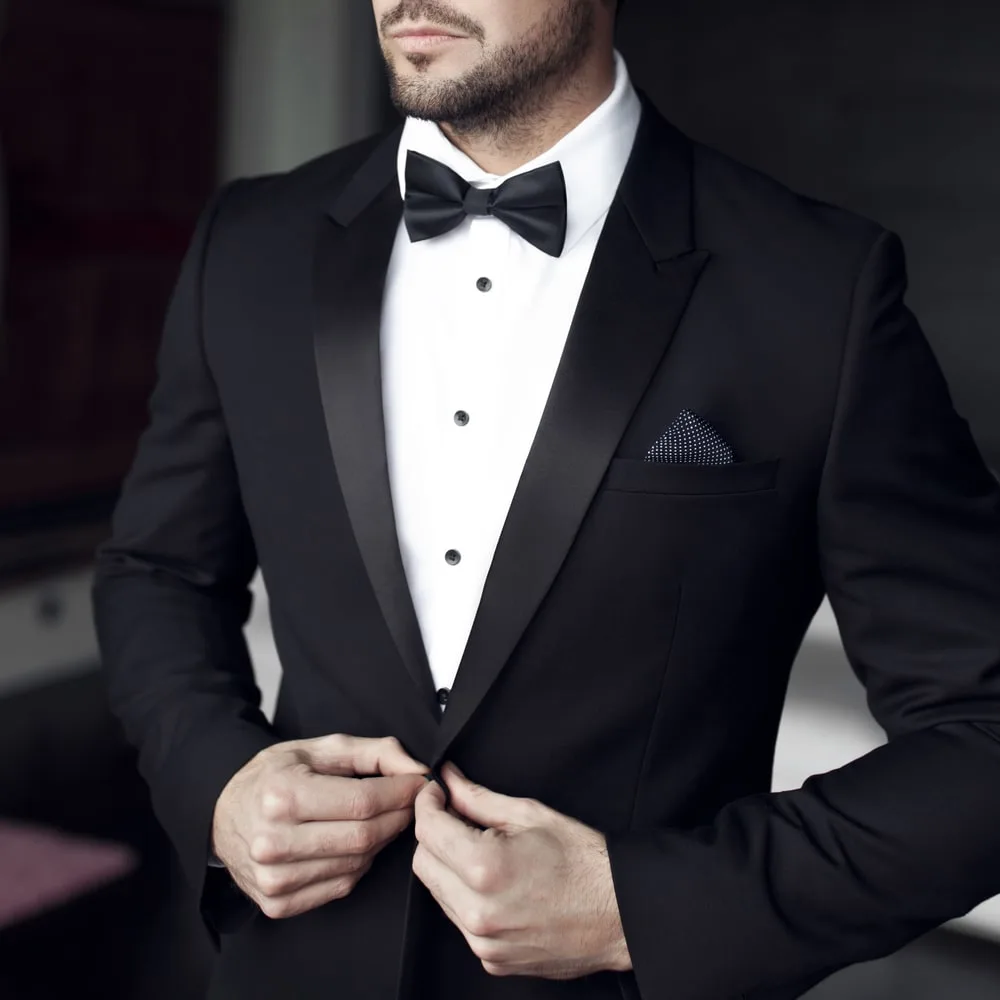 6 Hats You Can Wear With Tuxedos
If you're attending a black tie event and you'd like to take your tuxedo ensemble to the next level, a hat might just be the best option. Here's our list of the best hat options.
Homburg Hat
If you'd like to pair a hat with a tuxedo, then one of your best options is a Homburg hat.
This hat is similar to a fedora, but unlike the fedora, it isn't pinched towards the front of the hat.
This gives the Homburg a more rounded appearance with a single dent in the center of the hat, commonly known as the 'gutter crown.'
Finished off with a hatband around the rim, the Homburg hat is the one to choose.
Here's an example of one on Amazon:
The hatband is usually made from ribbon, giving it a silky smooth appearance – a perfect accompaniment to the formal, stylish tuxedo.
When wearing a black tuxedo, it's always recommended to wear a black or navy hat, and the Homburg is no different. This prevents color clashing because dark colors are the most formal.
Bowler Hat
One of the most classic and iconic hats in men's fashion is the Bowler hat – also known as a Derby or Billycock hat.
It was originally designed and created by Thomas and William Bowler of London in the mid-1800s.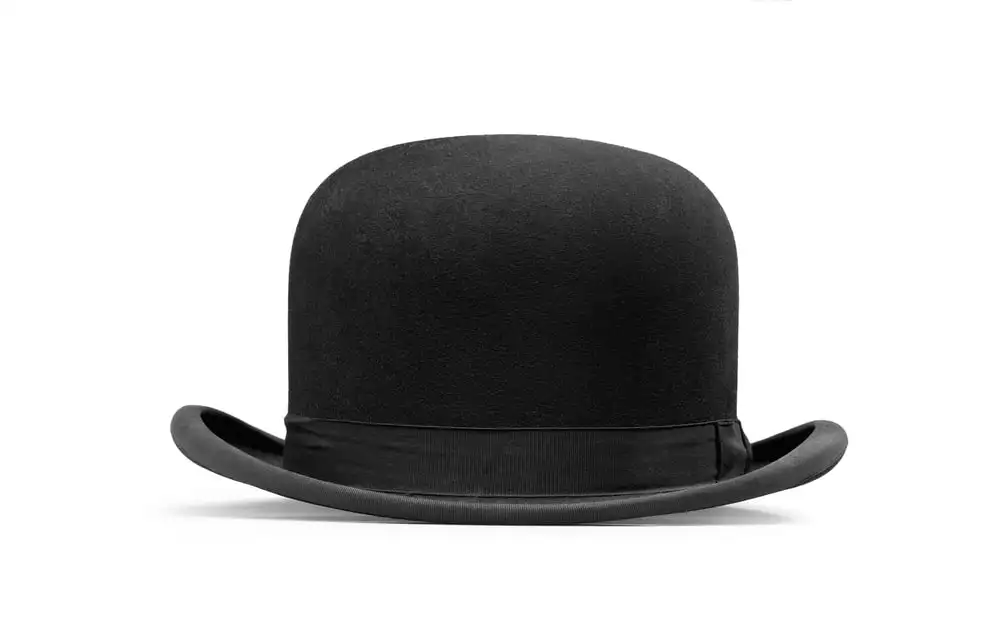 The Bowler hat went on to take the world by storm, becoming the people's favored hat in many countries around the globe.
The first Bowler hat made was for the gamekeepers of the Holkham Hall estate in Norfolk, because their top hats were being knocked off by low branches.
The felt keeps the hat looking formal, while its overall shape isn't extravagant and, therefore, pairs nicely with a black tuxedo.
For this reason, the Bowler hat is an excellent choice if you'll be wearing it with a tuxedo.
Top Hat
A top hat is probably the most famous type of formal headwear. It's a tall, flat crowned black hat made of silk.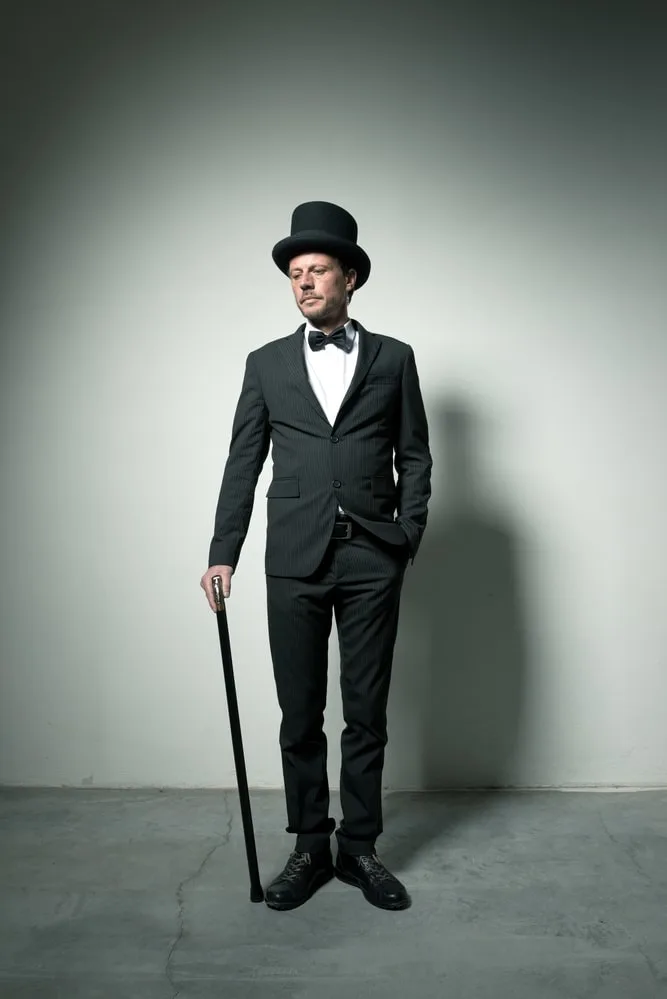 Having been around for over 200 years and still being worn today, it's safe to say the top hat has stood the test of time.
While this extravagant piece of headwear is perfect for formal occasions, it's usually a little too formal for tuxedos.
Traditionally, the top hat should only be worn to white tie events such as opera performances and gala dinners, leaving this type of hat unsuitable for black tie events.
You should always dress for the occasion, so if it seems like a top hat might be too formal, or if you could be the only person wearing one – it's probably best to leave it in the wardrobe.
Unlike the other hats on the list, the top hat isn't particularly subtle. This can leave a lasting impression on people due to its size.
This means that the top hat is best avoided unless you have confirmation from other attendees they'll be wearing one too, or if a formal hat is required and you only have a top hat.
Boater Hat
For a vintage and classical style, the Boater hat is a solid option when deciding on a hat to wear with a tuxedo.
Much like the Panama hat, it's recommended you wear the Boater hat during the summer months as it isn't a proper formal option, so bear that in mind when putting your tuxedo together.
A light tuxedo is the best choice here, such as a cream-colored one.
This would pair well with the color of the Boater hat, which is usually a light tan due to the durable straw it is made from.
It is possible to find felt black boater hats, however. These would be much more suitable to wear with a tuxedo than the traditional straw-colored ones.
Here's an example on Amazon:
Fedora Hat
Being similar to the Homburg, the Fedora hat is a decent option if you're trying to find a style of hat to wear with your tuxedo.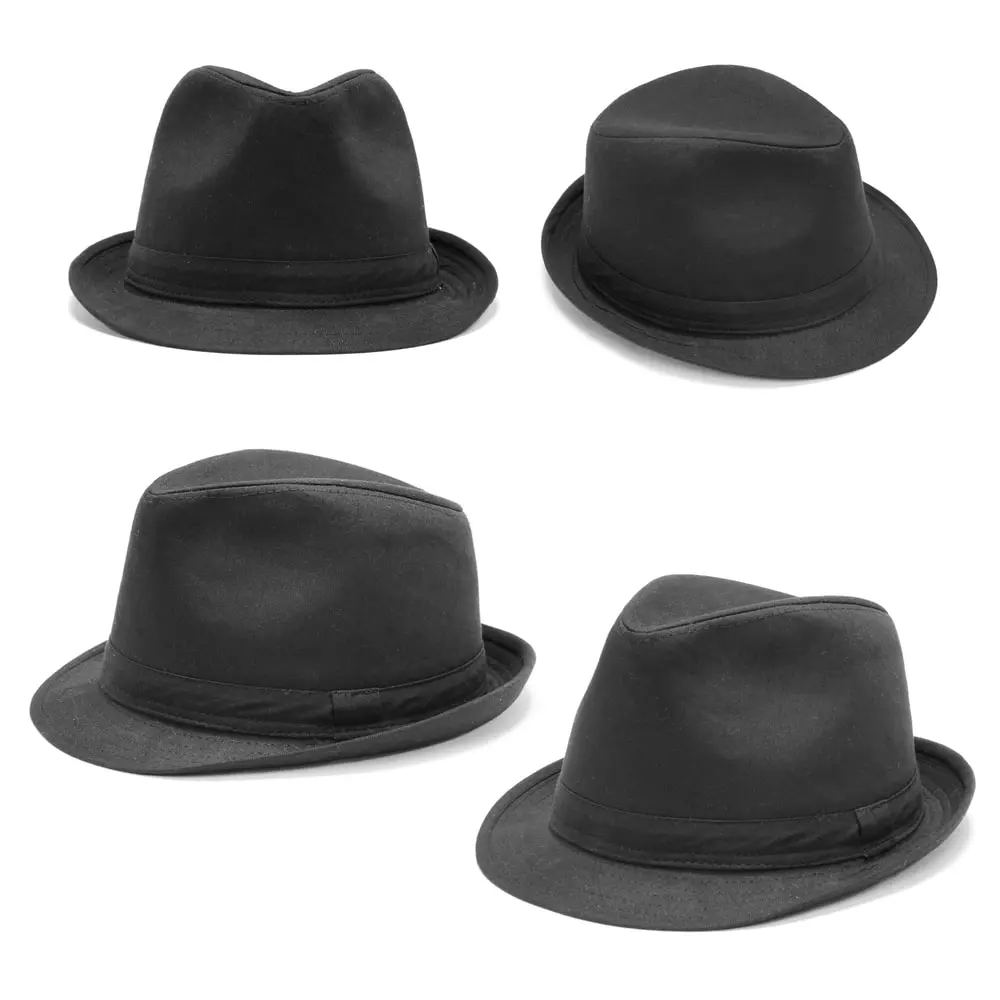 It is a very casual choice, however, so if you'll be wearing the Fedora, depending on the color of your tuxedo, only a black or white Fedora, with a black band, is suitable.
It has a soft and smooth brim with an indent similar to that of the Homburg. Available in a wide selection of colors, you'd be hard-pressed to find a Fedora that doesn't suit you.
Panama Hat
Possibly the least suitable hat on the list is the Panama hat.
While not a formal hat at all, this hat would be a good choice during the summer months when the temperatures are higher, and the dress is usually a little more relaxed.
These hats are generally worn with linen or silk suits but could stretch to a tuxedo, especially if the tuxedo is a non-traditional light color to match the hat as best as possible.
Frequently Asked Questions
Now you know all about wearing hats with your tuxedo, here are some frequently asked questions on the matter to really round things off.
Can You Wear A Fedora Hat With A Tuxedo?
It's usually acceptable to wear a Fedora hat with a tuxedo, as long as the hat is black or white, with a black band. The hat should ideally match the color of the tuxedo. This makes it appear more formal, which is ideal because the Fedora is a fairly informal hat.
Many consider a Fedora far too casual to be worn alongside a tuxedo. However, if you match the color of your tuxedo and Fedora, then it can look ok and not too informal.
No matter what color the Fedora is, it's always going to be a casual hat, so choose wisely and decide with your tuxedo on before the event.
Can You Wear A Cowboy Hat With A Tuxedo?
Usually, the answer is always categorically no, as a cowboy hat and a tuxedo are two completely different styles. However, if you'll be wearing a western-style tuxedo, a black cowboy hat would look great.
It's usually best to leave the cowboy hat for when you'll be sporting jeans, a checked shirt, and a pair of boots.
But there is an exception. The western-style tuxedo is an immensely popular choice for those wanting to dress up but still keep true to their roots.
It's best to keep the cowboy hat free from colors, so black is still the best choice to match your jacket. After all, cowboy hat or not, it's still a formal outfit.
If you'll be wearing a white jacket, then white is also acceptable.
Should You Leave The Hat On Indoors With A Tuxedo?
It's recommended to take your hat off when heading inside. This is a tradition that stems back hundreds of years and is a sign of respect to the owner of the building you will be entering.
A good place to see this rule is when watching various films from different generations, such as wild-west films.
The character walks into a saloon bar or other building, and the first thing he does is take his hat off.
Well, the same rules still apply today. It's worth keeping in mind that when wearing a hat with a tuxedo, you should always take your hat off when going inside.
Conclusion
There's a range of hats you can wear with a tuxedo. However, some are better than others because the tuxedo is very formal. Remember to try matching the hat with your tuxedo, and always remember to take the hat off when entering a building.

Ready Sleek founder. Obsessed with casual style and the minimalist approach to building a highly functional wardrobe. Also a fan of classic, vintage hairstyles.