Get it right and you end up with a combination that looks laid-back and effortless. Get it wrong and it can come across as "too much" pretty quickly. So, what's the best way to wear a green shirt with blue jeans?
In smart-casual settings, wear a dark or muted green button-up shirt in Oxford cloth, chambray, or linen with a pair of slim-fit, tapered, dark blue jeans. When dressing down, consider wearing a green tee, polo, or Henley shirt with jeans in a lighter shade of blue.
That's the short answer, but read on for all of the important bits and pieces for perfecting it.
Outfit ideas and tips to help you take this combination from boring to stylish.
Let's get to it.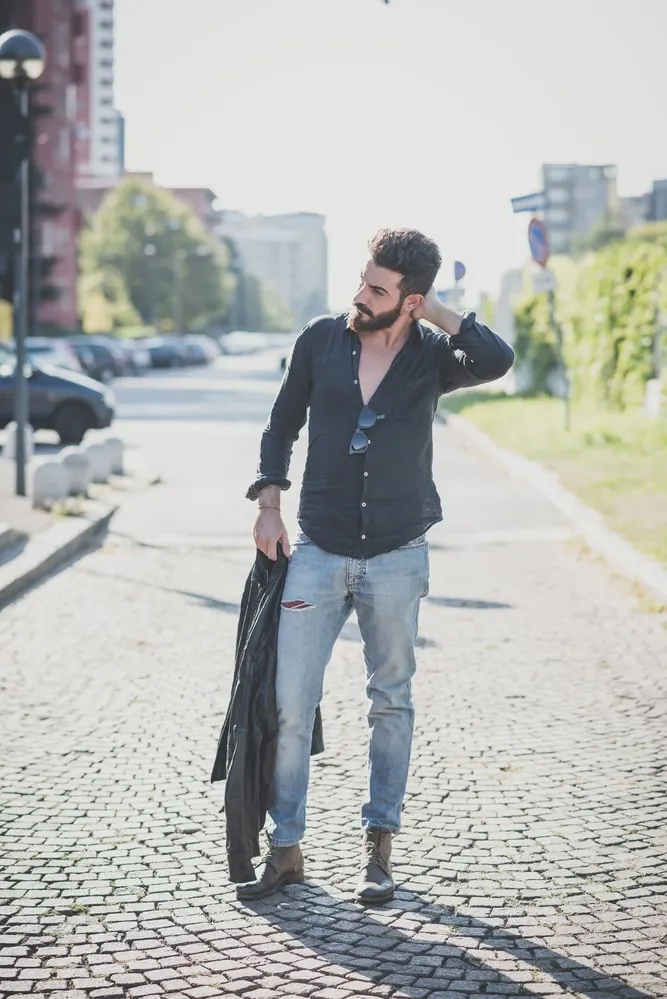 3 Green Shirt And Blue Jeans Outfits To Try
Here are some great outfit examples to spark that imagination.
It'll always be casual, but there are definitely less casual ways and more casual ways of pulling it off.

We'll start with the least casual way and move on to the most casual ways.
Least Casual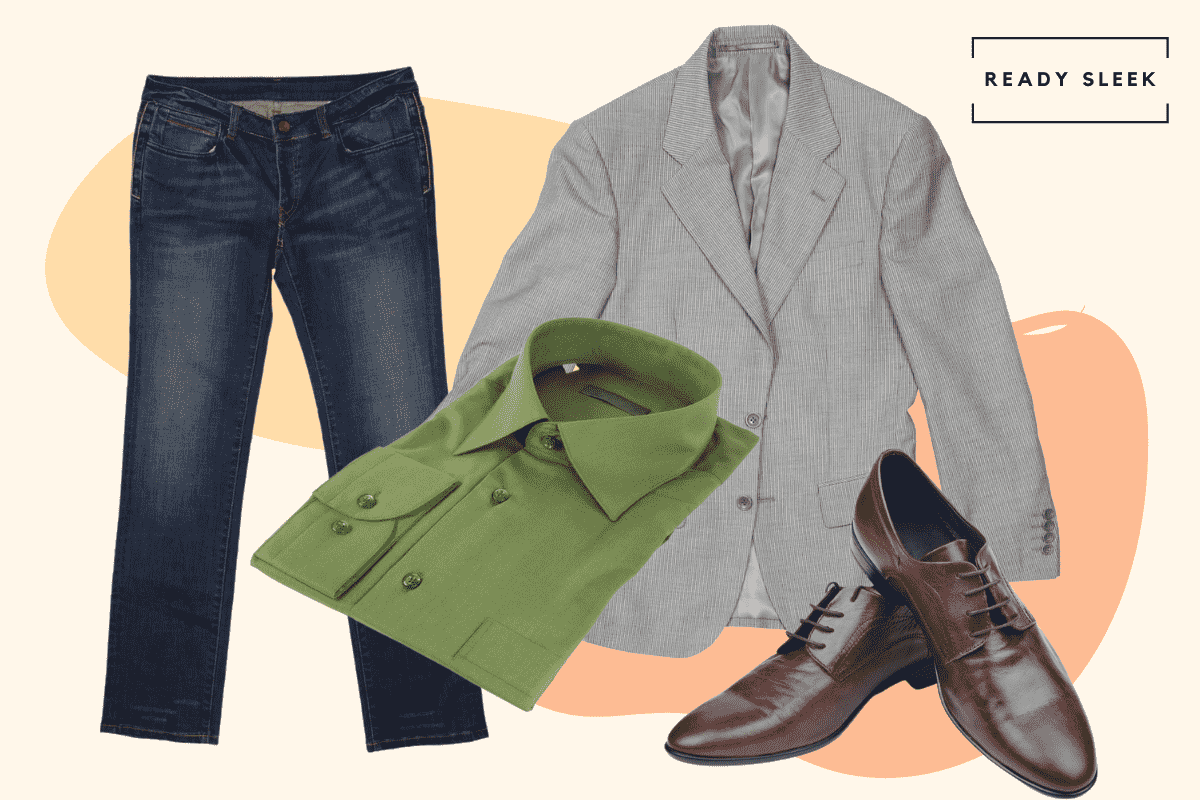 Items: Olive Green Shirt, Dark Blue Jeans, Dark Brown Derby Shoes, Grey Blazer/Sport Coat
As always, simply going for a button-up shirt over a short-sleeved shirt will elevate this combo a notch.
It'll always look dressier – that much is probably obvious.
But going for a dark or muted shade of green is yet another way of dressing this combination up.
Olive, sage, forest, or hunter green are good examples. They'll look more subtle, understated, and dressy than a bold and vivid mint, lime, or chartreuse shirt.
The blue jeans we've gone for here are dark. In general, dark blue jeans (eg. indigo) look less casual than light blue jeans.
The grey sport coat is a quick and easy way to up the sophistication level of the casual outfit.
It isn't essential, but a casual and unstructured blazer can work wonders for a casual jeans combo.
Finally, the dark brown Derby shoes might be bordering on being too formal to wear with jeans. But dark brown shoes are generally more versatile and easier to wear in casual outfits than black shoes.
More Casual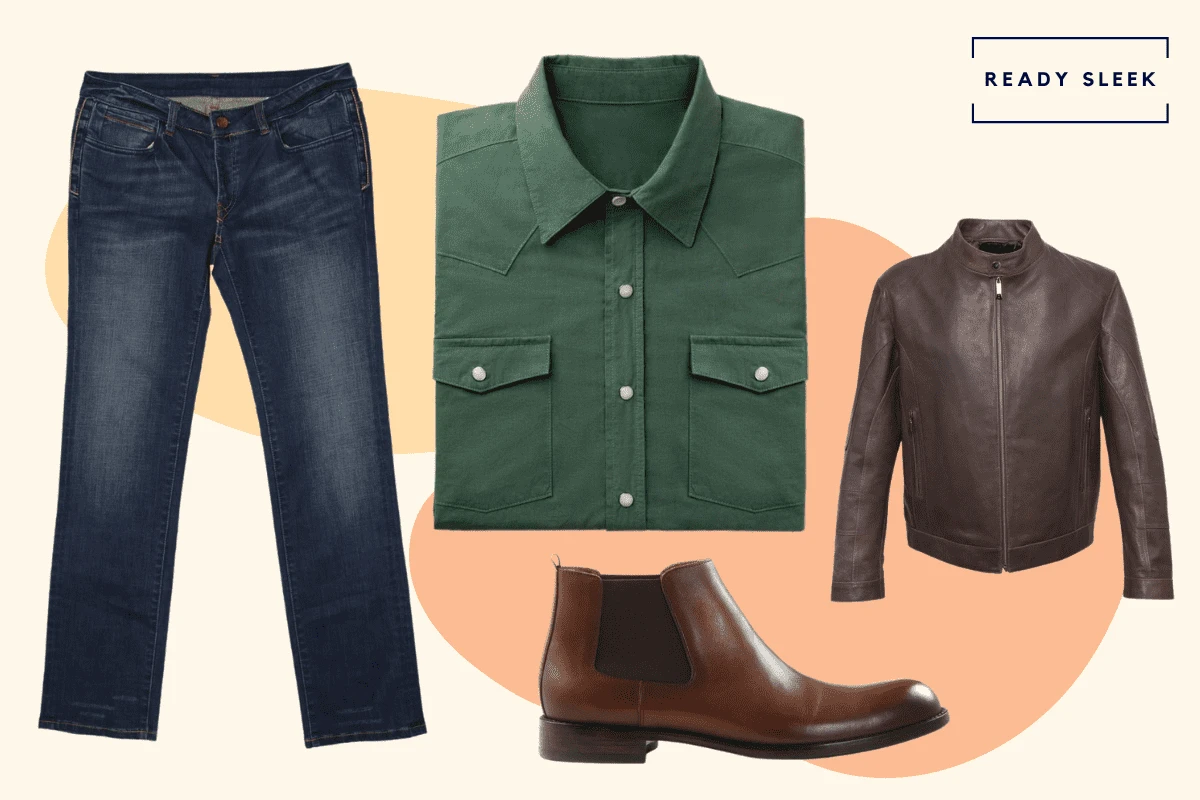 Items: Forest Green Button-Up Shirt, Blue Jeans, Brown Chelsea Boots, Brown Leather Jacket
Here, we've gone for a similarly muted button-up shirt. This one is darker – closer to a forest or a hunter green shirt.
The blue jeans are still dark – we're really not dressing down too much with the choice of shirt or jeans.
We're dressing this outfit down a notch by pairing these two items with more casual items.
Instead of the dark brown Derby shoes, we're going for medium brown Chelsea boots.
While Chelsea boots are arguably the dressiest mainstream boot style out there, they still aren't as "formal" as a pair of Derby shoes.
In addition, going for a lighter shade of brown is another simple way to dress it all down.
It's hard to deny how the leather jacket gives the green shirt and blue jeans an entirely different aesthetic from the blazer combo in the previous example.
It's still sharp, but so much more laid-back.
Most Casual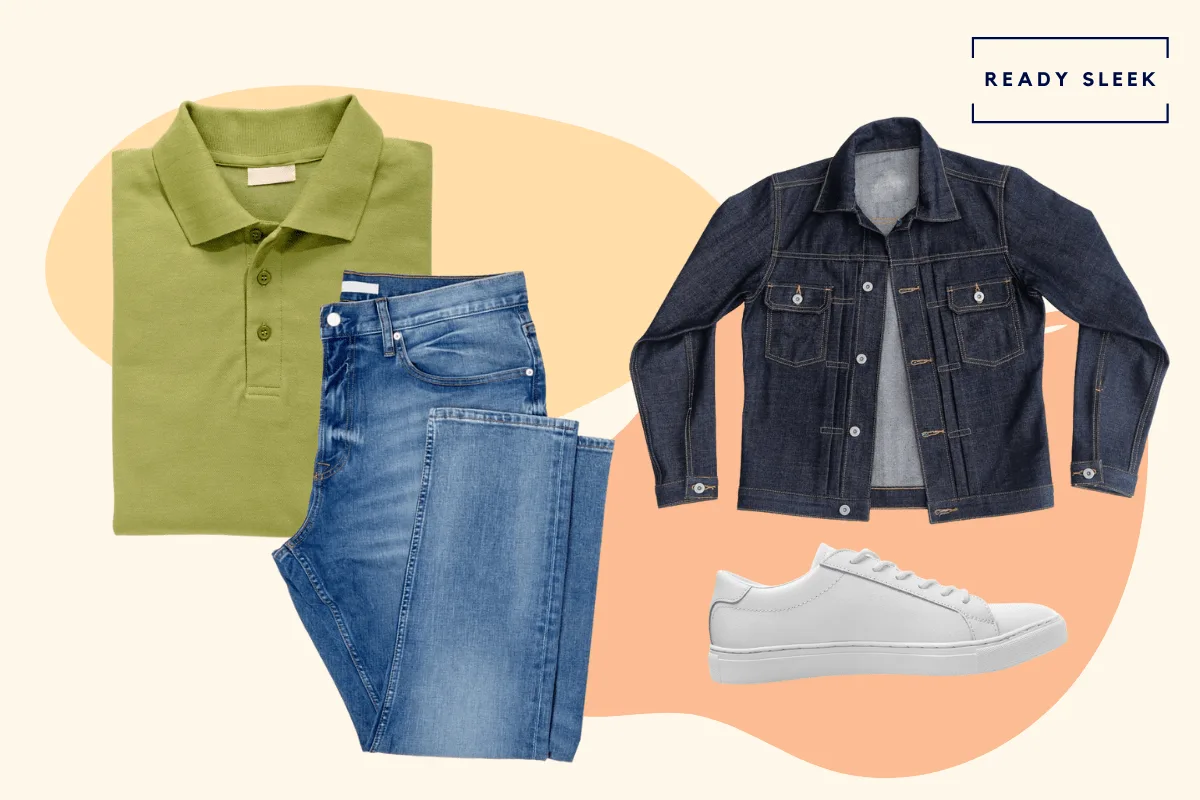 Items: Olive Polo, Dark Blue Denim Jacket, Light Blue Jeans, White Sneakers
An olive polo is so incredibly versatile. It's a touch dressier than a green T-shirt but still a lot more casual than a button-up.
We've gone for a "Canadian tuxedo" here – in other words, a denim jacket paired with denim jeans.
It doesn't appeal to some people, but it can work well when the colors of the denim items are different enough.
Going for a dark blue denim jacket with a light blue pair of jeans is a great example of this. Two very different shades of blue.
In addition, you'll notice that the light blue jeans look a lot more casual than the dark blue jeans used in the previous two outfit examples.
In general, it's good to own both a pair of dark and light blue jeans in your wardrobe. It gives you the option of dressing up or dressing down a casual outfit pretty easily.
5 Tips For Wearing A Green Shirt With Blue Jeans
Consider these tips before putting any green shirt and blue jeans combo together. There's a good chance they'll make all the difference.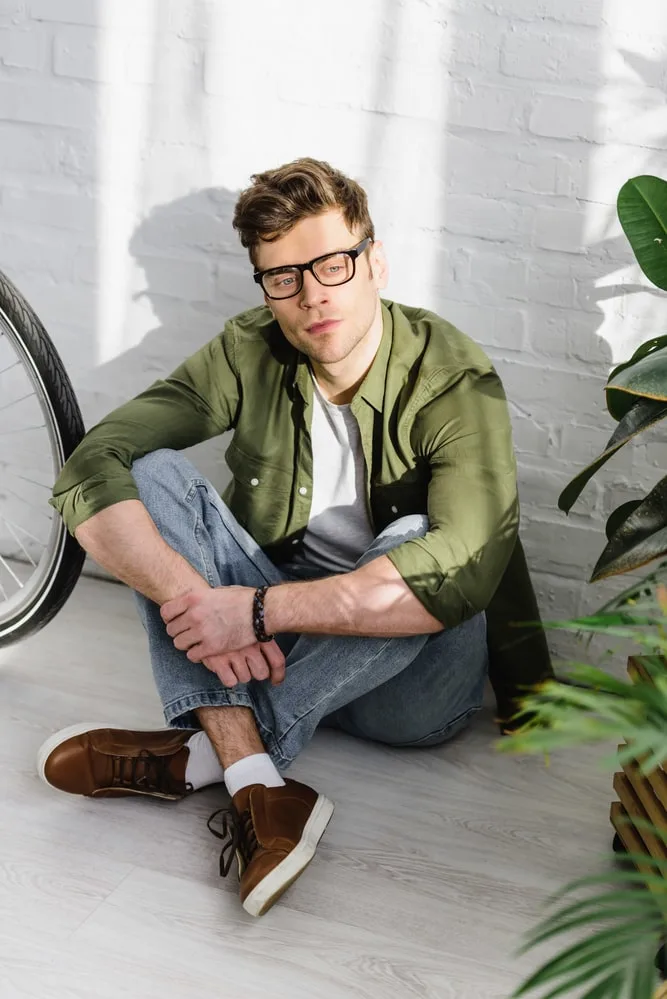 Consider The Dress Code
This combination should really only be worn in casual and smart-casual settings. It wouldn't ever be appropriate in business-casual, professional, or formal settings.
In a truly casual setting, there's very little risk of underdressing. There aren't really any limits and you could practically wear any green shirt and blue jeans combo you felt like.
In smart-casual settings, there's definitely at least a small risk of underdressing. A T-shirt/polo and jeans combination would be pushing it.
But a button-up and slim-fit jeans combo might be OK, as long as you choose the right fits, features, and shades.
We'll talk more about this in the next couple of tips.
Consider The Style Of The Green Shirt
Make sure the style of the green shirt you wear with blue jeans is casual enough for the outfit to work. You don't want a formality mismatch.
It isn't just the shade of green that makes a difference. The style of the green shirt you choose to wear also matters.
When wearing blue jeans, you don't want to wear a green shirt that looks too formal to make sense.
It's worth avoiding green dress shirts altogether. Dress shirts have "formal" features such as stiff collars, long hems, and smooth/wrinkle-resistant fabrics.
They're usually made from tightly woven cotton that has a smooth texture and sometimes even a sheen to it.
What you should be wearing instead are casual button-up styles.
These usually have a more relaxed look and feel to them. They'll generally have relaxed collars instead of stiff ones.
They'll also often be made from rougher and more textured fabrics such as Oxford cloth (i.e the classic OCBD), linen, or chambray.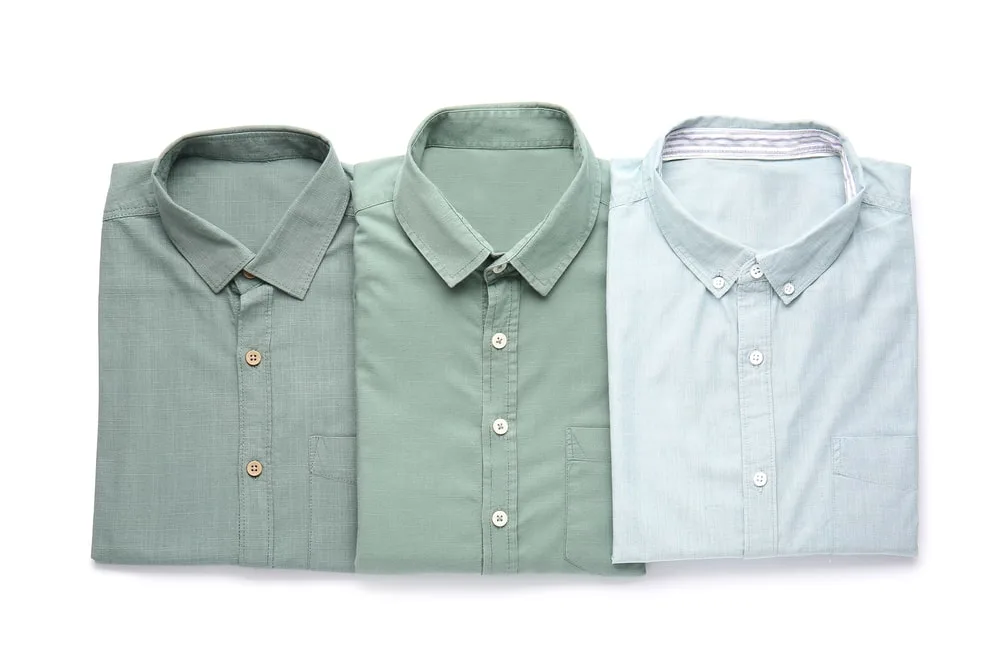 These casual styles of a button-up green shirt are ideal when you're wearing dark blue jeans to a smart-casual setting.
They aren't too formal-looking to wear with blue jeans, but they're also not too casual to work well in a smart-casual setting.
Of course, if you were wearing a green shirt and blue jeans combination to a very casual setting, don't feel the need to wear a green button-up at all if you didn't want to.
You could easily just wear a green T-shirt, polo, or Henley shirt instead.
Consider The Fit Of The Blue Jeans
The fit of the blue jeans does make a difference to how casual or not-so-casual the green shirt combo looks overall.
In general, slim-fitting, tapered pairs of blue jeans look less casual.
Eye-catching fits with interesting silhouettes generally look more casual. Wide-leg, bootcut, skinny – they'd all look more casual than a pair of slim-fit or straight-leg jeans.
Distressing also makes a difference.
Distressed blue jeans with rips, frays, acid washing, or stone washing look more casual than non-distressed blue jeans.
So, if you're looking to dress up a notch, here's your best option:
A casual button-up shirt in a muted/dark shade of green such as olive, sage, or hunter green worn with a pair of slim-fit and non-distressed dark blue jeans.
Layer With Care
Layering is a great way to make this combination more interesting, but it does need to be done the right way.
In general, green is a pretty bold color. Of course, going for a dark/muted shade of green does make it less bold.
But it would still look pretty bold.
Because of this, it's generally best to keep the color of your outer layer pretty subtle in comparison.
You can do this by sticking with neutral colors for the most part.
So, if you're thinking of wearing a blazer over your green shirt, stick with grey or dark brown.
Brown and green work exceptionally well together – a nice and earthy aesthetic.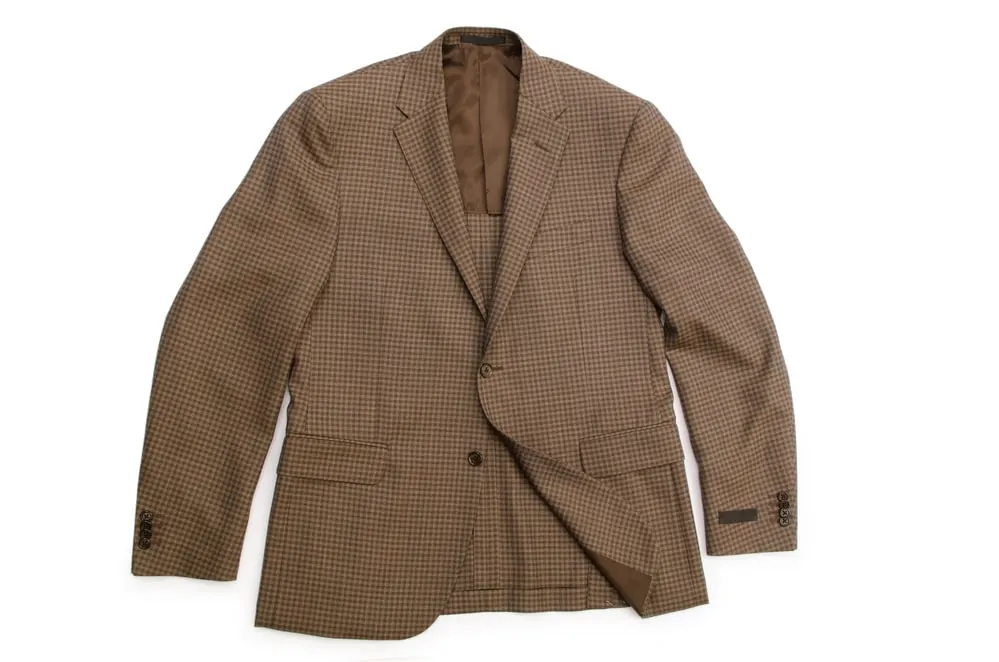 The same would go for a cardigan. Cream tones can also work well here.
Neutral and unlikely to clash.
Brown Suede Or White Sneakers
Brown suede shoes and boots look great when wearing a green shirt with blue jeans, especially if you're doing so in a smart-casual setting.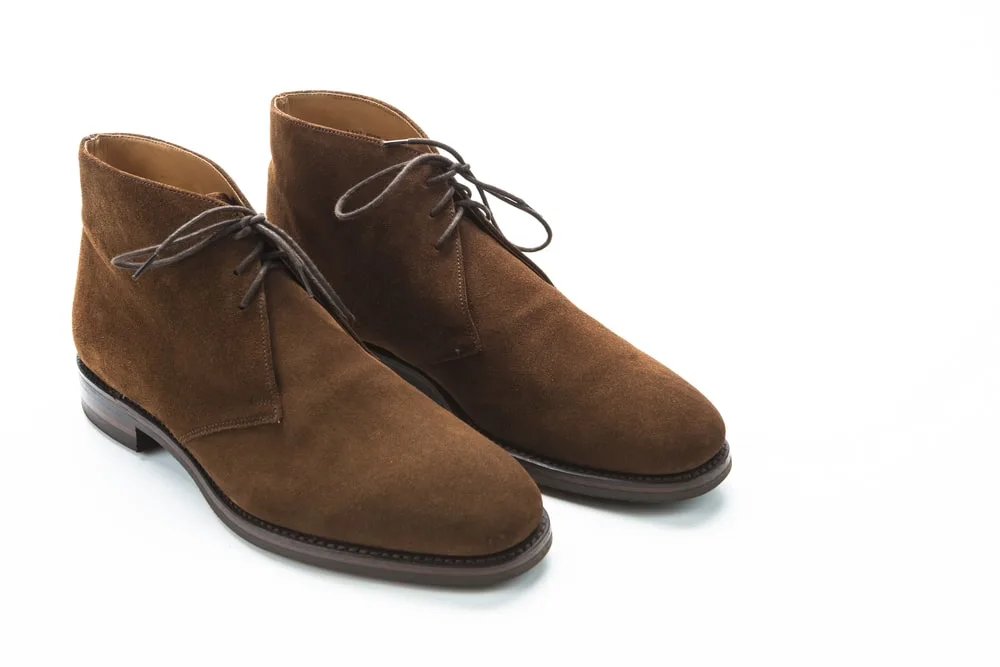 If you were really looking to dress down, consider a pair of minimalist all-white leather low-top sneakers.
Brown works great with both blue and brown, so it's hard to go wrong in terms of color coordination.
But suede just has such a nice and napped texture to it. It works so well in both casual and smart-casual settings, especially when paired with the rugged texture of denim jeans.
Ready Sleek founder. Obsessed with casual style and the minimalist approach to building a highly functional wardrobe. Also a fan of classic, vintage hairstyles.