It's hard to deny that it wouldn't be the first thing that springs to mind when it comes to keeping cool in warm weather. But the question is, can you really wear flannel in the summer?
While flannel is typically more appropriate in colder weather, it's possible to wear lightweight flannel shirts in the summer, especially in the evenings. Wearing the flannel unbuttoned, rolling the sleeves up, and wearing shorts should make it more comfortable overall.
That's the short answer, but there's more to it.
Now you know it's possible, here are some essential tips for making sure it's done the right way.
Let's get to it.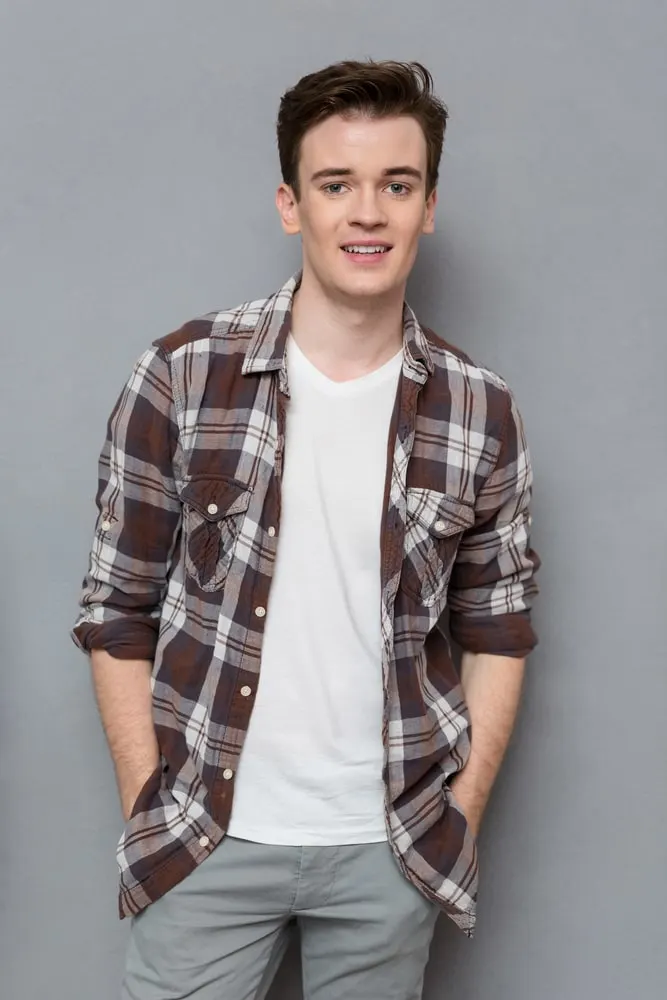 1. Make Sure The Heat Isn't Extreme
If it's very hot out there, don't wear flannel.
"Summer" can be milder in certain parts of the world. In addition, people tend to vary in terms of how much heat they can really tolerate.
If you're uncomfortable in it, it's not worth wearing it.
Flannel refers to a type of fabric, although it's often mistakenly used to refer to any shirt with a tartan or plaid pattern.
But technically, flannel is simply a soft woven fabric that doesn't necessarily need to come in a plaid/tartan pattern or any pattern at all. It's just very often used to produce clothing in those patterns.
While flannel used to be made from carded wool or worsted yarn, you can now find it made from cotton, wool, and even synthetic blends.
The main point here is that flannel is considered a more winter/fall-friendly fabric and can feel uncomfortable in very warm weather.
However, sticking to the following tips in this list should make it easier to wear flannel shirts in the summer, as long as the heat isn't excessive.
Once you're happy the summer weather is "mild" or "moderate" enough for a flannel shirt, consider the following tips.
2. Go For Lightweight Flannel
The soft, woven fabric of flannel can come in a variety of different levels of fineness.
As a result, you've got heavyweight, midweight, and lightweight flannels.
As you'd expect, the lighter the weight of your flannel, the more appropriate and comfortable it would be to wear in the summer.
It can be tough to estimate how lightweight a flannel shirt really is when buying it online.
Even if the description says "lightweight", flannel can often feel heavier than you might expect.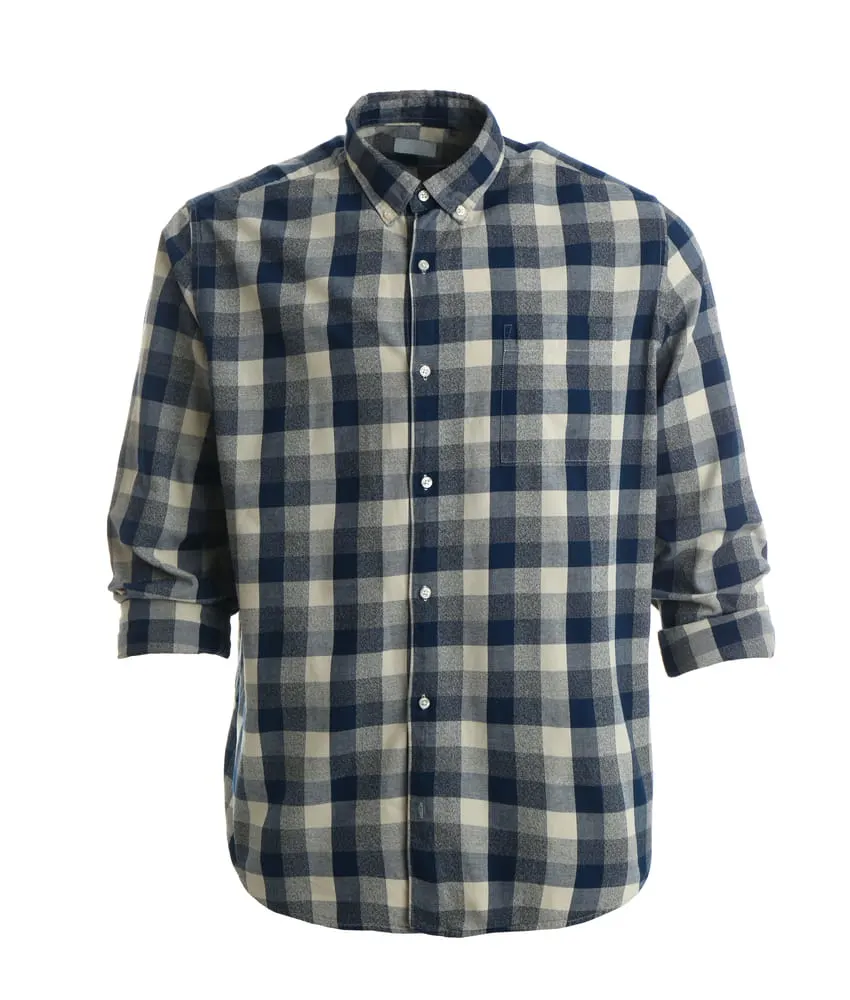 It's best to try flannel in-store when you're planning on wearing it in the summer.
The main point here is that not all flannel shirts are heavy and warm. You can find shirts made from flannel fabric that feel light and airy enough to wear in the summer.
3. Unbuttoned Flannels Over Tees
How you wear the flannel shirt will also play a role in how comfortable and summer-friendly it'll feel.
Wearing a lightweight flannel shirt unbuttoned over a T-shirt or vest is likely to feel more comfortable than wearing the shirt buttoned.
Of course, it's a compromise.
While you've got the benefit of not having to wear the shirt buttoned up, you are technically adding another layer in the form of a T-shirt or vest.
That's why it's important to pick a very lightweight T-shirt or vest.
Think of it more like an undershirt, giving you the additional benefit of preventing the flannel from getting sweat stains.
It's something to experiment with.
If you feel as though the flannel shirt feels more comfortable to wear alone and buttoned up, this is what you should do.
If, on the other hand, you feel more comfortable with the flannel left unbuttoned and worn over a lightweight tee or vest, do this instead.
It's hard to deny that the unbuttoned flannel and T-shirt look has a great summer-casual aesthetic to it.
4. Roll The Sleeves Up
While this may seem obvious, it can sometimes make all the difference. When wearing a flannel shirt in the summer, roll the sleeves up.
Choosing a lightweight flannel should make this a whole lot easier.
But simply exposing the forearms can make a flannel shirt feel a lot cooler and more comfortable.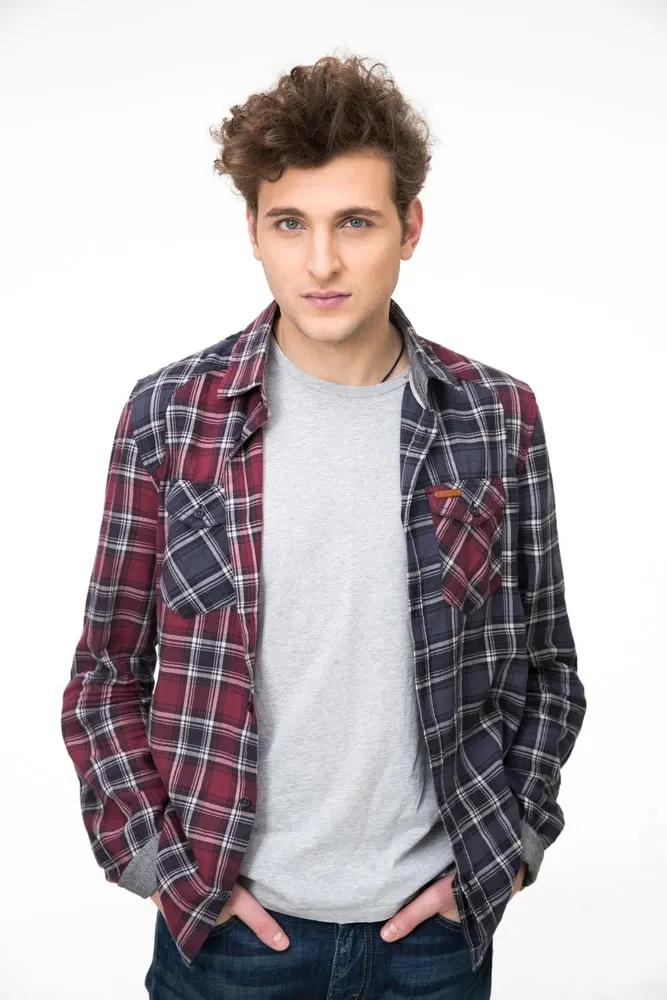 Unbutton the sleeves and roll them up to the elbows.
You may be surprised by just how much of a difference it can make.
5. Go For A Plaid Shirt In A Different Fabric
Remember, people often mistakenly use the term "flannel" to refer to any shirt with a gingham, plaid, or tartan pattern.
But this isn't correct. Flannel is the soft, woven, and often warm fabric and is not the name of the pattern.
If all you're looking for is a shirt with those classic plaid or tartan patterns to wear in the summer, don't go for one made from flannel fabric.
You've got other options.
In other words, you've got shirts with plaid and tartan patterns that are made from fabrics much lighter and more comfortable than flannel in the summer.
Madras is a great example.
It's a lightweight cotton fabric that is often used for summer clothing with tartan and plaid designs.
From far away, it would be tough to tell the difference between a tartan flannel shirt and a tartan madras shirt.
However, to the person wearing it, the difference could feel huge.
A madras shirt is likely to feel more comfortable than even a lightweight flannel shirt, but you're going to get the benefit of an eye-catching tartan/plaid design with both of them.
Here's an example of a madras shirt on Amazon:
6. Wear Shorts
When wearing a relatively warm flannel item up top, make a point to cool down with the other items you wear.
A flannel shirt is likely to feel a whole lot less comfortable when you're pairing it with canvas sneakers and sweatpants.
Instead, make a point to wear cool, summer-friendly items such as shorts, linen pants, boat shoes, and espadrilles.
In a way, you're compensating for how warm you're likely to feel up top by wearing cooling items elsewhere.
7. Try To Keep It As Evening Wear
Summer evenings are going to be cooler than the afternoons. In fact, depending on where you are, they can sometimes be cold enough to benefit from a light jacket.
Even the heavier flannel shirts may feel comfortable to wear later on in the day.
In general, given how even lightweight flannel isn't the best option for summer wear, reserving it for those cool summer evenings is often a good idea.
Don't get me wrong – it isn't essential to do this.
Sticking to the other tips in this list should make it more likely that the flannel shirt you choose would be OK to wear throughout the day.
However, it's hard to deny that flannel is usually just easier and more comfortable to wear during summer evenings than at other times.
Ready Sleek founder. Obsessed with casual style and the minimalist approach to building a highly functional wardrobe. Also a fan of classic, vintage hairstyles.