Black jeans are a staple of men's casualwear, while cowboy boots are much less common in most parts of the world. So, can you wear cowboy boots with black jeans?
Cowboy boots with black jeans make for a great casual outfit, but avoid tucking the jeans into the boots. Black and brown cowboy boots can both work well. Consider the fit of your jeans, as bootcut jeans tend to suit this outfit best.
However, that's just the beginning – there's much more to explore.
Let's get to it.
1. Don't Tuck In Your Jeans
When wearing black jeans with cowboy boots, it's important not to tuck your jeans into your boots.
While it may be tempting to do so, it can look awkward and clumsy – ruining the 'flow' of the outfit.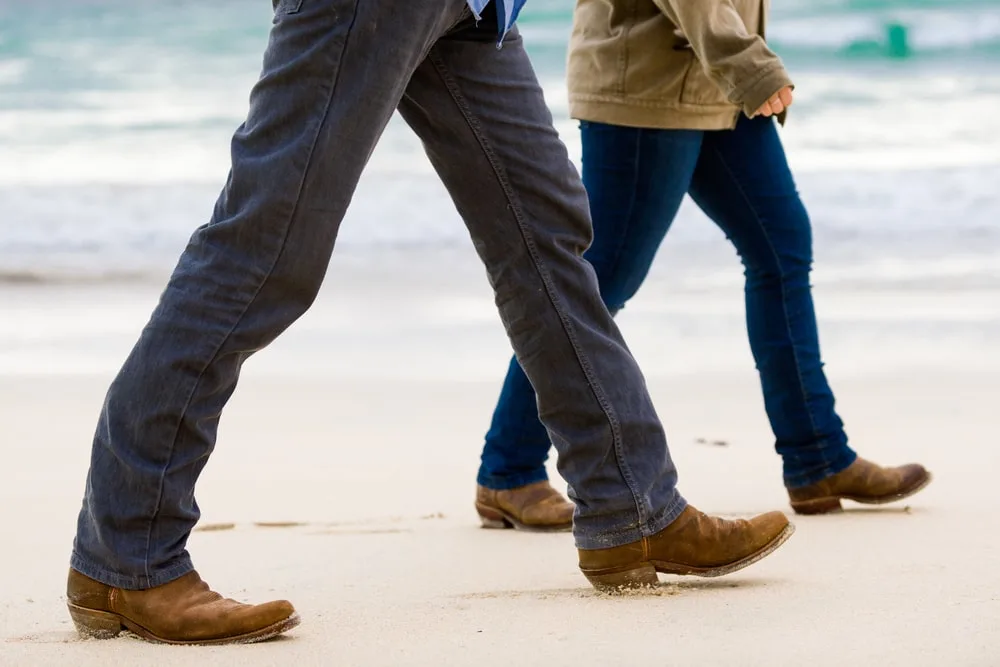 Furthermore, tucking in your jeans is typically much more uncomfortable than not.
Instead of tucking your jeans in, you should let them sit over your boot.
This looks far better and feels more comfortable. On top of this, it sticks to cowboy boot tradition.
It's important to keep your jeans untucked when wearing black jeans with cowboy boots. This is because black jeans are renowned for being slimming.
Tucking your jeans into your boots makes them sit incredibly close to your legs.
This close-fit, alongside the slimming effect of black jeans, can make your legs appear disproportionate to the rest of your body and your outfit.
2. Black Or Brown Cowboy Boots Work
Despite brown being known for clashing with black, both black and brown cowboy boots can work well with black jeans.
Black cowboy boots – when worn with black jeans – create a monochromatic outfit. This is great for a more sophisticated look.
On the other hand, brown cowboy boots with black jeans will form a rugged and traditional appearance.
Brown typically clashes with black; however, this primarily applies to formal situations.
This outfit is incredibly casual; therefore, combining black and brown in your outfit is acceptable and can look great.
Wearing light brown cowboy boots is a good way to emphasize the casual nature of the outfit.
On the other hand, cowboy boots of a darker shade of brown can add a slightly more formal edge to your outfit – particularly if you keep them polished.
Regardless of whether you go for black or brown cowboy boots, ensuring they are leather will add to your look.
Not only does leather get better with age and use, but it's more robust and can withstand much harsher conditions than other materials.
This will contribute to the casualness and ruggedness of the outfit.
Furthermore, leather polishes up much more nicely than other common cowboy boot materials.
This means that – if wanting to add a more formal edge to your outfit, as mentioned – you can do so much more easily.
3. Bootcut Jeans Are Most Suitable
There's a wide variety of jeans types on the market. From baggy to skinny, flared to tapered.
Because of this, it can be difficult to know the best types of jeans for each outfit.
Choosing the wrong jeans for the outfit can appear awkward and indicate a lack of care or respect for the situation.
Therefore, it's essential to understand what jeans you should wear in different situations.
When wearing black jeans with cowboy boots, the best option would be bootcut jeans.
Bootcut jeans provide a tapered fit from the thighs to the knees, where the jeans then widen down to the ankles.
This widening toward the lower part of your legs is to allow for boots to be worn underneath.
In men's bootcut jeans, the widening is much less noticeable, but there nonetheless.
They are, overall, the best jeans option to be worn with cowboy boots as they provide a tapered fit while allowing enough room for the boots.
4. Experiment With Your Boots
There are many different varieties of cowboy boots on the market. Experimenting with these types of cowboy boots is possible – and recommended – with black jeans.
Such experimentation is acceptable because of how casual the black jeans and cowboy boots outfit really is.
Try out different styles of cowboy boots until you find the right combo.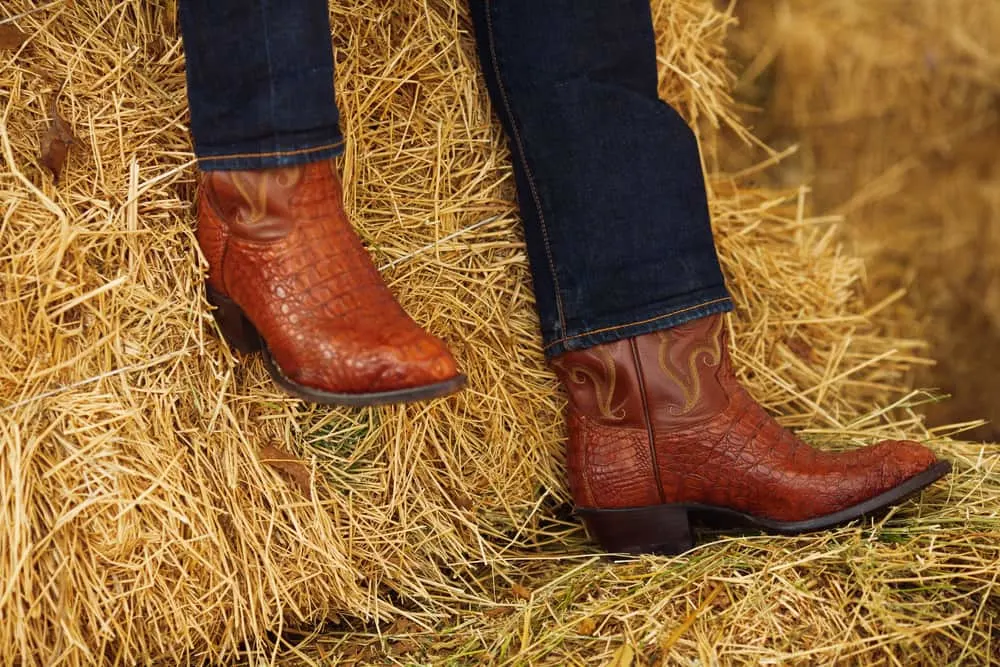 A large aspect of cowboy boots is the toe shape of your boot. There are four primary boot toe shapes.
These are square, traditional, snip, and rounded-toe cowboy boots.
Square toe boots have – as the name suggests – a squared-off toe shape.
Traditional toe cowboy boots are the typical cowboy boot: somewhere between rounded and pointed.
The most unusual cowboy boot toe shape is the snip toe. It starts off leaning toward a pointed toe, but as it comes to where the point should be, the boot squares off.
Finally, the rounded toe cowboy boot is, unsurprisingly, a rounded-off toe.
The toe shape that you choose is entirely down to personal preference; however, traditional toe cowboy boots are generally the most comfortable.
5. Only Wear It In Casual Settings
Ensuring you know when an outfit is appropriate – and when it isn't – is an essential part of any man's style knowledge.
Getting this wrong could make you appear disrespectful or show a lack of style knowledge.
Black jeans are near enough the epitome of casual apparel. Cowboy boots are also pretty casual – with the exception of dress cowboy boots.
Therefore, this outfit is best suited for casual occasions.
It may sometimes be acceptable for smart-casual events, but only under certain conditions.
Firstly, if you are wearing in any setting that's more formal than "casual", wearing dress cowboy boots is a must.
Dress cowboy boots have a much more formal appearance than traditional cowboy boots and are, therefore, appropriate for such circumstances.
Secondly, try to wear a formal accompaniment to your black jeans and cowboy boots on your top half, such as a blazer.
Doing so balances out the typically casual nature of black jeans, creating an excellent smart-casual ensemble.
6. Consider A Leather Jacket
Something worth considering with this black jeans-cowboy boots combination is a leather jacket.
Leather jackets are very versatile and, therefore, look good with pretty much anything casual. Black jeans and cowboy boots are no exception.
On top of this, if wearing leather cowboy boots, leather jackets look particularly good.
This is because leather-on-leather typically works incredibly well for casual apparel.
Typically, leather jackets are available in two colors: black or brown.
As mentioned, when wearing black jeans with cowboy boots, black or brown cowboy boots work best.
If wearing a leather jacket, try to pick a color that matches that of your cowboy boots.
For example, if you're wearing brown cowboy boots, wear a brown leather jacket.
Similarly, if you decide on black cowboy boots, go for a black leather jacket – matching leather often looks fantastic.
It may seem unlikely to recommend black cowboy boots, black jeans, and a black leather jacket together, but there is a certain sophistication about monochrome outfits.
7. Think About Accessories
Accessories can look great with this outfit because of how casual it is. On top of this, its casual nature means that there are many accessories to choose from.
These include watches, belts, scarves, and jewelry, such as rings or bracelets. A more unusual accessory that can also work is a hat.
If wearing a belt with this outfit, make sure it matches the color of the belt.
On top of this, wearing a belt grants the option to be able to tuck in your shirt to dress up your outfit slightly, if necessary.
Scarves will add a dash of extra color and personality to your outfit, as well as provide warmth.
A block-colored scarf will work best – preferably one of a neutral color to ensure there's no clash between your garments.
Typically, field watches have a canvas strap, meaning that they work best with this outfit. The canvas strap adds to the ruggedness of this outfit.