Having long, luscious locks of blonde hair does bring with it some serious benefits. There's just so much you can do with it. But today, we'll be laser-focusing on one particular style. This is everything you need to know about blonde man buns.
So, why do man buns work so well with blonde hair?
Mainly because the look epitomizes that beach-ready aesthetic. The sun, sea, sand, and surf.
What's not to love?
If you've got hair long enough to tie into a bun and you're wondering whether or not it's worth a try, read on.
I'm about to show you some phenomenal styles you can try out with the blonde locks you've got. Trust me, there are many, many variations out there.
7 Blonde Man Bun Styles
Use the following pictures and descriptions to guide and influence you on your blonde bunned journey.
The great thing is that you can keep it pretty simple, while having the option of doing something a little more daring when you're feeling adventurous.
1. High Blonde Man Bun
This is on the simpler end of the spectrum.
It's a "full man bun" style where the bun is positioned higher than the crown.
The style gives a lot of prominence to the bun, as it's easily visible from front-on. Because of this, it's a pretty in-your-face variation and some men may feel it draws a little too much attention.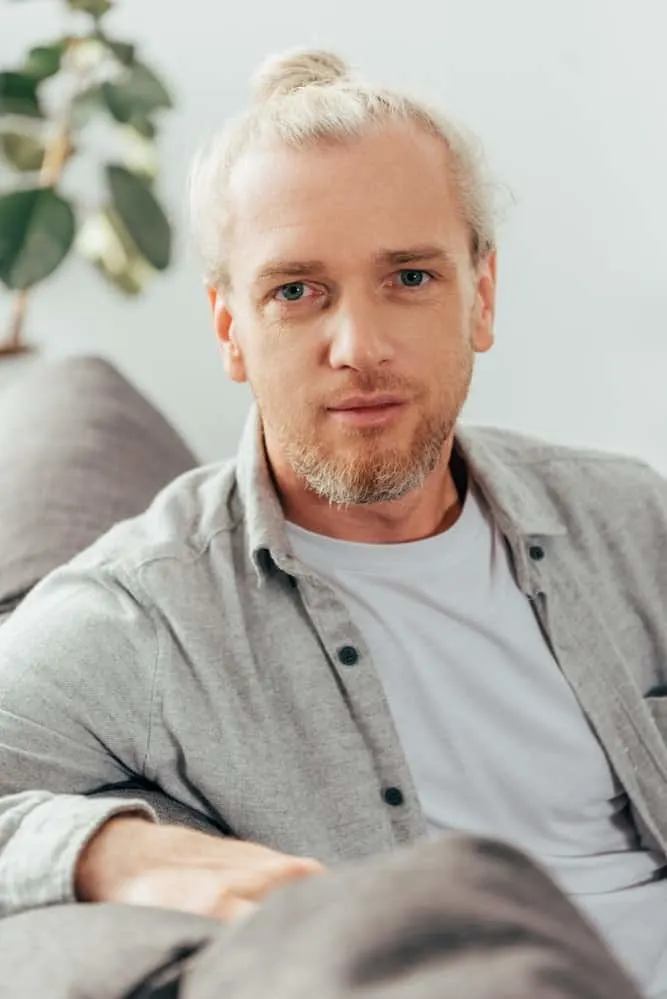 It's also not a great option for men with longer face shapes. This is because having the knot form a peak above the face tends to elongate the head further.
As you'd expect, this would bring about benefits for men with rounder or shorter face shapes looking to take advantage of this illusion.
Overall, whether you were looking to keep it neat or messy, the high bun is definitely one to consider if you're aiming for simplicity.
2. Blonde Man Bun With Shaved Sides
Who doesn't love contrast?
It definitely turns heads and this style has it in abundance.
It's exactly what it says on the tin – long hair on top pulled back into a man bun, with the sides neatly shaved or buzzed down to nothingness or almost-nothingness.
It's also known as a disconnected undercut man bun.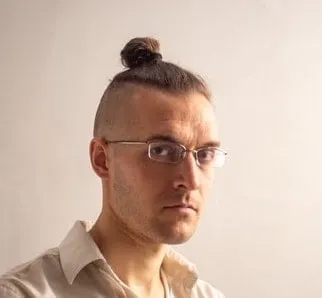 Undercuts are defined by there being long hair on top with the sides kept much shorter. Disconnected undercuts have a hard line and sharp distinction between the long and short hair.
With any undercut hairstyle, the hair on top can be styled in many different ways. It can be slicked back, cropped, tapered, and yes – knotted into a man bun.
As always, the height at which you choose to keep the man bun is up to you. The picture above is of a high blonde man bun with shaved sides.
Although undercuts have their history rooted in the early 20th century, the last few years have seen a significant resurgence in the style.
Although the man bun variation is a less common variation, it too is quickly growing in popularity among the fashion-forward youth.
3. Dirty Blonde Neat Man Bun
Whether you're a natural dirty blonde or not, experimenting with color may yield some surprising and impressive results.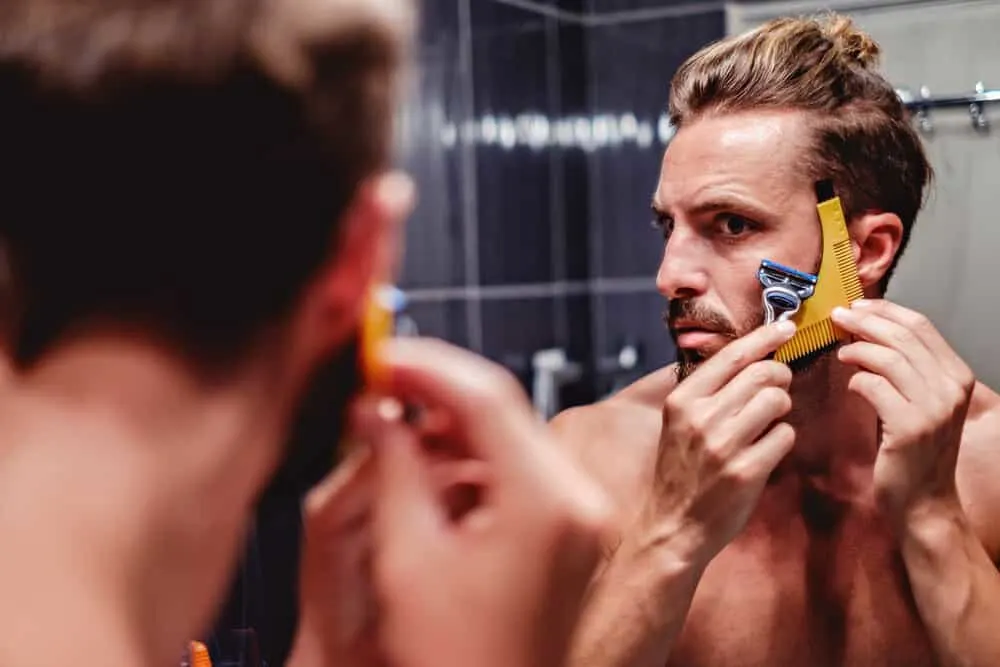 Regardless of whether you go for a high, low, neat, or messy man bun, switching up the shade or texture of your hair can make all the difference.
The picture above is of a neat man bun at the level of the crown. It's versatile, subtle, and stylish.
It's also another great example of how beards go phenomenally well with man buns, particularly when they're well-maintained.
4. Messy Blonde Man Bun
You may be looking to experiment a little. Perhaps you've gotten a little tired of keeping that bun so neat and prim.
A basic, messy blonde man bun may be exactly what you need.
As with any man bun style – practice will make perfect. It's interesting how a "messy" hairstyle actually requires patience and practice to produce the outcome you want.
You may find yourself having to repeat this style a few times to get the look you want.
But as you can see from the photo above, it's almost always going to be worth it.
Keeping it "messy" is easier said than done. Loose hairs sprouting out from the bun should look messy but not untidy.
This might sound contradictory but it's really the key to a good outcome. It should look intentional and not accidental.
Using a volume cream or sea salt spray before tying it is a tip you can try out. It'll give your hair a lot more texture while making it look thicker at the same time.
It'll also make it easier to manage, reducing the number of flyaways you have on the top and back of your head.
You want the top to look neat and tight, with just the right amount of sag at the back.
What About Platinum And Bleach Blonde Man Buns?
The bleach-blonde man bun is becoming increasingly popular. It refers to the blonde color achieved through the use of dyeing agents such as peroxide.
It's a great way to turn some heads, simply because the color is so striking and attention-grabbing.
It isn't the most natural look, as I'm sure you can imagine. It'll always be pretty obvious that the color was achieved artificially. But hey – this may be exactly what you're looking for.
Platinum-blonde man buns are silvery-blonde in color. Once again, this incredibly striking shade is usually achieved through the use of dyeing agents.
Dyeing it this color is another way to stand out a little.
Man buns are becoming more and more common – it can be difficult at times to use style variations to stick out from the crowd.
In these instances, using color to your advantage and switching it up from time-to-time is an effective way to do it.
Is The Blonde Man Bun For You?
If you've got blonde hair and you're wondering whether the man bun is the style for you, consider these factors:
Your blonde hair will need to be long enough to actually tie into a man bun. 9 – 10 inches is a pretty safe bet. Anything shorter and you may struggle to pull it all in.
Although it's still popular, it isn't as trendy as it was back in 2017. All styles are cyclical – their time to bask in the sun will eventually fade. But this may not matter to you in the slightest.
The additional maintenance requirements of having long hair still stand. Regular cleaning and brushing will need to take place to keep it healthy.
Conclusion
It's a trend that sort of took the men's style world by surprise, sticking around much longer than was initially thought likely.
Ultimately, it'll stay stylish for quite a while longer. If you're looking for a way to keep your long blonde hair tidy and manageable, strongly consider the man bun.
Ready Sleek founder. Obsessed with casual style and the minimalist approach to building a highly functional wardrobe. Also a fan of classic, vintage hairstyles.