Nowadays, men of all ages dye their hair for any number of reasons. Given the sheer number of potential reasons as well as the huge number of products on the market, it can be overwhelming. So, what color should a man dye his hair?
The color a man should dye his hair often depends on factors including his original hair color, as well as the undertones of his skin. Although it's technically possible to dye hair any color, some will definitely be easier to achieve and also look more natural and impressive.
Maybe you want to try something new, or maybe you want to cover up grey hairs. Perhaps you want to go completely grey or go for a mixed salt and pepper look.
Hair dyes of all colors and categories exist for every purpose you could think of.
In addition to the huge variety of natural and unnatural colors available, there are different types of hair dye ranging from temporary to permanent. You also have to decide if you want to dye it yourself or see a professional.
Whether or not you decide to dye it yourself, you need a method for figuring out which product and color will work best for you, your hair, and your needs.
Keep reading to figure out how to choose a combined color and category of hair dye that is just right for you.
How A Man Should Choose Their Dye Color
Several different factors must be considered in order for you to decide which color will suit you the best.
If you need more information about any of these things, ask a stylist, as they are quite skilled at adding up all of these factors to find and produce a flattering color.
You may be more used to seeing a barber for your usual styling needs. But when it comes to dyeing, it's definitely better to get your professional opinion from a stylist.
Here are the important basics. The color of hair dye that will flatter you the most depends on the following factors:
Original Hair Color
Hair that is light is the easiest to dye any color, as naturally light hair often does not need to be bleached first, particularly when going even lighter.
Darker hair often has to be bleached before it can be dyed, as most colors will not show up in it otherwise. This is especially important when trying to color it a lighter color.
Bleaching can damage your hair, especially if it has to be done many times for the new color to show up. It is best to have a professional do the bleaching and the dyeing if your hair must be bleached. They will know how to minimize the damage.
Often, dark hair can be dyed even darker without having to bleach it, such as if you decide to go from brown to black.
But if you've got dark hair and are looking to go lighter, bleach will usually be necessary.
So, how should this impact your color choice?
Well, the simplest, safest, and most natural-looking results will usually be achieved by choosing a color that matches the shade of your original hair color as closely as possible.
If you're looking for a change, however, going for a darker shade than your original hair color will most likely reduce the need for bleaching beforehand.
This often produces more natural-looking results and has the benefit of being more DIY-friendly.
If you're intent on choosing a lighter color, that's fine. Just know that bleaching will most likely be necessary and you should be OK with visiting a professional.
Skin Tone
Most onlookers will not know how to match hair colors and skin tones.
However, they will know whether or not your hair color matches the undertone of your skin right away simply by looking at you. If they match, you will look quite plain and washed out.
What you need is contrast.
The dye color you choose should be the opposite of your skin undertone, as this creates a striking contrast.
To simplify what this really means, it's best to label your skin undertone as either "warm" or "cool".
Another tip would be to figure out what clothes you find yourself wearing and liking. If you usually go for yellows, oranges, and reds, your skin most likely has warm undertones.
If you find yourself leaning towards blues and greens, your skin probably has cool undertones.
Finally, experiment with some men's jewelry. Men who look better with gold jewelry usually have warm skin tones, while men who look better with silver jewelry usually have cool skin tones.
Men with cool skin undertones should choose a warm hair dye color with red, orange, or golden tones like copper blonde, strawberry blonde, auburn, medium brown, brassy brown, and so on.

Men with warm skin undertones should choose a cool hair dye color with blue or green tones like ash brown, black, platinum blonde, and so on.
There are plenty more to choose from – it's just a case of looking at color charts and finding a warm or cool color you think would suit you.
Age
Again, many men wish to dye their hair to either cover the gray or remove the final traces of their original hair color.
The easiest way to do both of these is to select a color that matches the one you want to dominate your head.
Also, younger men are typically able to get away with choosing unnatural colors (eg. green highlights), but older men are often expected to stick with natural colors, especially for those in the workplace.
Unnatural colors do draw more attention and will look more obvious.
Young men that want to look more "professional" should pick a natural color, as well.
Preference
A certain set of colors might suit you, but you will not be happy with a color that does not match your personal preferences.
For example, there are many warm, natural hair colors that an older man may have to choose from, but he may well have different opinions about auburn vs golden blond.
One of them might technically be the "perfect choice" for him, but he may just not be into it.
I'm finishing with this fairly obvious point because it may be the most important factor.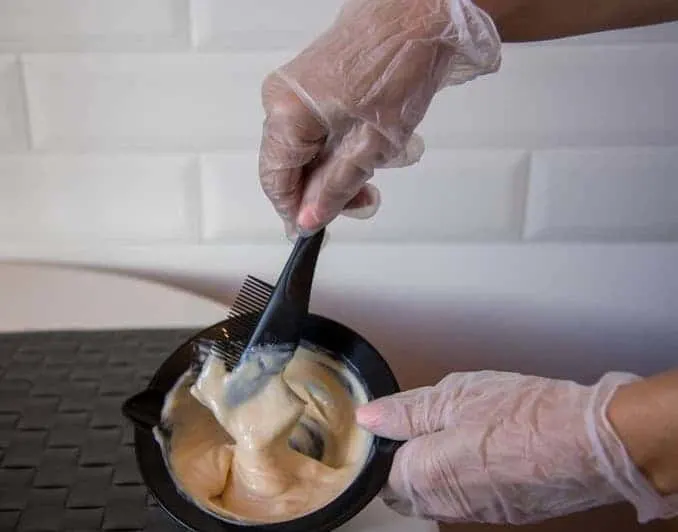 No matter how similar to your original hair color it may be, or how well it contrasts the undertones of your skin, if you aren't into it – don't go for it.
Your selection will be a very personal decision in the end. You should pick something you find attractive and feel confident in.
Of course, the opinions of trusted loved ones will usually go a long way too. Don't overthink it, but don't rush into any decisions either.
How to Choose a Dye Type
Once you have identified the hair color you want, you need to decide which type of hair dye the color should come in. Some are better for your hair's health than others. The following are the main categories of hair dye you can choose from:
Temporary Dyes
A temporary dye is ideal for men that want to test out a new color before fully committing to it.
You do not need professional help for this either, as most of these dyes simply need to be shampooed in or just rubbed in like a pomade.
Temporary hair dye typically lasts for about a day or two (maximum one week) and easily wash out.
Often what sets them apart from more permanent hair dyes is the lack of an oxidation reaction to really infuse the color into the hair.
It's essentially just a paint job – a simple coating of the hair with a different color.
Hair color wax is a popular option these days and is extremely simple to rub into the hair. It doesn't usually produce the most natural results but is great for touch-ups or for special occasions when you want a color that's particularly wild.
The results are instant, but it also washes out very easily.
Keep in mind that most of these temporary colors will still find it difficult to show up as they should in dark and unbleached hair.
It'll still work. But the end result may not be what you expect, simply because the new color is mixing with your dark original hair color.
Semi-Permanent Dyes
Semi-permanent hair dye will usually fade after a few weeks. They're more "permanent" than temporary.
They may or may not contain chemicals to help infuse the dye into the hair. In other words, oxidizing agents.
There are dyeing agents such as henna which are entirely natural but still last several weeks. Because of this, they can also be called "semi-permanent".
It's important to know what's in your dyes before you apply it to your hair. If you aren't happy with artificial chemicals such as PPD, ammonia, or peroxide, then pick a dye that avoids them.
It's worth pointing out that there aren't many semi-permanent or permanent ones that don't these days.
Permanent Dyes
"Permanent" dyes aren't exactly permanent. They will always fade; it's just that they take a little longer to fade than the other two categories.
In general, you can expect them to last anywhere from several weeks to a couple of months.
Each product will differ so check the details of the specific dye you're using for a rough estimate of how long you can expect it to last.
If you aren't a fan of the process and want to reduce the number of times you have to dye your hair, a permanent dye may be a better option.
They will almost always contain chemicals such as ammonia, peroxide, and maybe even PPD to really infuse the color into your hair.
That's what allows it to last so long.
Always Do A Patch Test
I'll finish off by mentioning the importance of doing a patch test before using any dyeing product on your hair.
Review the instructions of your product to find out exactly how to do this.
Conclusion
There are many different factors that determine which colors and kinds of hair dye are the most ideal. All of this information can be a bit daunting for men who are new to dyeing their hair, but a majority of these things are fairly straightforward.
Just keep it simple.
Take your original hair color, as well as your skin undertones into account and you can't go too far wrong.
It isn't complicated but probably isn't a decision you want to rush into.
Experiment with temporary dyes before moving onto semi-permanent or permanent options if you want to play it safe.
Ready Sleek founder. Obsessed with casual style and the minimalist approach to building a highly functional wardrobe. Also a fan of classic, vintage hairstyles.